Dear reader: This article contains links to products and services that I may be compensated for, at no extra cost to you.
Tainan is the original capital of Taiwan and one of the country's most culturally rewarding destinations. Nicknamed "Phoenix City" after its shape and its phoenix trees, Tainan is famous for its historic sights and considered the food capital of Taiwan.
Some of the top things to do in Tainan city center including touring the city's historic temples and artsy lanes and districts. A hop over to Anping District, with its forts and famous treehouse, is also a must, while Tainan's night markets are mostly found outside the city center, too.
Further afield (keeping in mind that ever since 2010, "Tainan City" now encompasses all of what used to be "Tainan County"), there are worthwhile Tainan day trips to impressive salt fields, mud hot springs, and the fear-inducing Yanshui fireworks festival.
Below I'll cover the top attractions in Tainan City Center (West Central District), North and South District, Anping, Annan, and other places to visit around Tainan, based on multiple visits I've made over my past decade-plus of living in Taiwan, including most recently in mid-2022.
You can find lots of discounts for Tainan activities and attractions on Klook, such as this Tainan historical sights pass. If you sign up with my referral link first, you'll get NTD100 off your first booking!
Getting to Tainan
From Taipei, the regular (TRA) train takes 3-4 hours, and seats can be reserved 2 weeks in advance. The TRA station is conveniently located in the Tainan city center, walking distance from the main sights.
By taking the High Speed Rail to Tainan, you can get there in 1.5-2 hours, but it will cost around twice as much. You can order HSR tickets to Tainan online here, up to 28 days in advance, with a discounted price the earlier you buy. It's also important to note that the Tainan HSR station is well out of the city center, to the southeast.
Upon arrival at the HSR station, simply hop onto the regular train at Shalun Station (it's connected by a walkway to the HSR station – it takes less than 5 minutes to transfer). The local train from Shalun to Tainan TRA station takes 22 minutes; almost the same as a taxi, but a fraction of the price. You can swipe an EasyCard to board the local train, and there are regular departures. You can also go into the city by private transfer or by taxi.
In Tainan, you can rent a scooter or Gogoro for exploring the sights; it's also possible to visit most places on foot, but the sights are quite spread out, so the occasional bus and/or taxi ride will make your explorations more feasible.
Where to Stay in Tainan
There are loads of hotels and hostels to choose from in Tainan. Many of the hostels and budget hotels are in atmospheric old buildings.
When I last visited, I stayed in the low-budget hotel Wabisabi (see on Booking / Agoda). My miniature room was in the Japanese worker's dormitory style, like staying in a capsule hotel but facing a small courtyard. It was definitely an experience, but perhaps not for everyone. It was conveniently located near Shennong Street, Yongle Market, and Matsu Grand Temple.
If you decide to spend a night in Anping like I did (see the Anping section of this article), I highly recommend Anping Inn Here (see on Booking / Agoda). It's brand new, close to the Old Street, and my room came with a large bean bag chair and free drinks. The owner was super friendly and even let me borrow her scooter!
Central Tainan Attractions
Tainan City's West Central District (中西區) can be considered the city center of modern-day Tainan. All the Tainan sights below are within walking distance of the Tainan Train Station (the TRA, or regular train station, not the HSR, or Tainan High Speed Rail station, which is a ways south of the city center).
It would be too much to try to visit all of the below Tainan attractions in a single day, but if you want to try, I've listed them roughly in a sort of zig-zag order across the city center that I actually followed myself on one wild day of touring Tainan, starting from the Tainan Train Station. I would suggest picking and choosing, especially when the weather's hot!
This list starts out with lots of temples; but scroll on for a variety of other things to do!
Taiwanfu City God Temple
A 10-minute walk southwest of Tainan Train Station, the small Taiwanfu City God Temple (臺灣府城隍廟) features a giant abacus used for calculating people's good and bad deeds. You can spot it above the entranceway when you first step inside the temple (see right side of the photo above).
"Taiwanfu" refers to the Prefecture of Taiwan during the Qing Dynasty, and this temple is dedicated to the god who protected that "city". It is the oldest of several City God temples in Taiwan, including one on Dihua Street in Taipei.
You can read more about this and other local temples in my guide to the most important Buddhist and Taoist temples in Tainan.
See my similar guides to the top attractions in Taipei and attractions in Kaohsiung.
Dongyue Temple
Five minutes further south on foot, the Dongyue (東嶽殿) or "Hell Temple" is a small but colorful temple where you can spot demon statues, and people go there to communicate with the dead through spirit mediums. There's a good chance you could even witness such a ceremony there; I did when I visited!
Yanping Junwang Temple (Koxinga Shrine) and Koxinga Museum
These two structures in the same park are dedicated to Koxinga (Zheng Cheng Gong in Mandarin or Kok-sìng-iâ in Taiwanese language), one of the most important figures in Tainan's (and Taiwan's) history. Koxinga was son to a Chinese pirate and Japanese woman. He was responsible for expelling the Dutch from Taiwan and establishing the Kingdom of Tungning, the first Han state in Taiwan. The temple was constructed by Koxinga's son, Zheng Jing, to honor his father.
This beautiful Yanping Junwang Temple (延平郡王祠), also called Koxinga Shrine (but not to be confused with the Koxinga Ancestral Shrine, or 鄭成功祖廟, near Hayashi Department Store) sits in a calm park that also has a large statue of Koxinga riding a horse and a Shinto stone gate, right in front of the temple. The temple contains cultural artifacts and lots of info covering the history of the shrine and Tainan.
The large Koxinga Museum (鄭成功文物館) next to the temple is currently undergoing major renovations and was closed when I last visited in mid-2022.
Lady Linshui's Temple
Just across the street from the park, Lady Linshui's Temple (臨水夫人媽廟) is famous for its many depictions of women. Lady Linshui was a Taoist priest in Fuzhou, China who is said to have brought rains during a flood, but lost her baby as a result.
Women visit Lady Linshui's temple to pray for a successful pregnancy, or they bring babies who cry too much there. Make sure to visit the second floor at the back, which features especially stunning paintings, such as in the above photo.
Wufei / Temple of the Five Concubines
It's a bit of a detour to the south, but if you make it, you'll be rewarded with a visit to this small temple, called Wufei Temple (五妃廟), in a serene park.
The temple honors the five concubines of the Ming Prince Zhu Shugui (朱術桂), who committed suicide along with the prince himself when the Qing Dynasty took over in 1683. The concubines killed themselves in the prince's palace, which now houses the Tainan Grand Matsu Temple (see below). Wufei used to have beautiful cracked paintings of the concubines (see my picture above, taken several years ago), but unfortunately they are now replaced with ugly printouts, which hopefully they will eventually replace with new paintings.
Tainan Confucius Temple
The Tainan Confucius Temple (臺南孔廟) is the oldest of several Confucius temples across Taiwan (read about them in my guides to temples in Taipei and things to do in Taichung) and is arguably Tainan's most famous attraction. The temple was constructed by Zheng Jing and is considered the first educational institution in Taiwan. Like other Confucius temples, it is known for its simplicity of design, contrary to the busy designs of most Taiwanese temples.
You can enter the Confucius Temple from the gate on the east side, opposite Kongmiao Shopping District (see below). Entrance to the grounds is free, but you'll need to pay NT40 (students/seniors 30) to enter the Main Hall. West of the temple, via another gate, is the Japanese-built Tainan Wude Hall (原臺南武德殿), or Old Tainan Martial Arts Hall (台南武德殿), which isn't usually open to the public, but looks cool when lit up at night.
Kongmiao Shopping District
Named after the Confucius Temple, Kongmiao Shopping District (孔廟商圈) is an atmospheric street lined with cafés and craft/souvenir shops leading east from the entrance to Tainan Confucius Temple. It's best to visit in the afternoon or early evening when the shops are actually open.
Tainan Art Museum
The popular Tainan Art Museum has two locations not far apart. Building 1 (臺南市美術館1) is housed in an old art deco police station and is across the street from the northeastern corner of the Tainan Confucius Temple. Building 2 (臺南市美術館2館) is a large, contemporary museum in a striking white building (see image above), a short walk west of Tainan Confucius Temple and Wude Hall.
You can buy discounted Tainan Art Museum tickets online here.
Hayashi Department Store
The evocative Hayashi Department Store(台南林百貨) is a Japanese-built department store dating to 1932. Wealthy people would have gone shopping there during Japanese colonial period in Tainan.
The once abandoned department store has been totally fixed up and is a department store once again, with five floors of luxury good, teas, jewelry, and souvenirs. Check out the 4th floor for some relics of the original building and displays covering the building's history. The rooftop houses a café and the ruins of a Japanese Torii shrine overlooking the city.
Tiantan Tiangong Temple
Tiantan Tiangong Temple (臺灣首廟天壇) is worth a quick stop to see the calligraphy tablet that consists of a single stroke – it is considered one of the three most famous tablets in Taiwan. You can spot it on the ceiling above the main shrine. The temple is was built in 1854 on the site of what was the oldest temple in Taiwan, an altar that was used by Koxinga to communicate with the gods.
Behind (east of) the temple, a small dessert restaurant called 鷲嶺食肆 is housed in a beautiful Japanese-era house, while the Former Tainan Weather Observatory (原台南測候所) is an iconic, circular Tainan landmark beside it.
Tainan Wu Garden
The Tainan Wu Garden (吳園藝文中心) is a short walk from there, with a lovely coy pond, pavilion, and wooden teahouse called Daybreak 18 (奉茶.十八卯), pictured above.
Down a small lane (Zhongshan Road Lane 79) to the east of Wu Garden is a popular fruit juice and ice cream shop called 旭峯號 that is housed in an iconic, classically Tainan-style building. It has become something of an Instagram hotspot in recent years.
Snail Alley
Skipping over to the west now (I recommend hopping in a cab on Zhongshan Road if you want to avoid the 10-minute walk), Snail Alley (蝸牛巷) is a cute, super narrow lane that contains a few cafés. These include Pâtisserie Le Paradise (巴哈迪 印象甜品工房), which sells snail-shaped cakes (pictured above), and a cocktail bar called Bar Lonely (籠裏). There's also a snail mosaic in the alley.
The location of Snail Alley on GoogleMaps is not quite right and led me astray. I recommend going to Minsheng Road Section 1 #157 (民生路一段157號) to find it, or search Serendipity Café (不經意的美好 by 熹餐廳) on GoogleMaps. The alley starts right beside it.
Tai Cheng Fruit Shop
About 5 minutes' walk from Snail Alley, this ice cream shop (and the next entry, which is right across the street from it) have become all the rage in Tainan.
Tai Cheng Fruit Shop (泰成水果店) is literally a fruit shop, but they became famous when they started adding traditional Taiwanese ice cream (like sorbet, and totally vegan!) to huge pieces of fruit. Their half melon filled with scoops of ice cream (NT220, good for 2 people) is the most famous, but there are also pineapple and mango versions.
Quan Wei Jia Ice Cream
Opposite Tai Cheng, Quan Wei Jia Ice Cream (蜷尾家甘味處散步甜食) is a Japanese-style soft serve ice cream shop. You can expect tasty flavors like almond, earl gray, oolong tea, and genmaicha (brown rice green tea). If you can't decide between the two ice cream shops, just get both like I did! There are also some really cute little shops in the area.
The Spring
Tainan's "Spring" (河樂廣場) is a pretty public artificial pond and water fountain. You can walk in it to cool your feet off after exploring the sights, or do as the locals do and sit in the shaded area under the street overpass. I wish we could have something like this in Taipei! Note that it is closed on Tuesdays for cleaning.
Shennong Street
Shennong Street(神農街) is one of the most atmospheric streets in Tainan, especially in the evening when all the shops are open and lanterns are lit up along the street. It runs west to east, starting at the Medicine Temple (see below) and ending at Shuixian Gong Market (also see below).
On Shennong Street, don't miss Fat Cat Story, a cat café at the western end near the Medicine Temple. They've only got one cat, Bing Bing, but he's lovey and cute, and they'll give you food to feed him at your table. If cat cafes are your thing, here are my recommended cat cafes in Taipei, where it all started! And it's not on Shennong Street, but there is also a capybara cafe in Tainan!
Medicine, Wind, and Water Temples
These three Taoist temples are small but considered some of the most important in the city. They are all within a few minute's walk from each other in the Shennong Street Area.
Medicine Temple (三協境全台開基藥王廟) is at the western end of Shennong Street, Wind Temple (風神廟) is just a few steps off Shennong Street, and Water Temple (臺郡三郊水仙宮) is inside Shuixian Gong Market (see below).
Shuixian Gong Market
Shuixian Gong Market (水仙宮市場) is a traditional wet market (think lots of raw fish and meat, open in the morning only), but it's worth visiting for the excellent sushi bar right in the middle of it, called 達也濱家漁場.
The Water Temple is also right in the market, a few steps from the sushi bar, and the market is named after it.
Yongle Market
Yongle Market (永樂市場) is another large morning market that is connected to Shuixian Market, starting right behind the Water Temple.
It is similar to Shuixian Gong Market, but features more restaurants and food stalls, especially along Guohua Street Section 3 (國華街三段). These include 科芬園砂鍋魚頭, where you can try fish head stew, a Chiayi dish that was famously featured on the Netflix series Street Food Asia (this isn't the restaurant that was featured, but it's the same dish).
Tainan Grand Mazu Temple
The most famous Matsu temple in Tainan's city center is Tainan Grand Matsu Temple (大天后宮), but there are also impressive Matsu temples in Anping and Luehrmen (see below sections of this article).
Originally this Matsu temple was the palace of the Ming Prince Zhu Shugui and his five concubines before they killed themselves on the eve of the Qing takeover. They killed themselves in what is now the second room of the temple when you enter.
The palace was later converted into a temple honoring Matsu, goddess of the sea, who is often considered Taiwan's patron goddess. The large Matsu statue on the main altar is a masterpiece that inspired many later Matsu statues in Taiwan. It was made over 300 years ago by a master from Quanzhou, China.
God of War Temple
Near the Grand Matsu Temple, the God of War Temple (臺灣祀典武廟) features a long, crimson red outer wall running along the street. Another unique feature is the super tall threshold at the entrance, dating to when women were banned from entering the temple.
Chihkan Tower
Across Minzu Road from the God of War Temple, Chikhan Tower (赤崁樓) is another of the city's most recognizable structures. Originally called Fort Provintia (普羅民遮城), it was built by the Dutch in 1652, making it the oldest still preserved building in the central Tainan area. It is especially atmospheric when viewed at night.
You can get a small discount if you book your ticket to Chikhan Tower here on Klook.
North and South District Sights
There are a few noteworthy Tainan attractions just north and south of West Central District, in North District (北區) and South District (南區). They can be added on to the above walking tour, if you've got time!
Tainan Park
Tainan Park (台南公園) in North District is the largest green space in central Tainan city, at 132,000 square meters, and often called the "Lungs of Tainan".
The park includes a lovely pond (燕潭) with pavilion and zigzag bridge across it, a Qing Dynasty stone gate (重道崇文坊), the Tainan City Children's Science Museum (台南市兒童科學館) for those visiting Tainan with kids, and a playground at the center. It's a short walk from Chihkan Tower, and I enjoyed a lovely sunset there at the end of my long day of touring Tainan's attractions!
321 Arts Village
321 Arts Village (321巷 藝術聚落) is a former Japanese military dormitory village converted into arts community, along the lines of 44 South Village in Taipei and Guangfu Village in Taichung. There are 18 former residences on site to explore, housing art galleries, live-in artist's studios, cafés, and more.
There is always art on display, inside the homes, and in the lanes running between them. Note that it was still closed as of mid-2022.It is a short walk from Tainan Park.
Shiji Café (是吉咖啡) is a really cool café nearby with a large second-floor window overlooking a leaf-filled lane.
Also read about Pier 2 Art Village in Kaohsiung.
Blueprint Culture & Creative Park
Blueprint Culture & Creative Park (藍晒圖文創園區) in South District is best visited at night, when the photogenic 3D blueprint of a house is all lit up. There's also a souvenir shop, a few cafés, some community art spaces, an indigo dying house, a statues of a blue robot mascot guy throughout!
Black Bridge Sausage Museum
Yes, there is a dedicated sausage museum (黑橋牌香腸博物館) in South District, and no, I never made it there. But it's quite popular among locals, so I'll throw it out there for all you sausage lovers!
Night Markets in Tainan
The night markets in Tainan work a little differently than night markets in Taipei or other cities in Taiwan. Each one has its own night, or a couple nights of the week, and some of the most famous food vendors move between them on each day of the week.
There's a common local saying to help you remember when to go where: 大大武花大花花 (大 for Ta-Tung on Monday, Tuesday, and Friday, 武 for Wusheng on Wednesday, and 花 for Garden on Thursday, Saturday, and Sunday.
Tainan night markets are also typically set up in large open areas like parking lots, not on regular streets. Also, they are all located well away from the city center, so you'll have to journey to reach them. You can find out what to eat at each one in my guide to Tainan's night markets (coming soon).
Garden Night Market
Garden Night Market (花園夜市) is the largest and most famous night market in Tainan, and by some counts, the largest in all of Taiwan, with over 400 stalls. It's open on Thursday, Saturday, and Sunday, and is a ways up in North District.
Ta-Tung Night Market
Ta-Tung (大東夜市, or Dadong Night Market) in East District is the second most famous night market in Tainan. It runs Monday, Tuesday and Friday.
Wusheng Night Market
Wusheng Night Market (武聖夜市) used to be Tainan's favorite, but it has now slipped to the third spot. It runs on Wednesdays and Saturdays. It is in West Central District, but in the northwestern corner of the district, a ways from any of the city center attractions (it takes 15 minutes to reach it on foot from Shennong Street, mentioned above in this article)
Xiaobei Night Market
Xiaobei Night Market (小北觀光夜市) is near Garden Night Market in North District, but opens on days when Garden isn't (Tuesday and Friday).
Xin Yong Hua Night Market
Xin Yong Hua Night Market (新永華夜市) in Anping district (see next section) is a new, pleasantly uncrowded, and relatively small night market that runs on Thursdays and Saturdays.
Things to Do in Tainan's Anping District
You really can't visit Tainan without spending a day in Anping District (安南區), even half a day, if you can! This historic district features the original Dutch Fort from when they colonized Taiwan, the awesome Anping Treehouse, Anping Old Street, and a few other worthwhile sites.
If you've got extra time, there are a few more sights in neighboring Annan District, but easily accessible from Anping, in the next section below, including the famous Sicao Green Tunnel.
Anping Grand Mazu Temple
It makes sense to start your Anping visit at Anpring Grand Mazu Temple (安平開臺天后宮), near entrance to the fort, because the exit of the fort will then lead you to the next destination below. Anping's Matsu Temple holds the title for oldest running Matsu temple on mainland Taiwan (there's an even older one in Penghu).
The three large Matsu statues on the main shrine inside have flexible bodies and sit on wooden stools that date to the Song Dynasty. The temple is a stunner, but if I could make one request, it would be to install air conditioning; it was scorching inside the temple on the day I visited!
Anping Old Fort
Anping Fort (安平古堡), or Fort Zeelandia, was the original Dutch Fort in Taiwan during their brief (38-year) occupation. It was built from 1624 to 1634 by the Dutch East India Company. When you first enter near the back of Anping Grand Mazu Temple, you'll see a small museum to the left, which includes models of the original fort.
Behind the museum is an original outer fort wall built of bricks imported from Batavia (today's Jakarta, capital of the Dutch East Indies at the time). You can climb the inner fort, which is to the right of the main entrance.
There are canons, statues, and a souvenir shop on top. You can also climb the white scouthouse for an impressive 360-degree view of the surrounding Yanshui River, Anping Canal, Anping District. The exit of the complex is at the backside of the fort and leads to the next attraction below.
For another interesting fort in southern Taiwan, see my guide to Cijin Island in Kaohsiung.
Entrance to the fort is NT50, or cheaper if you pre-order your ticket online. It's also included on the Tainan Historical Sights pass.
Anping Treehouse and Former Tait & Co. Merchant House
Anping Treehouse (安平樹屋) is one of Anping's most popular attractions. It consists of an abandoned warehouse that has been completely taken over by banyan trees. It sits behind Former Tait & Co. Merchant House (英商德記洋行), now a small museum, which was a merchant house during the Qing Dynasty and Japanese period.
There's also Mr. Zhu's Home & Calligraphy Exhibit (朱玖瑩故居(因鹽玖定), the first building you'll see when you enter the site, while Former Tait is to the left, and the treehouse is behind it. Before leaving, enjoy the excellent soft serve ice cream at the small café on site (I had sea salt and caramel flavor when I visited). Note the staircase decorations on the walls inside, meant to replicate the elevated walking paths inside the treehouse.
For more information see my detailed guide to Anping Treehouse.
You can also pre-order your tickets online to save a little money. The treehouse is covered by the Tainan Historical Sights Pass.
Anping Old Street
Anping Old Street (安平老街), also called Yanping Street (延平街), is sometimes called the oldest street in Taiwan. It runs west to east from the east side of Anping Fort, and doesn't really get going until around noon.
The street's two major specialties are shrimp crackers (蝦餅), which you can see being made right on the street, and dried fruits, with the most famous shop selling the latter being Lin Yong Tai Dried Fruit Store (林永泰興蜜餞行, #84). Like other old streets in Taiwan, Anping Old Street can get very crowded, but when I visited during COVID, there was hardly anyone there.
Here's my foodie-focused self-guided walking tour of Anping Old Street.
Haishan Hall
While exploring the Old Street, if you left turn down Lane 104, just after the small temple, you can reach a beautiful old house called Haishan Hall (海山館). Look for the lion with a sword in its mouth above the entranceway; these were once used as house markers instead of numbers, and they are now a symbol of Anping.
Cultural Museum of An-Ping Oyster Shell Cement Kiln
A five-minute walk from Haishan Hall or Anping Old Street, this small, free museum (安平蚵灰窯文化館) explains more than you ever wanted to know about oysters, including how their shells were fired in the kiln on site to make cement.
On the way, you can also stop in at Anping Market (安平市場, 6 am to 1 pm), if you're interested in seeing a traditional Taiwanese wet market.
Anping Salt God White Beach Park
Anping Salt God White Beach Park (安平鹽神白沙灘公園) is a small white-sand beach on a pond, with a white statue of a god beside it. You can't swim here on, but it makes for an interesting, if unexpected, photo op in Anping.
Sio House Salt Museum
Right next to the white beach, the Sio House Salt Museum (台南安平-夕遊出張所) is a very small museum about Tainan's salt industry. There isn't much to see, but they do sell birthday salts, as in a different type of salt for every day of the year.
You can also buy a few salt-flavored foods and drinks (including salt soda, popsicles, and dou hua), and the museum is housed in a lovely Japanese wooden home. There are other more interesting salt-related attractions in Tainan (see the final section of this article).
In the same area, the Old Julius Mannich Merchant House (東興洋行) is another old house that now contains a restaurant. Anping Small Fort (安平小砲臺) is also a short walk away, but it won't blow you away compared to Anpring Fort or Eternal Golden Castle (see below).
I recommend visiting the following sights in the late afternoon, as the sun is beginning to set (I did so after I checked into this hotel, which I highly recommend). They are in order as you would encounter them on foot, coming from the Anping Fort/Old Street area.
Anping Harbor and Anping Canal
To Enjoy a good view of Anping Harbor (安平港), you can climb to the top floor of the Anping Community Center (台南市安平區金城里活動中心), just a 5-minute walk south of Anping Old Street and Fort. The building houses a bar called Hola (安平果然是你) with a view of the harbor. The harbor-side of the building also has a whale mural that looks cool when lit up at night.
Anping Canal runs for six kilometers inland and back to the harbor, creating a large island that makes up most of Anping District. There are walking and cycling trails along it, and Anping Canal Park (安平運河公園) can be lovely, especially at night. There are several bridges crossing the canal, including the rainbow-colored New Lin An Bridge (新臨安橋). There's also the small Anping Canal Museum (安平海關 運河博物館), which was closed when I visited in 2022.
Anping Fisherman's Wharf
If you cross Anyi Bridge, where Anping Harbor connects to Anping Canal, you'll reach Anping Fisherman's Wharf (安平漁人碼頭), which is known for sunset views. Historic Harborside Park (港濱歷史公園) is famous for its Whale Art Installation (大魚的祝福(鯨魚裝置藝術), which you can climb up into.
Lin Mo Niang Park
Following the Historic Harborside Park on foot or by bike to the west toward the ocean will bring you to Lin Mo Niang Park (林默娘公園), named after Matsu, the goddess of the sea. There, a towering white Matsu statue stands, protecting Taiwan, and welcoming ships as they enter the harbour.
1661 Taiwan Warship Museum
The Taiwan Warship Museum (臺灣船園區) is a small, harborside museum featuring a red and black wooden warship dating to the 1600s. There isn't a whole lot to see; usually you can go on the ship, but it was closed for renos when I visited. Still, marine warfare fans might want to take a quick look on the way to the next entry.
Entrance is listed as NT30 (it was actually free when I visited, possibly because I showed up just a few minutes before closing), and it's closed on Mondays. Make sure to get there before the 5:30 closing time.
Deyang Ship Destroyer Exhibition Hall
The more worthwhile Deyang Ship Destroyer Exhibition Hall (安平定情碼頭德陽艦園區) features the USS Sarsfield, a US Navy ship that was laid down at the end of WWII, deployed in Cuba, the Vietnam War, and finally used by the Taiwan navy before being retired in 1977.
You can explore several floors and rooms of the ship. There are also some small Republic of China tanks and aircraft on site. You can get a small discount if you buy your tickets here on Klook.
Eternal Golden Castle
The Eternal Golden Castle, also called Erkunshen Battery (億載金城 / 二鯤鯓砲臺) was built to resist invading Japanese troops. I recommend visiting right before the 5:30 p.m. closing time, when the low rays of the sun make the ruins live up to their name.
The Eternal Golden Castle is located in the large Yizai Park (億載公園), just five minutes from Deyang Ship Destroyer. You can get a small discount if you book your ticket here on Klook. Entrance to the castle is covered by the Historical Tainan Sights Pass.
Yuguang Island
Yuguang Island (漁光島) is connected to the mainland via a rounded bridge. It's a bit far (20 minutes on foot), but possible to walk from Eternal Golden Castle to the beautiful stretch of sand at Moon Bay. It's a popular spot at sunset, and there are some food stalls at the end of the bridge, just before the park and beach. If you've got your own wheels, you could further explore the island's various fishing docks and lighthouses.
Sunset Platform
For another sunset vantage point, you can consider Sunset Platform (觀夕平臺), which is just across the harbor entrance from Yuguang Island, but too far away from the latter to reach on foot (you'd have to walk all the way around the entire harbor.
There's also a beach near Sunset Platform at Qiaotouhaitan Park (橋頭海灘公園), also popular at sunset, as well as Anping Lighthouse (安平燈塔).
Places to Visit in Annan District
The following attractions are in Annan district, just north of Anping, but easily accessible from Anping. Since it's possible to see the main attractions of Anping in half a day, you could include one or more of the following to complete your day, and spend the night in Anping at this hotel, and visit the following sights the next morning like I did.
Taijiang National Park
Taijiang National Park (臺江國家公園) is a relatively new (created in 2009) national park protecting mostly wetlands and marine areas. The most popular way to explore the national park is by taking a boat tour to Sicao Green Tunnel (see next entry) or a longer tour of the national park provided by the same boat operator.
The longer tour visits several stops in the national park, but mainly only runs in winter, when rare black-faced spoonbills, a migratory bird, can be seen in the area.
Sicao Green Tunnel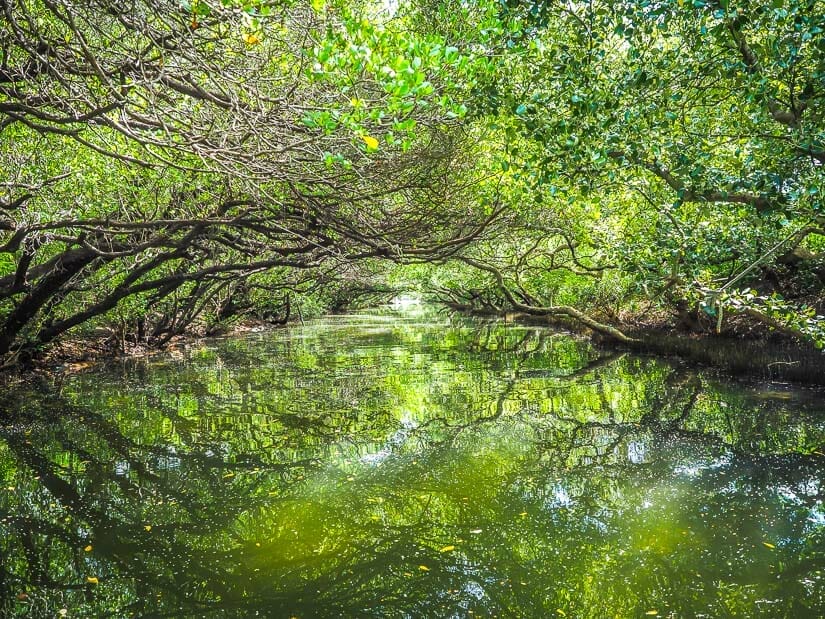 A popular attraction, Sicao Green Tunnel (四草綠色隧道) is a "tunnel" formed by a canopy of trees over a canal in a wetland area in Taijiang National Park . Thirty-minute boat tours depart after enough people arrive.
The same company offers longer tours that cover more ground in the national park, which are more popular in winter, when the migratory black-faced spoonbill can be spotted. Read my guide to Sicao Green Tunnel for all the details!
Luerhmen Mazu Temple
The extremely impressive Luerhmen Mazu Temple (正統鹿耳門聖母廟) is one of the largest temples in Taiwan. It's well out of the way and not easy to reach. I recommend going by scooter, which I did, but you can also take bus Tainan bus 11 to Shengmu Temple stop, or Tourist Bus 99, when it's actually running (the bus has been majorly reduced because of lack of tourists).
The huge, colorful temple complex is surrounded by a moat and has two towering statues of demons protecting the temple in the parking lot. It is the world's largest temple dedicated to Matsu.
National Museum of Taiwan History
Also far out of the way, the National Museum of Taiwan History (國立臺灣歷史博物館) is nevertheless one of the best history museums in Taiwan. To get there, you can take bus 18 from the city center.
Tainan Day Trips
The following places are further afield in Tainan City, making them suitable as day trips from Tainan.
Chimei Museum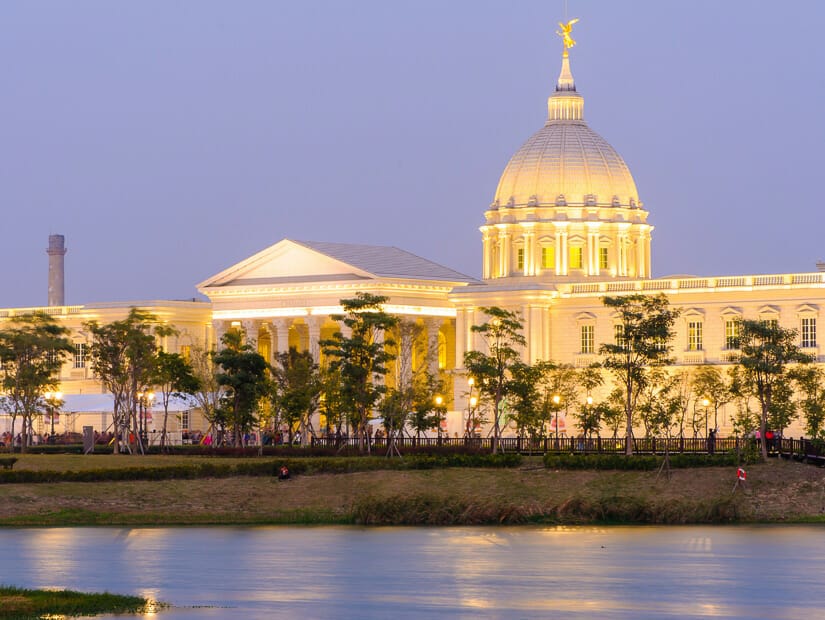 The rather unexpected (it looks something like the Whitehouse in Washington D.C.) Chimei Museum (奇美博物館) also contains a surprisingly large array of artifacts. Inside you'll find five major collections: musical instruments (including the world's largest violin collection), fine arts, natural history/fossils, antiques, and an impressive armor collection.
Several buses go there from the city center, including ones en route to the Tainan High Speed Rail station; use GoogleMaps to find the best bus options from your departure location.
You get discounted tickets to Chimei Museum here on Klook.
Cigu Salt Mountain
Cigu Salt Mountain (七股鹽山, or Qigu Salt Mountain) is exactly what it sounds like: a mountain of salt. It's a photogenic site, and you can climb several staircases to the top. It lies in the namesake Qigu District, which was once famous for its salt industry. You can also taste a wide variety of salted items on site, including salt ice cream, salt douhua, and seafood baked atop hunks of salt.
The Qigu Salt Museum (成功鹽體驗館) is just around the corner and worth an hour of your time. There are salt sculptures, loads of info about the former industry, and a café that does salted coffees.
For more information on Cigu and the next entry, see my guide to Cigu Salt Mountain and Tainan's Salt Fields.
About 25 minutes' drive away from Cigu Salt Mountain, Guosheng Lighthouse (國聖港燈塔) sits at the westernmost point on Mainland Taiwan. There are also some beautiful sand dunes there, called Dingtoue Sandbar (頂頭額沙洲).
Jingzijiao Wapan Salt Fields
The Jingzijiao Wapan Salt Fields (台南北門井仔腳瓦盤鹽田) are the most photogenic reminders of Tainan's salt producing past. The beautifully preserved salt fields north of Qigu Salt Mountain are especially photogenic in the late afternoon. You can even walk on some of them and try your hand at shoveling salt. There's a tower you can climb to get a truly impressive view from above.
Beimen Crystal Church
Not far from Jingzijiao Wapan, Beimen Crystal Church (水晶教堂) is a curved glass structure surrounded by a pond. It's a popular Instagram spot and wedding photography location. If this kind of site appeals to you, also consider visiting the High-Heeled Shoes Church (高跟鞋教堂) not too far away across the border in Chiayi County.
Laotanghu Art Village
Art lovers can consider visiting Laotanghu Art Village (老塘湖藝術村), where the ruins of old homes have been fixed up by artists, including treeehouses, cute shops, and a wooden bridge to more atmospheric homes on a small island.
Yanshui Fireworks Festival
Often called one of the most dangerous festivals in the world, the Yanshui Fireworks Festival (鹽水蜂炮) takes place in Yanshui district in northern Tainan. The festival started when locals set off fire crackers to ward off a cholera epidemic in the late 1800s.
Now, every year on the 15th day of the first month on the Lunar Calendar (the same day as the Lantern Festival; see more info in my guide to Taiwan's festivals), mobs of people in the street get pummelled by thousands of bottle rockets, sometimes even causing their clothing to start on fire! You can read all about my experience at the Yanshui Fireworks Festival.
Guanziling Hot Spring
One of Taiwan's most unique hot springs is the mud hot spring found at Guanziling in northeastern Tainan. The best spot in town to try bathing in the muddy waters, and rubbing mud on your body (it's great for the skin) is King's Garden Villa (see on Booking / Agoda / TripAdvisor).
You can find all the details you need for visiting in my guide to Guanziling Mud Hot Spring.
Dongshan Coffee Road
Also in Guanziling district, Dongshan Coffee Road (175咖啡公路) on highway 175 offers the chance to sample locally grown coffee directly from coffee farmers. Plums, longans, and other citrus fruits are also grown in the area. It's a popular cycling destination.
Erliao Sunrise Pavilion
The Erliao Sunrise Pavillion (台南二寮觀日亭) in southeastern Tainan is a wooden walkway along a mountainous road to a platform that features epic mountain views. You'll want to come for sunrise, if possible, for a chance to see the famed sunrise above mist-covered hilltops. It's a similar view that is often associated with Alishan in neighborhing Chiayi County.
Caoshan Moon World Grand Canyon
A 20-minute drive further up the same road will bring you to Caoshan Moon World Grand Canyon (草山月世界大峽谷). Head to "308高地觀景台 viewing platform" for the best views of the canyon. The scenery is reminiscent of the similar Moon World Landscape Park in neighboring Kaohsiung.
Tsailiao Fossil Museum
A 20-minute drive in a different direction from Erliao Sunrise Pavillion will take you to Tsailiao Fossil Museum (臺南左鎮化石園區), which features fossils and replicas of dinosaurs and other ancient creatures.
Huxingshan Park
If you're visiting the area around Lunar New Year in Taiwan, definitely make a stop at Huxingshan Park (虎形山公園), which is decked out with cool lights and lantern displays at the time. There's also a suspension bridge and art displays on site.
Well, I hope you've found more than enough ideas for fun things to do in Tainan, Taiwan! Let me know in the comments how your trip goes of if I missed anything!