Dear reader: This article contains links to products and services that I may be compensated for, at no extra cost to you.
Gaomei Wetlands (高美溼地 or Gaomei Shidi) is a large mud tidal flat on the coast of Taichung City in central Taiwan. It is one of the most popular things to do in Taichung for visiting tourists and locals alike.
The main reason to visit Gaomei is to stroll along the 800-meter dock, and out onto the sand beyond it, to spot migratory birds, mudskippers, crabs, and other invertebrates. Gaomei Wetland is also especially famous for its stunning sunsets punctuated by silhouettes of huge coastal wind turbines. However, expect masses of people at sunset – you've been warned!
Gaomei is surely touristy, but the views are breathtaking and our kids really enjoyed the day and night we spent there. In this article, I'll introduce the area, how to get there, the best Gaomei Wetland tours, what to expect when you arrive, things to do at Gaomei and nearby, where to eat, and the best hotels nearby.
You can also consider visiting Feng Chia Night Market, Taichung's largest and most famous, on the way back to the city.
Welcome to Gaomei Wetlands
The Gaomei Wetlands are located just south of the mouth of the Dajia River in Qingshui District (清水區) of Taichung City on the coastal Qingshui Plain. In Japanese times, the area was a coastal resort, and the lighthouse on site (1967) pre-dates Taichung Port (1976), the large port located just to the south of Gaomei.
The Dajia River flows from Hehuan Mountain in the Central Mountain Range. Hehuan Mountain is famous as being one of the best places to see snow in Taiwan.
The river carries soil deposits which, upon arriving at the sea, mix with the sand and create the six-kilometer-square tidal flat. Ever since a sand embankment was created to protect Taichung Port, mud from the river has accumulated north of it, forming the Gaomei Wetland.
The nutrients in the soil attract a variety of wildlife, including fiddler crabs, mudskippers (an amphibious fish), egrets, and the endangered black-faced spoonbill. Endangered plants such as Da'an lichen and boschoenus planiculmis also grow in abundance in the wetland.
Another place to see black-faced spoonbills in Taiwan is Taijiang National Park. See more info in my guide to Sicao Green Tunnel in Tainan.
In 2004, the Gaomei Wind Turbine Avenue (高美風車大道) was constructed on Cape Pearl (海角明珠), which forms the southern boundary of Gaomei.
A year later, the local government created the Gaomei Wetlands Preservation Area (高美野生動物保護區). By the 2010s, the site had become one of the city's top attractions, thanks in no small part to the epic sunset photos shot there.
How to Get to Gaomei Wetlands
If driving to Gaomei Wetlands, it takes about 2 hours from Taipei or 45 minutes from the Taichung city center. There are several large parking lots on site, including just north and just south of the main dock at Gaomei. Parking cots NT50 per vehicle.
If you'd like to come by scooter, you can rent a scooter or a Gogoro electric scooter in Taichung. If you don't have a vehicle, choose one of the below options:
By Tour
By far the easiest method of getting to Gaomei Wetlands is to take a day tour from Taichung. The tour is often combined with a visit to Rainbow Village, another of Taichung's most famous sights.
Unfortunately, due to the lack of tourists during COVID, none of these tours are running right now, but you can expect them to start up again when Taiwan opens its borders, and I'll update this article with the tour links when that happens. For now, you can sign up for Klook with my referral link to get an NT100 credit for when you eventually do book.
From Taipei by HSR + bus
By public transportation, it is possible (but a little long) to visit Gaomei Wetlands as a day trip from Taipei. From Taipei Main Station, the fastest (2 to 2.5 hrs total) but most expensive way is to take the High Speed Rail to Taichung HSR station. Book your tickets here on Klook to get the best deal. If you sign up with my referral link first, you'll get an additional NT100 off, which will be applied at checkout.
Arriving at Taichung HSR station, walk to Xinwuri station (新烏日火車站) on the local train line. The two stations are connected. Catch the local train to Qingshui station (清水站).
From Qingshui Station, take a taxi (15 minutes), ride a YouBike (30 min, available right in front of the station), or Taichung City Bus 178 or 179 (20 minutes). The buses only come once every few hours, so you have to time it well.
If you take the bus, get off at Gaomei Wetland stop (高美溼地) for the main dock. It's also possible to rent bikes there.
The bus continues another 4 stops after Gaomei Wetland. The third last stop is Gaomei Visitor's Center (高美濕地體驗館 or Gaomei Wetland Experience Museum), which has some souvenirs and displays, as well as good views.
The second last stop is Tourist Center Meiti Street (遊客中心(美堤街)), which is near a beautiful pedestrian-only bridge that you can walk or cycle across to reach the Gaomei Wind Turbine Avenue (高美風車大道) on Cape Pearl (海角明珠). You rent bikes near the bus stop.
The last stop, called Gaomei Wetland Tourists Center (高美濕地遊客中心) is just a giant parking lot, so don't go there.
From Taipei by TRA train + bus
The slower but cheaper way (3-3.5 hrs total) from Taipei to Gaomei Wetlands is to take the regular (TRA) train to Qingshui Station (清水車站), then follow the above directions. The train takes about 2.5 hrs.
From Taichung city center
From the Taichung city center to Gaomei Wetlands, take the regular (TRA) train from Taichung Station to Qingshui station (45 minutes) then follow the above directions. Because it relatively close to the city center, Gaomei Wetlands is one of the most popular day trips from Taichung and a must on your Taichung travel itinerary.
Best Time to Visit Gao Mei Wetland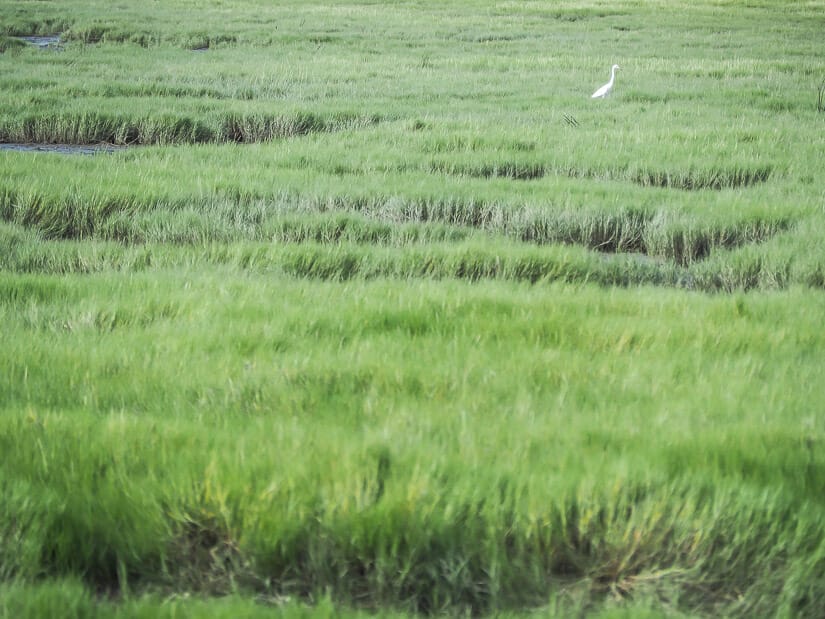 While sunset is by far the most popular time, you may want to consider visiting in the early morning, when crowds are at a minimum. You may also want to avoid mid-day, especially when the weather is hot, and weekends, when locals flock there. The dock is open 24 hours a day.
It's important to note that if the tides get too high, the dock may be closed for a few hours. To check when high tide will be, go to this page and scroll down to "Taichung City Qingshui" under the Hsinchu-Lukang inshore section in the drop-down menu.
In terms of seasons, the dock is fine to visit year-round. However, most migratory birds only come to the area in fall and winter, so aim for those months if you want to see them. For reference, we visited during the plum rainy season in May, hence the dark clouds in my pictures.
If you'd like to enter the Gaomei Lighthouse grounds, avoid Monday, when it is closed.
What to See at Gaomei Wetlands
The main focal point of Gaomei Wetlands is the 800-meter dock that sticks directly from the coast out into the wetland and sea.
In order to protect the wildlife, including the thousands of crabs you will see, you are not allowed to step off the dock, and there are fines for doing so. As a result, the dock can become very crowded, especially in the few hours before sunset.
If you look back towards the shore, Wenxing Temple (文興宮) dominates the view (the temple on the left in the above photo). Looking south down the coast, Xi An Chaotian Palace (西安朝天宮) looks particularly impressive (see below photo), with the Gaomei Wetlands Bikeway passing right in front of it.
At the very end of the dock, you are allowed to step off and explore further. Depending on the tides, there may be sand at the end, or very shallow water.
We quite enjoyed walking around on the sand out there and going for a swim in the shallow water, but there weren't as many crabs or other creatures to see as from the dock.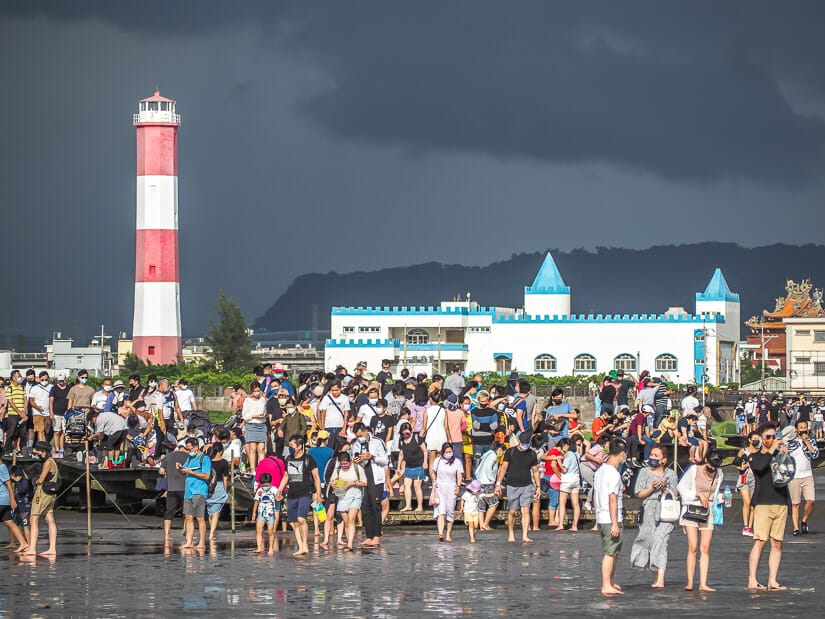 If you can, try to time the end of your dock walk for sunset. The sunset here really is breathtaking, and for us, it was worth navigating the crowds for. Try to arrive at Gaomei a good hour or two before sunset if you can.
The sunset views are also quite beautiful from the shore, so you don't necessary have to walk out to the end of the dock to enjoy them.
Back on the shore, the Gaomei Lighthouse (高美燈塔) is just a few steps north of the dock entrance. The 37.8-meter red-and-white-striped octagonal lighthouse dates to 1967.
You can visit the lighthouse grounds for free (closed Mondays), but can't climb up it. There's a large, castle-like kindergarten beside the lighthouse.
From the Gaomei dock entrance platform, there's a long platform running north and south along the coast called Gaomei Wetland Bird Watching Platform (高美濕地賞鳥景觀臺). You can enjoy excellent views of the wetland from there, without actually walking out onto the dock.
The dock stretches 630 meters south along the coast to the Gaomei Wetlands Visitor Center (高美濕地遊客中心), also called the Gaomei Wetland Experience Museum (高美濕地體驗館). The museum has a few displays, souvenirs, and some large fiddler crab and mudskipper statues outside. The center also has an excellent view of the below two sights.
From the center, you can walk or ride a bicycle (see cycling section below) to the picturesque, pedestrian-only Gaomei Hyperbolic Landscape Bridge (高美雙曲景觀橋), cross it, and you'll reach the start of the Gaomei Wind Turbine Avenue (高美風車大道) on Cape Pearl (海角明珠).
There are about a dozen enormous wind turbines in two rows along the coast. Riding or walking below them is a good way to appreciate their sheer size.
Budget about 1 hour (walking) or 15 minutes (cycling) to reach the end and back, not counting stops. There are also some sand dunes at the North Sand Dyke (北防砂堤) at the end.
Cycling at Gaomei Wetlands
One of the best ways to appreciate the area around Gaomei Wetlands is to hop on a bike.
The cycling path the runs north and south along the coast from the main Gaomei dock to Gamei Visitor's Center, and across the pedestrian bridge to Wind Turbine Avenue, is called Gaomei Wetlands Bikeway (高美腳踏車道).
There is a large YouBike rental station just south of the Gaomei Wetlands docks called iBike Gaomei Wetlands (YouBike高美濕地). The closest bus stop is Gaomei Wetland stop (高美溼地).
There's another YouBike rental station just south of Gaomei Hyperbolic Landscape Bridge called iBike Gaomei Wetlands First Parking Lot (YouBike高美濕地第一停車場). The closest bus stop is Tourists Center (Meiti St.) (遊客中心(美堤街)).
You could also cycle as far as Wuqi Fishing Harbor (see final section below) for some fresh seafood before ending your day.
What to Eat at Gaomei Wetlands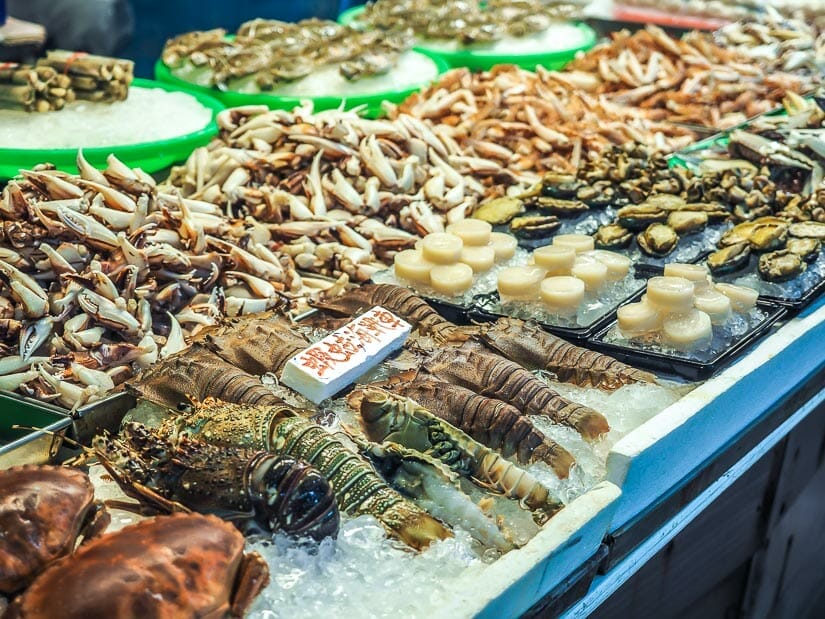 There is a cluster of food stalls and small restaurants around the main dock at Gaomei. Expect the usual Taiwanese snacks like sausages, deep fried foods, iced teas, and souvenir pastries.
The most popular sit-down restaurant is Gaomei Crispy Chicken (高美脆皮手扒雞), a 5-minute walk south of the dock. Their specialty is fried chicken and oil rice (油飯) in bamboo tubes. They have AC and free parking.
For fresh seafood, make your way to Wuqi Fishing Harbor, part of Taichung Harbor. It's a 10-minute drive or 20-minute cycle from Gaomei Wetlands. See more info on the harbor in the final section below.
Staying Overnight at Gaomei Wetland
Staying overnight at Gaomei allows you to enjoy the wetlands at night after all the tourists go home, and early in the morning before they return. We spent the night in the area so that we could enjoy some of the other things do see around Gaomei (see next section below)
Komei Container Homestay/高美濕地大有貨櫃民宿 (see on Booking / Agoda) has the most convenient location just a short walk south of the main viewing platform at Gaomei. They have interesting but very simple rooms houses in containers.
For rooms with hot tubs, there's a love hotel called Affair Motel Co.Ltd (see on Booking / Agoda) 1o minutes drive to the south. However, we don't recommend this place because they turned down our reservation because they think foreigners have COVID unless they've been in Taiwan for six months. They are either stupid or just don't like foreigners.
For a more modern hotel, also 10 minutes to the south by car, try Taichung Harbor Hotel (see on Booking / Agoda).
Last but not least, there are plans to open a new luxury campground beside the Gaomei Visitor's Center by late 2022.
Other Things to Do around Gaomei Wetland
If you spend the night, the following are other places to see near Gaomei Wetland. It's best to have your own vehicle.
Wuqi Fishing Harbor
Wuqi Fishing Harbor (梧棲漁港) in Wuqi District is Taichung City's main fishing harbor, thus it is also called Taichung Harbor (台中港). It is one of the country's largest ports, up there with Kaohsiung Port and Keelung Port. To get there, it is a 10-minute drive or 20-minute bicycle ride from Gaomei Wetlands.
Wuqi Harbor features several large buildings aimed at visitors. This includes a regular market area with food stalls (including non-seafood items), a dried seafoods hall, a wet market with fresh fish and seafood for sale, and several air conditioned seafood restaurants.
We ate at one of the air conditioned restaurants, but we found the prices were very high, so I would recommend just eating at one of the many food stalls on site. If you buy fresh fish or seafood to take away, the prices are supposedly even cheaper than at local wet markets in Taiwan.
There are also some cute statues of sea creatures, 3D murals, and other artworks on site, as well as a 7-Eleven. The market is open daily from 9 am to 7 pm.
If you love seafood, read about my favorite seafood harbors in Taiwan, Nanfangao in Yilan and Huaqiao Fish Market near the ferry to Xiaoliqiu, as well as Addiction Aquatic Seafood Market in Taipei.
Tzu Yun Yen Temple
Qingshui Tzu Yun Yen (清水紫雲巖 or Ziyunyan Temple) is an impressive temple in the Qingshui town center, about 15 minutes' drive from Gaomei Wetlands. The temple is dedicated to Guanyin and dates to 1870, although local legend places it all the back to 1662.
The temple has five stories with numerous shrines and rooms, as well as a large temple accommodation across the street. When I visited, there were picturesque strings of red lanterns hanging in front of the temple.
For those interested in temples, also see my guides to the best temples in Taipei and temples in Tainan.
Niumatou Site
Near Tzu Yun Yen, the Niumatou Site (牛罵頭遺址) is one of the oldest archaeological sites in Taiwan, dating 4000 years ago to the Neolithic period. There's a small museum on site, digging areas for kids, and the Aofong Hill Observatory is nearby. It is open 9-5:30 and closed Mondays.
Aofong Hill Observatory
Aofong Hill Observatory (鰲峰山觀景平台), also very close to the latter two sights, is an elevated wooden walkway and platform looking down on Taichung. Open 24 hours, it offers an especially good view at night, when the city is lit up.
Two Rabbit Café
If you're spending the night in the area, Two Rabbit Café (Two兔CAFÉ, cutely pronounced "Two Tu Café") is an outdoor café perched on a hill with a commanding view of the area. There are rabbits and several cats on site, or you can watch locals who bring their own pet rabbits to play in an enclosed area.
The café is open 6 PM to 1 AM (5-1 on Sat/Sun, closed Tuesday). They serve iced teas and hot pot (minimum NT 100 per person), but sadly no beer. It's in a remote location overlooking Qingshui.
If you spend the night in the area, Da Xiu Sushi Breakfast Restaurant (大秀素食早餐店) in Qingshui town offers a delicious and very traditional all-vegetarian breakfast.