Dear reader: This article contains links to products and services that I may be compensated for, at no extra cost to you.
Chishang (池上 or Ikegami in the local aboriginal language) is a rural township in northern Taitung, a remote but highly scenic county in the southeastern corner of Taiwan. Chishang features quintessential East Rift Valley scenery, with picturesque rice paddies between the inland and coastal mountain ranges, making it one of the most beautiful places to visit in Taitung.
In the last decade, visitors have flocked to Chishang town center to go cycling around Dapo Pond (大坡池) and nearby Brown Boulevard (池上伯朗大道), a paved road through the rice paddies, to Takeshi Kaneshiro Tree.
I recently visited Chishang with my two kids to see what the hype is all about. We rode an electric bicycle down Brown Boulevard and Paradise Road, spent the night in a hotel with a view of the rice paddies, and feasted on local foods. I can confirm that the area is stunning, and I surely recommend it as one of the top options for places to stay when traveling down the east coast through Taitung, along with Luye (famous for its hot air balloon festival), Guanshan (also a cycling hotspot, but less popular than Chishang nowadays), and Dulan surf town on the coast.
Below I'll cover everything you need to know for your visit, including Chishang history, how to rent a bike and the best cycling route, what to eat in town, where to stay, and other things to do in Chishang. If you don't want to bother with all this planning hassle, I recommend this Luye and Chishang day tour from Taitung.
Quick History of Chishang
Chishang was originally inhabited by the Makatao (馬卡道族) people from Pingtung, who are locally but not nationally recognized.
The area around Chishang has rich volcanic soil which is perfect for growing rice. Chishang also used to have a silk farming industry. Locally grown mulberry was once used to feed the silkworms – today mulberry is still grown there and used to make herbal teas or to flavor rice, both of which you can purchase in local shops (I'll mention one at the end of the article).
If you want to visit Chishang when the rice plants are ripening and turning golden yellow like we did (see photo above), aim for late May to early June, or late October to early November. You can learn more about local weather in my guide to when to visit Taiwan.
Sometime in the late 2000s, Mr. Brown Coffee (伯朗咖啡), a Taiwanese canned coffee and café chain, with the same parent company as Kavalan Whiskey (you can visit the Kavalan distillery in Yilan, a county also known for its rice paddy scenery), filmed a commercial among the rice paddies in Chishang.
Afterward, the street where it was filmed came to be known as 池上伯朗大道 ("Brown Boulevard" or "Mr. Brown Avenue").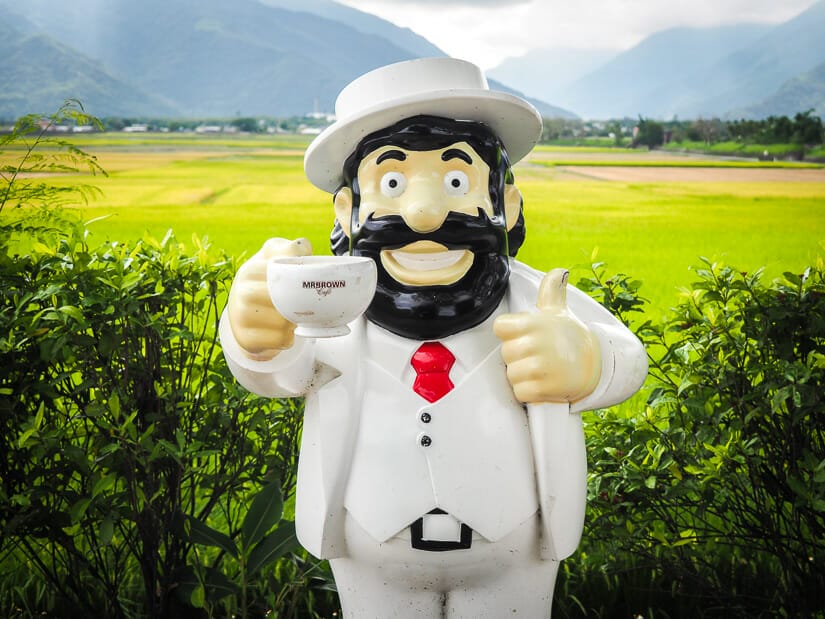 In 2013, Taiwan's EVA airlines filmed a commercial beside a tree surrounded by rice paddies in Chishang. The commercial starred the popular Japanese-Taiwanese actor Takeshi Kaneshiro (金城武). The commercial catapulted Chishang and Brown Boulevard to fame, attracting masses of domestic tourists, who rode scooters or bicycles on the roads crisscrossing the rice paddies to see the "Takeshi Kaneshiro Tree".
Here's the EVA airlines commercial that made Chishang famous:
The influx of tourists, who left lots of litter, annoyed local farmers, and they even considered cutting down the tree. In 2014, a typhoon did that for them, but the tree was revived and remains today. An EVA airline executive has even apologized to Chishang's farmers for the impact the commercial has had.
In 2017, a "Jolin Tsai Tree" was also designated, after the famous Taiwanese pop star visited it, some 200 meters southeast of the Takeshi Kaneshiro Tree.
Chishang's popularity as a cycling destination holds strong, and visitors pump some NT$500 million into the area annually.
The township actively encourages tourism and even organizes the annual Chishang Autumn Rice Harvest Arts Festival there. If you visit, it's important to be mindful of not disturbing farmers or their crops and not leaving any trash.
Where to Stay in Chishang
While it's possible to just stop in Chishang for 2-3 hours to go cycling and then move on, we enjoyed spending the night. This gave us more time to enjoy the cycling paths before and after the crowds arrived and to explore other things to do in Chishang.
We stayed at Good Harvest B&B (台東池上民宿-莊稼熟了1館) (see on Booking / Agoda / TripAdvisor), which was conveniently located right between the entrances to Brown Boulevard and Paradise Road, and a 15-minute ride from Taitung train station. We rented our electric bike overnight so that we could ride back to the station the next day.
The guesthouse has unique rooms with a distinctly Taitung flavor – I would especially recommend the ones on the second floor, which have cool designs and a large patio with views of the rice paddies and Brown Boulevard. We stayed in the family room on the ground floor, but it was kind of old and didn't have a window or view.
We also seriously considered How Has (好和院景), which is near Good Harvest, surrounded by rice paddies, and also has special rooms, but it wasn't available during our stay. Note that if you stay in either of these, there are no restaurants nearby ­– we brought all our food from town.
If you want to stay near the train station in town, which would be more convenient in some ways, Gift Box Hostel (see on Booking / Agoda / TripAdvisor) and Good Farming Day B&B (see on Booking / TripAdvisor) are the two best budget choices. Original House B&B (see on Booking / Agoda / TripAdvisor) is an atmospheric mid-range option.
For a classier stay with a swimming pool, try Papago International Resort (see on Booking / Agoda / TripAdvisor), which is 7 minutes' drive west of town. The resort is actually closer to Brown Boulevard than the train station is, so it's a good place to start your Chishang cycling tour from.
How to Rent a Bicycle in Chishang
Because cycling is the main thing to do in Chishang, there is no shortage of bicycles available to rent in town. Shops rent not only regular bicycles but also double bikes, electric bikes, and electric family bikes with roofs that come in various shapes and sizes – suitable for visitors with children and for getting some shade under the hot sun.
Most of the rental shops are within a few blocks of the train station, while more can be found near the entrance to Brown Boulevard, which is 15 minutes by bike or 7 minutes by car from Chishang train station.
Even five steps outside the front door of the train station, to the right, you can rent a bicycles or electric bike carts from TR9-Chishangzu Station (TR9-池上租車站). These include regular bikes (NT 200 for 3 hours), 2-person bikes (500), regular motorized scooters (600), electric scooters (800), covered electric family bikes (800), and 5, 7, or 9 person vehicles (2500-5500). Overnight rentals are not allowed from this shop.
We walked a few blocks down to 池上風情, where everything was a little cheaper. Regular bikes were 100-150, depending on quality, while we got our electric family bicycle for 1600 for next day return. We had a lot of fun driving this thing around, and it could get up to a decent speed.
A few blocks further south at 伊星達租車, which is on the way to Dapo Pond, we saw cuter electric bikes and vehicles on display, including some that looked like tuk tuks and had Totoro on top (see image above). You can also rent ones like this from shops near the western entrance to Brown Boulevard.
You can also pre-book a scooter rental in Chishang here on Klook or arrange a guided day trip to Luye and Chishang from Taitung.
Cycling Tour of Chishang and Mr. Brown Avenue
After renting your bike, you can budget about 2-3 hours to cycle to the following sights. I'll describe them in the order that you'll encounter them driving south from the train station.
Dapo Pond
The first stop you can't miss is Dapo Pond (大坡池), which is just 5 minutes southeast of town by bike. As soon as you arrive at the northern tip of this small, pretty freshwater swamp, you can enjoy the view from the parking lot.
A paved cycling trail goes all the way around the pond. There are a few art installations made of natural materials on the western and southern shore, labelled "我想要有個家", "等待" and "釣魚老翁" on GoogleMaps.
No matter which way you take around the pond, the cycling trail continues south from the southeastern corner of the lake.
Jinxin No. 2 Road
Continuing south from the lake, you'll enter a cute section of cycling path called Jinxin No. 2 Road (錦新二號道路). Here, the cycling path has a rail on either side, and if you're going by electric family bicycle like we did, you will just barely fit through some especially narrow portions of it.
There's one stop you can make on this section, at a cute like A-frame pavilion overlooking the rice paddies, similar to ones in which farmers take a break from the sun while working on their fields. It's called 稻米達人林龍星 on GoogleMaps.
At the end of this section, you'll pass a tiny temple on the left and reach the main car road. Cross the road and continue south on Jinxin No. 2 Road to reach the next stop.
Jinyuen Laundry Pavilion
One of the most interesting sights in Chishang is the Jinyuen Laundry Pavillion (錦園洗衣亭). This is a traditional laundry washing pavilion built atop a rice irrigation canal.
In old times, rural folks would take their laundry to stations like this to wash it in the stream and beat it on the stone slabs. Today, the pavilion is mainly a tourist attraction, but evokes nostalgic feelings among many locals.
The water in the stream is cool and refreshing, so it's a great spot to dip your feet or splash some water on your face after your hot ride.
Great View Pavilion
After the laundry pavillion, Jinxin No. 2 Road continues south then veers to the right (west). At this point, the road runs parallel to Brown Boulevard, which is just a couple hundred meters south of it.
You can't miss Great View Pavilion (大觀亭), the only notable structure along the road. This is an elevated walkway with several lookout pavilions offering views of the rice paddies in all directions. You can easily spot Brown Boulevard and its steady stream of cyclists from here (see image below)
Chishang Huge Waterwheel
Continue west until Jinxin No. 2 Road dead ends, then hang a left (south) and you'll soon see the next attraction, Chishang Huge Waterwheel (池上大水車).
This is the largest remaining waterwheel in the area, which serves to propel water through the irrigation channels. The views of the rice paddies from this spot are stunning. Note that some people start their Chishang visit near here, as there are a few bicycle rental shops just up the road, and Papago International Resort is nearby.
Takeshi Kaneshiro Tree
The single most popular stop in the whole Chishang and Brown Boulevard area is this famous bishop wood tree named Takeshi Kaneshiro Tree (金城武樹). It is just a few minutes from the Waterwheel, and is at the far western end of Brown Boulevard. When you arrive at the tree, this will be your first time stepping foot on the famous boulevard.
The tree is just a tree, but it's clear why it was famously chosen as the setting for the EVA Air commercial – the tree stands quite picturesquely on its own at the side of the paved path, surrounded by rice paddies. If you diodn't already, read about the reason for its name in the "history of Chishang" section above.
Unless you arrive very early or late in the day, you will most likely find a crowd of Taiwanese people at the tree, waiting in a line to pose for photos in front of it.
Jolin Tsai Tree
Lesser-known Jolin Tsai Tree (蔡依林樹), named after the "Queen of Chinese Pop", is just 200 meters southeast of Takeshi Kaneshiro Tree on an unnamed road – it's actually a continuation of the road you arrived at Takeshi Kaneshiro Tree on. The tree looks similar to the former, but smaller. When I was there, none of the Taiwanese visitors seemed to be paying attention to it.
So what did the famous Taiwanese pop star do to get a tree in Chishang named after her? Well she just visited it, posted a picture of her and her friends under it on her Facebook, and a few days later the Chishang township government officially named the tree after her.
There's no plaque or any way to know which tree it is, but you can see it from Takeshi Kaneshiro Tree. If you visit at a time when there's water in the paddy, it has a totally different look, as in the below stock photo I found:
Brown Boulevard
Brown Boulevard, or Mr. Brown Avenue (池上伯朗大道) is the main road that runs to Takeshi Kaneshiro Tree, and the reason that everyone flocks to Chishang.
Having said that, we didn't enjoy cycling along it as much as some of the smaller roads through the rice paddies nearby. It's just one long, straight road, and is of course the most crowded one. The view from the start of the road, though (see next entry) is undeniably pretty.
Brown Boulevard Picture Frame
The classic, postcard shot of Chishang and Brown Boulevard is from this spot, at the eastern end of Brown Boulevard. It's labelled 伯朗大道畫框 (Brown Boulevard Picture Frame ) on GoogleMaps, after the iconic picture frame for picture taking.
Beside it, the Mandarin characters for Brown Boulevard (伯朗大道) are written on a fake tree stump. You can also find a statue of the man himself, Mr. Brown (the coffee company's mascot).
There's also a small shop in the parking lot here selling ice cream and cold drinks. If driving by, watch out for masses of Taiwanese people posing for photos in the middle of the road!
Paradise Road
Paradise Road (堂之路) is another road through the rice paddies, similar to Brown Boulevard, but slightly less popular. It starts from around the middle of Brown Boulevard and travels southeast from it at an angle, eventually meeting county highway 197, south of the entrance to Brown Boulevard, and forming a triangle.
The best view of Paradise road can be had from the eastern entrance to the road, right around where "Paradise Road" is marked on GoogleMaps. There you can find a picturesque statue with a swing, perfect for photo shoots, and a few other statues looking out at Paradise Road. The cover photo of this article is also a shot of Paradise Road.
Paradise Road is the site of the annual Chishang Autumn Rice Harvest Arts Festival, usually held in October (recent events cancelled during the COVID pandemic).
Wan An Brick Kiln Factory
While this isn't a must-see, if you're interested in old things, the Wan An Brick Kiln Factory (萬安磚窯廠) is up a small, uphill road near the entrance to Paradise Road. These are the ruins of a former red brick kiln dating to 1954 and closed in 1989 after brick making was automated.
I took a quick look because it was just a few minutes on foot from our hotel.
Rice Village Center
The Rice Village Center (稻米原鄉館) bills itself as a rice museum, but they really isn't much to see or learn inside. However, if you find yourself in the Brown Boulevard or Paradise Road area and are hungry, they offer simple Hakka meals, and the dining area on the second floor has a view of Brown Boulevard and the rice paddies.
What to Eat and other Things to Do in Chishang
The following are some other Chishang sights and activities that you could include on your cycling tour, or do before or after you drop off your bike. I've also including some yummy things to eat in Chishang.
Wutao Chishang Lunchbox Museum
Besides bicycle paths through rice paddies, Chishang is famous for the rice itself. Because the water in the area is so pure, the rice from Chishang and other nearby towns like Guanshan is said to be the best in all of Taiwan.
The best way to try this rice is to do as the locals do and get a famous lunchbox from this lunchbox restaurant. Taiwanese lunchboxes are inspired by Japanese bento boxes brought to Taiwan when they built the country's train lines. A few other train stations across Taiwan are famous for their lunchboxes, notably Fulong beach in New Taipei City and Fenqihu near Alishan.
You can't miss Wutao Chishang Lunchbox Museum (悟饕池上飯包文化故事館), thanks to the real locomotive parked out front. The classic lunchbox (NTD 90) comes with sausage, pork, tofu, braised egg, greens, and pickled vegetables on a bed of sticky rice. There's also a small lunchbox museum inside on the second floor, but it was closed when we visited during COVID in Taiwan.
The restaurant is three blocks south of Chishang Train Station. You could stop there when cycling to Dapo Pond, or catch it on the way back into town and before boarding your train.
No.9 Gourmet Coffee
For a café with an incredible view, visit No. 9 Gourmet Coffee (池上鄉九號咖啡館). The café on the eastern edge of town, just five minutes on foot from the train station.
The café offers the usual assortment of hot and cold drinks and snacks, but the real draw is the full wall windows with views of the adjacent rice paddies. The owner asks guests to place their order using their phone (Mandarin only), so ask if you need help.
On GoogleMaps, a path seems to follow a creek directly from here to Dapo Pond, but we couldn't see it. We came to this café by bike, but had to return to town to find the main trail to Dapo Pond.
Dachi Tofu Skin Shop
My most unexpected find in Chishang was this off-the-beaten-track (but "famous" among local visitors) deep fried tofu skin (豆皮 or doupi) factory called Dachi Tofu Skin Shop (大池豆皮店).
Doupi is one of my favorite Taiwanese snacks. It can be soft and/or mildly sweet in soup, or crispy when barbecued or deep fried. At this doupi factory, you can sneak a peak into the room where they make it, with huge vats of steaming water that they prepare it in and artsy scenes of doupi skins hanging to dry.
You can buy a portion of super fresh and delicious doupi strips, deep fried and served with sweet soy sauce. There are normally a few chairs and tables on site, but when we visited during COVID, it was takeaway only.
The factory is in a residential neighborhood at the southwestern end of town. Budget an extra 30 minutes for a detour to here before returning your bike in Chishang. There are a few other possible stops in this neighborhood (see below).
Other Places to Visit in Chishang
Here are a few more small attractions in Chishang that we never made it to:
Getting to Chishang
Most visitors arrive in Chishang by train. Chishang is on the main Taitung line, but the fastest express trains from Taipei to Taitung don't stop there. You can budget 4-5 hours to get there from Taipei, depending which train you get.
Please note that in September 2022, an earthquake damaged the train line between Yuli and Fuli north of Chishang. This is making travel to the region more difficult for the time being. Only local (i.e. very slow) trains are running, and you have to take a bus (50 minutes) past the broken section, from Yuli in Hualien to Fuli in Taitung. The line is expected to be fixed sometime in late 2022 or early 2023.
You can also rent a car in Hualien and drive down Highway 9 to Chishang (approximately 2.5 hours). For more information, see my guide to planning a road trip on the east coast of Taiwan.
Yet another option is to take this domestic flight from Taipei to Taitung, then catch the local train from Taitung station to Chishang (50 min) or hire a scooter (international or local license needed) outside of Taitung station and drive there. Yet another option is to take this day tour from Taitung.
And that's the end of my travel guide to Chishang! I hope I've answered any questions you had about visiting Chishang. Please let me know in the comments below if I missed anything or if you have any questions!