Dear reader: This article contains links to products and services that I may be compensated for, at no extra cost to you.
I've been living in Taiwan since 2008, and I've always loved exploring and photographing the incredible array breathtaking temples in Taipei.
In recent years, I've traveled to several neighboring countries to visit and write about their temples (for example, see my articles on the most beautiful temples in Southeast Asia, Busan, Chiang Mai, and Myanmar).
Until now I haven't written a similar article on my own adopted city, so this post on the best Taipei temples is long overdue! I've personally visited all of the below temples, most of them several times, and all the photos used are my own (see what camera and lenses I shoot with).
There's also a great deal of information on the tourism department's guide to the religious sights and culture of Taiwan, this site on the gods of Taiwan, and the blog of local photographer Josh Ellis.
Below I'm going to introduce 30 of the most important and impressive temples in Taipei and the greater Taipei region.
Useful resources for Taipei travel:

– Use Klook to find discounts on travel in Taipei
– Guide to Traveling in Taiwan
– Recommended Taipei itinerary
– Where to stay in Taipei
– Best Day trips from Taipei
Introduction to Taiwanese Temples
Temples in Taiwan belong to the Southern Chinese style of Qing Dynasty architecture, or Hokkien/Minan architecture, found among the Hoklo populations in Fujian province, Taiwan, and Singapore.
Taiwan's temples are busy, incense smoke-filled places of active worship. Visiting temples is one of the best things to do in Taipei during Chinese New Year, as they all remain open. Taiwan's temples also host some of the country's most impressive (and noisy!) festivals.
About 80% of Taiwanese temples combine religious beliefs and deities from Taoism, Buddhism, Confucianism, and folk religion. Another 20% are specifically Buddhist and tend to be simpler and more zen-like in design. All together, there are more than 15,000 officially registered temples in Taiwan.
Some distinctive traits of these temples include swallowtail (upward curving) roofs and statues and carvings made of pieces of porcelain. Generally speaking, the temples are incredibly ornate, colorful, busy (visually, that is), and detailed.
The oldest temples in Taiwan are found on Penghu (an archipelago in the Taiwan Strait between China and Taiwan) and in Tainan, the original capital of Taiwan (see here for my guide to the best temples in Tainan). Some of Tainan's temples date to the 1600s, while most of the original Taipei temples date to the 1700s or 1800s.
Temples remain extremely important in the daily lives of Taiwanese young and old. They visit them to ask for love, luck, children, good scores on exams, see off the those who have passed, burn joss paper, celebrate the new year, and more. Many night markets have built up over time around temples to cater to worshipers. Therefore, you can also enjoy some of the best street foods in Taipei around local temples.
Visitors are always welcome in Taiwanese temples, and you are even free to photograph as you please. Just be respectful and try not to get in people's way or bother them while they are praying.
If you are interested in the religions of the world, also check out my review of the Museum of World Religions in New Taipei City, which was created by a Buddhist monk.
Beyond Taipei, if you are a temple lover, then also be sure to check out my articles on doing a temple stay at Fo Guang Shan(Taiwan's largest Buddhist monastery) and visiting the cave temples of Lion's Head Mountain.
The below temples are listed roughly from geographic distance from the center of Old Taipei.
Temples in Wanhua District
Wanhua District is the Old City of Taipei, also known as Bangka, Mengjia, or Monga. The area was once a walled city with five entrance gates, four of which remain today.
Wanhua's highly atmospheric and run-down streets contain several of Taipei's oldest and most important temples, the most famous of which is Longshan Temple.
For a guided tour of the area, I recommend this Monga Walking Tour.
1. Bangka Longshan Temple (艋舺龍山寺)
Longshan Temple tops every list of best temples in Taipei, and for good reason. Dating to 1738, it is one of the oldest temples in the city and probably the most well-known in all of Taiwan. It is located at the heart of Wanhua District.
The large temple complex is always bursting with activity and devotion, starting with the awe-inspiring Buddhist chanting ceremony that takes place every morning at 6 and 8 a.m., lasting nearly an hour each time (see video at top of article).
Besides the temple itself, the surrounding attractions make it a must-visit. These include an artificial waterfall and koi fish pond at the front, adjacent Herb Alley, the underground collection of fortune tellers, nearby Bopiliao Historical Block, and notorious Huaxi Night Market (find out why it's notorious in my detailed guide to the best night markets in Taipei).
You can visit Longshan Temple with a local expert on this Longshan Temple and Bopiliao Historical Block walking tour.
2. Bangka Qingshan Temple (艋舺青山宮)
200 meters north of Longshan Temple, Qingshan Temple is the second of the "Bangka Big Three" temples. You may be surprised by how small the temple is, but what it lacks in size it makes up for in importance to the people of Taipei. The temple is located on Bangka Old Street (艋舺老街), known for its colonial baroque architecture.
The temple houses a statue of Zhang Gun, the Qingshan King, a Taoist deity who is thought the ward off disease. It is said that the eyes of the Qinshan King statue seem to follow you around as you visit the interior of the small temple.
Every year on the 20th to 22nd day of the 10th month of the lunar calendar, usually in November in Taipei or December in Taipei, the temple puts on one of the rowdiest of Taipei's street processions.
Qingshan Temple is included on this Old Taipei walking tour.
If wild parades are your thing, don't miss the Yanshui Beehive fireworks festival in Tainan, southern Taiwan. Click the link to see actual footage of my father being pummelled by bottle rockets until his clothes lit on fire!
3. Bangka Qingshui Temple (艋舺清水巖)
Completing the "Bangka Big 3" triad, Qinshui Temple is 200 meters east of Qingshan Temple, about halfway between the Longshan Temple area and popular Ximending neighborhood (see #4 below).
The temple is dedicated to Qingshui Zushi (Master Qingshui), a Song Dynasty Buddhist monk who, according to legend, saved a town from a drought.
It is said that the face of the Qingshui Master statue in this temple was blackened when demons tried to burn him, and his "drooping nose" (it kind of looks like a nose job gone terribly wrong) supposedly predicts impending disasters by falling off.
A unique feature of the temple is the corridor-like entranceway between two rows of buildings, including some Taiwanese restaurants where local elderly like to hang out.
Note that there are two more Qingshui temples in New Taipei City: one in Sanxia (see #24 below) and another in Tamsui.
4. Taipei Tianhou Temple (臺北天后宮)
Also sometimes included on the list of most important temples in Old Taipei, Tianhou Temple is sandwiched between buildings (you may almost miss the entrance!) on the edge of Ximending, Taipei's funkiest neighborhood.
Tianhou, the "Heavenly Queen," refers to Matsu, the goddess of fishermen and the sea. Matsu is considered the patron saint of Taiwan and is arguably the country's most popular deity. The annual Matsu pilgrimage in Central Taiwan is one of the world's largest religious processions, usually taking place in April or May in Taiwan; read more about it in my guide to the world's greatest pilgrimages.
Besides housing an important statue of Matsu, the temple also has a statue of the Kobo Daishi, the Japanese founder of Shingon Buddhism. See my post about staying in a temple in Koyasan, Japan, the headquarters of Shingon Buddhism, where Kobo Daishi is interred in Japan's largest cemetery.
One thing I love about the Ximen Tianhou Temple, besides how the tiny entrance opens up into the unexpected temple courtyard, is the lovely hanging lanterns and flaming red candles usually on display.
Temples in Datong District
Datong District stretches north from the old walled city of Taipei to the Keelung river in the north. The region's historical significance is owing to the fact that the area runs along the Danshui River.
Dadaocheng wharf is where most goods once entered and left Taipei, and the lively shops, markets, and temples built up around the port remain one of Taipei's most fascinating neighborhoods to this day.
For more information on the area, see my guide to Dadaocheng.
5. FaChuKung Temple (Fa Zhu Gong Temple) (臺北法主公廟)
One of the most important items traded in Dadaocheng for the last 100+ years has been tea (learn more in my detailed introduction to tea in Taiwan). So it only makes sense that the area has a temple devoted to Fa Zhu Gong, the god who protects tea farmers and traders.
Two things instantly stand out about this temple: The enormous brick back wall facing Nanjing West Road, a major artery of Taipei, and the manner in which it is built above an alley, allowing traffic to drive right under it.
The temple was originally built in 1869, at a time when trade in the area was thriving. However, when the government planned the streets around it in 1908, the temple was reduced in half. Later in 1968, the back half of the temple was further sliced off to make room to widen Nanjing West Road.
The locals weren't too happy about the resulting squished temple, so they petitioned the government to allow them to rebuild the temple on the same spot. To make best use of the limited space, they built the back brick wall as close to Nanjing W. Rd. as the could, then built five floors up, leaving space on the ground floor for cars to pass through. It's quite an impressive sight!
6. Xiahai City God Temple (霞海城隍廟)
Continuing north, Xiahai City God Temple is the next noteworthy temple. Like Bangka Qingshan Temple (#2), it is another surprisingly small but extremely important temple.
The temple lies at the southern end of Dihua Street in Dadaocheng, widely considered Taipei's oldest street. The temple was built to house a statue of Xiahai Chenghuang, the City God, which was brought over from China. The god is the protector of the city, and there are several other Xiahai temples in Taiwan and China.
Also like Qingshan Temple, the temple organizes one of the city loudest street processions, which takes placed on the City God's birthday (the 14th day on the 5th month of the lunar calendar), usually in June in Taipei.
Nowadays, the temple is always full of worshipers, but many come for a different reason altogether: to pray for love. To learn why and find how to do the complex set of rituals yourself, see the Xiahai Temple section of my guide to Dihua Street.
7. Dadaocheng Cisheng Temple (大稻埕慈聖宮天上聖母)
Another famous Dadaocheng temple, located a few blocks east of the northern end of Dihua Street, is Cisheng Temple. Dedicated to Matsu (like #4 above and #14 and #19 below), it is also known as the Dadaocheng Matsu Temple.
What makes this temple unique is not so much the temple itself, but the large collection of traditional food stalls set up in front of it. Come here in the morning or afternoon and you'll find crowds of locals hanging out, feasting, and drinking at tables in the shade provided by two large banyan trees.
8. Dalongdong Bao'an Temple (大龍峒保安宮)
While Bao'an temple doesn't see quite as many tourists as Longshan Temple, it is arguably just as (or some would say more) beautiful.
Bao'an Temple is known for its incredibly ornate decorations, beautiful paintings and importance to the local people in the early development of Taipei. It also typically makes the list of the "Big 3 Temples" in all of Taipei, along with Longshan and Qingshui (apparently here people like to make lists of threes…)
Bao'an Temple is in Dalongdong, a thin strip of land between the Danshui and Keelung rivers that was the location of a historical village in early Taipei but is now connected to Dadaocheng to the south.
Although Taiwan doesn't yet have any UNESCO World Hertage Sites (find out why here), the temple has a UNESCO Asia-Pacific Heritage Award for Culture Heritage Conservation. It sits on the site of a wooden shrine dating to 1742, but was built in 1804 and repaired or expanded many times.
When you visit, begin by admiring the temple from the Bao'an Temple Garden across the street, which makes for some pretty impressive shots through the gate fronting the garden. Inside the temple, don't forget to look up at all the fine details.
9. Taipei Confucius Temple (臺北市孔廟)
Right next door to the Bao'an Temple Garden, but completely different than Bao'an Temple, is Taipei's Confucius Temple. Coming from Yuanshan MRT, which is how you will probably arrive, you'll reach Confucius Temple first.
While typical Taiwanese temples (of the Taoist/Buddhist/folk religion variety) tend to be extremely ornate and busy, the Confucius Temple is comparative calm and simpler in design. Instead of numerous god statues you will see tablets and plaques with calligraphy on display. When I last visited, an elderly man was playing the erhu within one of the courtyards, which added a nice touch.
The first thing you'll see when arriving is the red brick walls around the perimeter of the temple, then you'll need to walk around to the entrance on the western side. The tourism bureau workers at the entrance are particularly helpful and will offer you a free map upon arrival.
There are a variety of free programs available, such as paper craft making (Fridays 2-4 p.m.) and calligraphy card making (Tues-Fri 9:30 to 11:30a.m and 2-4p.m., Sat-Sun 10-12 and 2-4p.m.)
The temple also hosts an early morning ceremony on Confucius' Birthday (also Teacher's Day) on September 28. Visit the temple a few days before to get a ticket for the event.
Other notable Confucius Temples in Taiwan include the ones in Taichung (see more details in my article on things to do in Taichung and my recommended Taichung itinerary) and Tainan.
Also read about my visit to Confucius' tomb in the Confucius Cemetery, China.
Temples in Zhongshan District
Central Zhongshan District was mostly developed during the Japanese colonial occupation of Taiwan and later. Today it is home to numerous museums, parks, and recreational facilities. Hsin Tian Kong (Xing Tian Temple) stands out as the area's most famous temple, but there are a few others worth checking out.
10. Wenchang Temple (台北市文昌宮)
Sitting right in between historic Datong and newer Zhongshan district, Wenchang Temple is known as the temple where students go to pray for good scores on upcoming exams.
Wenchang Temple is dedicated to Wenchang Wang or Wenchang Dijun, the god of literature. The temple has long served an educational role in Taipei and is considered the origin of the local public school system.
Wenshang Temple is situated on a lane fronting a long, thin park built above the the MRT red line. In the daytime the narrow lane is filled with vendors selling products and other goods.
11. Xingtian Temple (Hsing Tian Kong) (行天宮)
Xingtian Temple is one of Taipei's most popular and important temples, and it stands out for several unique features. Most significantly, the temple has developed a reputation for environmental protection, being the first temple to ban incense and joss paper burning in 2014.
The temple also has a unique feel, with a huge internal courtyard and 11 architectural bays. There are typically large crowds of people worshiping there, including multiple rows of tables where elderly devotees sit and read mantras from books while flipping prayer beads.
The temple has Confucian origins but combined with Buddhism and Taoism over time, and some rituals conducted there today are totally unique. Don't miss the underground Aisle of Fortune Tellers below Minquan West Road near the temple's main entrance. If you get your fortune told, you may be surprised at how accurate it is!
12. Jingfu Temple (台北市景福宮)
One temple on this list that you are very unlikely to hear of elsewhere is Jingfu Temple, which is located 10 minutes' walk southeast of popular Yuanshan Park.
Originally a tiny structure, the temple was expanded when an adjacent hotel closed and is now an elegant three-story structure that seems even taller due to the way it is confined between neighboring buildings.
What really blew me away about this temple where the incredible detailed carvings on the walls and ceilings of the second and third floors. Looking up at the ceiling, the dragon on the ceiling in the above photo supposedly dances as you move aroun the room.
13. Linji Huguo Temple (護國禪寺)
If you've ever taken the MRT red line north of Yuanshan station, you've likely passed by this Chan Buddhist temple and didn't think twice, because from the outside it doesn't look very special.
The temple's courtyard conceals a beautiful Japanese wooden shrine, dating of course to the Japanese colonial period in Taiwan. According to Josh's article, it is the oldest remaining wooden structure from the period in Taiwan, and one of the largest. There is also a beautiful wooden bell tower at the entrance.
The temple sits on the northern edge of Yuanshan Park at the base of Yuanshan (Yuan Mountain). When I visited, the sound of Buddhist monks chanting from one of the more recent halls pervaded the grounds, while a set of staircases behind the hall led me to a calm terrace suitable for meditation.
Interested in meditation? See my articles on meditation for travelers and mindful travel.
Temples in Eastern Taipei
You won't find a huge number of temples in Dong Qu (Eastern District), the newer and more fashionable central business district of Taipei, dominated by towering Taipei 101. There are, however, still a few gems.
14. Songshan Ciyou Temple (松山慈祐宮)
Built only 15 years after Longshan Temple but a ways from the Old City center, the temple at the time would have occupied a small village or trading point on the Keelung River. The current large, 6-story structure temple sits at the entrance to popular Raohe Night Market and is a true spectacle, from both the outside and within. It is one of my favorite temples in Taipei.
Dedicated to Matsu (ciyou means "merciful protector"), it is also known at the Songshan Matsu Temple, and contains an important black-faced Matsu statue.
The stairs in the temple seem to keep going up and up, with a near infinite number of statues, shrine rooms, and more. The detail on every surface is amazing, as are the views looking down at the internal courtyard.
It makes sense to combine it with a visit to Raohe Night Market and nearby Rainbow Bridge. See more details in my guide to Taipei's night markets.
15. Songshan Tianbao Temple (松山天寶聖道宮)
In the foothills of far eastern Taipei lies this unusual temple, another entry that you are unlikely to hear or read about elsewhere. Tianbao Temple is in the Four Beasts mountain area, which has some of the most popular hiking trails in Taipei, including the most famous, Elephant Mountain trail.
The three other beast mountains (Lion, Leopard, and Tiger) see far fewer hikers and also offer great views. Tianbao Temple is located roughly between Elephant and Leopard mountains. It was built in the 1960s and largely left to decay.
The temple and its spread out grounds feature walking trails to numerous gaudy statues, including an 8-meter statue of bearded (it's got real beard hair blowing in the wind) 無極天王 built into a cliff wall.
You can walk to the temple in about 30 minutes from Yongchun MRT station. It's not a must, but if you're into quirky attractions, then this one would definitely qualify.
Temples in Da'An District and Southern Taipei
Da'An district is home to Taipei's largest park and some of the city's most important universities. It is a culturally diverse district with many non-Buddhist/Taoist places of worship.
Further south in Wenshan and Xindian districts, there are a few temples in the hills that are worth the trip.
16. Taipei Taiwan Temple (台灣台北聖殿)
Here's one entry that you may be surprised to find on my list, but I decided to include it because it is actually called a temple. Taipei Taiwan Temple is the main place of worship of Taiwan's LDS (Church of Jesus Christ of Latter-day Saints) community.
The large, white and gray granite structure is undeniably striking. It includes one tall spire at the front topped with a golden statue and four shorter spires at the building's four corners. The blue tile roof is supposedly a nod to the Chiang Kai-Shek Memorial Hall nearby (see an image of the latter at the top of my Taipei 3 day itinerary post).
Taipei Taiwan Temple is located just off Yongkang Street, famous for its mango shaved ice and the original location of Din Tai Feng (pre-order your meal here!) The religiously diverse neighborhood also includes Taipei Grand Mosque, several other churches, and the Mongolian and Tibetan Cultural Center.
17. Zhinan Temple (Chih Nan Temple) (指南宮)
In the hills in the far southeaster corner of Taipei, Zhinan Temple is a vast temple complex with a commanding view over Wenshan district.
Dedicated to the Taoist deity Lu Dongbin, it was largely unknown to regular city folk until the construction of the popular Maokong Gondola just south of the Taipei Zoo. Now the temple is easily visited from the third stop of the gondola just before reaching Maokong station (save money with this Taipei double decker bus tour + Maokong Gondola pass).
The temple features three large structures, all of which have impressive views. While the temple dates to 1890, some sections are quite modern.
18. Silver Stream Cave (Yinghe Cave and Waterfall) (銀河瀑布|銀河洞)
More of a forest shrine than a temple, Silver Stream Cave and Waterfall is an inspiring place that can be reached via an easy 30-minite hike from Maokong Gondola Station.
Despite the proximity, it can be a little tricky to find because you must make several turns along the hike, but you can also reach it by bus and a shorter hike (see this article by Taiwan's hiking guru Richard Saunders for more details).
The shrine is built into a large rocky overhang buried in the jungle, with a small waterfall trickling down right in the middle of it (visit after rain and it is much more impressive!) The path through the temple takes you through a few shrine rooms and caves, with a statue of Lu Dongbin (see #17 above) at the top.
The view of the shrine is quite spectacular, making this a highly recommended spot to seek out.
GPS: 24.95861, 121.58318
Temples in Beitou and Northern Taipei
Northern Taipei is dominated by Yangmingshan (Yangming Mountain) National Park, a mountain massif that includes Seven Star Mountain (Qixingshan), a dormant Volcano.
Beitou, Taipei's only MRT-accessible hot spring resort, sits at the base of the mountain and is home to a few very interesting temples. See my detailed guide to Beitou Hot Springs here.
19. Guandu Temple (關渡宮)
Heading north on the MRT red line, Guandu Temple is another of my favorite temples in Taipei. Dating to 1712 and on the site of a place of worship dating to 1661, it is one of Taipei's oldest temples and the oldest Matsu Temple in Northern Taiwan.
Guandu Temple sits next to the Keelung River but faces a tributary to it. It is built on a hill, with staircases leading to various levels where one can sit and admire the temple from various angles, including its amazing roof carvings.
But the coolest part of the temple, and the reason I most enjoy visiting it, is the statue-filled tunnel though the hill that leads to a shrine with a great view over the river. The shrine features a gorgeous Thousand Armed Guanyin Statue.
20. Dharma Drum Mountain Nung Chan Monastery (法鼓山農禪寺)
Occupying a large piece of land in the south of Beitou district near Qiyan MRT, Nung Chan Monastery is the original headquarters of Dharma Drum Mountain, one of the four major Buddhist organizations of Taiwan.
The land was originally used as a farm by the founders of the organization. As the organization rapidly gained more followers, the organization constructed a larger monastery in the hills of Jinshan district, New Taipei City.
The original Nung Chan Monastery remains, and is a beautiful example of modern Buddhist architecture. The façade of one building is decorated with 5000 characters from the Diamond Sutra, while the Water Moon Pool in front of the Main Hall is a serene place to sit and contemplate the surroundings.
21. Beitou Puji Temple (北投普濟寺)
In addition to Linji Huguo Temple (#7), Puji Temple is another well preserved Japanese wooden temple dating to the colonial period. It is small but beautifully situated on a forested hill above the popular Beitou area, which is famous for its hot springs.
The temple was built in 1905 using donations made by Japanese railway workers who were working on the train line to Beitou. The temple is dedicated to Guanyin, the Goddess of Mercy.
To find it, watch for the small wooden gate on Wenquan (Hot Spring) road and follow the short trail up through the forest.
22. Bishanyan Kaizhang Shengwang Temple (碧山巖開漳聖王廟)
Located among a collection of temples on the slop of Bishan (Mount Bi) in Neihu district, northern Taipei, Bishan Temple (as it is more commonly known) is well-known for its panoramic views over Taipei.
The temple sits on the spot of a stone shrine dating back to 1751, and like many of Taiwan's temples, has been rebuilt and expanded many times. A large platform at the front of the temple offers the best views, while going down one floor there is a simple café and outdoor terrace where guests can enjoy the same view with a coffee or tea.
We drove to get there, but if you come by public transportation, catch minibus #2 (小2) from Neihu MRT exit 1.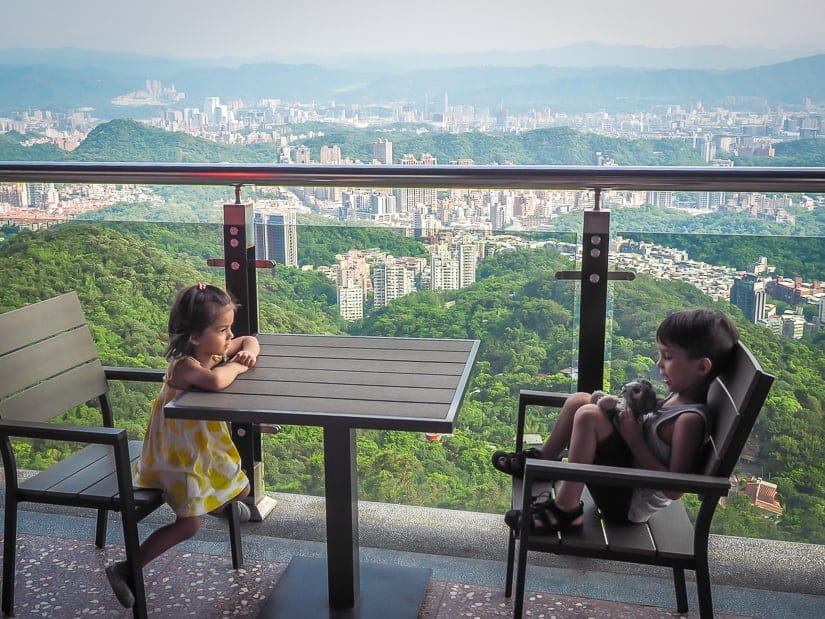 Temples in New Taipei City & Keelung
New Taipei City is technically the largest city in Taiwan by population. The special municipality surrounds Taipei City, and could be considered the "suburbs" of Taipei or the "Greater Taipei Region." Keelung, Northern Taiwan's largest port, is a separate municipality, but it is within easy reach of Taipei – read my favorite things to do in Keelung here.
Of course there are numerous temples in New Taipei City worth visiting, and my list below is not meant to be comprehensive. I just feel like it's important to mention some of my personal favorites, because you may very well want to make some day trips from Taipei to visit them.
I ordered these counterclockwise, beginning in the west. If you're exploring New Taipei City, also don't miss my article on Jiufen, one of the city's most famous attractions!
23. Xinzhuang Temple Street, Xinzhuang (新莊廟街)
I'm putting this one first because it's in my neighborhood. That's right, before when I said that I live in Taipei, I lied. I actually live in New Taipei City.
The reaction of other foreigners when I mention I live in Xinzhuang is usually something like "Where's that?" or "Why would you want to live there?" It's true that it's not the most beautiful or convenient district, but it does have a few cool features, and Xinzhuang Temple Street is one of them.
The area along the river in Xinzhuang was first developed in the Qing Dynasty when it was a trading point for all the villages and farms north of the river. As the name suggests, it is not one temple but a whole street (which becomes a night market at night) that contains about half a dozen major temples. And it may surprise you to learn that some of them are even older than the oldest temples in the Taipei city center!
At the eastern end of the street, Ciyou Temple (新莊慈祐宮) predates Longshan Temple by seven years. Wusheng Temple (新莊武聖廟) is another major one, while a series of super narrow lanes lead to small and very ancient looking Chaojiang Temple (新莊潮江寺), pictured above.
24. Qingshui Zushi Temple, Sanxia (Sanxia Temple) (三峽祖師廟)
Do you remember when I said there were two more Qingshui temples in New Taipei City (see #2)? One of them is the Sanxia Qingshui Zushi Temple, sometimes simply referred to as Sanxia Temple or Zushi Temple.
Zushi Temple is widely regarded as one of the most beautiful temples in Taiwan. In is found near the entrance to a popular Old Street in Sanxia, a district of New Taipei City southwest of the city heading towards the Taoyuan Airport. It is often visited along with the neighboring district of Yingge, which is famous for pottery (see my detailed guide to Yingge here).
During one of the temple's many renovations, artist Li Mei-shu and some art students were invited to take part, and their exquisite craftsmanship and artistic skills resulted in a temple that is so beautiful it is now considered to be a "palace of art."
Zushi Temple is included on this Sanxia and Yingge Folk Arts tour.
25. Hongludi Nanshan Fude Temple, Zhonghe (烘爐地南山福德宮)
If you live in Taipei, you may know this temple as "the giant Earth God in Nanshijiao." The 33-meter statue of the Tudi Gong overlooks Zhonghe District in New Taipei City from a fine vantage point on a hill.
Tudi Gong goes by many names, including Fudezhengshen, but in English he is most commonly known as the Earth God. As the protector of the land, you may have grown accustomed to seeing him (in a variety of sizes) while hiking or traveling around Taiwan. This statue of him is the country's largest.
You can walk up to the Earth God and Hongludi Nanshan Fude Temple in about 45 minutes from Nanshijiao MRT station, or you can take a longer and more scenic hike along a ridge that begins behind Hwa Hsia University of Technology (where, incidentally, I used to teach). The highly scenic 2-3 hour hike begins just past a tiny shrine marked "萬應公慈善寶祠" on Google Maps.
26. Dianji Temple, Keelung (奠濟宮開漳聖王)
Keelung Night Market is my personal favorite in all of Taiwan (find out why here). The night market's actual name is "Miaokou Night Market" which means "Temple Entrance Market." Read my detailed guide to Keelung Night Market here.
Traditionally many stalls selling foods and goods set up in the entrance area of temples in order to serve visiting worshipers. Over time, some of these expand into large daytime or night markets, such is the case with Miaokou Night Market. Dianji Temple temple currently lies right in the middle of the large night market (which actually opens in the early afternoon) now spread out into the streets around it.
If you come for the night market, which features great seafood and a photogenic setting, make sure not to miss the temple in the middle!
27. Zhongzheng Park and Zhupu Altar, Keelung (基隆中正公園 and 主普壇)
When you arrive in Keelung (likely by train), you may notice the large statue of Guanyin on the hill beyond the harbor. The statue is found in Zhongzheng Park, which I can only describe as a kind of Buddhist playground.
If you hike or take the bus up to the park, you'll be greeted with enormous statues surrounded by carnival-like activities for kids, such as motorized cars, ring tossing, and so on. It's weird, for sure, but the views over the Keelung harbor are unbeatable. You can even climb up inside the Guanyin statue!
From Zhongzheng Park, a walking trail leads to Zhupu Altar, which is closely associated with the Ghost Festival, the seventh month of the lunar calendar. Several major Ghost Festival events take place in Keelung at Zhupu Altar, as it is believed that this is the spot where the ghosts return to the underworld.
28. Fufudingshan Shell and Coral Temple, Sanzhi (富福頂山寺)
One of the quirkiest temples in Taiwan is the Fufudingshan Shell and Coral Temple in Sanzhi district, a 20-minute drive up into the hills from provincial highway 2 on the north coast of Taiwan. The temple is also known simply as the Sanzhi Seashell Temple.
The Seashell Temple doesn't look like much more than an old barn when you first arrive at the parking lot. But what those corrugated metal walls protect is something that stunningly beautiful and unique within.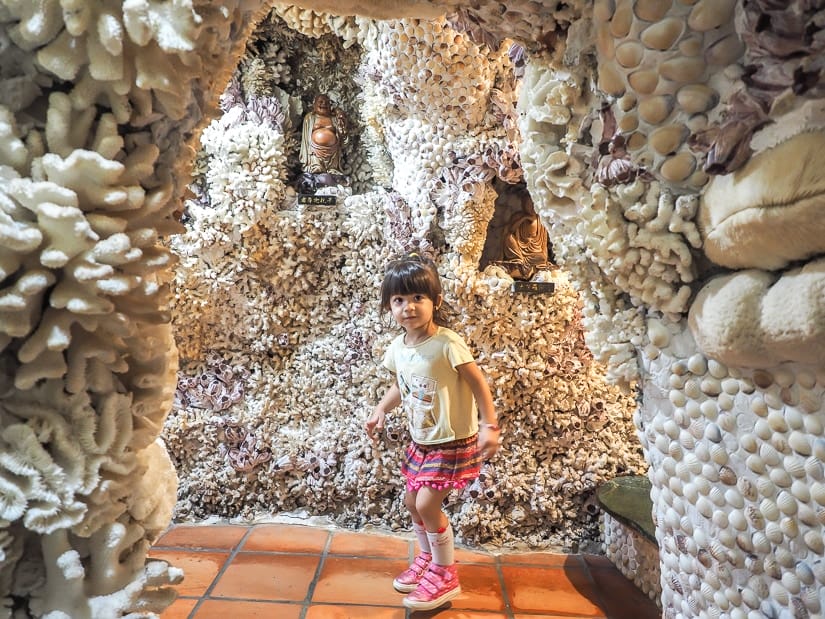 Just about every surface of the temple inside is covered with seashells and coral, including the walls, ceiling, columns, altar, and even a somewhat eerie tunnel that you can crouch down and walk though from one side of the altar to the other (which, by the way, my kids loved).
Unfortunately, there is no public transportation going up there, but if you happen to have a scooter, car, or are willing to hire a private driver, this temple is really worth the trip.
29. Yuan Dao Guanyin Temple, Tamsui (緣道觀音廟)
Up in the hills of Tamsui (Danshui), the Yuan Dao Guanyin Temple is a beautiful, expansive, and very peaceful Buddhist temple complex devoted to the goddess Guanyin.
The temple is modern (2000) and exhibits a lot of Japanese influences, while the partially wooden main hall is built in the Tang Dynasty style. The interior is anything but ancient, though, with the presence of a large pyramid with flashing stars, pan-religious iconography, and other religious art installations. No photos are allowed inside.
Outside the main hall, visitors can choose from various colors of incense to burn for a variety of purposes.
The temple is currently undergoing major expansions, including the building of the world's largest statue of the Thousand-Armed Guayin, which has recently opened to the public. Find the most recent updates on the temple's office page.
There is a free shuttle bus to the Yuandao Guanyin Temple from Hongshulin MRT, taking about 20 minutes. Click here to read about more things to do in Tamsui, including a few other notable temples.
30. Wuji Tianyuan Temple, Tamsui (淡水天元宮)
Taoist Tianyuan Temple is also up in the hills of Tamsui but further south of #29, and with public transportation access (bus 875, 866, 876 or 877 from Tamsui MRT). The round five-story "Altar of Heaven" on site is somewhat reminiscent of the Temple of Heaven in Beijing.
Tianyuan Temple is practically synonymous with cherry blossoms in Taipei. It's easily one of the most beautiful places in Taiwan to see this natural spectacle every winter in Taipei. Usually there is a first round of cherry blossoms sometime in February in Taipei, then another in March in Taipei.
The temple is quite picturesque anytime of the year, but when the cherry blossoms are blooming, it is truly unmissable (and extremely crowded, be warned!)
Since there are many different types of sakura there, some (especially at the higher levels looking down on the temple) start blooming as early as late January and last until mid-February, while different, lighter colored ones usually open in March in Taipei.
Well, that brings us to the end of this guide to some of the most famous (and lesser known) temples in Taipei, Taiwan. Thank you if you've read this far, and please let me know if I've missed your favorite temple in Taiwan!