Dear reader: This article contains links to products and services that I may be compensated for, at no extra cost to you.
Taipei's night markets offer the quintessential eating experience in Taiwan. In many ways, they are the embodiment of Taiwanese popular culture. Snacking and walking is truly a national pastime in this food-obsessed country!
What mostly started as small collections of food stalls in front of temples or at street corners around 100 years ago have slowly expanded into some of the largest and most talked about night markets in all of Asia. By visitor numbers, Taipei's night markets collectively are the country's most popular tourist attraction!
To give you an idea of the sheer variety of foods you will encounter in Taiwan's night markets, here are my 101 recommended Taiwanese street foods to watch out for. In many ways, street food is the best way to experience Taiwanese cuisine.
In 2018, 10 Taipei night market stalls even made it into the Taipei Michelin guide, jumping to 24 the next year, and that number keeps going up with every year's update to the guide.
In this article I'm going to introduce the best Taipei night markets. I'll start with the "Big 5" in Taipei City (Shilin, Raohe, Ningxia, Tonghua, and Huaxi). Then I'll cover some more local night markets in Taipei before moving out into New Taipei City, the large city that surrounds Taipei City, and one special night market in Keelung, a port city on the northeast coast.
For each one, I'll tell you what dishes the night market is famous for, where to find the Michelin food stalls, and how to get to each night market. At the end, I'll share some more general information about Taiwan night markets, their history, and more.
If you're interested in Taipei's restaurant scene, which is equally diverse and abundant, than also don't miss my guide to the best restaurants in Taipei.
What is the Best Night Market in Taipei?
One of the most common FAQs about Taiwan is: what is the best Taipei night market? This Wikipedia list of night markets in Taiwan mentions 30 in the greater Taipei area (Taipei City, New Taipei City, and Keelung), around 70 night markets in Taiwan, and there are actually many more that are not listed. So how can you choose which night market to visit on your Taiwan trip?
The short answer is: they are all amazing and similar in many ways, but each has its own unique features and dishes (as well as a lot of the same classics), and it really depends on what kind of experience you are looking for.
If you want the biggest, go to Shilin (#1), but it also sees the most tourists. Raohe (#2), Ningxia (#3), and Tonghua (#4) are all more manageable and have excellent food choices (including several Michelin-rated stalls), so I'd strongly recommend these three. Huaxi (#5) once had a reputation for shocking tourists with snake meat & blood. It's tamer nowadays, but you may or may not want to avoid it for this reason.
Nanjichang (#6) is super local and has excellent food, while several more entries after that are well off the tourist beaten track.
In short, there's no "best" night market in Taipei. Everyone has his or her personal favorite. If you're still torn, spend some time going through my article below, and see if any of them jump out at you! You can also use the map below to find out which Taipei night market is closest to where you'll be.
Useful links:
"The Big 5" Best Night Markets in Taipei City
To begin, here are the five most famous night markets in Taipei City than everyone always talks about. This list of course begins with Shilin Night Market, the city's largest (but not the largest in Taiwan!), and the one that tourists most commonly visit. Then we stop in at smaller (but often preferred) Raohe, Ningxia, and Tonghua, and finish with the night market with a shady reputation: Huaxi.
Also see my guides to the Big 5 night markets in Tainan, Big 5 night markets in Taichung, and Big 9 night markets in Kaohsiung!
1. Shilin Night Market: The King of Taipei Night Markets
With origins as early as 1899, Shilin Night Market is the country's most famous night market, and also the largest and most crowded in Taipei. Shaped liked an upside down triangle between Jihe and Wenling roads, there are 500+ food vendors here!
Keep an eye out for the Shilin Night Market Food Court, an air-conditioned underground food court that provides an ideal escape in summer. If you want to find it directly, take Jihe road up the Western border of Shilin Night Market, and enter right at the first road going in.
Unlike other night markets, I don't usually try to find specific stalls at Shilin, opting instead to just wander (i.e. get lost) and see what kind of dishes I happen upon.
The market is known for its creative treats that you can't find elsewhere (penis shaped cakes anyone?), but you can also find all the Taiwanese night market classics here, like sausages stuffed into rice sausages, mee sua (vermicelli in a thick meaty soup), oyster omelets (try the underground food court), shui jian bao (pan fried buns), bubble tea, and stinky tofu (you'll smell it before you see it).
Despite its size and fame, Shilin Night Market only got one of the 10 spots on the 2018 Michelin Taipei street food list: Hai You Pork Ribs (海友十全排骨). See if you can find it! (it's at #49 on the main lane through Shilin Night Market—大東路49號).
In 2019, Shilin stalls Chung Chia Sheng Jian Bao (鍾家原上海生煎包, 38, Xiaodong Street/小東街38號), specializing in Shanghai-style pan-fried buns, and Good Friend Cold Noodles (好朋友涼麵, #31, Danan Road/大南路31號), specializing in cold sesame noodles were added to the Michelin list.
One thing that you may want to seek out at the northeastern side of Shilin (or, much smarter, come in the daytime when there's no line), is the bubble tea shop Tiger Sugar, a newly opened branch of the chain from Taichung, which also happens to be the homeland of bubble tea (learn where to find the original pearl milk tea shop in my Taichung article).
Their drinks are very photogenic (hello Instagram!) but the amazing burned toffee flavor is what really blew me away, and I usually don't care much for bubble tea.
Shilin is popular among Taiwanese teens, so there are lots of trendy clothing shops, cafés, movie theaters, bowling alleys, etc. in the surrounding streets. It's also the Taipei night market most frequented by tourists, but I find that all night markets in Taipei, even Shilin, still have a predominantly local crowd, and I don't agree with people who say they are too "touristy".
Some stalls at Shilin stay open a little later than other markets, until 1 or even 2 AM. Also read my guide to Feng Chia Night Market, which is Taichung's answer to Shilin in Taipei!
Access: Get off at Jiantan MRT station (exit 1), not Shilin station. Cross the road and enter the beast.
2. Raohe Night Market: Great All-Around Experience
Probably the city's second most popular night market, I prefer Raohe for it's more manageable size. It's just one main drag, approximately 600 meters from east to west, with a small number of shops and stalls on some of the alleys leading away from it.
The market's most famous stall, impossible to miss right at the east end entrance (see photo above), is Fuzhou Shizu Black Pepper Buns (福州世祖胡椒餅). If you're like me and don't eat meat, it's still fun to stand and watch the masters at work. Another famous and Michelin-recognized food stall at Raohe Night Market is Chen Dong Ribs Stewed in Medicinal Herbs (陳董藥燉排骨) about a third of the way in.
The third Taipei Michelin food stall recognized in 2018 is Shi Boss Spicy Tofu (施老闆麻辣臭豆腐) about halfway down the night market. The vendor specializes in a soup version of stinky tofu with duck blood curds, or the usual deep fried version served with pickled vegetables. For some reason, this stall was removed on the 2019 list.
In 2019, Michelin added two new Raohe food stalls to the Bib Gourmand list: Beef Noodles and Beef Entrails Soup (紅燒牛肉麵牛雜湯, find it at the far end, around Raohe street #63) and A Kuo Luwei (阿國滷味, #759, Bade Road Sect. 4, right at the market's entrance).
Besides the usual assortment of great food, I like Raohe because it's close to a few other interesting sights, notably Songshan Ci You Temple, devoted to Matsu, goddess of the sea, at the eastern entrance. Don't miss it; it's one of Taipei's prettiest temples, and make sure you go up the six floors at the back!

If you're interested in temples, check out my article introducing my favorite 30 temples in Taipei and New Taipei City!
From the street behind the temple, you can climb the steps over the river flood wall to pedestrian-only Rainbow Bridge (it's actually red, but lit up with rainbow colors at night). This is also a great point for starting or ending a YouBike ride to other parts of the city. A great, easy run I'd recommend is from here to Yuanshan, which takes about 45 minutes.
Wufenpu Garmet Wholesale Market is also walking distance from here. This huge market is a great place to find all kinds of kinds of cheap clothing, especially T-shirts plastered with English words or phrases that don't make sense.
Access: Exit 1 or 3 of Songshan MRT station. YouBike station is just behind exit 3.

3. Ningxia Night Market: Easy to Handle, Amazing Mochi, and lots of Oyster Omelets
Ningxia night market is hard proof that the Taiwanese love to be crowded together: here, two rows of stalls running up wide Ningxia road are unnecessarily pushed close together to create a narrow walkway between them.
Ningxia is located near historic Dadaocheng and Dihua Street, one of the most interesting neighborhoods for wandering and street photography in Taipei.
This is a great choice for a quick and easy night market experience, or if you are traveling in Taipei with kids (but it still gets packed, so do come early). Running from the traffic circle on Nanjing West Road north to Minsheng West Road, the southern portion features several children's games, balloon darts, and so on.
If you would like to take a tour of the night market with a knowledgeable local, check out this Ningxia Night Market Tour on GetYourGuide.
For a relatively small night market, Ningxia sure packs in a lot of great food. The deep fried oyster/shrimp and balls (蚵嗲), a Chiayi specialty, are a personal favorite of mine.
By far the most popular stand in the market, with a line starting before they even open, is the Michelin recognized Liu Yu Zai deep fried taro balls (劉芋仔芋餅, stall #91). They only sell two items: taro only balls, and taro balls stuffed with salted egg and pork floss.
If that doesn't sound so appetizing to you, or you don't want to wait forever in line, then try the similar ones at stall #122. The custard ones are extremely rich, with melted buttery custard inside, and while I can't compare them with the famous salted egg ones, because I didn't try the latter, I'm going to go out on a limb here and say that these are EVEN better, at least for those who like rich desserts. And no line!
If you love traditional taro snacks, don't miss the excellent taro balls in Jiufen, New Taipei City!
Ningxia's other Michelin selection night market stall is Rong's Pork Liver (豬肝榮仔), located near the northern market entrance, specializing in pork liver soup. In 2019, Fang Chia Shredded Chicken on the Rice (方家雞肉飯), found right next to Rong's Pork Liver, was added to the list.
Another reason to come to Ningxia is the awesome traditional mochi on offer. According to my wife (I don't usually eat mochi), most mochi in Taiwan is coated in peanut powder, but the ones at Ningxia are made the traditional way, boiled right before you eat them so they are still warm, and with the atypical option of ground sesame seeds instead of peanut powder.
But what seemed especially interesting to me is that you could get them served on shaved ice and doused with sweetened condensed milk. I found the combination heavenly, but try to share with a friend, as the large bowl is like a meal. So I guess I may be a mochi lover after all! (For more shaved ice desserts, head to Yongkang Street Taipei, which is famous for its mango shaved ice!)
There are also restaurants flanking both sides of the night market street, including Huan Ji Sesame Oil Chicken (環記麻油雞 #44 Ningxia Rd), dating to 1941 and also serving mee sua.
You can also find several oyster omelet shops, the most famous being Yuan Huan Bian Oyster Omelet (環邊蚵仔煎 #46 Ningxia Rd) and Oyster Omelet Da Wang (蚵仔煎大王 #56 Ningxia Rd). There's also a popular one called Lai Ji Oyster Omelet (賴_蛋蚵仔煎 #198-22 Minsheng W. Rd) just east of the northern market entrance.
Finally, for beer lovers, I stumbled upon a great little craft beer place with friendly local staff called Beer Ammo (軍火庫精釀啤酒 #109 Nanjing W. Rd) that claims to offer over 300 mostly Belgian and local craft beer bottles, only one minute' walk towards the MRT from the southern end of Ningxia Night Market.
Access: It's a 5-10 minute walk from Zhongshan MRT station to the southern end of Ningxia, or from Shuanglian MRT station to the northern end. If you happen to be coming in on the yellow MRT line like I always do, then you can also walk from Daqiaotou Station in 10-15 minutes.
4. Tonghua (Linjiang Street) Night Market: Authentic, Old-Fashioned Foods, Near Taipei 101
Most reviews say that the coolest thing about Tonghua Night Market is that it is a very "local" market, which happens to be located only one MRT stop from the glamorous and highly commercialized Taipei 101 shopping district.
My first thought when I arrived is that it didn't seem so "local" to me; there was actually a higher concentration of foreign faces than any of the other night markets on this list. But my wife explained to me that it's not the crowd or vibe that's traditional, it's the food itself. Here you can find classic dishes with recipes that haven't changed in decades, the way older Taiwanese remember and love them.
There's a cluster of especially famous ones roughly in the middle of the night market, which runs along Linjiang street from the entrance on Tonghua street east to Keelung road. The market also spills a hundred meters or so west of Tonghua street entrance, up some side lanes, and there are lots of restaurants on Tonghua street itself.
My favorite stall at Tonghua is Yi Kou Jin Su Stinky Tofu (一口金酥臭豆腐) at the intersection of Linjiang street and Tonghua street lane 39 alley 50, right at the center of the market. You can't knock stinky tofu until you try, and this is a great one for first timers because it's very low on the pungent scale. I barely noticed a smell.
The tofu couldn't be crispier, and contrasts perfectly with the sauce and crunchy fermented cabbage. I emptied the (rather large) small portion that I got in a minute flat.
I was surprised however to find that another stinky tofu stall, which I haven't tried yet, made the 2019 Michelin Bib Gourmand list. It's called Tien Hsiang Stinky Tofu (雅口麻辣豆腐) but indicated on GoogleMaps in Chinese as Yakou Stinky Tofu (雅口麻辣豆腐專賣). It's located at the eastern end of Linjiang street, and supposedly also has really crispy and delicious stinky tofu.
At the center of the night market, near Yi Kou Jin Su Stinky Tofu, there's a cluster of some of the night markets other most famous stalls, including the following:
Just up Tonghua street lane 39 alley 50, there's a very traditional Chinese herbal soup called si shen tang, with lots of animal innards on display. Further up on the same side is a popular and 2019 Michelin recognized dessert shop called Yu Pin Yuan Iced and Hot Tangyuan (御品元冰火湯圓) that specializes in binghuo ("frozen fire") tangyuan, gooey boiled rice balls filled with peanut or sesame paste served atop shaved ice.
On the other side of the same alley, just in from Linjiang street, the third Michelin recognized place is Liang Ji Lu Wei (or "Liang Chi Lu Wei" 梁記滷味, specializing in soy sauce braised foods), and up a little further Zhong Ji Tonghua You Yu Geng (squid stew) (鍾記通化魷魚羹), another of my personal favorites, and finally Luo Ji Xiao Chao (or "Lo Chi Hsiao Chao" 駱記小炒), a small Michelin-recognized shop serving up classic Taiwanese fried fare.
Back on Linjiang street and just west of the alley, there's a vegetarian stall (look for the Buddhist swastika on the sign). This is not so common to find in night markets, but more common in day markets frequented by local elderly people.
Last but not least, further west towards the entrance on Tonghua street, you can find what is reputed to be some of the best gua bao (Taiwanese hamburger) in the city at the tiny stall called Shi Family Gua Bao (石家割包).
Going east from the center of the market, watch for a shop selling imported instant noodles and other goodies from Japan and Korea.
Access: From Xinhe Anhe MRT exit 3 (escalator) or 4 (just barely closer, no escalator), head east then turn right at the Watsons (Tonghua Rd.) Follow the stream of people to the market entrance on Linjiang street (pictured above).
5. Huaxi Night Market (Snake Alley): Taipei's Most Infamous Night Market
No other night market in Taiwan has a reputation like Huaxi does. Just around the corner from Longshan Temple, the city's most important place of worship, in Wanhua District (Old Taipei), lies what is probably Taipei's seediest area, and Huaxi street is right at the center of it. While the area was once known for crime, it is entirely safe to visit today, but do be aware that prostitution is visible in the night market areas.
30 years ago, Huaxi street was a red light district and adult video shopping street. It was the first night market to cater to tourists, and later gained a reputation for its restaurants specializing in snake meat, lending it the nickname "Snake Alley." Bus loads of tourists from Japan and elsewhere would pile in to take photos of vendors handling and killing the snakes to make stews or draining their blood to prepare alcohol shots. Chinese and Taiwanese believe snake has health benefits, is good for the skin, and enhances male virility.
With growing awareness of animal rights, Snake Alley has lost its appeal to most tourists and younger locals, and according to this article, in early 2018 the owner of the last shop specializing primarily in snake meat decided to call it quits and open a hot pot restaurant instead. It's telling that the Taiwan Tourism page for Huaxi Night Market no longer even mentions the word "snake."
In 2019, one Michelin Bib Gourmand selection was even added for Huaxi Night Market: Hsiao Wang Steamed Minced Pork with Pickles in Broth (小王清湯瓜仔肉, #17-4, Huaxi Street/華西街17之4號), known for its meaty, 40+ year-old recipes.
So is Huaxi Street Night Market worth checking out? Here's what you can expect today:
Huaxi actually consists of four night markets that are interconnected or close to each other, each quite different and interesting in its on way.
1. Xichang Street Night Market
Running north to south along the eastern side of Longshan Temple, this crusty night market feels more like an outdoor pawn shop, with hawkers sitting on blankets covered with goods like used watches and clothing.
It is also the location of Herb Alley, a small alleyway of shops specializing in Chinese medicinal herbs. You probably won't spend much time or eat in this night market, but it's worth a stroll for the crusty/old-time vibe.
2. Guangzhou Street Night Market
Starting at the northwestern corner of Longshan Temple and running west on Guangzhou Street, this market is the most similar of the four to other night markets in Taipei. The foods on offer are pretty standard, but I did find one rather special item: deep fried marlin cakes stuffed with hard boiled egg.
The vendor places them on a tray and you get to lather them in wasabi and hot sauce with a brush. They are really delicious, and you won't find them anywhere else. Oh, and they only cost 10 NT ($0.30)!
3. Huaxi Street Night Market
Fortunately, you won't see any snakes being slaughtered here today. However, despite the closure of all shops focusing "entirely" on snake dishes, I can confirm that there is still at least one shop in the market that sells snake meat items and has a large snake on display. Just to be clear, I do not condone this practice and I would recommend that you do not patronize or even pay much attention to this shop.
Even if you prefer not to step foot into this market, the entrance gate and covered arcade is quite photogenic. Many shops inside specialize in medicinal stews, which are popular in winter, and also medicinal alcohol shots, some of which still include unusual animal ingredients.
Also keep an eye out for Tainan Danzai Noodles (台南擔仔麵 #31 Huaxi St.), an iconic Huaxi Night Market institution that features art deco-style furnishings. It was closed when I visited, but I could still take a peek through the window.
The market also has several nail shops, foot & body massage parlors, adult toy shops, and DVD shops (apparently some people still use DVDs?) Many of the shops are open in the daytime as well, and some massage parlors are 24 hours.
The arcade stretches north to Guilin Road, and there's another quieter arcade north of Guilin Road. You can get the best shots of the night market gate looking back at the main section from the north side of Guilin Road.
The red light district still lives on right beside Huaxi night market, and kind of spills into it. The main section of the red light district is just to the south of the covered arcade, between Huaxi and Wuzhou Street (see below), but there are massage parlors, brothels, and KTV bars in many of the alleys leading away from all these night markets and in the surrounding area.
But take note: this karaoke parlor/red light district is primarily for local, elderly people, and many of the working women are also elderly (here's an article on an 82-year-old "worker of the night" who was arrested here in 2001). Many local men go there for drinking and karaoke; it's not only about prostitution.
For men visiting these night markets, you may notice women sitting on the sides trying to catch your eye but they won't bother you. But if you curiosity sends you wandering into the side lanes or red light district, some of the women can be quite aggressive and even grab or pull on your arm.
Also note that while discussion has been made in Taiwan about opening special zones where prostitution is permitted, this hasn't happened yet so it is still illegal, even though authorities obviously turn a blind eye in this area.
Most importantly, please be respectful when visiting the area, and don't take photos of the establishments in the red light district or people working in or around them.
4. Wuzhou Street Night Market
Running north from Guangzhou Night Market parallel to (and one block west of) Huaxi street is Wuzhou Night Market, which is really just an extension of Guangzhou Night Market, and the specialty here is seafood, cooked up in little stalls and served at low street side tables. If sitting by the street in a very local setting, sipping beer and eating cheap and delicious seafood is your thing, then here is your place.
Access: Longshan Temple MRT exit 1 is the most convenient for Longshan Temple and all four night markets. You'll need to walk past Bangka Park, where groups of local homeless hang out, sleep, and play Chinese chess.
It's still safe, and there's always a lot of foot traffic from the day and night markets, local residents and tourists, and of course Longshan Temple.
Other Taipei Night Markets
If you'd like to get more local and off the tourist track in Taipei, then the following Taipei night markets may appeal more to you.
Nanjichang Night Market: Taipei's most "local" night market
Nanjichang may be small compared to others, but don't let it's size fool you; there is truly a wide range of excellent foods crammed in, including two out of the 10 Michelin Taipei night market stalls in 2018, and 4 out of 24 in 2019.
And indeed, the feeling at Nanjichang is very local, and prices are cheap. Come here for a truly local night market experience in Taipei! Nanjichang's claims to fame include its dumplings, stinky tofu, sesame oil chicken, and taro shaved ice.
Literally "South Airport", Nanjichang is in a location that was beside a military airport in Japanese times. Unlike most night markets, many (but not all) of the vendors are open in the daytime as well, but the action really starts around 5 p.m., like at most night markets.
The main entrance is at the intersection of Zhonghua st. section 2 lane 315 alley 5 (中華路二段315巷5弄) and Zhonghua st. section 2 lane 307 (中華路二段307巷). Lane 315 alley 5 is the main section, with alleys 307 to 313 branching off to either side of it and containing more stalls and restaurants.
Right at the entrance, there is a famous chicken restaurant (山內雞肉) on one side, and braised pork rice (lu rou fan or 滷肉飯) restaurant on the other. Just in from the lu rou fan spot is 曉迪筒仔米糕, a great place to try tong zai mi gao, a kind of sticky rice mold topped with pork, mushrooms, sweet sauce, and cilantro that is especially popular in Southern Taiwan.
A few more steps in and you'll spot Shanghai Shui Jian Bao (上海水煎包), a popular spot for pan fried buns. At the intersection with lane 309, you can't skip Keelung Tianbula (基隆黑輪綜合甜不辣), which I can honestly say is the best tianbula (a Taiwanese version of Japanese oden) I've ever had – in fact, Keelung city is famous for its tianbula.
Venture east down lane 309 to find the newer location of Smelly Boss (臭老闆) at #46, which serves Michelin recognized stinky tofu that is literally the best stewed version of stinky tofu I've ever tried.
The soup it is stewed in is incredibly flavorful, and the two large hunks (NT70) come topped with mushrooms, ginger slices, and fresh Asian basil.
Back on the main lane, the section between 309 and 311 contains a tiny little gua bao stall, a famous fried chicken fillet stall called Yummy Chicken (好吃雞排), and an excellent fried oyster ball vendor called 好佳蚵嗲. As I mentioned in the Ningxia Night Market section, I love this fried balls of goodness.
At this stall, they serve them to you on a metal plate, which is great because they tend to be steaming hot and messy. We had ours with an order of deep fried cuttlefish and a stick of deep fried cilantro, which I've never seen before, and was really tasty! They also had deep fried sticks of celery and green onions.
Another side trip down lane 311 will bring you to the second Michelin night market vendor at Nanjichang: A Nan Sesame Oil Chicken (阿男麻油雞). This extremely popular shop tends to open a lttle later, around 6-7, and there's always a line waiting.
Lane 313 has the first of two 2019 Michelin-recognized additions: Sung Ching Taiwanese Burritos (松青潤餅)
Back to the main lane again, there's only a few more lanes to cover. One of the last stalls on the street is a very old fashion shao bing (燒餅) stall, which serves crispy, sugar filled pastries that are best eaten warm. There's always a line. In 2019 it was added to the Michelin list as Unnamed Clay Oven Roll (無名推車燒餅), since it lacks a name.
Walking west down lane 313, you can find the original location of Smelly Boss at #6, and Taro Shaved Ice King (南機場芋頭大王).
Access: The nearest MRT, Xiaonanmen, is a 15-minute walk via the Taipei Botanical Garden. You can also walk from Longshan Temple MRT in about 20 minutes.
Shida Night Market
When I first came to Taiwan 10 years ago, Shida was one of the city's coolest areas, crowded with expats and students from nearby Shida (National Taiwan Normal University), drinking and hanging out in the narrow park along Shida Road, attending punk shows at Underworld, or downing beers at Roxy Junior bar. The night market itself was always thronging, easily one of the city's most popular.
Today Shida Night Market is not the famed night market it once was, ever since it was mostly shut down about five years ago due to noise and garbage complaints from local residents. There are still some food stalls remaining, mostly on lane 39, where the fried chicken fillet stall and lu wei stall have always been two of the most popular.
Taiwan most people frequent Shida to shop at the fashionable, somewhat pricey shops on Longquan street, parallel to Shida road, and the alleys connecting them.
There are many cool cafés and restaurants in Shida, and it's still a popular student hangout, so don't write it off, but it's definitely not the full-on night market experience it once was.
Access: It's a five-minute walk from Taipower Building MRT Station exit 3.
Liaoning Night Market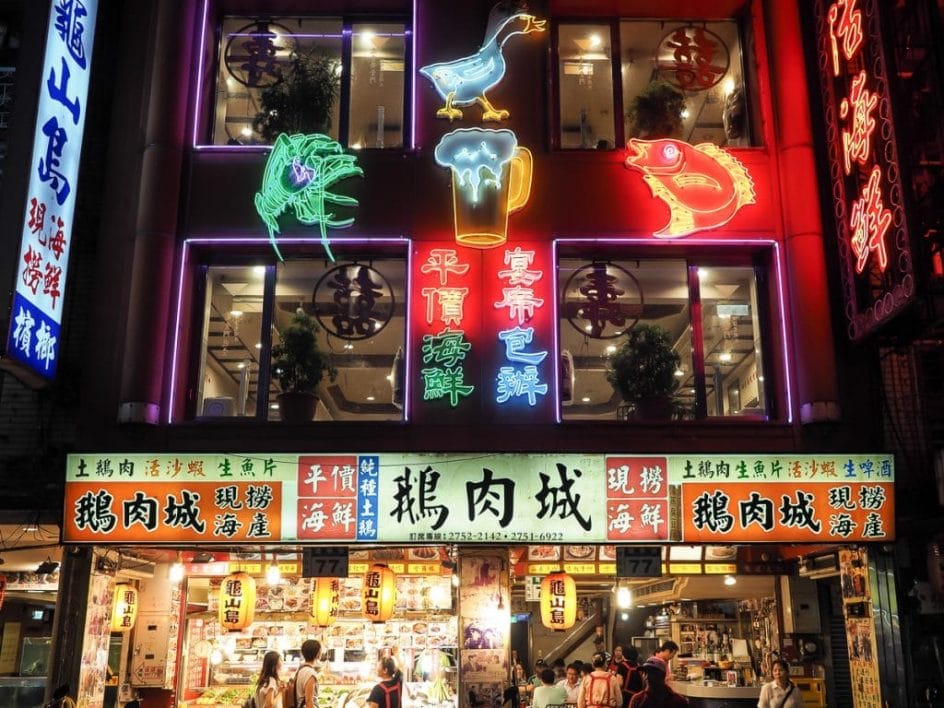 If you find Tonghua or Shilin too "touristy", then head over to tiny little Liaoning Night Market, which is anything but touristy. It's only really one block and isn't closed off to traffic like most night markets, but vendors take pride that each of them serves something different (unlike all the repeats at other night markets).
The "famous" shop here, roughly across from #65 Liaoning street, it's known for its (yep, more) oyster omelets, and the humble looking fried chicken stand (格登炸雞) next door supposedly does amazing baked yams and deep fried chicken wings.
A few stalls also serve dan zai noodles, but for something different (and based on the pictures out front and local food blogs online, more delicious looking), try the popular Lan Fang Xiao Mian restaurant at the northern end of the street, in the direction of the MRT. It's on my "to-try" list.
One thing that made it seem very local to me is that there are several quick fry restaurants on the same street, so it could be a good option for people looking to enjoy a local quick fry experience.
Another mistake that I made so you don't have to: avoid Sundays, when about half the stalls are closed. To be honest, I was a little disappointed by this night market, even taking into consideration that I experienced it on a semi-off day.
Access: Follow the signs from Nanjing Fuxing MRT station exit 3. You'll pass a Japanese style cocktail bar that could be worth investigating.
Jingmei Night Market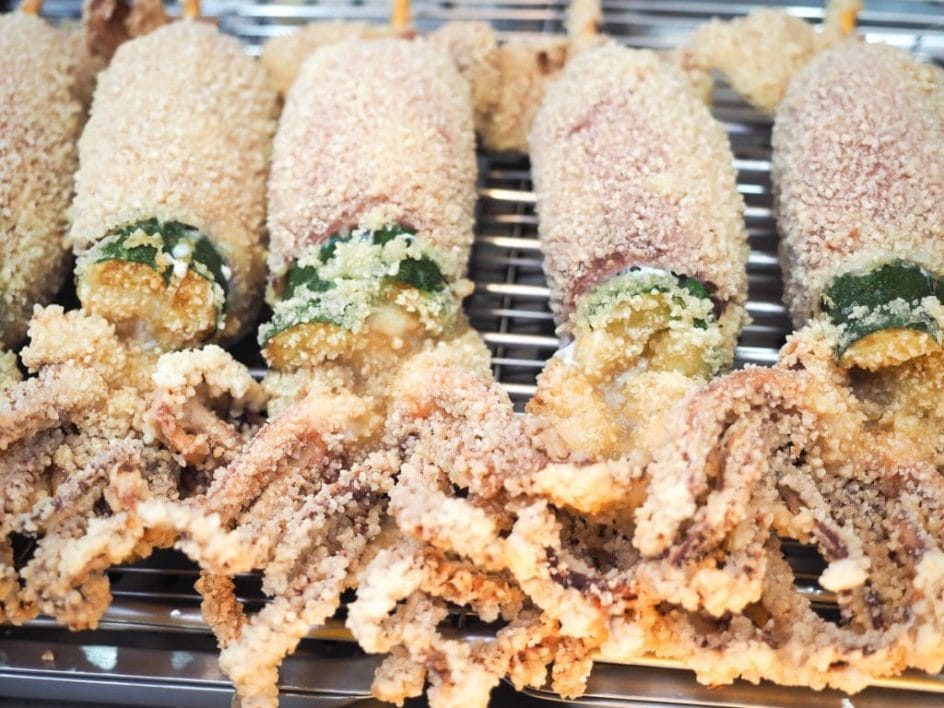 At the southern end of Taipei City near the Jingmei river, which separates Taipei City from New Taipei City to the south, Jingmei Night Market is a popular local day and night market, and a good choice if you want a busy, authentic night market with no tourists.
You can find all the usual night market treats you'd expect, plus some interesting services like facials and knife massages.
Access: Exit 2 of Jingmei MRT station.
Ximending Night Market
This entry may seem a little odd, because Ximending is not really a night market like the others. The funky pedestrian shopping neighborhood is more popular in the daytime. However, GoogleMaps does indicate a "Ximending night market", and I suppose the area has enough food stalls to call it so. Just don't go there expecting a long, crowded strip of food stalls like you will at all the other ones.
Learn more about what kind of food is on offer there (both in the daytime and at night) in my Ximending Food Guide, and learn more about the quirkiness of the area in my list of weird things to do in Ximending.
It's also worth noting that Ximending is Taipei's best LGBTQ+ district, and has the best collection of outdoor bar patios in Taipei. Head to the backside of Red Theater in Ximending to find it.
Gongguan Night Market
This small night market consists of two relatively short lanes on either side of Shuiyuan Market (水源市場), a traditional daytime fruit and vegetable market. Gongguan are is near Shida Night Market (see above) and is also very popular among university students and young international visitors. The night market has recently grown in size and now includes two Michelin-rated food stalls.
The first Michelin food stall found there is Hsiung Chi Scallion Pancakes (雄記蔥抓餅), which specializes in one of my favorite Taiwanese street snacks, which I usually call "green onion cakes." These are generally good anywhere you get them, but this stall of course gets it all right, complete with the addition of fresh Asian basil, your choice of toppings, and (something I've never seen before) honey mustard as one of the sauces to choose from.
The second Michelin-recommended stall you may want to seek out is Lan Chia Guabao (藍家割包), specializing in classic guabao, the "Taiwanese hamburger." I also noticed a very long line for a stall doing deep fried taro and sweet potato balls, so that must be worth trying as well!
Yansan Night Market
I must admit I'd never even heard of Yansan Night Market until I read the 2019 Michelin Taipei night markets list. So I was quite surprised to find that it got not one but three entries!
After visiting, I would say that Yansan barely counts as a night market; it's more of a regular street with several hole in the wall restaurants along it, some with tables out on the street. And the one I went for (pictured above) is actually open in the daytime, not at night. I would say check out this "night market" in the daytime if you're looking for very traditional foods and an off-the-beaten-track snacking experience.
The three Michelin-recommended shops are Cabbage Rice and Pork Rib Soup (高麗菜飯 原汁排骨湯), which does a very traditional soup and is the first shop you'll encounter coming from nearby Daqiaotou MRT station. Shi Chia Big Rice Ball (施家鮮肉湯圓) is further down and specializes in glutinous rice balls stuffed with pork and served in soup.
Last but certainly not least is Daqiaotou Rice Cakes (大橋頭老牌筒仔米糕), which does a very special and unique Taiwanese dish, which is sometimes called Tube Rice Pudding, or tong zai mi gao in Mandarin (don't ask me to type out the way it is usually pronounced in Taiwanese).
Although it does come with a slice of meat (I let my wife eat that), I do really like this dish normally, and the serving at this shop was indeed really, really good. And I loved how they let you put the sauce yourself, so you can choose as much as you'd like!
Night Markets in New Taipei City and Keelung
To finish this long article, I've got five more recommendations for night markets you may want to consider visiting in New Taipei City. This is actually the largest city in all of Taiwan, and it physically surrounds Taipei City. You can still take the Taipei MRT to reach most of these.
And to begin this section, we've got the famous harbor-side night market in Keelung, the largest port city in Northern Taiwan. It is my favorite night market in all of Taiwan!
Miaokou Night Market, Keelung
It only takes 40 minutes to an hour to get to Keelung, northern Taiwan's largest port, and home to my favorite night market in Taiwan. The market's name literally translates as "temple entrance," as it grew from the plaza in front of Dianji Temple. For a more detailed guide, see my introduction to Keelung Miaokou Night Market.
As a pescatarian, I love all the fresh seafood on offer, the night market is visually striking with its rows of yellow lanterns, and a plus for foreign guests is that every stall's specialty is indicated in English. Also, Anthony Bourdain ate here when he came to Taiwan!
For visitors with kids, there is more seating here than at most night markets; almost every stall has a few chairs. Fresh fruit juices are another specialty here, but you can find those at all night markets.
Keelung is one of the best day trips from Taipei, so you could easily plan to spend a whole day there!
Access: It's about a 10-minute walk from the Keelung train station.
Sanhe Night Market, Sanchong
Very local, very crowded. Many of the residents of Sanchong come from central of southern Taiwan, so some people say this night market has a different feel to it.
Access: Taipei Bridge MRT station.
Nanya Night Market, Banqiao
Another choice if you want a popular and very local night market with all the usual dishes you'd expect and no tourists. Banqiao is home to the new Taipei City government and is probably the most developed part of New Taipei City. I lived there for five years; it's a greap place to live if you are considering moving to Taiwan!
Access: Short walk from Fuzhong MRT station.
Le Hua Night Market, Yonghe
Yet another popular local one, in between Dingxi and Yongan Market MRT stations. Some locals claim this is hands down the best night market in the greater Taipei area, but we all have a different favorite, don't we? There are currently rumors that Lehua might be shut down in the future like Shida was.
Le Hua is within walking distance of the fascinating and off-the-beaten-track Museum of World Religions Taipei.
Access: It's a 5-10-minute walk from Dingxi MRT station exit 1.
Xinzhuang Temple Street
Welcome to my neighborhood!
This night market's food is nothing special, but come before dark to enjoy the high concentration (at least five) of Qing dynasty-era temples on or around this street, and a couple ultra narrow alleyways that once led to the river when this area was a major river trading port, if you can find them.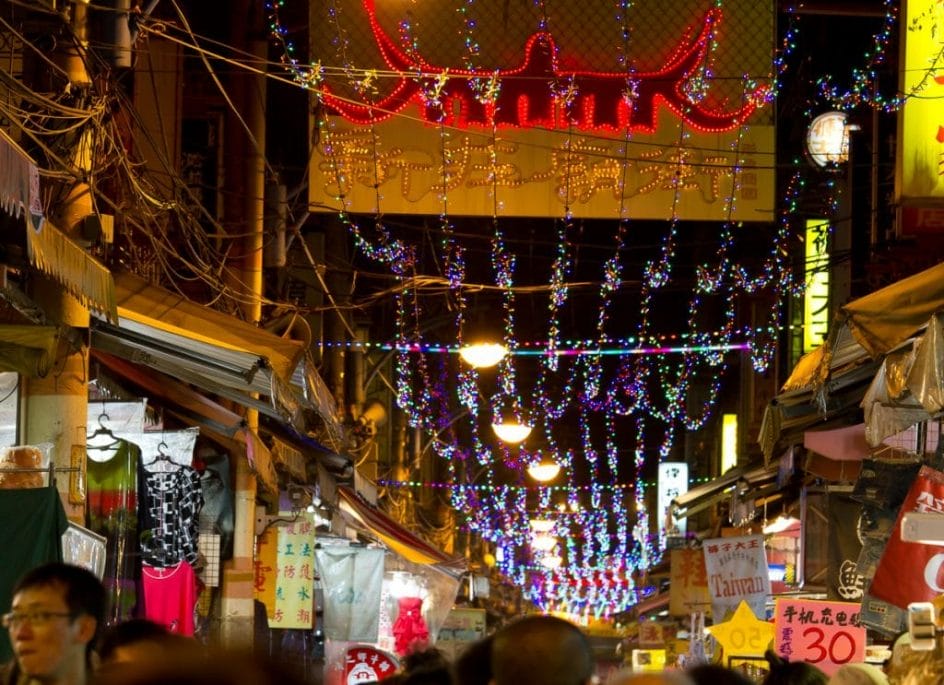 I can pretty much guarantee you won't see any foreign faces here…OK, except maybe mine!
You can also take a stroll across connecting, pedestrian-only New Moon Bridge (新月橋) also known as Crescent Bridge, and if you are feeling ambitious, you could even walk or ride a YouBike here from Banqiao 543, New Taipei's answer to Taipei's Huashan Creative Arts Park, or even the Lin Family Mansion, as an interesting half day venture.
Access: Go straight out Xinzhuang MRT exit 2, take your first right, and walk in a few blocks until you reach the front of the temple. Go right and you'll see the start of it.
To reach New Moon Bridge, turn left at the big temple in the middle of the night market. There is also a YouBike rental station just before the pedestrian ramp up to the bridge.
Michelin-Recognized Taipei Night Market Stalls
In the inaugural Michelin Food Guide put out in 2018, 10 Taipei night markets made the Bib Gourmand selection, a list of restaurants and eateries that didn't quite get a star, but deserve recognition for the high quality of their food. You'll find three of them at Raohe, two at Tonghua, Ningxia, and Nanjichang, and one at Shilin Night Market.
In 2019, the list expanded to include 24 stalls, with a total of four at Nanjichang, Raohe, and Tonghua, and three at Ningxia and Shilin. Stalls at two more smaller night markets that I didn't cover in the original version of this market were also added: two at Gongguan Night Market and three at Yansan Night Market. I have since visited those and will add information about them below as well. The list underwent further changes in 2020, with 23 remaining entries.
I've mentioned all of the Michelin stalls under each night market's section. You can also see the most recent Bib Gourmad section here (it's easy to see which ones are food stalls). You can also see a picture of each of the Michelin rated Taipei night market foods (from a part year, but many remain the same).
Here's a guided Ningxia Night Market food tour that includes some of these Michelin-recognized food stalls.
Why Does Taiwan Have So Many Night Markets?
Night markets go back over 1000 years to the Tang Dynasty in ancient China. The ones in Taipei mostly date back to the 1950s, with many of the original stalls still kicking and proudly displaying their starting dates. Some, such as Shilin Night Market, have origins going back as long as 100 years.
These night markets developed gradually, starting out as collections of food stalls at street corners or in front of temples, then slowly growing and spreading to take up entire blocks or neighborhoods.
The major night markets in Taipei once sold all kinds of everyday items, but in modern times the focus has shifted almost entirely to xiao chi (literally "small eats", or snacks). If you've been to or live in Taipei, you know that grabbing (insanely cheap, always delicious) take-away food is a way of life in modern-day Taiwan.
Taipei night markets showcase the best of these foods all in one place, with many unique dishes that you can't find anywhere else, and are understandably hugely popular among locals and tourists alike.
In a country where many youths aren't into drinking, restaurants can be quite pricey compared to what young workers make, and everyone and his/her dog is a foodie, night markets make the perfect hangout for a Friday or Saturday night with friends.
Taiwan is also famous for its "Old Streets", which are like night markets but operate in the daytime, usually on historical blocks with beautifully restored old shops and residences. Some of the best are Nanzhuang Old Street, Shenkeng Stinky Tofu Street, and Anping Old Street.
What is a Taipei Night Market Like?
In one word: crowded. But Taiwanese people seem to tolerate crowds just as much as they don't mind waiting in lines at certain stalls made "famous" through reputation and reviews from local food bloggers.
The Mandarin expression used to describe a night market is re nao, which translates as "hot and noisy," but meant in a good way. Night markets are where all the action (and good food) is at, and the sights, smells, and sounds blasting you from all angles are an integral aspect of the experience.
My first Taipei night market experience actually wasn't a good one. It was my first night in Taiwan and it was the middle of summer. My friend and I wandered from our hostel to find Shi Da Night Market (see below), which used to be one of Taipei's most popular night markets. We got sucked into the stream of people, so thick we were pressed up against strangers, sweating from head to toe. We barely tried any foods because we didn't have the patience to wait in long lines next to hot grills.
See the next section to avoid some of our mistakes!
Tips for visiting a Taipei Night Market
Avoid the peak times of 7-10 PM if you don't like crowds, especially on Saturday nights. Weekdays are better, but on Mondays some stalls don't open.
Most stalls start setting up around 4 and the markets get going around 5. This is the best time to visit. You could also go later, from 10 PM to closing time, around midnight, but food may not be at its freshest.
Dress light (short shorts, skirts, tank tops, etc. are fine in Taiwan!), wear good walking shoes, and try not to bring a large backpack.
Have you money ready in a safe, easy-to-reach spot.
Use the toilet before you leave the MRT; most night markets don't have any.
Avoid summer if possible if you're like me and can't handle intense heat and humidity.
If you visit Taipei during Chinese New Year, most major night markets remain open, but you may find that many of the stalls are closed during the holiday.
Don't haggle; prices are mostly set in Taiwan. If you are buying clothing or other goods, you might be able to ask for a little discount, especially if you buy multiple items, but do so politely rather than forcefully, and don't push it if they say no. This is not China or Southeast Asia, and it's very rare to be ripped off here. For night market food, never haggle.
Research the specialty of each market (see below!), but be aware that "famous" stalls will probably have long lines, and don't be afraid to try anything that looks good.
Is street food safe to eat in Taiwan? Yes! I've never heard of anybody getting sick from street food in Taiwan, but anything is possible. The food does tend to be greasy, and MSG is used a lot in Taiwan. Be very careful and specific if you have allergies or particular eating restrictions.
If a "famous" stall has a long line, there's often a similar one nearby that's just about as good, or sometimes even better, with no line. I'll give some examples below.
Thanks for reading! For a completely different eating experience in Taipei, check out my Food Tour of Little Burma in Zhonghe, New Taipei City, and my guide to Addiction Aquatic Development for the freshest seafood in Taipei!