Dear reader: This article contains links to products and services that I may be compensated for, at no extra cost to you.
I've been doing road trips from Edmonton to Abbotsford, BC since I was five years old, when my grandparents bought a piece of land there and I watched them build their retirement house on it.
Now, I still visit regularly, but with little ones of my own. I am rediscovering the city as a parent, uncovering more and more fun things to do in Abbotsford with kids.
Abbotsford is only an hour's drive from Vancouver. With kids, the city offers loads of parks and green spaces, yummy treats, playcentres, and an amusement park of its own.
But where Abbotsford really shines is in its children's agricultural experiences, from U-Picks and petting zoos to hay rides and cow-to-cone ice cream. There are also some incredible lakes, waterparks, and more within easy day tripping distance from Abbotsford.
In this article I'll introduce our favorite things to do with toddlers or children in Abbotsford, spanning several visits we've made over the years from where we live in Edmonton, as well as our favorite day trips from Abbotsford with our kids.
For even more ideas, you can see my non-kid-focused article covering even more of the best things to do in Abbotsford, which includes a map of where all these fun children's activities are located, as well as more adult-focused activities like wineries and breweries. You can find even more fun activities in Chilliwack, the next city after Abbotsford!
Where to Stay in Abbotsford with Kids
While we always stay with my grandparents in Abbotsford, if we had to choose a hotel, we'd go for the Sandman Hotel Airport location (see on Booking / TripAdvisor / Agoda) for its pool, or the more conveniently located Sandman Hotel downtown (see on Booking / TripAdvisor / Agoda).
For other fun travels in Canada, read about our family trip to Jasper, family trip to Banff, family trip to Drumheller, camping in Dinosaur Provincial Park, kid-friendly activities in Edmonton, and staying in a space-themed hotel.
Top 10 Kid-Friendly Places to Visit in Abbotsford
The following places to visit and family-friendly activities are listed roughly in order of distance from the Abbotsford city centre.
Mill Lake Park
Mill Lake Park is Abbotsford's best-known park. It lies at the centre of the city, a short drive west of the historic downtown area.
There are three main playgrounds at Mill Lake Park that we enjoy visiting. All three of them have large parking lots for easy access.
The first is John Mahoney Playground, on the east end of Mill Lake, near Trethewey House Heritage Site.
From this park, walking trails lead to the lake itself and a boardwalk that kids may enjoy stomping along. If your kids have the energy, the trail actually goes all the way around the lake.
A second playground is on the south side of the park, roughly at the middle of the lake. You'll see the playground and parking lot when driving along Bevan Ave, or look for "Ranbir Driving School" on GoogleMaps. From the playground, you can also follow a walking path north to the lake, where there are picnic spots and viewing platforms.
A third playground is located beside Centennial Pool (see next entry) on the west side of the park. This playground is furthest from the lake. With a car, you can easily go "playground hopping" and visit all three of these playgrounds in one morning like we did.
Centennial Pool & Spray Park
Centennial Pool is a small outdoor swimming pool on the west side of Mill Lake Park. There's a rope swing, but besides that, there are no slides or other kid-specific facilities, so it would be better for older kids.
Right beside the pool is Abbotsford's best spray park and a good playground. This spray park is our go-to place on a hot day in Abbotsford.
You need to walk down a few flights of stairs from the parking lot, but there is a stroller/wheelchair ramp as well.
Fishtrap Creek Park
Another park worth visiting with kids in Abbotsford is Fishtrap Creek Park. What it stands out for its many walking trails and viewing platforms looking out over a variety of ponds created by Fishtrap Creek.
There's tons of wildlife there, especially geese, ducks, and other birds.
Clayburn Village Candy Store
Both my children and I loved this old-timey candy store set in a restored heritage building. It was once a general store in Clayburn Village, the first company village constructed in BC.
There are hundreds of different types of candy on offer in the store, many of which hark back to my childhood, or even that of my parents.
Besides all the nostalgic candies, they also have delicious house-made caramels, some baked items, drinks, and more. The shop is just a few minutes north of the Abbotsford city centre by car.
Castle Fun Park
Castle Fun Park is a full fledged amusement park for kids, with a focus on hands-on activities rather than rides. You've probably seen it along the TransCanada (Highway 1) if you've ever driven through Abbotsford going to or from Vancouver.
There are both indoor and outdoor activities on offer, including but not limited to go karts, bumper cars, kids' bowling, laser maze, mini golf, batting cages, and a large arcade. More activities are indoor than outdoor, so this place is a good choice on a rainy (or super hot) day.
Rather than day passes or paid admission, you pay per game, so it doesn't have to be an expensive visit (but can easily become so depending on how long you stay).
We visited when my kids were 4 and 6 and found the choices a little limited; we mostly stuck to the arcade. Thus I wouldn't recommend Castle Fun Park for people with toddlers.
Ideally, this place would be great for kids aged around 7-12.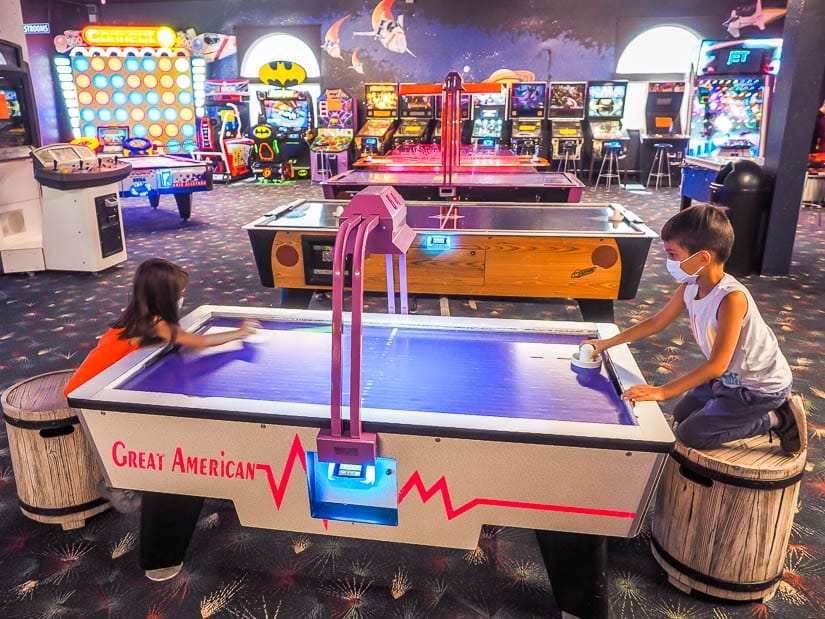 Play Abby
Visitors to Abbotsford with toddlers or younger kids will get more of a kick out of Play Abby, the city's premier indoor playcentre.
Our kids loved tearing around the huge jungle gym. There's also a dedicated toddlers section and laser tag facility on site.
The playcentre was not crowded on a weekday, and the staff cleaned surfaces diligently while I was there.
The entrance fee is for the whole day, but they are closed for lunch; you can come back in later with a stamp. The best part, though, is that they let you bring in any drinks or snacks you want.
I spent a whole morning working on my laptop and enjoying my coffee while my kids had a blast. As always, I had to drag them out when it was time to go.
Abbotsford Agrifair
Running annually since the 1960s, Abbotsford Agrifair is the event of the year in town. I have fond childhood memories of my Grandpa doing cream separator demonstrations for kids, and my grandparents were active in the event for many years.
The Agrifair is fun for the whole family. You can expect agricultural exhibits and demonstrations, old-time vehicles and tractors, local crafts, farm animal feeding, a midway with games & rides, all kinds of treats, a daily schedule of performances (think motorcycle jumping, demolition derbies, etc), concerts, drive-in movies, and fireworks.
There was a dinosaur and Jurassic Park theme going on when we visited, and our kids happen to be massive dinosaur freaks.
Normally there's a small entrance fee, but when we last visited in 2021, it was a scaled-down event with free entrance (reservation still required). We even got goodie bags with toys and other freebies upon entry.
The event takes place on the long weekend at the beginning of August at Abbotsford Exhibition Park.
Abbotsford International Airshow
Taking place a week or two after AgriFair, the Abbotsford International Airshow is the other event of the year in town. The airshow is considered one of the top-10 best in the world.
For this one, kids can look to the sky to see clusters of the world's fastest aircraft painting patterns and doing flips.
The event lasts for three days and can be seen from all over town. But for the best view, you can reserve a space for your car right below all the action at the Abbotsford International Airport.
Maan Farms
Maan Farms is one of the best kid-friendly leisure farms in Abbotsford. They have U-Pick berries, several playgrounds and climbing towers made out of farm equipment, farm animals, a zipline, huge bouncy balloon, and rabbits hopping around that you can almost (but not quite) touch; trust me, my kids tried for a long time!
Maan Farms is also known for its delicious fruit wines, which you can sample in the store on site. The farm owners are of South Asian descent, so I'd also recommend picking up some of their delicious homemade samosas and chutneys to take away.
If you happen to be visiting the Fraser Valley in October, Maan Farms hosts the spooky Maan Farms Haunted event.
Birchwood Dairy Farm & EcoDairy
Nothing beats an ice cream made from fresh milk at a dairy farm. We loved ours at Birchwood Dairy Farm. They even have a "baby size" cone, but heads up that it really is meant for a baby; our kids (5 and 7 at the time) wouldn't have it.
At Birchwood, you can also purchase a $1 bag of food to feed the farm animals. The farm also offers full tours.
We never made it to EcoDairy, but they are known for the educational experiences for kids and school groups, where kids can learn all about modern dairy farming. They also have (of course) ice cream and other dairy products available for puchase.
Taves AppleBarn Pumpkin Farm
Another farm around Abbotsford offering a variety of children's experiences is Taves Family Apple and Pumpkin Farm. Their peak time is later than others, so come around August or September when there are more activities on offer.
When we visited, there was a playground, bouncy balloon, sunflower maze, and more. For adults, the farm is also a cidery, and I highly recommend their regular bottled cider and the aged cider wine. You can sample all their products in the small tasting room on site.
There's also non-alcoholic cider and apple slushies for the kids.
Where to Eat with Kids in Abbotsford
While we don't usually do much eating out in Abbotsford (this is what happens when you stay with a Grandma who has the best cooking), we do usually manage to sneak out for some icy treats.
Banter Ice Cream has our favorite ice cream in town. It's all homemade, with unique flavors like Earl Grey and Blueberry Basil (my personal fave). It's right beside Jubilee park, which has a playground, and is the location of the Saturday morning Abbotsford Farm & Country Market.
Just around the corner from Banter, we also loved 2Scoops, a Japanese/Korean/Taiwanese dessert shop. Since our kids were born and raised in Taiwan (see my article on why Taiwan is awesome with kids), this was a little taste of home for us.
We split an extremely delicious mango cheesecake bingsu (Korean shaved ice), and my wife enjoyed a matcha bubble tea.
One restaurant we did make it to on our last visit was Bow & Stern, the best seafood restaurant in town. There are of course kids meals on the menu, but that didn't stop my daughter Lavender from devouring most of my wife's adult-sized creamy seafood pasta.
If you've been to other kid-friendly restaurants in Abbotsford, please feel free to recommend them in the comments below!
Abbotsford Day Trips with Kids
Abbotsford is well situated for making a number of day trips in all directions, including Langley and Vancouver (the latter which I won't even cover here because there's just too much), Chilliwack to the east, mountains and lakes to the north, and the United States to the south.
The following are super easy day trips with kids that only involve an hour or less of driving each way.
Cultus Lake, Chilliwack
The most obvious place you should plan a day trip to with kids from Abbotsford is Cultus Lake, which is something of a family resort.
The lake itself if gorgeous, with the best public beach being at Cultus Lake Provincial Park on the southern shore. There's a dock, swimming area, and in summer they hire out kayaks and paddle boards.
For families that love swimming, you can even going swimming in the Abbotsford town centre at Albert Dyck Lake, a human-made lake beside the Abbotsford International Airport.
Kids may also enjoy running around the docks at Cultus Lake Marina on the eastern shore. There are also several campgrounds on the lake.
The other draw of Cultus lake is the twin amusement and waterpark, Cultus Lake Adventure Park and Cultus Lake Waterpark. We're saving it for next time, once our kids are old enough to enjoy more of the rides and water slides.
Cultus Lake is located in Chilliwack, about 45 minutes east of Abbotsford city centre.
Cascade Falls & Davis Lake
For families who like to get more off the beaten track and out into nature, I'd recommend this day trip into the mountains north of Abbotsford.
At Cascade Falls Regional Park, a 10-minute walk through original forest brings you to a beautiful waterfall with a suspension bridge to a viewing platform. The walk is slightly steep in parts but perfectly manageable with young kids or even toddlers.
Closer to the parking lot, there are a few picnic spots and access to wading pools in the creek.
Continuing north to Davis Lake Provincial Park, you're in for more of an adventure. The path to the lake is unmarked and is quite steep. Our kids managed it fine (actually, they loved it) at age 5 and 7, but my wife did have to slide on her butt a few times to get down.
To find the path, wait until you're adjacent to the lake on GoogleMaps, then watch for a bridge over a creek and small waterfall that you'll drive over. It's marked "Davis Lake Trailhead" on GoogleMaps, but there's no reception there.
Park on the left immediately after the bridge (the road is wider at that spot for parking). A path follows the creek past a few more waterfalls to the lake shore.
The lake itself absolutely stunning; it is a true local gem that few visitors know about. Because people party there, though, there is some trash, and you have to watch out for broken glass on the beach.
We've never gone further down the road, but if you do, there is a quad trail down to the lake that may be an easier way to walk down.
There is no sign for the lake or path. We had no phone reception there, either, but our GPS on GoogleMaps still kept up with where we were as we approached the lake.
Fort Langley
Half an hour west of Abbotsford, Fort Langley is home to Fort Langley National Historic Site, a former fur trading post on the Fraser River. Come here for a day of educational fun with the kids, learning about local history.
Besides the historic site itself, the town of Fort Langley is charming and has some ice cream shops and other things to do with kids.
To round out your day, you could also head into Langley City south of Fort Langley, where the are plenty more things to do with kids, including Great Escape playcentre and Extreme Air Park (a trampoline park).
Greater Vancouver Zoo is also located in Aldergrove, between Langley and Abbotsford.
Well, that brings us to the end of this guide to visiting Abbotsford with children. I hope you've found more than enough ideas to make the best of your family visit to Abbotsford. Please let me know in the comments if I've missed anything fun!