Dear reader: This article contains links to products and services that I may be compensated for, at no extra cost to you.
Drumheller is without a doubt one of the top attractions in all of Alberta, Canada for families with toddlers or young kids. Whether or not your kids are dino freaks, they are bound to find something to love about Drumheller.
A little touristy, yes, but Drumheller's museum is world class, and its badlands scenery is breathtaking. This is what makes it one of the most appealing places to visit in Alberta beyond the Rocky Mountains.
Our two kids, Sage and Lavender, have been dinosaur lovers for many years running. They were too young to remember their first trip to Drumheller, so we took them again recently after moving from Taiwan to my hometown, Edmonton. The photos below are from both of our trips, so you'll notice our kids grew by a few years, and my sister's kids are in there too.
I also personally remember visiting Drumheller many times as a kid, including the time in Beavers when we got to sleep over in the dinosaur room at the Royal Tyrrell Museum!
Whether you are planning a dino-focused road trip or just looking for things to do in Drumheller this weekend with kids, hopefully you'll find some good ideas below! Also see my non-kid-focused list of things to do in Drumheller for even more ideas than what I cover below.
For a less touristy dinosaur experience, also consider visiting Dinosaur Provincial Park, which is a 1 hr 45-minute drive southeast of Drumheller heading toward Medicine Hat. We had an awesome experience finding real dino bones there and camping in the park.
You can also find more dino-related activities in my guide to the best places to visit in Edmonton with kids.
Best Hotels in Drumheller for Kids
When in Drumheller, we always stay at the Ramada by Wyndham (see on Booking / Agoda / TripAdviso), pretty much entirely because they have a swimming pool with waterslide. They have everything else you'd expect of a chain hotel, and there's a Boston Pizza and O'Shea's pub right across the parking lot from the hotel.
For a homier guesthouse option, Heartwood Inn & Spa (see on Booking / Agoda / Tripadvisor) consistently receives amazing reviews. Rooms come with fireplaces and patios with barbecues. It's small and very popular, so book early!
Family-Friendly Restaurants in Drumheller
When visiting Drumheller with toddlers or kids, there are a handful of suitable eating options. For diner-style breakfast & lunch, we enjoyed WHIFS Flapjacks House. The kids loved the dinosaurs on the walls and moving train on the ceiling.
Bernie and the Boys is another family-friendly option and conveniently located beside Little Explorers Playground. Athens Greek Family Restaurant is the top-rated restaurant in town on TripAdvisor, while Vietnamese Noodle House also serves the best ice cream in town.
For the most atmospheric family-friendly restaurant/pub, head to Last Chance Saloon in the tiny former mining boomtown of Wayne, about 15 minutes south of downtown Drumheller. You'll have to drive across 11 bridges to get there!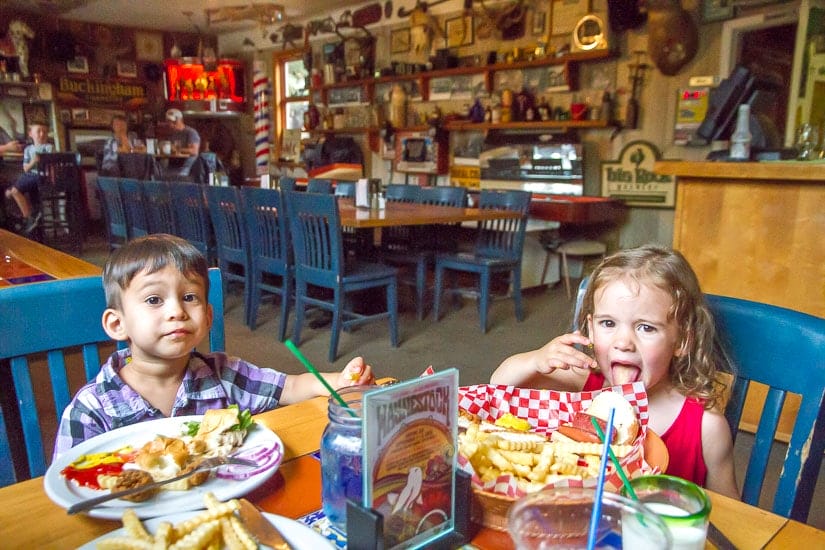 Also read about our travels to Red Deer, Banff, and Jasper National Park with our kids!
The Best Things to Do in Drumheller with Kids
1. Royall Tyrrell Museum
The Royal Tyrrell Museum is arguably the best dinosaur museum in the entire world, and that makes it an absolute must on your Drumheller itinerary with kids.
If your kids love dinosaurs, they will find their bliss at the Royal Tyrrell. The museum is ENORMOUS (12,500 square meters!), so come early when your kids have the most energy.
The museum is arranged chronologically from Paleozoic period through the three dino periods and finishing with the Cenozoic (age of mammals). There are of course loads of life-sized dinos and skeletons to please your kids along the way. They'll also get a chance to see real paleontologists at work in a dino lab!
You'll need to budget at least a couple hours to get through the museum. If you include a picnic lunch beside the excellent playground outside and walking the Badlands Interpretive Trail, you can easily spend half a day at the museum. You'll also have no choice but to walk through the gift shop at the end of your visit, but it's quite a good one.
Find more family-friendly things to do in Alberta in my guides to Lethbridge and Fort McMurray!
2. Little Church
A quick stop at quirky Little Church goes hand-in-hand with visiting the Royal Tyrrell Museum. The miniature church is located on less than a kilometer along Highway 838 (also known as N Dinosaur Trail) past the exit of the museum.
Like my pictures? See my favorite mirrorless camera for traveling and my Olympus travel lenses.
Little Church was first built as an actual place of worship in 1968. It was later rebuilt by prisoners from the Drumheller Institution in 1991. The door is always unlocked, so your kids can enter the kid-sized church and have fun pretending to give sermons like ours did!
Our kids also enjoyed climbing the hills beside Little Church, as you can see from these photos.
3. Fossil World Discovery Centre
On our second trip to Drumheller with our kids, we decided to check out the Fossil World Discovery Centre instead of going to the Royal Tyrrell Museum again. You can't really compare the two (this one is just for fun, not educational), but this was still an enjoyable (and slightly terrifying) stop for the kids.
You can't miss Fossil World when you're coming into (or out of) town on Highway 838; just watch for the life-sized brachiosaurus next to parking lot. There's also a small playground beside the brachiosaurus, but you have to drive around the block if you want to access it.
Fossil World Discovery Centre's main attraction is a room filled with animatronic (moving and growling) dinosaurs. Their T-Rex is said to be the most realistic in the world, and my son (a massive dinosaur lover) was so scared he couldn't even walk past it, even though we've been to several other museums with moving dinosaurs around the world (including in Taichung, Taiwan and Prague, Czech Republic).
At the Fossil World, you can also pay extra to pan for gems or dig for fossils, and the kids get to take home what they find. There's also a decent gift shop on site.
Overall, Fossil World is very much a tourist money grab, and it's quite pricey considering it only takes about 30 minutes to visit. But if you have very young dino-loving kids, it's a fun add-on to your Drumheller trip.
Read my review of our super fun family stay in a space-themed room at Fantasyland Hotel in Edmonton!
4. The Giant T-Rex
Speaking of tourist money grabs, the Drumheller Giant T-Rex (labeled "World's Largest Dinosaur" on GoogleMaps) will likely be your kids' most memorable Drumheller experience.
At 25 meters in height and 46 in length, this dino is 4.5 times the size of a real T-Rex. She (yes, she) cost a million dollars to build. But it gets better: you and your kids can actually enter the T-Rex and climb up into her mouth for a decent view looking down on Drumheller! And no, you won't be walking into her butt, as my kids assumed beforehand.
Read about other fun "Giants of the Prairies" across the province to visit with kids!
My kids have done this twice now, and I'm pretty sure it will forever be etched in their minds. Luckily, the T-Rex's overlords charge a reasonable $10.50 per family for the experience, about a third what we paid to get into Fossil World Discovery Centre. The dino is open year-round from 10 AM to 5:30 PM.
5. Drumheller Rotary Spray Park
If you're visiting Drumheller in summer with the kids, which is when most families come, then you can release them into the spraying waters of the Rotary Spray Park. The park is conveniently located right at the base of the giant T-Rex, making it one of the best Drumheller family activities.
The park is a good place for a picnic and to let the kids get some sun and fresh air, all under the shadow of a huge T-Rex. The spray park is open as long as the weather stays hot (usually about the May long weekend to mid-September), but was closed when we visited in late September.
Next to the spray park, Aquaplex is an indoor swimming pool with a waterslide (closed for renovations in 2021), and the Drumheller Skate Park can be found right behind the Giant T-Rex, for older kids who want to do some skateboarding or scootering.
6. Jurassic Store Fossil World
If you didn't make it to Fossil World (#3) or succumb to your kids' requests for a souvenir at Royal Tyrrell Museum (#1), here's another chance for you to buy them a dinosaur souvenir to add to their collection.
Jurassic Store Fossil World is right across the street from the Giant T-Rex, and is run by Fossil World Discovery Centre. There's an ice creamery attached, and more dino statues outside.
7. The Fossil Shop, Inc.
For a quirkier souvenir shopping experience, try The Fossil Shop, Inc., which is on Highway 56 just before it crosses a bridge over Red Deer River and reaches the Giant T-Rex.
This souvenir store has been around for ages, and I have memories of buying cool rocks there as a kid. Nowadays, visitors seem to either love or have a terrible impression of the owner. Let's just say you'll hear about it if you don't follow the rules posted in the shop!
The Fossil Shop sells cheap kids' souvenirs like all the others, but also specializes in high-end fossils and gems, some of which are astronomically expensive.
8. Go on a Dinosaur Walk
The Giant T-Rex is by no means the only dino statue in town. In fact, there are at least 20 of them! All of them are local dinos that are found in the Alberta badlands, such as Edmontosaurus, Albertosaurus, and Gorgosaurus.
You can follow this map to find all of them. Several are within a few blocks of the Giant T-Rex, but you can do a driving tour if you want to see all of them.
Your kids will also be pleased to note that several streets in the Drumheller city center around the Giant T-Rex are named after dinosaurs!
9. The Best Playgrounds in Drumheller
Having travelled around the world with our kids, we know that no matter how awesome the sights are, the kids still always crave some time at the playground.
Probably the best playground in Drumheller is the one right outside the Royal Tyrrell Museum. The Dinosaur Trail Playground beside Fossil World Discovery Centre is nothing special, except for the towering brachiosaurus standing right beside it (see #3 and photo above).
You can also try Little Explorers Playground (a fairly normal one in the town center), North Drumheller Playground (another normal one on the north side of the river), and the playground at Riverside Park east of downtown, which has a lovely riverside setting.
10. Drive the Dinosaur Trail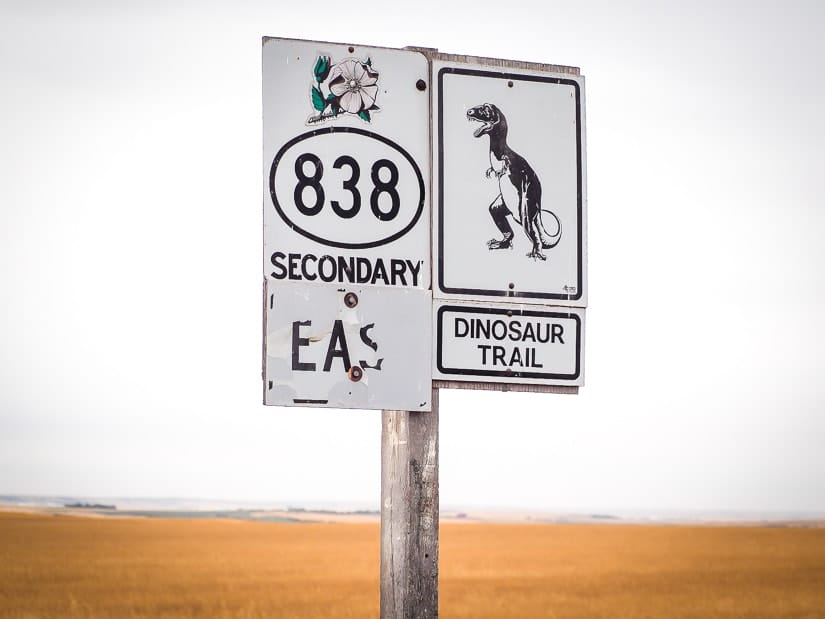 The Dinosaur Trail is a 60-km loop road that takes in several of Drumheller's most popular attractions. Starting in Drumheller town center, it follows Highway 838 (N Dinosaur Trail) north along the river.
You'll pass Fossil World Discovery Center (#3) first, then Royal Tyrrell Museum (#1) and Little Church (#2). Make a stop at Cactus Coulee Fun Park for go-karting, mini golf, eurobungy, ice cream, and more. Next you'll reach Horsethief Canyon (#11), then cross the Red Deer River on the historic Bleriot Ferry.
On the other side of the river, you'll follow Highway 837 and 575 (S Dinosaur Trail) back to town, stopping at Orkney Viewpoint along the way. Just before getting back to town, you'll see one of the three "Welcome to Drumheller" dinosaur signs.
For more incredible scenic drives in southern Alberta, see my guide to Waterton Lakes National Park.
11. Horsethief Canyon
Horsethief Canyon is one of two gorgeous canyons around Drumheller that starts with "horse" (yes, they did this to confuse you). Actually, this one is named after the fact that thieves once stole livestock from local farmers and hid them here.
Horsethief Canyon, which is on N Dinosaur Trail north of Drumheller town center, offers a stunning badlands panorama from the moment you step out of your car.
Our kids loved following the trails down into the canyon. Just keep an eye out for rattlesnakes!
For more kid-friendly hikes in Alberta, see my guide to the best short, easy hikes in Kananaskis for kids.
12. Horseshoe Canyon
You can enjoy similarly awe-inspiring views at Horseshoe Canyon, which is located a similar distance but heading southwest of town on Highway 9. Since most people arrive in Drumheller on Highway 9, this makes for a convenient stop on the way into or out of town.
Horseshoe Canyon is named for its immense horseshoe shape, stretching for five kilometers in either direction. Again, our kids had a great time here climbing and exploring the badlands.
For both canyons, remember to protect your skin and bring lots of water, especially in summer. There's no shade, and Sage got minor heatstroke after only a short visit to Horseshoe Canyon.
13. See the hoodoos
If you don't already know what a hoodoo is, these are bizarre rock towers with flat tops. They are formed by years of erosion, and are one of Drumheller's most iconic sights.
The most famous hoodoos in Drumheller are a collection of them 15 minutes' drive south of town on Highway 56, which becomes Highway 10. There's a walkway built around them to prevent damage, but further up your kids can get onto the ground and explore, including a few fun little caves they can enter. The hoodoos are marked "Hoodoos Trail" on GoogleMaps.
Note that the Rosedale (Star Mine) Suspension Bridge, normally a popular attraction on the way to the Hoodoos, is closed for repairs in 2021. When you're in the area, also consider driving to Wayne for lunch at an old-timey saloon (see the "where to eat" section at the top of the article).
14. East Coulee School Museum
To show your kids what life was like in "olden days," take them to East Coulee School Museum in the tiny hamlet of East Coulee, population 160. The school dates to 1930, when the coal mines nearby were thriving.
Now it is a small museum highlighting local history and what classrooms looked like at the time. There's also a small playground outside.
15. Atlas Coal Mine
The furthest south you're likely to get from Drumheller town center is Atlas Coal Mine. This huge former coal mine is a national historic site. You may find the history behind it more interesting than your kids do, but at least they'll enjoy exploring the grounds and especially going into the underground portions of the mine.
At the time of writing, the mine is open to visitors, but unfortunately the underground section is closed.
Well, that brings us to the end of this guide to the best things to do in Drumheller with kids. I hope you found more than enough ideas to keep your kids, toddlers, or babies entertained during your trip!