Dear reader: This article contains links to products and services that I may be compensated for, at no extra cost to you.
Kaohsiung, nicknamed Harbor City, is Taiwan's third largest city and home to the country's largest port.
Once primarily an industrial hub, the city has grown infinitely more alluring in recent years. In 2018, the city even made Lonely Planet's list of top 10 cities to visit in the world.
With the best street art in Taiwan, excellent night markets, a beautifully revitalized waterfront, and islands such as Qijin and Xiaoliuqiu just offshore, Kaohsiung is an essential addition to your Taiwan itinerary.
I've personally been to Kaohsiung numerous times in the last 15 years. Every time I visit, I enjoy the city more than the last, especially Pier 2 Arts District.
In this article, I'll introduce my favorite places to visit in Kaohsiung, starting with the waterfront areas of Gushan and Yancheng Districts. Next will be Central and Southern Kaohsiung, followed by historic Zuoying and the famed Lotus Pond.
Finally, I'll cover some Kaohsiung attractions further away, keeping in mind that ever since 2010, Kaohsiung "city" includes all of what used to be Kaohsiung County, an area that stretches all the way to Yushan (the tallest mountain in Taiwan) and Hualien and Taitung counties in eastern Taiwan.
Getting to/around Kaohsiung
If you arrive in Kaohsiung by Hight Speed Rail, the city's station is in Zuoying, a district north of the city center. From there, you can transfer onto the red line of the KMRT to get into the city center.
You can get discounted HSR tickets here on Klook (sign up for Klook with this link to get an NT 100 credit applied to your account!)
If you arrive in Kaohsiung by regular (TRA) train, you'll arrive at Kaohsiung station in the city center, which also has a station on the red KMRT line.
While the KMRT isn't as comprehensive as the Taipei MRT, there's still a good chance you'll be using it. The Red Line will get you to Zuoying High Speed Rail station in the north or the Kaohsiung Airport in the south to the city center.
The orange line intersects with the Red Line at Formosa Boulevard, famous for the Dome of Light art installation. The Orange Line travels east to west, providing access to Gushan and Yancheng districts. If you plan to ride the MRT a lot, you can save money with this KMRT 1-day/2-day pass.
The Kaohsiung Circular Light Rail (LRT), operating since 2015, is slower than the MRT, but provides access to several museums, malls, piers, and other attractions.
There are also several bus routes (I suggest using GoogleMaps) and YouBike docks in Kaohsiung. You can swipe your EasyCard or Kaohsiung's iPass for all public transportation, including the ferry to Qijin.
You can also rent a scooter for getting around Kaohsiung.
Where to Stay in Kaohsiung
My favorite areas to stay in Kaohsiung is Yancheng. This is a waterfront district that is famous for Pier 2 Art Center and the Love River.
The waterfront is the city's hippest area, with art displays, concert venues, craft beer parts, museums, and the beautiful new Kaohsiung Music Center. It is especially lovely at night. The ferry to Qijin is also a short walk away.
Last time I visited, I stayed at a small, friendly, and conveniently located hostel called KLA B&B (塩晶棧) (see on Booking / TripAdvisor / Agoda). It had very private, capsule-style dorm beds and was a short walk from Pier 2 and many other sights.
For mid-range/high end/family travelers, I recommend the following hotels in Kaohsiung:
Hotel Yam Lagom (see on Booking / Agoda / TripAdvisor) This was just a few blocks from where I stayed. It is extremely conveniently located near Pier 2, Yancheng MRT, the ferry to Cijin, and other attractions, though it's in a quiet neighborhood with a park right in front of it. Upper floors would have harbor/sea views.
Ambassador Hotel (see on Booking / Agoda / TripAdvisor) This larger hotel sits on the Love River close to where it meets the sea. Front facing rooms would have views of the river, Kaohsiung Music Center (which looks cool lit up at night) and harbour. It's also walking distance from places like Pier 2, but would be about a 10 minute walk from the nearest MRT station.
Harbour 10 (see on Booking / Agoda / TripAdvisor) This is another well-rated but smaller and slightly cheaper option next to Ambassador Hotel, and with all the same advantages.
In Zuoying, famous for Lotus Pond and where the High Speed Rail Station is located, I recommend A Touch of Zen (眷村戀影–高雄左營眷村民宿)(see on Booking / Agoda).
The guesthouse occupies a house originally built in the 1930s for a rear admiral in the Japanese navy. It sits in an abandoned village of similar houses, some of which are now leased out by the Bureau of Cultural Affairs. It will especially appeal to anyone who loves Japanese-era houses or urban exploration.
The guesthouse is within biking distance of Lotus Pond and the owner speaks English.
Things to Do in Gushan & Yancheng Districts
Gushan and Yancheng are two waterside districts in central Kaohsiung city, facing Qijin island and the Kaohsiung Port.
The two small districts are home to several of my favorite things to do in Kaohsiung, and thus are my favorite areas to stay when visiting Kaohsiung.
Pier 2 Art Center
Pier 2 Art Center (駁二藝術特區) is a collection of abandoned warehouses dating to 1973 on Kaohsiung Port. In 2006, the warehouses were converted into an arts district.
Since then, the district seems to get larger and better with every passing year. In 2015, the Kaohsiung light rail started running right along Pier 2, which only adds to atmosphere. The main section of Pier 2 is about halfway between Penglai Pier 2 station and Dayi Pier 2 stations on the KLRT
Pier 2 has some of the best street art in not only Kaohsiung but the whole country. There are also numerous outdoor art installations, several of which are lit up and best enjoyed at night. The warehouses contain dozens of art galleries, artsy shops, restaurants, cafés, music venues, and bars.
Because there's really a lot to see in Pier 2, I've written a separate, more detailed guide to Pier 2 Art Center.
The next three entries are also considered part of Pier 2.
See my similar guides covering the fun things to do in Tainan and things to do in Taipei.
Pier 2 Warehouses
Besides the main section of Pier 2 Art Center, there's another collection of warehouses at the eastern end of Pier 2 called Pier 2 Warehouses. It is right behind Dayi Pier 2 LRT station.
These warehouses are my favorite area at Pier 2. They contain several independent shops, Beer Talk Café & Bar (which has an excellent range of beers, including 1-litre sized glasses), Live Warehouse (one of the best live music venues in Kaohsiung), and a children's playcenter called Wonderful Life.
Some of the best art installations in the Pier 2 area are found here, between the warehouses, beside them in the field, and on the waterfront. See my Pier 2 guide for a map and descriptions of them.
Looking east from this part of Pier 2, Kaohsiung Music Center (高雄流行音樂中心/音浪塔) is a gorgeous, sprawling new complex just opened in 2021. It is especially beautiful lit up at night.
Penglai Area and Hamasan Museum of Taiwan Railway
There's another collection of warehouses at the western end of Pier 2 . It is called Penglai Area of Pier 2 Arts Center (駁二蓬萊倉庫群).
Besides a few murals, statues, the top attraction here is the surprisingly impressive Hamasan Museum of Taiwan Railway (哈瑪星台灣鐵道館).
The museum houses the most incredible miniature train model display I've ever seen. A variety of trains (HSR, TRA, MRT, etc) travel throughout the room, which traverses Taiwan from Kaohsiung Port in the south to the northern tip of Taiwan, complete with sunrises and sunsets.
An adult ticket is NT149. You can also ride a small train outside for NT 100. You can book your tickets online in advance.
Banana Pier, Warehouse #2, & HOLO Park
Just south of Penglai area, there's yet another collection of warehouses. These include Banana Pier (香蕉碼頭海景宴會館), which is bright yellow, and Kaohsiung Port Warehouse #2 (棧貳庫KW2). The latter houses a modern department store with lots of souvenirs and upscale artsy products for sale.
There are also several restaurants inside. Try Corner Cone (酷礦美式手作霜淇淋) for some creative ice cream cones or Zhang Men(掌門精釀啤酒餐廳-棧貳庫店) for craft beer.
On the pier at the far western end of the warehouse, there's a pretty White Carousel (棧貳庫旋轉木馬).
You can walk directly east of the above warehouses to find a small, free museum called Kaohsiung Harbor Museum (高雄港港史館). The small, free museum contains old photos but not much else, and is houses in the old port tax building.
Further east beyond that, HOLO Park (光禹浮空劇院生活廣場) is a small collection of shops, snack bars, and a double decker bus. From there, walk through Big Harbor Warehouse 410 (大港倉410), the most commercialized warehouses at Pier 2, cross Kaohsiung Big Port Bridge (高雄港大港橋), and you'll be back at the main area of Pier 2.
Hamasen Railway Cultural Park & Sky Balcony
Hamasan Railway Cultural Park (鐵道文化園區) is a large park just off the waterfront in Gushan District. It used to be the location of Kaohsiung Port Station, the first railway station in Taiwan, where trains would pick up cargo from ships.
Today, the park is a large, open space, with decommissioned railway lines running through it (although the new LRT now passes through). There are a few old trains on display in the park.
Sky Balcony (鐵道園區天空雲台) is at the northern end of the park. It offers and excellent view looking down on the railway lines in both directions.
The park is open 24 hours.
Takao Railway Museum
Takao Railway Museum (舊打狗驛故事館) is housed in the original 1930 wooden train station at Kaohsiung Port Station.
There are just a few, but very interesting things to see in this small, free museum. First, note the original schedule still written in chalk on the blackboard. It is the timetable from December 20, 2008, the last time a train pulled into the station.
Also check out the 1935 Japanese painting of Taiwan. Not to scale, the painting shows Kaohsiung viewed from the south, with Yu Shan (Jade Mountain, Taiwan's tallest peak) towering behind it, and Mt. Fuji in the distance.
Last but not least, don't miss the impressive original timetable charts in the side room, which show the times of every train and station in Taiwan. The stations are listed on the vertical and 24 hour clock on the horizontal. Train spotters used to use such charts to figure out possible meeting points of different trains.
Note that the museum is closed on Mondays.
Shoushan Love Lookout & Monkey Mountain
In Gushan district, there is a small chain of mountains called Shoushan (壽山) and Chaishan (柴山), also known as "Monkey Mountain" for the large number of fearless resident macaques.
A short hike up from the city will bring you to Shoushan Love Lookout (壽山情人觀景台), which offers one of the best views of Kaohsioung. The view is best at night, when the sign and city are lit up.
A short walk from there is the Kaohsiung Martyr's Shrine (高雄市忠烈祠), which was closed when I last visited.
If you're into hiking, there are numerous hiking trails on Shoushan and Chaishan. Seeing macaques is almost guaranteed, but don't feed them, and be careful because they will grab your things.
You can also consider hiking down to Chaishan Secret Beach and Fishing Port (柴山祕境海灘/柴山漁港), where there are a few chill cafés.
Wu De Martial Arts Center
At the base of Shoushan, Wu De Martial Arts Center (高雄武德殿) is a gorgeous kendo and judo training center from the Japanese colonial period. The building dates to 1924 and is the only one in Taiwan that is still used for its original purpose today.
It is free to enter, but try not to bother anyone practicing inside. The building is closed on Mondays.
Dengshan Lane 60 Historical Site
If you follow Dengshan Road up past Wu De Martial Arts Hall for a few minutes and hang a right on Lane 60, there's a small historical sight featuring a 79-meter tunnel called Time Tunnel Slide (時空廊道滑梯), which people are sometimes allowed to slide down.
Besides the slide, there are a few historic landmarks nearby, including a 1938 Japanese air raid shelter. See this article for more information.
Sizihwan Tunnel/Old Shoushan Cave
West of Wu De Martial Arts Hall and Dengshan Lane 60, Sizihwan Tunnel (西子灣隧道 or Xiziwan Tunnel), also known as Shoushan Cave (原壽山洞) provides access to Siziwan neighborhood and beach on the coast.
The 300-meter tunnel is for pedestrians or cyclists only (e-bikes also allowed, but not scooters). It is open from 5 AM to midnight.
Sizihwan Beach
Sizihwan Beach (西子灣海水浴場, or Xiziwan Beach) is one of the best beaches in Kaohsiung City. Unfortunately, the beach is owned by the aging Sunset Beach Resort (西子灣沙灘會館), which essentially blocks public access to it unless you enter the resort and pay a small fee.
To get around it, after passing through Xiziwan Tunnel and walking through National Sun-Yatsen University, turn left on Lianhai Rd (蓮海路) then right into the hotel's parking lot. If you walk to the end of the parking lot, there's a staircase up and over the wall that blocks access to the beach.
There's technically no swimming allowed on the beach, but they don't usually stop people from doing it.
Sizihwan Lookout
At the southwestern corner of Gushan district, Sizihwan/Xiziwan Lookout (子灣觀景臺) is known for its beautiful sunsets looking out at Qijin island and the entrance to Kaohsiung Port.
There's a large wooden platform for looking out at the sea. Bus 99 is the most useful for getting here and to the next entry.
British Consulate at Takow
The most popular attraction in this part of Kaohsiung is the British Consulate at Takow (打狗英國領事館文化園區山上官邸), "Takow" being the former name of Kaohsiung.
The red brick consulate building dates to 1865 at occupies a stunning location atop Shaochuantou (哨船頭). The views from the consulate looking down on Sizihwan Bay and the Port of Kaohsiung are stunning.
There's also a tea room, souvenir shop, and small restaurant on site. You'll need to climb a steep set of stairs to reach the consulate from the parking lot on the ocean side.
If you enjoy this site, you may also like the Former British Consulate in Tamsui and the Former Tait & Co Treehouse in Anping district, Tainan.
Qijin Island
Qijin (旗津, also spelled Cijin) is a long, thin island that forms a natural barrier for Kaohsiung Port. The island offers numerous attractions, including a fort, old street, beach, seafood market, artistic sculptures, and temples. Find all the details in my guide to Qijin island (coming soon).
Qijin is best explore by bicycle. To get there, catch a 10-minute ferry from Gushan Ferry Pier Station (鼓山輪渡站). You can walk, ride a bike, or scooter onto the ferry. Bikes can also be rented upon arrival at Qijin.
While there, don't miss Qijin Sunset Bar (旗津沙灘吧), which has good food, craft beer, and cocktails, overlooking Qijin Beach.
Kaohsiung City Shou Shan Zoo
For visitors traveling around Taiwan with kids, a fun half day can be spent at Kaohsiung City Shoushan Zoo (高雄市壽山動物園).
The zoo is fairly typical, but what stood out the most when we took our kids for a visit was how the zoo guards carry around paintball guns to shoot local macaques, who tend to sneak in and cause trouble.
As the name suggests, the zoo is up on Shoushan mountain, so the best way to arrive is by taxi. Note that the zoo is closed for renovations, but expected to reopen in late 2022.
Animal lovers should note that there are also several cat cafes in Kaohsiung. Find out where in my guide to cat cafes in Taiwan.
Love River, Glory Pier, and 228 Peace Memorial Park
The Love River (愛河) is what separates Yancheng district from neighboring Qianjin district in Central Kaohsiung. The Love River is a picturesque area with walking paths on both sides of the river.
If you happen to be in Kaohsiung for Lunar New Year in Taiwan, the Kaohsiung Lantern Festival usually takes place along the river.
We really enjoyed dining at Tokyo Beer Hall (東京酒埸-愛河店) on the east bank of Love River. Although the food isn't the best as far as quick fry restaurants go (Taiwanese people rate it very poorly, but I thought it was fine), the river view is unbeatable, decorations make it stand out, and they have better beers on offer than most quick fry restaurants.
600 meters up from the mouth of the river, Kaohsiung 228 Peace Memorial Park (高雄市二二八和平公園) is one of the largest parks in the city center. The Kaohsiung Museum of History is just north of the park.
At the mouth of the river, on the Lingya district side, Glory Pier is yet another pier with giant, grass-covered concrete lookout towers beside the port, a great view of Kaohsiung Music Center, and occasional arts & craft markets.
Central and Southern Kaohsiung Attractions
A handful of districts (Qianjin, Lingya, Xinxing, and a few others) make up what is considered the city center core. There you'll find Kaohsiung Station, Central Park, the iconic 85 Sky Tower, and Kaohsiung's most famous night markets.
There are also a few attractions worth mentioning further south, mostly in Qianzhen District, where the Kaohsiung Airport is located.
Dome of Light
Dome of Light (美麗島站 光之穹頂) is one of the most recognizable symbols of Kaohsiung. This enormous lit up art installation is found in Formosa Boulevard (美麗島站) station, at the intersection of the red and orange KMRT lines, one stop south of Kaohsiung station.
The installation was designed by Italian Narcissus Quagliata and is made up of 4500 pieces of glass, making it the largest glass artwork in the world. The light displays on the installation change continuously, so it's fun to stand and watch for a while.
If you go up to the large traffic circle above the station, the four massive glass entrances to the MRT are also beautiful.
Liuhe Night Market
The most famous night market in Kaohsiung (among tourists, specificially) is Liuhe Night Market (六合夜市). The night market is a short walk from Formosa Boulevard station.
Liuhe is loved among tourists because of its central location, lack of traffic, delicious Taiwanese foods, and because the stalls are spaced out, so it's never too crowded. There's also a 7-Eleven in the market that serves draft beer.
Find out what to eat in my guide to Kaohsiung's night markets.
Sanfeng Temple
Of the numerous temples in Kaohsiung, Sanfeng (三鳳宮, also spelled Sanfong Temple) is worth making the trek to for its large courtyard with a canopy of red lanterns. Make sure to go up to the second floor for an excellent view looking down on the lanterns.
The temple is an 18-minute walk from Kaohsiung station or 11-minute walk from Liuhe Night Market.
Hou Yi Shopping District
Hou Yi Shopping District (後驛商圈) is a small shopping district just a few minutes on foot from Kaohsiung Station. It mainly runs along Anning Road (安寧街), with lanes veering off to the north and south. When you first arrive, there's a cute map of all the shops and cafés in the neighborhood.
The street is also nicknamed "Umbrella Street" for the canopy of umbrellas that is sometimes hung above the street. The umbrellas come and go, though – when I last visited there were lanterns rather than umbrellas.
The lanterns are usually lit from dusk until around 9 pm.
Central Park
Central Park (中央公園站) is the largest park in central Kaohsiung. It is an oasis of peacefulness and greenery, with a large pond and walkways lined with palm trees.
At the southern end of the park, Urban Spotlight (城市光廊) is a collection of interactive light displays at night. Talee Department Store (大立A館) across the street also has a cool wall of lights on its exterior, facing the southwest corner of the park.
The enormous KMRT exit 1 is one of the park's most prominent landmarks.
Hei Bonn Gōrudohausu
Hei Bon Gōrudohausu (平凡五金行) is a mini version of Taipei's famous Addiction Aquatic Development. Essentially it is an upscale, Japanese-focused seafood market and grocery store.
At Hei Bon, the first floor has fancy sakes, fresh seafood aquariums, and take away meals. What guests are encouraged to do is select fresh seafood or frozen items, pay for them, then have them taken up to the second floor, where they can be enjoyed as a hot pot meal or cooked for you.
You can also pre-order sashimi trays (they often aren't on display – you have to ask) to be taken away or enjoyed upstairs, as I did (see photo above). There are also gourmet desserts, wines, and more.
The shop is about halfway between Glory Pier and Luyunzhongxin stations on the LRT. You'll need to search for its Chinese name on GoogleMaps.
Thank you to Tricky Taipei for alerting me to this gem in one of her social media posts!
Weiwuying Street Art Village
Besides Pier 2, Weiwuying Street Art Village (衛武營彩繪社區) is the best place in Kaohsiung to see street art. The whole community is a legal street art district, so you can see entire buildings covered in murals.
To explore the village, take exit 5 from Weiwuying station and walk north. The murals begin at the point marked "WAllRIORS國際街頭藝術" on GoogleMaps and continue another 4 blocks north and 2 blocks east from there. Wallriors is a collective of Kaohsiung-based street artists. You'll find a map at the start listing over 125 murals in the neighborhood.
In terms of photographing the murals, I found that more of them would be well lit if visiting in the morning rather than the afternoon.
Weiwuying is several stops east on the orange line. If you're looking for more to do in the area, National Kaohsiung Center for the Arts (衛武營國家藝術文化中心) and the huge Weiwuying Metropolitan Park (衛武營都會公園) are nearby.
Water Tower Park (自來水公園) and Kaohsiung Citizen's Avenue of the Arts (高雄市民藝術大道) are also interesting.
National Science and Technology Museum
The National Science and Technology Museum (國立科學工藝博物館) in Sanmin district is one of the city's best. You could easily spend a whole day explore the numerous exhibits on site, including a 3D theater.
To get there, take the TRA train to Science and Technology Museum station, two stops east of Kaohsiung station.
85 Sky Tower & Observatory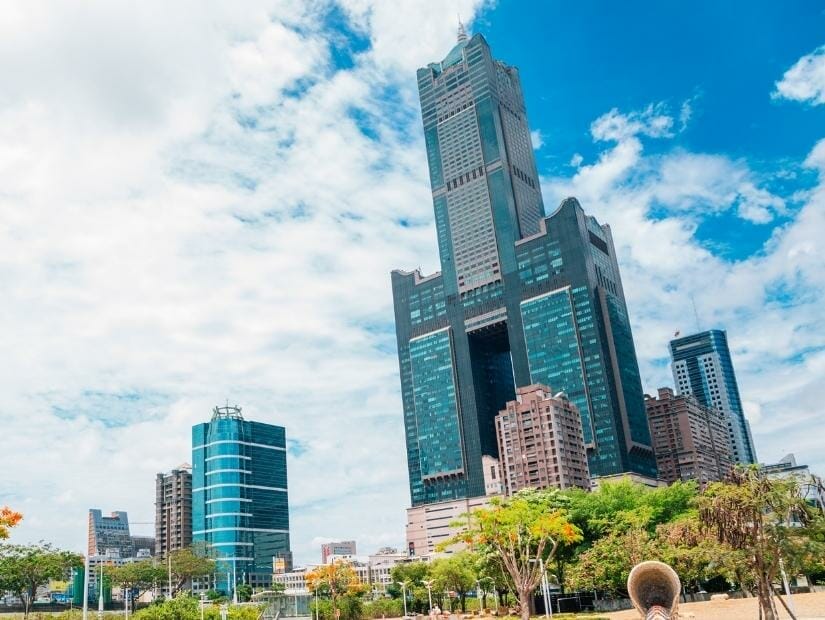 The 85 Sky Tower (高雄85大樓 or Kaohsiung 85) is the most recognizable skyscraper in Kaohsiung. At 378 meters, it is the city's tallest. Opened in 1997, it was the tallest in all of Taiwan until Taipei 101 was completed in 2004. It is said to be shaped like the Chinese character 高, as in 高雄 (gao xiong or Kaohsiung).
The Kaohsiung 85 Observatory (高雄85大樓) is located on the 74th floor and offers and unparalleled view of the city and port. Entrance is less than half the price of Taipei's 101's observatory, at NT 250 (30 NT discount if you pay with iPass).
Take the MRT red line to Sanduo Shopping District, which is named after the several large department stores in the area. There are a few major local night markets in the area – see my guide to Kaohsiung's night markets for all the info.
Dream Mall and Kaohsiung Eye Ferris Wheel
Dream Mall (統一夢時代購物中心) in Qianzhen district is the largest department store in Taiwan. It frequently hosts the New Year's Eve fireworks display in Kaohsiung.
The mall has everything you'd expect in a giant mall. The most notable feature is the 50-meter Ferris wheel called Kaohsiung Eye (夢時代高雄之眼摩天輪) on the rooftop. The Ferris wheel can be seen from across Kaohsiung Port, especially when lit up at night.
The mall can be accessed from Dream Mall station on the LRT or a 12-minute walk from Kaisyuan station on the red MRT line.
SKM Park/Suzuka Circuit Park
SKM Park (formerly Taroko park, named after a business group, not Taroko Gorge in Hualien) is another department store in southern Kaohsiung.
This one main stands out for its outdoor amusement park, called Suzuka Circuit Park (鈴鹿賽道樂園). The park features a 1/10 scale go-karting track modeled on the F1 raceway in Suzuku, Japan. It is one of my favorite theme parks in Taiwan. You can get discounted tickets to the park here.
The amusement park features several other rides and attractions, many of which will appeal to visitors to Kaohsiung with younger kids. The mall itself also contains several fun attractions, including bowling, trampoline park, laser tag, children's bowling, sports center, and children's indoor playcenter.
Here's an article I wrote for Travel in Taiwan magazine covering the park. The park is at Caoya station, one stop before the Kaohsiung Airport, on the red line.
Things to do in Zuoying
Kaohsiung's Zuoying district lies north of the city center. Besides being the location of the city's High Speed Rail station, one of the most famous Kaohsiung sights is there: Lotus Pond.
There are a few lesser known historical sights around Lotus Pond. If you decide to base yourself in the area, I recommend spending a night or two at A Touch of Zen Guesthouse (see on booking / Agoda), which is set is a Japanese-era residence.
Ruifeng Night Market
Ruifeng Night Market (瑞豐夜市, also spelled Rueifong Night Market) is probably the most famous night market in Kaohsiung among locals. It contains hundreds of food stalls spanning traditional classics to modern, innovative items.
The night market is located south of Lotus Pond, but a little far to walk – cycling is ideal. From the city center, you can get there from Kaohsiung Arena MRT station of the red line. Take exit 1.
Lotus Pond
One of Kaohsiung's most famous attractions is Lotus Lake (蓮池潭). It is an artificial lake dating to 1951 with about a dozen impressive temples lining its shores, some with pavilions built out on the water. The lake is known for its lotus flowers, which lend the lake its name.
Most of Lotus Pond's attractions are on the western shore. It's possible to walk between them, but due to the distance, cycling is better. There are five YouBike stations around the lake.
For visitors to Kaohsiung with kids, there's also a large playground on the northeastern shore called Lianchitan Children's Playground (蓮池潭兒童公園).
It's about a 15-minute walk from the back side of Zuoying HSR station to the north end of the lake, but you'll need 30 minutes or more to reach the main temples that you probably want to see. There are a couple YouBike stations outside the HSR station, too.
If coming from the Kaohsiung City Center, get off at Ecological District MRT station. There's a YouBike station outside the MRT, or you can walk to the southern end of the lake (15 miniutes)
The next 4 entries are all on Lotus Pond.
Kaohsiung Zuoying Confucius Temple
Kaohsiung's main Confucius Temple (高雄左營孔子廟) is the northernmost temple on Lotus Pond and the closest one to the HSR station. It is the largest Confucius temple in all of Taiwan (you can also see a major Confucius temple in Taipei, Taiwan's oldest Confucius temple in Tainan, and another in Taichung).
The Confucius temple is not right on the lake's shore. The walled temple compound is in a large, peaceful garden.
At the bottom of the garden, beside Wechang Temple (文昌祠, which used to be the temple's library, but now seems to be closed to the public, there's a bridge that crosses to the other side of the lake.
Zuoying Yuandi Temple
Almost halfway down the lake, Zuoying Yuandi Temple (玄天上帝神像) is one of the lake's most photographed sights. The temple's most obvious feature is a walkway called Arctic Pavilion (北極亭) that sticks 120 meters out into the lake.
The pavilion leads out to an enormous, 72-meter statue of the Daoist god Xuan Wu (or the Yuandi Emperor). The god holds a 37.5-meter sword in his right hand and is stepping on a snake with his left foot. The streams from his head are part of his imperial robe.
The cave-like temple at the base of the statue is filled with gaudy colors and decorations. There's also a large coy pond along the pavilion.
Spring and Autumn Pavilions
The next major temple on the lake is the Spring and Autumn Pavilions (春秋御閣). There you'll find a cluster of somewhat dated statues (including one of Guanyin riding a dragon), water fountains, and pavilions on the lake shore.
Spring and Autumn Pavilions refers to the two tall octagonal towers. In the past, you could walk into the dragon's mouth and through a tunnel to access the 125-meter walkway across the lake to Wuliting (五里亭), a pavilion out on the lake. However, this has been closed for some time.
Lots of lotus flowers can be seen in the water around the pavilions. A large Buddhist temple called Qimingtang (啟明堂) is across the street from the pavilions.
Dragon and Tiger Pagodas
Along with the giant Yuandi statue, Dragon and Tiger Pagodas (龍虎塔) are the most popular and photographed sight on Lotus Pond. The twin pagodas lie at the southwestern corner of the lake, also surrounded by lotus flowers.
The two seven-story pagodas stand right on the lake. The entrance to each is through the mouth of a large dragon and tiger statue. Both entrances have been closed during COVID. The Nine Curves Bridge (九曲橋) leads to the them.
Just south of the pagodas, there's a handy 7-Eleven, YouBike station, washrooms, and large park.
Fengshan Old City
Fengshan (鳳山, or Fongshan) was a city built at the start of the Qing Dynasty in what is now Zuoying district. It was the first walled city in all of Taiwan. For anyone interested in history, you can ride your bike from Lotus Pond a visit a few remains of the old city.
From Dragon and Tiger Pagodas, you can do a cycling loop around Turtle Mountain (龜山). The first stop would be Fongyi (Fengyi) Gate, the original east gate of the city (鳳山縣舊城 東門(鳳儀門)), which is on the border of a park. From 9:30 to 5 PM, you can actually walk up onto the old city wall.
Next, cycle to Qiwen Gate, of the old south gate (鳳山縣舊城 南門(啟文門)), which lies at the center of a traffic circle. From there, consider a side trip to Guomao Community Park (see next entry below).
Last, make your way back to Lotus Pond via Gongcheng Gate, the original northern gate (鳳山縣舊城 北門(拱辰門)), where you can also walk along a section of the wall.
Guomao Community Park
The Guomao Community Park (果貿社區公園) is a military dependents village and Instagram hot spot. Military dependents villages were built across Taiwan to house soliders of the KMT army when they first occupied Taiwan.
Many of those villages now house artistic attractions, such as Rainbow Village and Guanfu Village in Taichung or 44 South Village in Taipei. However, this one is a living community, whose occupants were moved to 13 large buildings there in the 1960s, making it the largest such village in Taiwan.
But what really makes Guomao Community Park stand out is the circular shape of the two large apartments around the park. If you have a wide enough lens, you can capture a circle of buildings looking up.
Farewell 886 Military Veteran Village
Farewell 886 (再見捌捌陸-臺灣眷村文化園區) is another military dependents village. This one is located 10 minutes north of Lotus Lake by bike. It is one of several military villages for the Japanese navy that were built in the Zuoying area.
Farewell 886 preserves a handful of such residences which belonged to commanders and high ranking naval officers. Today, a few are set up to look like they original did, complete with interior furnishings and everyday items. There's a small fee to enter.
The name refers not to Taiwan's telephone code but to the fact that there arer supposedly 886 military dependents villages across the country.
If you're interested in Japanese-style homes or this part of Taiwan's history, I highly recommend staying in A Touch of Zen Guesthouse, which is just around the corner from 886. It offers the chance to stay in the former house of a rear admiral in the Japanese navy.
Further Afield in Kaohsiung
Kaohsiung city in fact spans some 125 kilometers from the coast all the way to Yushan, the tallest mountain in Taiwan. That's because the city encompasses all of what used to be called Kaohsiung county.
The following sights are all located in Kaohsing "city", but outside of the city center. They could be considered day trips from Kaohsiung.
Planning to head to Kenting National Park before or after Kaohsiung? Here's an express shuttle bus from Kaohsiung Airport or HSR station to Kenting.
Fo Guang Shan
Fo Guang Shan (佛光山) is the headquarters of one of the four main Buddhist organizations in Taiwan (you can read about another of them in my guide to Sun Moon Lake). The enormous Buddhist monastery is the largest in all of Taiwan and is located about an hour east of the city center in Dashu district.
The sprawling complex includes the original Foguangshan Monastery, where it is possible to spend the night, a Buddhist university, and the newer Fo Guang Shan Buddha Museum (佛光山佛陀紀念館), which features the largest Buddha statue in the country.
There's a lot to know about visiting Foguangshan, so head over to my Foguangshan guide for all the details.
Bus 8501 from the Zuoying HSR station goes to both Foguangshan and E-Da. You can also get there by taking this half-day tour from Kaohsiung.
E-Da Theme Park
E-Da Theme Park (義大遊樂世界) is one of the largest theme parks in Taiwan. Since it also in Dashu District, and on the same bus route that can take to Foguangshan, it is possible to combine these two Kaohsiung attractions into one day trip.
The theme park includes multiple rides, 4D experience, a monorail, toddler play area, erupting volcano, 80-meter Ferris wheel, and a Santorini theme. There's a mall on site with a gigantic slide. You can save money on your E-Da ticket by booking here.
You can even spend the night at E-Da Skylark Hotel (see on Booking / Agoda / Tripadvisor) or E-Da Royal (see on Booking / Agoda / Tripadvisor).
Moon World Landscape Park
As the name suggests, Moon World Landscape Park (月世界遊客中心) features a lunar landscape, with dry, rugged hills, cracked earth, and mud volcanoes.
An easy walking trail leads through the area, including a large pond and mud volcano (月世界泥火山). Entrance is free.
For another sight with similar scenery in Kaohsiung, but lesser known, visit 18 Arhats Mountain (十八羅漢山) in Liugui District.
To get to Moon World, take the train to Gangshan station then hop on bus 8012. The same bus continues on to Qishan Old Street.
Qishan Old Street
If you're looking for an old street experience in Kaohsiung, Qishan Old Street (旗山老街, also spelled Cishan) is probably the best. Old streets are streets with old architecture that have been partially restored and are lined with food stalls, attracting masses of local people.
Qishan Old Street features baroque-style buildings and snacks made with ingredients from the surrounding agricultural area. Because it is close to Meinong Village, the two can easily be combined as a day trip from Kaohsiung.
To get there, take the train to Gangshan station, then bus 8012 from Gangshan Bus station. It will stop at Moon World (see previous entry) on the way.
For more old streets in Taiwan, see my guides to Shenkeng Old Street and Nanzhuang Old Street.
Meinong Hakka Village
Meinong (美濃) is a small, authentic Hakka village in the district of the same name. It is the most well-known Hakka village in southern Taiwan (to learn more about the Hakka people, see my guide to Miaoli).
The best place to explore local Hakka culture is at Meinong Folk Village (美濃民俗村). There you can taste Hakka food, learn about their culture, and paper a hand-made Hakka paper umbrella, which the village is famous for. I've had mine hanging in my living room ever since I first visited the village many years ago.
There are several other simple restaurants in town serving Hakka food, such as bantiao (粄條), a kind of wide rice noodle.
To get there, take bus E25 from Zuoying High Speed Rail station.
Maolin Butterflies
Every winter in Taiwan, from around December to March, millions of Taiwanese purple crow butterflies flock to Maolin district in central Kaohsiung.
The best places to see the butterflies are on the Maoling Butterfly Trail (茂林賞蝶步道) in Purple Butterfly Valley (紫蝶幽谷). From the parking lot, an easy walking trail will give you the chance to see thousands of butterflies, but beware of crowds during weekends in season.
Getting there by public transport is a little tough. First get yourself to Meinong, then catch Joy Bus H31, which offers extra services in season. You can also take the train to Pingtung station, then catch bus 8218B. Budget at least two hours to get there.
Siaogangshan Skywalk Park
Siaogangshan Skywalk Park (崗山之眼 or Xiaogangshan) is a new park featuring a large violin-shaped platform. Since opening in 2018, it has become a very popular attraction.
A spiral staircase leads up to the viewing platform, which offers a commanding view of the surrounding countryside and Agongdian Water Reservoir (阿公店水庫). Parts of the skywalk floor are made of glass, so you can see the forest below.
To get there, take the MRT to the northern terminal stop on the red line, Gangshan South Station, and catch a taxi (NT 300). Entrance is NT 100.
Baolai Hot Spring
Baolai Hot Springs (寶來溫泉) is a hot spring village way up in the mountains of eastern Kaohsiung. The hot springs come from the Baolai River, which flows past the village. The hot springs here are surrounded by gorgeous mountain scenery,
Like all hot spring villages in Taiwan, the village features a range of hot spring options. Baolai Public Hot Springs (寶來花賞溫泉公園) has foot bathing pools (NT 150) or full body pools (NT 350) which are recently renovated and on beautiful grounds. There are also cute private cabanas.
Grand Orchid Resort Villa (see on Booking / TripAdvisor) offers rooms with private tubs and views where you can spend the night. You can see the hotel grounds and hot springs in the above video.
To get there from Kaohsiung Railway Station, take bus No. 8025 to Liugui town. From there, take bus H11 (five services a day) or a taxi to Baolai.
Other more remote hot springs that you can hike to in the area include Lao Lao Hot Spring (荖荖溫泉), Qi Keng Hot Spring (七坑溫泉), Shi Keng Hot Spring (十坑溫泉), and Shisan Keng Hot Spring (十三坑溫泉).
Keziliao and Hsinta Harbor Fish Markets
The easiest fishing port to visit in Kaohsiung is Keziliao (蚵仔寮港觀光魚市, prounced e-ah-liao in the Taiwanese language – e-ah means oyster).
Like most fish harbors across Taiwan, you can find a huge range of fresh seafood, sashimi, sit-down restaurants, and dried seafoods to take away. The market runs from around noon to sunset.
The harbor is on the coast west of the huge Kaohsiung Metropolitan Park and Metropolitan Park station on the northern reaches of the red MRT line. The best way to get there is by taxi from Metropolitan park station.
Hsinta Harbor Fish Market (興達港觀光漁市, also spelled Xingta) is even more popular than Keziliao, but it is harder to get to, as it is further north in Kaohsiung, near the border with Tainan.
Well, that brings us to the end of this immense Kaohsiung guide. Thank you so much if you've read this far. If you have any questions, please comment below of join my Taiwan Travel Planning group!