Dear reader: This article contains links to products and services that I may be compensated for, at no extra cost to you.
Welcome to the ultimate Taiwan bucket list! Taiwan is a small country that packs in a seemingly unlimited number of awe-inspiring attractions, from the towering skyscrapers of Taipei to the isolated aboriginal tribes on offshore islands. Note that Taiwan is currently totally open for travel!
Here I've compiled my favorite things to do in Taiwan, all things I've personally done in my 10+ years living in this country. These include the most popular Taiwan attractions as well as my favorite off-the-beaten-track things to do in Taiwan.
Deciding what to do in Taiwan can be tough with so many tourists spots and off-the-beaten track possibilities; although I tried to keep this article to a reasonable length, it just keeps growing and growing.
The suggestions below are organized into sections covering Taipei, the North, East Coast, Central Mountains, and the South of Taiwan. To find out how to map out the below attractions for your visit, please see my recommended Taiwan itinerary for 1-3 weeks.
For everything else you need to know about visiting the country, here's my general guide to traveling in Taiwan!
Have questions about traveling in Taiwan? Read these Taiwan FAQs or ask your questions in my Taiwan Travel Planning group!
Taiwan Essentials
Use Klook to find great deals and discounts on attractions, transportation, and more around the country. I highly recommend it and use it all the time! Sign up here to get NT$100 off your first booking.
ParkBus Taiwan is an English service that escorts guests on day trips out of the city for hiking and other activities. Use my code Spiritual10 to get a 10% discount (only applies to certain Parkbus trips).
If you decide the above pass isn't worth it for you, you can simply buy an EasyCard, which covers public transportation in major cities in Taiwan.
If you're short on time, you can squeeze in Taiwan's top sights on this 5-day Taiwan tour or let Life of Taiwan plan a fully customized luxury tour of Taiwan for you. Tell them Nick sent you over!
Check out the best cooking classes in Taiwan here.
When to Travel to Taiwan
There is no distinct high or low travel season in Taiwan; tourist numbers go up and down by the month and depend on a lot of factors. What's more, the weather and climate varies considerably from north to south and seaside to high mountain areas.
Do you want to bask in Taiwan's summer heat? See cherry blossoms? Soak in hot springs? Go hiking in mild weather? Avoid typhoons and the rainy season? To help you decide the best time to visit, I've written articles covering each month of the year in Taiwan, which are summarized in my post on the best time to visit Taiwan.
Now, let's get to the top attractions in Taiwan!
Taiwan's Top Experiences
The below are what I consider the most unmissable experiences in Taiwan. In the following sections, I'll cover the more specific places to visit across Taiwan, from north to south.
Legendary Night Markets
If someone asks me what to do in Taiwan, but I can only choose one answer, it would be to visit a night market. Taiwan is known across Asia for its night markets, and many foodies visit the country JUST to dine in its night markets.
I've made it my mission to visit every major night market across Taiwan (this may be a lifelong endeavor, as there are hundreds!) Here are my guides covering the best night markets in Taipei, night markets in Taichung, night markets in Tainan, and night markets in Kaohsiung.
To get a taste of what you'll be eating, I've compiled 101 Taiwanese foods you're most likely to encounter there. Taiwan is also famous for its teas, and there's even an underground chocolate culture in Taiwan.
Over 100 Major Hot Springs
Taiwan is a thermal hot spring paradise. Sitting on the Ring of Fire, the island nation has one of the highest concentrations of natural hot springs in the world.
You can experience Taiwan's hot spring culture by hiking to wild springs, soaking in Japanese-era bathhouses, or getting a luxurious private hot spring room with your loved one.
Find out everything you need to know in my guide to the best hot springs in Taiwan. I'll be introducing specific individual ones below.
Welcoming People & Unique Culture
Taiwanese pride themselves on being super friendly and welcoming to foreign visitors, and they really are. They want the world to know that their country exists, and to this end they welcome outsiders enthusiastically. Taiwanese society is one of the freest in Asia, and the country was the continent's first to legalize equal marriage rights.
Taiwan is also known for its convenience store culture, with one of the highest concentrations of convenience stores in the world. Grabbing a cold beer and instant noodles from 7-Eleven to enjoy at a nearby park is a classic Taiwan experience, while the "ding dong" of the automatic 7-11 door is a sound that most Taiwanese associate with home.
To learn more about Taiwanese culture, read my guide to Taiwanese language and (more related articles coming soon!) Also, please don't confused Taiwan with Thailand, like so many people do. To clear this help, here's my article explaining the many differences between Taiwan and Thailand.
Unbeatable Hiking and Outdoor Activites
Taiwan is one of the world's great hiking destinations. In fact, the country has the world's highest concentrations of high mountains, with 268 peaks above 3000 meters (9843 ft), including Yushan, which is taller than Mount Fuji. Over 2/3rd of the island consists of mountains!
Amazingly, some of the best hikes in Taiwan can be found right in and around the capital. Here's my guide to the best hikes in Taipei. Several of these are located on Yangmingshan, a semi-dormant volcano right in the city! I've also written about the best hikes across the island here and here.
Besides hiking, some other popular outdoor activities in Taiwan are river tracing, riding hot air balloons, whale watching, scuba diving, surfing, and more.
Beaches and Offshore Islands
While Taiwan isn't quite as famous for its beaches as countries like Thailand or the Philippines, it still has its fair share of good ones.
Here I've compiled my favorite beaches near Taipei. In the south of Taiwan, there's so good surfing to be had, while Kenting National Park at the southern tip of Taiwan has some of the best beaches on mainland Taiwan.
But it's no secret that Taiwan's offshore island have the best beaches in Taiwan. The Penghu Islands and Green Island are top contenders here. I'll be covering Taiwan's offshore islands in individual entries below, as there is much more to them than just beaches.
Colorful Festivals and Events
The Taiwanese calendar is dotted with exciting festivals and events, from traditional Chinese festivals to pool dance parties, and everything in between.
In this article, I cover the 60+ festivals in Taiwan, in the order they will come from January to December. Lunar New Year is the biggest holiday in Taiwan, but can also be a challenging time to travel.
Mesmerizing Temples
Taiwanese temples must be seen to truly understand. Most of them are explosions of color and detail, known for their intricate carvings and details. These are living places of worship, with equally complex rituals and prayers taking place daily. They are free to enter for all.
Temples in Taiwan may fall under Buddhism, Taoism, Confucianism, folk religion, or, more often than not, a combination of two or more of the above.
Learn more in my guide to the best temples in Taipei and temples in Tainan, the spiritual and historical heart of Taiwan. I will cover a few more notable temples in Taiwan further below.
I never travel without a guidebook! I recommend these:
Things to Do in Taipei
Taipei is such as enticing city that you could easily spend weeks there and never run out of things to do. It's no wonder so many visitors end up getting stuck there for life, myself included!
For even more ideas, check out my articles on unmissable things to do in Taipei City.
I've also got articles covering where to stay in Taipei, Taipei day trip ideas, and my recommended itinerary for 2 days/3 days/4 days/5 days.
Survey the capital from Taipei 101
Ride the world's fastest elevator to the 89th floor observation deck for a 360-degree bird's eye view of Taipei from Taipei 101, a skyscraper shaped like a stalk of bamboo. Be sure to check out the enormous 730-ton stabilizer ball in the center, which keeps the once tallest building in the world from falling in the event of an earthquake.
Save money and buy your ticket in advance online, and choose 'Express Pass' to skip the long lines. For a more thrilling experience, try the Skyline 460 Observation Deck, which is on the actual roof of Taipei 101, and includes entry to the regular Observation floors. You can also get a massage inside Taipei 101, with an epic view!
The Taipei 101 Observatory is also included on the Taipei Unlimited Fun Pass, which is a great way to save money while traveling in Taipei. See my guide to the fun pass here. After visiting Taipei 101, dine at Taiwan's most famous restaurant nearby.
Also don't miss one of the events of the year in Taiwan in December, when fireworks shoot from the sides of Taipei 101 to celebrate New Year's Eve!
Bathe in Beitou's thermal waters
Visiting Taiwan in winter? Beitou is the only MRT-accessible hot spring in Taiwan. It sits at the base of Yangming Mountain in northern Taipei City. Learn how to spend an amazing day exploring the area in my guide to Beitou Hot Spring.
Beitou's hot springs were first developed by the Japanese. Several Japanese-built structures remain, including the Xinbeitou train station, Hot Spring Museum, Beitou Museum, and Puji Temple.
Public Millennium Hot Spring in the Hot Spring Park is the cheapest choice, while Spring City Resort has the best family-friendly hot spring facility.
For a classier soak, try Hotel Royal Beitou.
Exlore Ximending, the "Shinjuku of Taipei"
Ximen, Taipei's funkiest neighborhood, has been cool since Japanese times. The pedestrian shopping district attracts crowds of local youths and travelers.
It is here that you can find cosplay cafés, piercing and tattoo parlors, ice cream shops with weird flavors, and MTV parlous (private rooms to watch a movie). Ximen is also home to Taipei's largest LGBT district, historic Red Theater, a weekend arts and craft market, and over a dozen movie theaters.
Get more ideas in my article on weird things to do in Ximending, find out what to eat in Ximending, and read about my experience getting a knife massage in Ximending.
Learn more in the city's excellent museums
For starters, you can't miss the National Palace Museum, arguably the most important museum in the Chinese-speaking world. The colossal structure houses some 700,000 artifacts. If you book your ticket online, it includes entrance to the Southern Branch of the National Palace Museum in Chiayi.
Next door, you'll find the Shung Ye Museum of Formosan Aboriginals. You can save money by getting this combined ticket.
For art lovers, the Museum of Contemporary Art and Taipei Fine Arts Museum are musts. If you are visiting Taipei with kids, consider the Land Bank Exhibition Hall of the National Taiwan Museum, which houses a dinosaur exhibit, or the Miniatures Museum of Taipei.
Admission to numerous museums and art galleries in Taipei are covered with the Taipei Unlimited Fun Pass.
Ride a YouBike along Taipei's riverside parks
Renting a YouBike is a quintessential Taipei experience! The signature yellow and orange bikes (produced by Taiwan's own Giant Bicycles) are available from literally hundreds of drop-off points throughout Taipei City and New Taipei City.
As a foreigner, it can be a little tricky to rent one. You'll need a local phone number, so I recommend getting a SIM card in Taiwan. Download the YouBik 2.0 app, find a bike, then click "single rental – sign up" at the bottom. On the signup page, click "ID" and change it to "Passport" for entering your passport number. You'll then need to receive a text code before you can register and pay. A credit card may be needed to pay.
Some of the best riding to be had in the city is along the city's numerous riverside parks. A favorite ride of mine is to rent a bike at Yuanshan MRT station, riding past the Taipei Fine Arts Museum and Lin An Tai Historical Home to reach the Dajia Riverside Park, continuing along to Raohe Night Market at the Songshan Ciyou Temple.
YouBikes are also available in major cities across Taiwan.
Ride a glass floor gondola over tea fields
The Maokong Gondola ascends from Taipei Zoo MRT station into the foothills surrounding Taipei, where light, fruity Baozhong oolong tea is grown. To ride in a glass floor gondola, make sure to get in the line marked "Crystal Cabins."
You can get off at Zhinan Temple station for commanding city views from a stunning temple, or continue to the final stop, Maokong station, from where you can walk to numerous tea houses overlooking tea farms and hiking trails.
Don't forget to try the tea-flavored soft serve ice cream!
Use your EasyCard to ride the Moakong Gondola, and return tickets are included if you get the Taipei Unlimited Fun Pass.
You can also get a deal on Maokong + Taipei Zoo tickets here.
Admire CKS Memorial Hall, one of Taipei's most iconic structures
The Chiang Kai-shek Memorial Hall honors Taiwan's former dictator and is the city's most prominent historic landmark. The imposing, octagonal, 76-meter blue and white structure is definitely worth a visit.
In the same large square sit the classical Chinese-style National Theater and Concert Hall. Teens can often be seen practicing dance moves on the walkways around the two buildings.
The best view of the square can be had from Liberty Square Arch on the NW side of the square.
CKS Memorial Hall is included on this Taipei Double Decker Bus Tour.
Explore Taipei's world-famous food streets
Besides its famous night markets, Taipei is also known for several food streets.
Shenkeng Old Street is otherwise known as the "stinky tofu street" or "tofu capital of Taiwan. This is the best place to try stinky tofu, Taiwan's most infamous snack.
Yongkang Street is known for its mango shaved ice, traditional teahouses, and high concentration of excellent local restaurants, while Burma Street (also called Zhonghe Myanmar Street) in New Taipei City has the country's best collection of Burmese restaurants.
Last but not least, Addiction Aquatic Development is an unmissable spot for anyone who loves seafood, whether you want it in seafood hot pot, BBQ, stand-up sushi bar, or an economical sashimi plate to take away.
Play with kitties in a cat cafe
Did you know that the cat cafe trend started in Taiwan? Find out where it all began in my guide to the best cat cafes in Taipei and around Taiwan.
Since there, there are over a dozen good ones in the city, not to mention several more in cities across the country. Some of these are just regular cafes with a few cats hanging out inside, while others are full on affairs where you pay to spend time with dozens of furballs, including rare breeds.
If you still haven't found your accommodation in Taipei, read my guide to where to stay in Taipei or see this list of the best Taipei hotels.
Things to Do in Northern Taiwan
Northern Taiwan is dominated by Yangmingshan National Park, a huge dormant volcano massif. The North Coast Highway (Provincial Highway 2) is dotted with enticing attractions ranging from beaches and cliff diving to night markets and historic villages.
New Taipei City, a huge city surrounding Taipei, is home to some of the best day trips from Taipei, while Taoyuan and Hsinchu counties offer possibilities for getting off the beaten track.
Take in a romantic sunset in Tamsui
Tamsui (Danshui) is a district of New Taipei City with a popular riverside promenade at the end of the Taipei MRT red line. It's a lovely spot where the Tamsui river, which flows through Taipei, meets the sea.
The promenade is lined with food stalls and children's games, while in the evening it takes on the air of a seaside night market. There are also a few historical sights in Tamsui, including the Fort San Domingo. Entrance is included in the Taipei Unlimited Fun Pass.
Catch a river boat (also included on the Taipei Unlimited Fun Pass or swipe with EasyCard) to Fisherman's Wharf, a large dock that is famous for having some of Taipei's best sunsets. The prime spot is Lover's Bridge, which connects the dock to the shore.
Gorge on seafood at Keelung Night Market
The night market in Keelung, northern Taiwan's largest port, is so special that it gets its own entry here. Not only does it specialize in delicious seafood (there's something for everyone if you don't like seafood), but also every stall has its specialty marked in English, and it is easily Taiwan's most photogenic night market. Find my food recommendations in my food guide to Keelung Night Market.
The market's Mandarin name is Miaokou (or "Temple Entrance") Night Market, named after the large temple at its core. You can reach Keelung in 40-60 minutes from Taipei on the regular train, or visit it after a day trip to Jiufen (see below).
Besides the night market, there are many other interesting things to do in Keelung. Find even more ideas in this article by my friend.
Photograph oddly shaped rock formations at Yehliu
Yehliu Geopark is the most popular day trips from Taipei. It is a narrow cape jutting out into the sea, with unusual rock formations carved out by sea winds. It's a stunning, almost lunar landscape.
The most popular formation is shaped like a queen's head and typically has a long line of visitors waiting to take a selfies in front of it. If you arrive on your own, you can skip the entrance line with this online admission ticket.
Yehliu is also included on this day tour to Jiufen and Shifen waterfall and the Taipei Unlimited Fun Pass.
Find out why everyone thinks Jiufen inspired Miyazaki's Spirited Away
The former gold mining town turned atmospheric tourist market called Jiufen snakes its way up the mountain, commanding impressive views of the sea. It is easily the most popular of the many day trips from Taipei.
Here's my guide to Jiufen and all the info you need for getting from Taipei to Jiufen on your own.
You can skip the line at Amei Teahouse, Jiufen's most iconic building. Jiufen is also part of this Yehliu, Jiufen, and Shifen tour.
The same public buses that go to from Taipei or Ruifang to Jiufen also continue 10 minutes further to the Jinguashi Gold Ecological Park, which offers impressive views, mining history, a golden waterfall, and a hike to the remains of Shinto shrine. You can even eat ice cream topped with real gold flakes there!
Hang out with cats at Houtong Cat Village
The 9-stop Pingxi small train line provides access to some gorgeous mountain villages that make for a pleasant day trip from Taipei as well as some incredible hiking. After getting on the train at Ruifang, the first notable stop is Houtong, otherwise known as Taiwan's "cat village".
Once a coal mining town, Houtong's modern claim to fame is its 100+ resident cats.
It all began in 2008 when a local cat lover began taking care of resident strays. Visitors today can buy cat-themed souvenirs, snacks and drinks, and of course, pet and photograph tons of cats.
The tiny village occupies either side of Houtong train station, with a cat tail-shaped tunnel connecting the two sides.
Shifen Waterfall, Taiwan's widest
Shifen, another stop on the Pingxi small train line after it veers inland, is famous for Shifen waterfall, the widest in the country and sometimes called the "Niagara Falls of Taiwan." The narrow train station is very atmospheric and popular among tourists.
Many visitors like to set off paper lanterns at Shifen train station. This practice is associated with Pingxi, three more stops in on the train line. Pingxi is the site of the annual Pingxi Mass Sky Lantern Release, one of the most famous festivals in Taiwan. You can also access the Pingxi Crags (see next entry) from Pingxi Station.
Find out how to get to Shifen Waterfall here or consider joining this very convenient tour to Shifen, Yehliu, and Jiufen.
Ascend vertical crags on three amazing hikes
Taiwan as a whole is a paradise for hikers, and there are three hikes in the Greater Taipei area that stand out if you are looking for adventure. As scary as they may look, all of them are easy enough for anyone who is relatively fit.
The first is the Pingxi Crags, a series of trails leading up a cluster of sheer vertical crags. All the ascents are fitted with ropes and ladders and it is very safe. Still, your heart will be in your throat.
The second is Huangdi Dian hike in Shiding District, which is a little tougher, as it involves a long uphill slog before the trail reaches the peak, which features a gorgeous and incredibly picturesque ridge walk.
Third, and probably the pick of the bunch, is Wuliaojian trail in Sanxia district, a incredibly varied hike that includes rope ladders, cliffs, ridges, views, and pretty much everything that can make a hike awesome and fun. Again, it's a little challenging (mentally, more than anything, if you dare to look down), but anyone who is in decent shape can do it.
Bathe in colorful water at Jiaoxi Hot Spring in Yilan
Among the many hot spring villages in Taiwan, Jiaoxi Hot Spring in Yilan County is my personal favorite for its many colorful, scented hot spring tubs and herbal steam rooms. Besides soaking in springs, you can also hike to impressive waterfalls, eat hot spring ramen, and drink local craft beer while soaking your feet in a hot spring creek in Jiaoxi.
Find out how to do all of this and more in my detailed guide to Jiaoxi Hot Spring, including my recommended hot springs in Jiaoxi, and find more fun things to do in Yilan County.
Yilan is also known for its cool guesthouses & B&Bs.
Sample award-winning whiskey at Kavalan Distillery
Did you know that Taiwan produces some of world's best whiskeys? The World Whiskies Awards named Kavalan's Vinho Barrique the world's best single malt whisky in 2015 and the Solist Amontillado Sherry Single Cask Strength the World's Best Single Cask Single Malt Whisky in 2016.
Entry and a tour of the distillery are free, or you can enjoy a more intimate tour in English with unlimited sampling and make a bottle of your own blend of whiskey to take home on this Kavalan Distillery tour.
The Kavalan Distillery is located in Yilan County and can easily be visited as a day trip from Taipei. You can get there by taxi from Luodong or Yilan stations, or rent a scooter at Luodong.
If craft beer is your thing, then the excellent Jim & Dad's Brewing company is just down the road.
Experience aboriginal culture and hot springs in Wulai
Wulai District of New Taipei City is home to Taiwan's northernmost aboriginal tribe, and the closest one to Taipei City. Wulai is many local expats' favorite day trip from Taipei, for its riverside thermal hot springs, awesome hiking and river tracing, wild scenery, and delicious aboriginal treats.
Read my guide to Wulai for all the details.
Spend a day at Leofoo Village, Taiwan's most famous theme park
While Taiwan has loads of great amusement parks, Leofoo Village in Hsinchu County remains the most famous. It began as a safari park and still has a safari section, but now also includes four huge themed areas of rides as well as a great water park. Don't miss the screaming condor, a totally insane inverted rollercoaster.
You can save nearly 50% of your entrance fee by buying your ticket online before you go.
Shop for ceramics in Yingge
Yingge is the undisputed pottery capital of Taiwan. Here's my guide to Yingge.
There are more than 800 businesses specializing in ceramics around Yingge Old Street. Here you can find tea sets and all manner of pottery ranging from cheap and functional to pieces of art that belong in museums.
In fact, there is a museum in town: the Yingge Ceramics Museum, and it is one of the best museums I've ever been to.
If you prefer to visit with a knowledgeable guide, check out this Taiwanese folk arts tour.
Things to do on the East Coast of Taiwan
The rugged east coast of Taiwan is know for its wild scenery. Going south from the plains of Yilan, the coast becomes increasibly dramatic, culminating at the Qingshui Cliffs and Taroko Gorge in Hualien County. Continuing south to Taitung brings visitors to remote Taitung County, the bread (or rice) basket of Taiwan, where you can surf year-round.
Click here for even more ideas on things to do in Hualien and things to do in Taitung.
Test your nerves at the Qingshui Cliffs
On the rugged and wild east coast of Taiwan, the infamous Suao to Hualien highway, especially the portion known as the Qinshui Cliffs, is the most dramatic.
You' can take in the cliffs as a part of a Taroko Gorge day tour from Taipei, a less rushed tour from Hualien, by hiring a driver (my preferred option), or by renting a scooter in Hualien and going there on your own (international license or local Taiwanese scooter license needed).
Here you can stop at the side of the highway and gaze down to the sea hundreds of meters below. The Qingshui Cliffs are included on most tours of Taroko Gorge, as they are just a short drive from the entrance to Taroko Gorge.
Find out how to plan this and other hualien activities in my suggested Hualien itinerary.
Marvel at dramatic Taroko Gorge, the "Grand Canyon of Taiwan"
If you only visit one place in Taiwan outside of Taipei, make it Taroko Gorge in Hualien, the country's premier scenic wonder. Traveling up between the dramatic, vertical walls of this narrow canyon is an experience you cannot miss. Here's my detailed guide to Taroko Gorge.
The most impressive sights in the gorge include Eternal Spring Shrine built to honor those who died building the highway, the sapphire blue waters of Shakadang Trail, and cliff-hugging Zhuilu Old Trail.
Island Life Taiwan offers the best day tours of Taroko Gorge, with English speaking guides and aboriginal lunch included.
Spend the night in a cabin in a small aboriginal village Taroko Village Hotel (see on Booking / Agoda / Klook / TripAdvisor), or stay in the classiest hotel in Taroko Gorge: Silks Place Resort (see on Booking / Agoda / Klook / TripAdvisor).
The easiest and fastest way to get there is this direct flight from Taipei's Songshan Airport to Hualien.
Take an aboriginal cooking course
Hualien is also home to a large number of aboriginal people, including the Amis, the largest of Taiwan's 16 recognized aboriginal tribes, and the Truku (Taroko) tribe, after which Taroko Gorge is named. One great way to experience Taiwanese aboriginal culture is by taking an aboriginal cooking course in Hualien.
In this highly recommended course, in which you can learn how to cooked local vegetables grown right in their garden, and finish them class by having a stiff local drink with the hosts. A vegetarian class is also available upon request.
Do adventure sports in Hualien
Wild, stunning Hualien County is filled with opportunities for adventure sports. One of the most exhilarating things to do in Taiwan is white water rafting in Hualien. The most popular route is on the Xiuguluan river, the only river in eastern Taiwan that cuts through the coastal mountain range. The 3 to 4 hour route includes over 20 rapids.
Other adventure activities in Hualien include whale/dolphin watching and paintballing.
Take a road trip through the East Rift Valley
While cycling or riding a scooter all the way around Taiwan is a local rite of passage, most would agree that the most pleasant and scenic portion in the east coast, especially the East Rift Valley in Hualien and Taitung Counties.
The East Rift Valley is a wide plain separating the Central and Coastal mountain ranges, and is famous for its quaint rural scenery, rice paddies, fruit orchards, hot springs, aboriginal culture, and cycling opportunities.
See my article on the east coast of Taiwan for information on planning your road trip.
You can also visit the East Rift Valley on this tour.
Cycle through rice paddies at Brown Boulevard in Chishang
One of the best ways to experience Taitung and the East Rift Valley is by cycling through its bucolic scenery of rice paddies and mountains.
The most popular place to do this is in a small town called Chishang. The area was catapulted to fame after an EVA airlines commercial starring a handsome Japanese-Taiwanese actor was filmed there. Now Taiwanese people love to go cycling through the rice paddies there to a tree named after him.
Learn how to do it in my guide to cycling and other things to do in Chishang, Taitung.
Be blown away by the Taiwan Hot Air Balloon Festival
One of the best places in the East Rift Valley, and one of my favorite places to visit in Taiwan, is Luye, which is famous for the Taitung Hot Air Balloon Festival held every July in Taiwan and August in Taiwan.
At this time, dozens of hot air balloons, many shaped like cute animals or characters, get blown up on the gorgeous Luye Highland. Currently it isn't possible for tourists to book a full balloon ride, but you can take a shorter, tethered ride here.
Even if you're visiting outside of summer, the area around Luye is a gorgeous and laid back region for cycling, walking, or visiting tea farms. You can also visit Luye on a day tour from Taitung, and there are reasonably priced domestic flights from Taipei to Taitung.
See my article on Luye and the Taiwan Hot Air Balloon Festival for more information.
Check out the surf in Taitung
Taiwan's may not be famous as a surfing destination, but it should be. The beach in Dulan, an enclave of artists, backpackers, surfers, and aboriginals on a gorgeous stretch of the coast in Taitung, offers some of the best surf in Taiwan year-round.
See my Dulan article for more information on where to surf, eat, and stay in Dulan.
Soak in a saltwater hot spring on tropical Green Island
Green Island, located 33 kilometers off the coast of Taitung, has a distinct tropical/holiday feel, and is one of the best places in Taiwan to go snorkelling and scuba diving (see this Advanced Open Water course on Green Island). They'll provide everything you need, with variable quality, or you consider bringing your own mask.
Green Island is also home to Zhaori Hot Spring, one of only three saltwater hot springs in the world. Sitting in the rock pools of this hot spring at night, listening to the ocean waves crashing beside us is one of my top experiences in Taiwan.
Get your Green Island ferry tickets here.
Things to Do in the Central Mountains of Taiwan
Taiwan has the largest concentration of high mountains in the world, with 286 peaks above 3000 meters. This includes Yushan in the Central Mountain Range, the tallest mountain in Northeast Asia.
Head to the central mountains to see snow in a subtropical country, find out where the best oolong tea in the world comes from, or see sunrises over seas of clouds.
See snow at Hehuanshan or Snow Mountain
Taiwan is a subtropical country (bordering on tropical in the south, as the Tropic of Cancer runs right through the country), but it is possible to see snow on mountaintops in the Central Mountain Range in winter.
Hehuan Mountain is the most popular place to do so, and every time there is a report of snow (usually around January or February), Taiwanese rush up the mountain to see it and clog Highway 14, Taiwan's highest automobile pass at 3275 meters.
You can also take this private tour from Taichung.
For hikers, Snow Mountain (Xueshan) is a great opportunity to see snow. When I did the hike in February several years ago, we didn't just spot snow; we had snow dumped on us and trudged through waist deep snow to reach the peak.
Taipingshan in Yilan is another mountain that recently received snow, while a few times snow has even fallen on Yangmingshan in Taipei! See here for more info on where to see snow in Taiwan.
Stay on a high altitude farm
Cingjing Farm is one of the most unique attractions in Taiwan; where else in Asia can you stay in a European-style farm on the top of a high mountain range?
The area around Cingjing was originally cattle land of the Seediq people. Later in 1961, it was converted to farmland for demobilized soldiers of the Republic of China army. An overnight stay at Cingjing comes with epic views and lots of farm animal spotting.
You can visit Cingjing Farm on this private tour from Taichung.
Cycle or Scooter around Sun Moon Lake
Sun Moon Lake is the gem of the Central Mountain Range, and the road around it has been called one of the best cycling routes on earth. The lake is famous for its gorgeous panoramas, aboriginal culture, beautiful temples overlooking the lake, and the annual mass swim. May in Taiwan, June in Taiwan, and September in Taiwan are, in my opinion, the best times to visit.
Many visitors also come to ride the Sun Moon Lake Cable car to the Formosan Aboriginal Culture Park, which includes an amusement park that is a great place to view cherry blossoms in spring. Based on my research, this is the best day tour available of Sun Moon Lake, departing from Taichung.
Also see my in depth articles covering things to do at Sun Moon Lake, whether to buy the Sun Moon Lake Pass, best Sun Moon Lake tours, and Sun Moon Lake tea.
Spend the night on a tea farm
Taiwan's most famous tea, Alishan High Mountain Oolong tea , is mainly grown around the villages of Shizhuo (Shizhao) and Fenqihu, near the end point of the Chiayi to Alishan small gauge railway. For more information, see my my guide to Taiwanese teas.
It is possible to spend the night at one of several guesthouses located on incredibly scenic Alishan tea farms. The area also features a network of hiking trails among the tea farms and has gorgeous sunsets.
We stayed at Cuiti guesthouse (see on Booking / TripAdvisor), while another beautiful option that we hiked to is Longyun Leisure Farm (see on Booking / Agoda / TripAdvisor ).
Witness the sunrise over a sea of clouds phenomenon at Alishan
Alishan National Scenic Area is one of Taiwan's most popular tourist attractions, but for good reason. The area is famed for its high mountain tea, cherry blossoms, misty old growth forests, and sunrises over seas of clouds.
You need a bit of luck to witness the phenomenon. You can learn about the best sunrise points and more in my guide to Alishan. You'll also find information on escaping the tourist crowds at Alishan, including a mesmerizing hike through a bamboo forest.
Another exciting aspect of visiting Alishan is riding the small gauge railway from Chiayi, but beware that part of the railway is out of operation since it was damaged by a typhoon. Find out more my article on how to get to Alishan. Note than there is a small entrance fee to Alishan, which you can pay online in advance with this deal that includes a famous lunch box en route to Alishan and an electric bus ticket to the sights in Alishan.
You can also get to Alishan by day trip from Taichung. If you take this 2-day Alishan tour, you can stay at Alishan's best hotel for a reasonable price.
Climb Yushan, Northeast Asia's highest peak
At 3952 meters, Yushan (Jade Mountain) is taller than Mt. Fuji by just under 200 meters, but lacks the crowds. Climbing Yushan is relatively easy for anyone who is reasonably fit, including older children. See here for a detailed guide to hiking Yushan.
Yushan National Park is the remotest in Taiwan, and is home to an abundance of flora and fauna.
The ascent is usually done in two days, with most people hiking the final 1.2km from Paiyun lodge to the peak for sunrise before descending. I saw an incredible sunrise over a sea of clouds when I did the hike in my first year in Taiwan.
You need to apply for a permit well in advance, or contact me for information on an organized tour, as the number of daily trekkers is strictly limited.
Explore quirky Xitou Monster Village
In the remote mountains of Nantou county, there's an unusual attraction: a Japanese monster-themed village. The story behind it goes back to the Japanese occupation, honoring a friendship between a Japanese and Taiwanese man. Learn about this and more in my Xitou Monster Village post.
In the village there's a Monster-Themed Hotel (see on Booking / Agoda / TripAdvisor), while visitor's to the village can also try spooky snacks like stinging nettle baked buns.
You can visit Xitou Monster Village on this Monster Village Day Tour from Taichung, which also includes a stop at a Mochi Museum and bamboo forest.
Bathe in a mud hot spring at Guanziling
Another hot spring experience that makes it onto my list of best things to do in Taiwan is the mud hot springs at Guanziling in Tainan. There you can bathe in muddy hot spring water, do a DIY mud facial, or rub thermal mud on your body. It's said to be great for the skin!
The best resort in town to try it is King's Garden Villa (see on Booking / Agoda / Klook / TripAdvisor). Nearby, you can also see an unusual natural phenomenon at Fire and Water Spring.
Learn everything you need to know in my guide to Guanziling or take this guided day tour from Tainan or Kaohsiung.
Things to Do on the West Coast of Taiwan
While Taiwan's east coast is wild, the west coast is mostly developed, with never-ending cities and industrial areas blending together.
Still, there are a few green escapes to be had, and the area is rich in cultural attractions tied to the region's Hakka and aboriginal cultures, modern arts, and some of the country's oldest histrical sights.
Off the coast, the remote Penghu archipelago is halfway between Taiwan and China.
Experience Hakka culture in Hsinchu and Miaoli
The Hakka are a Han Chinese people who originated in central China. A number of Hakka migrated from southern China to Taiwan, and today they comprise 15% of the population of Taiwan. The Hakka mostly live in hilly or rural areas and are known for working hard but also taking time to relax. Their food tends to be hearty and filling.
In Hsinchu, a good place to get a taste of Hakka culture is the Neiwan Old Street, where you can find local specialties such as mochi, ginger lily-flavored glutinous rice, and lei cha, or Hakka pounded tea. Beipu is another popular Hakka town with an interesting Old Street.
In Miaoli, the Hakka Round House is built in the style of a traditional Hakka walled village, while the Hakka Courtyard is a beautifully preserved Hakka sanheyuan (three-sided southern Chinese courtyard home). Last but not least, the Hakka village of Nanzhuang is famous for its sweet osmanthus-flavored foods such as shaved ice. Find more details in my artile on 15 things to do in Miaoli.
Order your HSR tickets to Hsinchu or Miaoli in advance and get an early bird discount.
Hike to cave temples on Lion's Head Mountain
A 10-minute drive from Nanzhuang (see #36), Lion's Head Mountain is one of the most underrated attractions in Taiwan. A network of easy hiking trails link a large number of temples, some of which are built into cliff walls or in caves.
The mountain is crowded with local hikers or weekends and practically empty on weekdays. Few foreign tourists ever make the trip. If you want to spend the night as we did, you can stay in the simple temple accommodation at Quanhua Temple, one of the most beautiful on the mountain.
See more information in my complete article on Lion's Head Mountain and Nanzhuang.
Go strawberry picking in Dahu
During strawberry season (January and February), the small town of Dahu becomes a tourist magnet for locals who come to pick strawberries in the numerous fields that line both sides on the highway in and around the town. You can read all about our experience picking strawberries in Dahu.
The strawberries grown in Dahu are huge, very sweet, and are an extremely popular item across Taiwan when in season.
There's more to the Dahu strawberry experience than just picking them. The Dahu Wineland Resort is a giant complex dedicated entirely to strawberries. Here you can try a huge range of strawberry-flavored foods, such as beer, noodles, popcorn, sausages, shaved ice, popsicles, tea eggs, and more. The strawberry wine made on site is especially delicious.
Only 20 minutes away from Dahu, Tai'an hot spring village is one one of our favorites in Taiwan, where we strongly recommend King's Resort Hot Spring Hotel (see on Booking / Agoda / TripAdvisor).
Take part in the world's largest pilgrimage to a goddess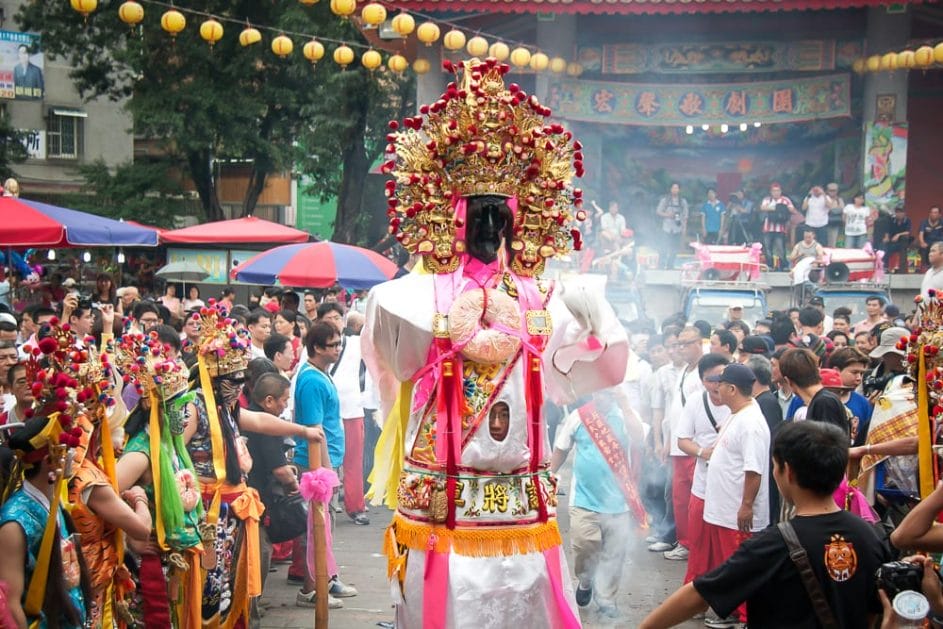 Religious parades and processions seem to be taking place every other week wherever you are in Taiwan, but the biggest of them all is the 10-day Matsu Pilgrimage. The 300-kilometer pilgrimage to the Goddess of the Sea culminates on Matsu's birthday, the 23rd day of the third lunar month (usually in April), and is one of the world's great pilgrimages.
Raucous celebrations begin and end at Zhenlan Temple in Dajia, a coastal town in Taichung. Some 20,000 pilgrims then walk across 21 townships in three counties carrying Matsu in a sedan. Pilgrims are fed and housed by locals along the route, and foreign visitors are welcome to join in the festivities.
Become an Instagram star at Rainbow Village
(Please note that as of summer 2022, Rainbow Village is closed due to being defaced).
If you're seeking a colorful, psychedelic background for your Instagram selfies, look no further than Rainbow Village in Taichung city. The walls of this traditional courtyard home were painted by the 94-year-old resident, a former Chinese solider in the KMT army.
Known as "Rainbow Grandpa," he can often be seen there maintaining the paintings on the walls of his home, which is entirely open to visitors. See here for my article on Rainbow Village.
Rainbow Village is also on my list of best things to do in Taichung, and you can find out how to plan your trip in my Taichung itinerary post. Consider stopping at Feng Chia Night Market, the largest and most famous in Taichung, on your way back to the city!
You can visit Rainbow Village on this poplar Gaomei Wetland and Rainbow Village tour (not that this tour probably isn't running until Rainbow Village reopens, if it ever does).
See an unbelievable sunset at Gaomei Wetlands
On the coast of Taichung lies the beautiful Gaomei Wetlands, a 300-hectare area of preserved wetlands with huge wind turbines. Walk the wooden paths and see what kind of creatures you can find on the shore. Make sure to stick around for what is without a doubt one of the best sunsets in Taiwan. Here's my detailed guide to Gaomei Wetlands.
Gaomei Wetlands is one of the most popular day trips from Taichung.
Try this full-day Gaomei Wetlands and Rainbow village tour for getting there, or this half-day Gaomei Wetlands only tour.
Experience traditional Taiwanese culture in Lukang
Lukang, a coastal town in Changhua county, is one of the best places in Taiwan to experience traditional Taiwanese culture. The town is historically significant but didn't modernize as much as others because it was decidedly not given railway access.
Lukang is famous for its Old Street, which features very traditional foods made by vendors going back multiple generations. The Lukang Matsu Temple is one of the country's most important, while the Lukang Glass Temple is a one-of-a-kind modern variety.
Learn everything you need to know in my detailed guide to Lukang.
Delve into Taiwan's colonial history in Tainan
Tainan is the oldest city in Taiwan and was the country's capital before it was moved to Taipei in 1894. There are loads of historical sights in Tainan, from Dutch Forts and centuries-old temples to Japanese-era Hayashi Department Store and 321 Art Alley Settlement, a military housing coming turned artist's village.
On top of that, Tainan has some of the oldest temples in Tainan and several first kinds of their type in the country. Learn more in my guide to Tainan's temples.
As if that weren't enough, Tainan is also widely considered the culinary capital of Taiwan, with some of the best street eats to find in Taiwan. Explore the city's best with my guide to Tainan's night market scene.
You can visit Tainan's colonial sights on this one-day tour or by hopping on the Tainan double-decker sightseeing bus. You can also save money by getting a Tainan Historical Sites Pass.
Hang out in a real-life treehouse in Anping
Anping Tree House is one of the most famous attractions in Anping, a coastal district of Tainan City. The treehouse is an abandoned warehouse on the site of Former Tait & Co. Merchant Warehouse, which once imported and exported sugar, opium, and other goods from Taiwan. After it was abandoned, it was taken over by banyan trees.
Today, visitors can walk along a series of elevated platforms through the treehouse to admire it from different angles. There's also a cute cafe on site. The site is a short walk from Anping Old Fort, the original Dutch fort from when they colonized Taiwan.
Entrance to Anping Treehouse is only 50 NT, or even cheaper if you book your ticket online.
Shop for traditional snacks on the oldest street in Taiwan
Anping Old Street is a market street in Anping, the historic coastal district of Tainan City. It is adjacent to Anping Fort.
Today, Anping Old Street is a popular tourist attraction. Visitors flock there to sample local specialties like traditional candied fruits, shrimp crackers, deep fried wontons, and oyster rolls.
The Old Street is surrounded by cute narrow lanes and historic residences. You can also spot emblems of a lion with swords in its mouth, which once served as house markers and are now a symbol of Anping. Visit the area using my self-guided Anping Old Street walking tour.
Float through a stunningly beautiful green tunnel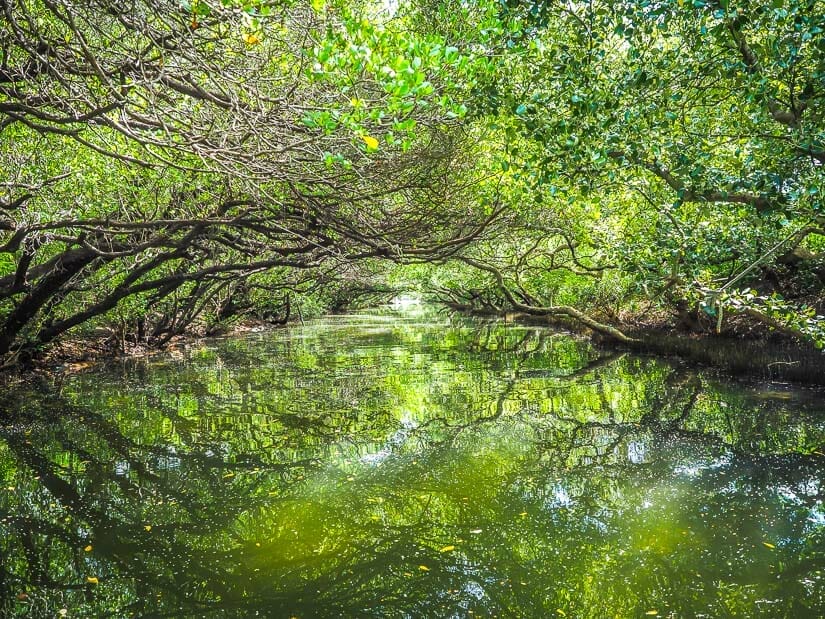 Sicao Green Tunnel is a bit of a tourist magnet, but there's no denying that it is incredibly beautiful. The tunnel is a semi-natural natural canopy of branches and trees (humans have helped a little to create it) over a calm canal in Taijiang National Park, a wetlands region in Tainan City.
Tourists pile onto rafts to float down through the tunnel on a 30-minute tour. The tunnel is located in Annan district, a short drive north of famous Anping district. In my guide to Sicao Green Tunnel, I cover how to get there, and whether it is worth the trip.
If you do make the journey, you can combine it with a visit to Luerhmen Matsu Temple, the largest Matsu temple in the world.
Take part in the world's most dangerous festival
On the same day that people in northern Taiwan are flocking to Pingxi to set off sky lanterns (the 15th day of the Lunar New Year), the Yanshui Beehive Fireworks Festival is rocking southern Taiwan.
See here for my write-up on the Yanshui Fireworks Festival and more information for planning your trip to Taiwan at this time of year in my guide to visiting Taiwan during Chinese New Year.
Participants crowd into the streets to get shot by barrages of bottle rockets fired from layered towers, some of which are round, resembling beehives, and shoot in all directions at once.
Even though full safety gear is a must, injuries are common. Personally, I'm glad I did it once, but I don't think I'm brave enough for a second time.
Climb a salt mountain and photograph salt fields
Salt used to be one of Taiwan's most important exports, with a 7200-hectare region of salt production lying in the north of Tainan City. Thriving since 1665, the industry went into sharp decline and came to an end in 2002, unable to compete with cheap imports.
Some interesting relics of Tainan's salt industry remain, notably the 20-meter Cigu Salt Mountain and nearby Taiwan Salt Museum. Besides learning more than ever wanted to know about salt, you can taste salted foods such as salty ice cream, popsicles, dou hua (soft dessert tofu), and coffee (don't worry, they aren't too salty).
Meanwhile, photographers flock to the Jingzijiao Wapan Salt Fields, where photogenic cones of salt dot the horizon on a traditional salt production field. The fields are especially stunning at sunset.
You can visit all three salt-related attractions on this Taiwan salt history tour or by chartering a private vehicle from Tainan.
Find out everything you need to know about visiting both attractions in my detailed guide to Cigu Salt Mountain and the Tainan Salt Fields.
Hang out in Penghu's houses made of coral
The windswept archipelago of Penghu (Pescadores Islands) lies about halfway between the Taiwan mainland and China in the Taiwan Strait and boasts a high concentration of temples, as well as some of the most beautiful and remote beaches in Taiwan.
Due to a lack of building materials in Penghu, which is dry and desert-like in places, locals incorporated materials from the sea such as corallite into their constructions, and you can spot seashells in the walls and fences on many homes.
A great place to see this is Erkan Old Residences on Hsiyu Island, where residents of such homes have set up cafés and shops in their homes. Penghu also hosts a huge fireworks festival in spring.
Learn how to plan a trip to the islands in my Penghu travel guide.
Things to Do in Southern Taiwan
The far south of Taiwan is noticeably more tropical than the north. Kaohsiung, Taiwan's largest port, seems to be becoming a cooler city every year, while Kenting National Park in the far south is the perfect beach getaway.
To truly get off the beaten track, head to one of the offshore islands, some of which are a stone's throw from China.
Admire the arts & culture Kaohsiung
Kaohsiung, the largest city and port in Southern Taiwan, was included on Lonely Planet's list of best cities to visit in the world in 2018, for its awesome arts districts, lovely waterfront, and improving urban transportation networks. For more information than I'll cover here, see my guide to the best things to do in Kaohsiung.
Kaohsiung has been called the "street art capital of Taiwan" as the city government not only permits but encourages street art in particular zones. Some of the best spots to check out local works include Jiuru Street Art Factory, which is an old train station, and the art zone at Pier 2 Art Center. The city also regularly hosts street art festivals. Here's an article with photos and details on how to find some of the best street art in Kaohsiung.
Kaohsiung is also known for its excellent night markets and amusement parks, including E-Da Theme park (get a significant discount by purchasing your ticket online) and SKM Park, which includes Go-Kart racing.
Ride a bike across Cijin Island
Cijin Island (also spelled Qijin) is a long skinny island that protect the port of Kaohsiung, the largest port in all of Taiwan. It only takes 10 minutes on the ferry to reach Cijin, after which the best way to explore it to hop on a bicycle.
Cijin's many attractions include a long, black sand beach, the excellent Cijin Sunset Bar, Cijin Fort, and several art installations along the coast. There is also lots of fresh seafood to be enjoyed.
Spot wild macaques at Monkey Mountain
Two mountains sandwiched between central Kaohsiung City and the sea, Chai Shan and Shou Shan, are home to a large number of wild macaques. One only has to take a few steps out of the city to spot them.
The macaques are quite accustomed to human gawkers, but beware that they are prone to stealing items from people. The best time to see the macaques is in the early morning or late afternoon. The mountain also features the famous LOVE Lookout of Kaohsiung, or you can hike down to Chaishan Secret Beach. The Kaohsiung City Zoo is also located on Shou Shan.
You can spot macaques as you climb Shoushan on this guided hike.
Spend the night at Fo Guang Shan monastery
Fo Guang Shan is one of the four major Buddhist organizations of Taiwan, and its enormous headquarters is located 30 minute's drive east of the Kaohsiung city center. It is the largest monastery complex in Taiwan, covering over 130 hectares of land.
The original monastery complex is enormous and features tens of thousands of Buddha statues. Visitors can even spend the night in the Pilgrim's accommodation. Read all about my experience staying overnight in the temple in my guide to Fo Guang Shan Monastery and Buddha Museum.
In 2011, an even larger addition was made: the Fo Guang Shan Buddha Museum, which houses a Buddha tooth relic and has the largest Buddha statue in Taiwan, at 108 meters.
Snorkel with sea turtles and explore the coast of Xiaoliuqiu
Xiaoliuqiu, also known as Little Liuqiu, Little Okinawa, and Lambai Island, is a small island within easy reach of central Kaohsiung, perfect for a day or overnight trip. It is Taiwan's only inhabited island made entirely of coral, not to mention one of the best places in the world to see giant sea turtles.
Popular activities on the island include snorkelling or scuba diving with sea turtles, freediving, beach hopping, cruising around on a scooter, exploring the coast, and hike through coral caves. For all the info, read about more things to do on Xiaoliuqiu island.
See millions of migrating butterflies at Maolin
Every year from December to March, millions of butterflies descend on Maolin National Scenic Area in Kaoshiung and Pingtung counties, lending the park the name "Purple Butterfly Valley."
The park has worked to conserve the butterfly's environment, and visitors can take photos by following the necessary precautions to not disturb the butterflies.
Watch locals burn an entire boat for the gods
In a ceremony called the Burning of the Wang Yeh boats, people torch an entire large boat throughout the night. The festival dates back over 1000 years to China and is conducted for the Wang Yeh deities, who are thought to prevent diseases.
The festival happens in autumn (usually October in Taiwan and November in Taiwan) once every three years, in the year of the Bull, Dragon, Goat and Dog, with the next festival taking place in autumn of 2024.
They actually burn boats in several coastal areas, but the largest and most famous by far is the boat burning at Donggang in Pingtung County.
Visit Kenting, Taiwan's first national park, on the southern tip of Taiwan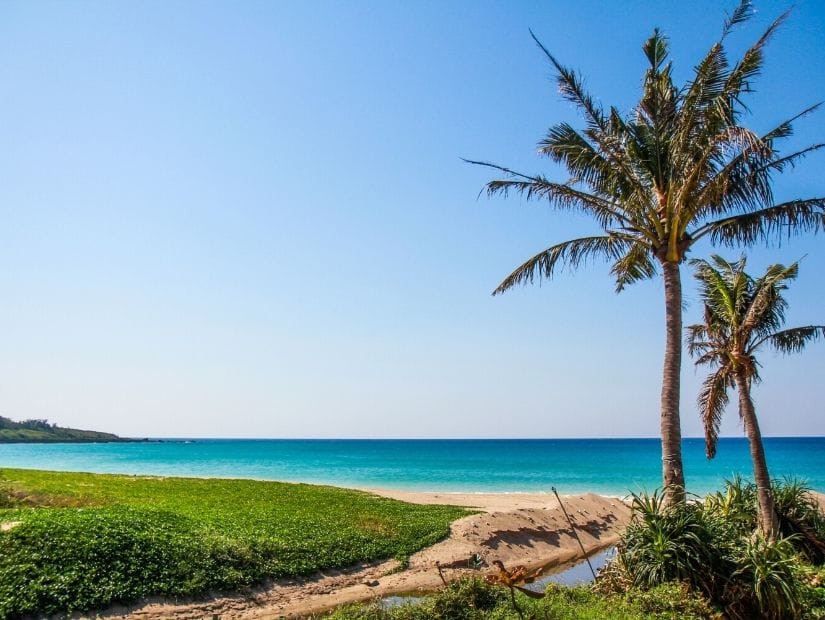 Kenting National Park is Taiwan's premier beach resort and occupies the southern tip of the country. It is rich with beautiful landscapes, wildlife, and, on the long weekend in April in Taiwan, some of the best beach parties and events in Taiwan.
Kenting has the most beautiful beaches in all of Taiwan (with the exception of the offshore islands). You can also visit Taiwan's best aquarium, the Kenting National Museum of Marine Biology.
You can get to Kenting in a couple hours by taking this bus from Zuoying High Speed Rail station in Kaohsiung.
Visit remote Orchid, Kinmen, or Matsu Islands
Orchid Island is a volcanic island located off the southwest coast of Taiwan. It is home to the Yami (or Tao) people, one of the smallest tribes of Taiwan and also the furthest removed from Mainland Taiwanese culture. They are known for the Flying Fish Festival in spring and beautiful handmade canoes. Here's my complete guide to Orchid Island.
Kinmen consists of two main islands just off the coast of Xiamen, China, so close that you can easily see China from the islands. The main sights are related to military history, as this is a battlefront between Taiwan and China, but you can also spot rare migratory birds in Kinmen National Park.
The Matsu Islands, named after the goddess of the sea, are also extremely close to China. There you can explore fascinating tunnels, forts, and the habitat of birds including the Chinese crested tern, previously though to be extinct.
Well, that sums up my list of the best things to do in Taiwan! I know I couldn't include everything, but if you feel I've made a major omission, please let me know in the comments below!