Dear reader: This article contains links to products and services that I may be compensated for, at no extra cost to you.
South Korea's second largest city and largest port has a wealth of attractions to entice visitors, from jaw-dropping temples and bustling markets to spectacular beaches and to-die-for street food & seafood. If you wondering what to do in Busan, you're going to be spoiled for choices after getting through this guide!
The city has a penchant for doing things in the biggest way possible; top Busan attractions include the world's largest shopping mall, as well as the country's largest spa, seafood market, and traditional market.
With so many things to do in Busan, I've created this extremely detailed guide based on multiple visits in the last 12 years from where I live in nearby Taipei, Taiwan (which, by the way, is a really cheap flight!)
To find out how to piece the best of these sights together for your Busan trip, see my recommended Busan 5-day itinerary here.
Busan Travel Essentials
– Be sure to also check out my guide to where to stay in Busan and review of my favorite hotel in Busan. Also see here to learn some fun facts about South Korea!

– You can also browse for the best hotel deals in Busan on Booking or Agoda.

– Order my favorite South Korea guidebook.

– Find the best cooking classes in Busan.

– Order a SIM card or portable WiFi device for pickup when you arrive in Seoul or Busan.

– Get a discounted Korean Rail Pass for travel between Seoul and Busan.

– This is one of Busan's most popular day tours, or you can hire a private driver to get around.

– Get a ₩3833-discount on any of the above Klook deals by signing up with my referral link first!
Best Temples in Busan
Busan has a surprisingly diverse array of unique Buddhist temples. In fact, this is the main thing that attracted me to visit the city in the first place.
For more comprehensive information about each one, see my article on the top 10 temples in Busan.
Temple Stay at Beomeosa
Beomeosa is the most important temple in Busan, as it is one of the head temples of the Jogye Order of Korean Buddhism. It is also the largest temple in Busan, due in part to the 11 hermitages dotting the slopes of Mount Geumjeong around it.
Beomeosa is the only temple in Busan offering a temple stay program. This experience was the highlight of all my trips to South Korea, which is why it gets the top spot on my list.
During the temple stay, I got to learn how to do Korean meditation and prostration, tour the temple grounds, make a beaded bracelet, dine of Buddhist vegetarian food, and chat with Korean monks for hours.
See my full Beomeosa temple stay review to read more about this eye-opening experience.
How to get to Beomeosa: Take a taxi (₩4000) or bus #90 from exit #5 or #7 of Beomeosa subway station.
Lantern Festival at Samgwangsa
Every year on the Buddha's birthday, temples across the country are decorated with thousands of paper lotus lanterns. Samgwangsa Temple in Busan hosts what is probably the most incredible display, with tens (or hundreds) of thousands of lanterns covering the temple's various structures and forming a canopy over the enormous courtyard.
The festival usually takes place in May and the lanterns can be seen for about two weeks leading up to that date.
However, you don't have to wait for the Lantern Festival to visit Samgwangsa. I loved the temple when I visited it on a regular day, and wrote this article about Samgwangsa to convince you that the temple is beautiful enough to visit on any day of the year.
How to get to Samgwangsa: The temple is surprisingly close to the city center. Take a taxi (₩5000) or bus #15 from Seomyeon.
Hiking to the Cliff Carvings of Seokbulsa
If you want to get a little off the beaten track in Busan, then hiking to Seokbulsa is a truly rewarding experience. At the southern end of the same mountain group where Beomeosa (#1) is located, Seokbulsa is a much smaller and lesser known temple.
The main highlight of the temple is a hidden alcove in which 10-meter cliff walls are carved with towering Buddhas and temple guardians. Getting there is also half the fun, starting with a ride on the Geumgang Cable Car (#35), followed by a three-hour return hike past Namun (South) gate, part of Geumjeongsan Fortress, the largest remaining city fortress in South Korea.
Finish off by taking a dip in Heosimcheong Spa (#49).
How to get to Seokbulsa: Consult my guide to Seokbulsa Temple to avoid getting lost on this hike.
Haedong Yonggungsa, the Temple by the Sea
On a normal day, Haedong Yonggungsa probably gets more visitors than the above three temples combined. This ancient temple now attracts masses of visitors who come to marvel at one of the country's only temples by the sea.
I had mixed feelings about this temple, which you can read all about in my Haedong Yonggungsa article, but I can't deny the views here are one-of-a-kind, and must be seen to be believed. If you want to see the sunrise here, which is a popular thing to do, consider staying nearby, such as this apartment.
Haedong Yonggungsa is also included on this East Busan Tour and this photography-focused tour.
How to get to Haedong Yonggungsa: This temple is a little out of the way, on the northeast coast of Busan. Take the subway past Haeundae to the terminal Jangsan station, then a taxi (₩7000) or bus #181 from exit 7 (45 minutes).
Recommended Half-Day trip from Busan: Tongdosa Temple

South Korea's largest temple, Tongdosa, is so close to Busan that it deserves a mention on this list. Tongdosa is one of the Three Jewel Temples of Korea and houses important Buddha relics. Get there by taking the bus from gate 33-34 at Central Bus Terminal in the north of Busan. The ride takes 30 minutes.

Tongdosa can also be visited as a part of this tour.
Best Beaches in Busan
Busan is blessed with so many good beaches that I must admit I am seriously tempted to pick up and move there right now.
Below I'll cover the five best ones, roughly in descending order of fame/popularity, but there are many more smaller ones for you to discover (check out Ilgwang and Imnang in the far northeast for example) if you have the time.
If you are overwhelmed by the number of things to do in Busan, you might be better off just ripping up your itinerary and wasting your days away soaking up the sun and surf on one of these great beaches.
Haeundae Beach
Haeundae is generally recognized as South Korea's most famous beach. The insanely long (1.5 km), curving stretch of sand can pack in 120,000 beachgoers, which won't feel like an exaggeration if you visit in summer.
Even in winter, when you can't swim, the beach is still quite beautiful, as I learned the first time I visited Busan in winter of 2008.
The neighborhood around Haeundae houses the Sea Life Busan Aquarium (save money and skip the line by buying your tickets online here), some of the city's best luxury resorts, numerous cafés and eateries, museums and art galleries, and the Haeundae food market. You can even go for a full-on spa treatment!
Haeundae is also a popular place for expats to live and the location of many festivals.
Dongbaekseom (#14), the Bay 101 (#32), and Dalmaji Road (#34, famous for cherry blossoms) are also located nearby. Haeundae is also on my list of best places to stay in Busan.
How to get to Haeundae: Take the subway line 2 to Haeundae station and walk five minutes.
Gwangalli Beach
Gwangalli Beach in Gwangan neighborhood nearly rivals Haeundae in popularity, but has more of a relaxed city-by-the-sea vibe, while Haeundae feels more like a resort. It is six subway stops before Haeundae on the same line, so it's a little faster to reach from other parts of the city.
One of the most impressive features of the beach is the incredible view of Gwangan Bridge, which runs over the sea parallel to the beach, especially at sunset and at night.
Gwangalli also hosts a popular fireworks festival in autumn, and visitors like to shoot fireworks from the beach throughout the year.
Gwangan is also on my list of best places to stay in Busan.
How to get to Gwangalli Beach: Take the subway line 2 to Geumnyeongsan station for the southern end of the beach, or Gwangan station (slightly longer walk) to the northern end of the beach.
Songdo Beach
Songdo is another very popular beach in Busan, and easier to reach if you are staying in Nampo-dong, Gwangbok-dong, or Yeongdo Island. The beach is famously the site of the first cable car in Korea (#29) and two awesome ocean walkways (#12).
Songdo beach itself is a good place to swim and popular among locals and visitors alike. There are public showers and a large water fountain roughly in the middle, and colorful whales and other statues stick out from the sea.
You can visit Songdo and Gamcheon Culture Village (#36) on this wall painting tour or on this Busan night tour.
How to get to Songdo Beach: From Jagalchi station exit 2, go left around the corner, cross the small street, then cross the large street to a bus stop where you catch bus 7, 26, 71, or 96 to Songdo Beach.
For a cool side trip from Busan featuring more excellent beaches, check out Jeju Island, the "Hawaii of Korea"! Here's a list of things to do at Jeju Island.
Dadaepo Beach
Located in the southwest of the city and created by deposits from Nakdonggang River as it reaches the sea, Dadaebo is popular among local families but less crowded than the above entries and off the radar for most short-term visitors to Busan.
Come here for a relaxed beach day trip a little further from city center, to let the kids run wild on the long and very wide stretch of sand, or to enjoy the huge Dadaepo Sunset Fountain of Dreams water, lights, and music display at 8 p.m.
How to get to Dadaepo Beach: Take bus #11 from Nampo subway station exit 3 (about 20 minutes).
Songjeong Beach
Another good option for escaping the crowds of the more popular beaches is Songjeong, located north of Haeundae on the east coast of Busan. It's another very long (1.2 km) curving stretch, but less developed than the others.
The water is shallow so it's great for kids, swimming, and also one of the best spots in Korea to try surfing.
How to get to Songjeong Beach: Take bus 9, 63, 100, or 181 from Haeundae station exit 7.
Also consider a day trip to Geyongju, the ancient capital of Korea!
Best Coastal Walkways in Busan
As you might expect in a city that is practically surrounded by the sea, there is a plethora of rocky bays, coves, peninsulas, and bluffs on the coasts of Busan.
These are best experienced by walking one of the city's many coastal walkways. Busan's three glass walkways over the sea (see #11, 12, and 13) have become top tourist attractions in Busan in recent years and are included on most city tours.
Here's a tour that takes in all three walkways over the sea.
Taejongdae Resort Park
Taejongdae is one of the most popular (and touristy) of Busan's many coastal walkways, but for good reason. The views are spectacular, and there is a variety of sights to enjoy. Read my full guide to Taejongdae Resort Park here!
The park occupies the southern end of Yeongdo Island (where my favorite hotel in Busan is located) and is accessed via a 4.3-kilometer loop road.
It's possible to walk it, but most tourists hop on the convenient "Danubi Train". The first two stop feature jaw-dropping coastal views, while the third takes visitors to a serene forest temple.
Near the entrance to the park, seafood lovers can also make their way down to Gamji Beach, where dozens of stalls serve seafood from little tents with sea views.
Taejongdae is included on this popular East Coast Cultural day tour.
How to get to Taejongdae Rsort Park: Take bus 8, 30, or 114 from Nampo subway exit 6, across from Lotte Mall Gwangbokdong. The bus takes 40 minutes.
Oryukdo Skywalk
In recent years Oryukdo has become a major attraction among visiting tourists for its death-defying glass skywalk over the sea. It is included on many tours of Busan, including this one and this one. See here for photos and more info about Oryukdo Skywalk.
The horseshoe-shaped skywalk sits atop a 35-meter cliffs and offers views of Oryukdo Island, which actually consists of five small islands, at the point where the East Sea meets the South Sea.
The skywalk is actually fairly small, and some visitors report feeling a little underwhelmed. Still, the surrounding area and views are stunning, and getting that skywalk photo for Instagram may be worth the trip for others.
How to get to Oryukdo Skywalk: Catch bus 27 from Busan Station (30-40 minutes). The skywalk is open 9 a.m. to 6 p.m. and is free. It is also possible to take a ferry to Oryukdo Islands from Mipo ferry terminal at Haeundae Beach.
Igidae Coastal Walkway
Igidae is another stunning coastal walkway, on the same peninsula as Oryukdo, but further north near Gwangan Bridge and Gwangalli Beach. This one hugs the coastline for nearly 5 kilometers, so you could actually walk all the way from Oryukdo to here or vice versa.
For most of the trail, which was once only used by the military, you'll have dense forest on one side and sea cliffs on the other. You'll enjoy impressive views of Gwangan Bridge as you approach the northern end of the trail.
How to get to Igidae Coastal Walkway: You can walk there from Namcheon subway station in about 30 minutes.
Songdo Beach's Two Walkways
Songdo Beach features two great walkways: popular Songdo Cloud Trails, located on the side of the beach near the Songdo Cable Car station, and a lesser-know walkway along the cliffs at the other end of the beach.
104-meter-long Songdo Cloud Trails features spiraling walkways over the sea and connects the mainland to a small island, beyond which it terminates at a platform with fantastic views of Yeongdo Island. Note that Songdo Cloud Trails was recently closed due to typhoon damage, so double check whether it is open again when you go.
Songdo's second walkway is a red metal walkway hugging the cliffs of the peninsula that leads from Songdo Beach to Amnam Park, the same place the cable car goes to. Great sea views and the cable car passing by overhead make for an awesome experience, and the walkway is much less crowded.
In total, it takes about 30 minutes to reach Amnam Park on the walkway. Personally, this was my favorite of all the Busan coastal walkways that I tried.
How to get to the Amnam Park Walkway: Follow the directions to Songdo Beach (#7). To go directly to Amnam park, you can also catch bus 7, 9, or 71 from the same bus stop near Jagalchi station (or take one of these buses back after doing the walkway).
Cheongsapo Daritdol Observatory
The newest of Busan's three over-the-sea walkways, this 72.5-meter long, 20-meter high walkway was built in 2017, perhaps to take some pressure off the crowds of Oryukdo and Songdo.
The pretty blue walkway is shaped (sort of…) like a dragon and sticks out over the East Sea, and people say it is especially lovely around sunset.
Just south of the walkway on the coast, the harbor village of Cheongsapo is so famous for its clam and seafood BBQ restaurants that it has been dubbed "Cheongsapo Seafood Town" or "Cheongsapo Clam Village." The harbor also features a lovely pink lighthouse.
You can also explore an abandoned railroad of the Donghae Nambu Line, or walk to along a coastal path to Songjeong Beach (#9) to the north.
How to get to Cheongsapo Daritdol Observatory: The easiest way is to hop in a taxi from Haeundae or Jangsan, which should cost around ₩6000/5000. You can also walk (about 20 minutes) from Songjeong Beach.
Dongbaekseom Island, Haeundae
If Dongbaekseom Island doesn't look like an island on the map to you, that's because it isn't…anymore.
The "Island of Camellias" (a type of flower) in now connected to the mainland and sticks out into the sea at the western end of Haeundae Beach (#5) and makes for a wonderful escape into nature from Busan's most luxurious beach.
To reach the coastal path around Dongbaekseom, walk past the Westin, which dominates the western end of the beach. As you circumnavigate island, you'll pass a famous mermaid statue and the large, round Nurimaru APEC House, a conference house by the sea.
The trail terminates at the Bay 101 (#32) an upscale yacht club.
Dongbaekseom is included on this photography-focused tour.
How to get to Dongbaekseom Island: Walk from Haeundae Beach. The trail around the island begins behind the Westin. To reach the Bay 101 side, take exit 1 of Dongbaek station and walk 10 minutes.
Best Markets and Foodie Attractions in Busan
Even if you've come to Busan just for the food, you won't leave disappointed (or with an empty belly). Busan lays claim to both South Korea's largest traditional market as well as largest seafood market, making it the perfect place to immerse yourself in Korean food culture.
There are also so many great street foods that you may not even visit a restaurant during your stay. You can find pretty much all the same awesome street foods from Myeongdong in Seoul, but with a few Busan-only specialties to discover.
The city is deeply in love with seafood, but many other options abound. You'll notice the following 7 entries are all in the Nampo-dong/Gwangbok-dong area, so true foodies will probably want to stay in this area. See my guide to Busan's neighborhoods and hotels for my top recommendations.
Jagalchi Fish Market
Often touted as the #1 Busan attraction, Jaglachi Fish Market is a cruise ship-sized landmark to the city's love for creatures from the sea.
You can think of Jagalchi as more of an entire neighborhood devoted to seafood than one market. The main building is seven stories tall, but most visitors head directly to the fish market on the first floor.
There you can choose what you like and take it to the second floor to be prepared, or trust one of the dozens of seafood restaurants to choose for you. Try to visit with a friend or group, since (I found out the hard way) most of these restaurants offer large set meals which they kind of push on you, so you'll spend a small fortune if eating alone. It's not easy to just order a small snack to try.
I personally recommend Jacky's Seafood (stall #8 on the second floor), where they can speak English.
There are several other seafood markets in the connecting buildings and spreading out into the adjacent streets. I found the whole thing to be very clean (by Asian standards) and not even too stinky, but those who are grossed out by unidentifiable slimy things from the sea may want to give it a miss.
Don't forget your camera, as you are going to see marine life forms you didn't know existed. Also check out #28 below for a secret thing to do at Jagalchi Market.
For a more intimate experience, try this Jagalchi Market tour with a local chef!
How to get to Jagalchi Market: Take exit 10 of Jagalchi station. It's a five-minute walk. Jagalchi Market is closed on the 1st and 3rd Tuesday of every month. It is open 8 a.m. to 10 p.m., but stalls start setting up as early as 5 a.m.
Gukje Market
A 10-minute walk from Jagalchi Fish Market via BIFF square will bring you to South Korea's largest traditional market, another top tourist attraction in Busan.
The market is about 6 blocks by 5 blocks in size, with the traditional covered market area on the western side. It's somewhat divided into sections, including household goods, lights, vintage clothing, traditional produce, and so on.
The market is fun for a wander, but don't miss the best part: the awesome food street (#17), and neighboring Tin Can Alley, which I personally found more interesting and better for photos.
Gukje Market is also included in the Jagalchi Market Tour I mentioned in the previous entry, so you can explore both markets in one day!
How to get to Gukje Market: The market is pretty huge so there are many ways to get there, but Jagalchi station exit 7 is probably the easiest.
Gukje market is closed on the 1st and 3rd Sunday of every month. It is open roughly 9 a.m. to 8 p.m. every day.
Gwangbokdong Food Street
Gwangbokdong Food Street is a narrow lane that feeds into Gukje Market. One of the most unique things to do in Busan is to choose a low chair at one of the many food vendors operated here by Korean ahjummas (grandmas) and dig in to a bowl of delicious and very cheap milmyeon (wheat noodles) or bibimyeon (glass noodles). Breakfast or lunch is the best time to come.
In my research before arriving, I was confused because the street seems to have so many different names: Changseondong Meokja Golmuk is the street's local name, while the actual street name is Gwangbok-ro 35 beon-gil. A large red and white curving gate at the entrance says Arirang Street. Many websites simply refer to it as Gukje Market Food Street.
Meanwhile, Tripadvisor lists this entry for Gwangbokdong Food Street in a completely different part of Gukje Market that I was unable to find, even after searching at different times of the day, so I'm fairly certain that all the above names refer to this street only.
How to get to Gwangbokdong Food Street: The easiest way to find it is to walk through BIFF square (#19) from Jagalchi subway. BIFF square leads directly to it. You can also find it by walking down Gwangbokdong Cultural and Fashion Street (#47) and watching out for the entrance (picture below).
Tin Can Market (Bupyeong Kkangtong Market)
You'll hear about it much less often, but I personally found neighboring Tin Can Market to be more interesting and photogenic than Gukje Market, and it's nearly as huge.
While Gukje Market is more focused on household wares, Tin Can Market is almost entirely devoted to food, from seafood, herbs, and produce to ready-made meals, sushi, and even a pizza shop.
The market got its name because it used to be where canned imported goods were sold to stationed US soldiers. You can see a large can hanging in the middle, while hanging sea creates demarcate the seafood sections.
How to get to Tin Can Market: From the western side of Gukje Market, roughly in the middle, simply cross Junggu-ro (road) to enter it.
BIFF Square
Connecting Jagalchi Fish Market to Gukje Market, BIFF Square is another unmissable foodie spot in the Nampodong-Gwangbokdong area.
The area is named after the Busan International Film Festival, which takes place here annually, and has had movie theaters going back to the end of Japanese colonial rule in Korea. It is Busan's answer to the Hollywood Walk of Fame, with celebrity handprints in plaques on the street.
Many visitors, however, come just for the food. The #1 treat to try is ssiat hotteok (a Busan specialty of fried pancakes stuffed with seeds, nuts, cinnamon and brown sugar syrup; to die for), but you can also find kimbap, tteokbokii, and many other Korean street food classics.
Come earlier in the day if you don't want to wait in a line for the most famous ssiat hotteok stall!
BIFF Market is also included in the Jagalchi and Gukje Market tour.
How to get to BIFF Square: Jagalchi subway exit 7 is the closest. BIFF Square is more like a lane, and it connects Jagalchi Market at the south end to Gwangbokdong Food Street at the north end. There are also side lanes branching out to the east and west with more food stalls.
Samjin Eomuk Main Store & Museum
Another thing you'll see on almost every list of things to do in Busan is paying a visit to Samjin Eomuk, the most famous chain store serving eomuk (fish cakes), a Busan specialty famous across South Korea.
The Busan train station branch is a popular one, but I would personally recommend the Samjin Eomuk headquarters on Yeongdo Island, where you can see the eomuk being made through windows in the shop, check out the eomuk museum (weekends only). They even offer occasional classes on how to make the fish cakes, but they aren't easy to book.
The store is sometimes called a bakery, as customers grab the items with tongs and place them on a tray just like in a bread bakery. Most locals take items home to prepare, but you can also ask them to heat the fish cakes up to eat on the spot.
I'm a fan of fish cakes, but where I live (Taiwan) they don't vary much. That's why this store blew me away. There were so many varieties and delicious flavors; I tried ones stuffed with cheese, chili pepper ones, and paprika flavored ones. So yummy!
How to get to Samjin Eomuk Main Store: The shop is located on Yeongdo Island, which lies just south of the Nampodong area and Lotte Mall Gwangbokdong. Walk across Yeongdo Bridge, then it's a 10-minute walk from the other side (it's best to see the exact location on my map at the top).
21. Seomyeon Food Alley
After you're done shopping or night clubbing in Seomyeon, Busan's fashionable commercial center, you're likely going to need a snack. Head directly to Seomyeon Food Alley.
More of an entire neighborhood devoted to food that one single alley, here small restaurants and food stalls abound. It's also one of the best places in Busan to try eating in a pojangmacha (an enclosed tent where a handful of people can sit around a cook and dine on local foods).
Just as a heads up: some visitors complain that the food served in these tents is overpriced and felt they were ripped off.
The area southeast of Lotte Department Store with lots of eateries and cafés is also sometimes called Seomyeon Art Street.
How to get to Seomyeon Food Alley: The biggest collection of food stalls line the streets at the side and back of the Lotte Department Store. The surrounding streets are filled with small restaurants, bars, cafés, and nightclubs. Seomyeon subway exit 7 is the best place to start.
Traditional Korean Tea in Busan
Few people in the West know it, but Korea is a tea-producing nation, especially of green tea (nokcha), yellow tea (hwangcha, similar to oolong), and black tea (hongcha). I'm kind of a tea geek, so feel free to check out my tea articles here!
Korea also specializes in a variety of tea-based beverages infused with other ingredients, including herbs, grains, roots, flowers, fruits, and even mushrooms or seaweed. Chinese pu-er tea is also quite popular in South Korea, and this is what you may encounter if you visit a traditional tea shop in Busan.
One way to experience traditional Korean teas is on this tea ceremony experience in Busan.
You can also Try Da Hae Jeong in Nampo-dong for great Pu-er tea and delicious accompanying treats, or Nae Go Hyeong Jun Tong Chat Jib in Seomyeon for medicinal and flavored teas. Find more details for both in this article on best places to have tea in Busan.
Craft Beer at Galmegi Brewing
Like just about everywhere in the world, craft beer has caught on big time in South Korea and Busan (you can even find some great ones at Lotte Mart inside every Lotte Department Store).
In Busan, the leader of the bunch is Galmegi Brewing, the city's first American style craft beer operation. There are many locations throughout the city, but the original one is in Gwangan just off Gwangalli Beach.
When I dropped by the Nampo location (photos above), which boasts an open front looking down on Gwangbokdong Cultural & Fashion Street, I started with a sample rack featuring some of the latest offerings.
I followed this with pints of Yuja (yuzu)-flavored gose, espresso vanilla stout, and 4-cheese pizza. Drool…
Looking for unusual experiences? Try this poo-themed park, Poo Poo Land or the Running Man Themed Park.
Best Views and Parks in Busan
In this city of hills, bays, beaches, and ports, there's no shortage of phenomenal views. I only scratch the surface here, with some of the best viewpoints I enjoyed on my various Busan trips.
Busan Tower & Yongdusan Park
Busan Tower is easily Busan's most recognizable landmark. The 120-meter tower pokes up into the sky from a hill in the middle of Yongdusan Park in Gwangbokdong.
The top of the tower holds an observation deck that is modeled on Bulguksa Temple's Dabotap Pagoda. The 360-degree view from the tower is unbeatable. Save money by booking your ticket first online!
How to get to Busan Tower and Yongdusan Park: The entrance to the park is one of the coolest things about it. A metallic, retro-style multi-level escalator ascends from Gwangbokdong Cultural & Fashion Street (# 47) to the southern end of the park, where you'll find Busan Tower.
Lotte Department Store Gwangbokdong
Don't be turned off by the fact that it's a department store; the 11th to 13th floors boast connected rooftop areas that offer some of the best city views you can get of Busan, all for free.
Also see #48 below for another reason to visit this mall.
How to get to Lotte Department Store Gwangbokdong: From Nampo subway station, the underground mall feeds directly into B1 of the mall; just keep walking east.
La Valse Hotel, Yeongdo
The brand new hotel where I stayed on Yeongdo Island, La Valse Hotel (see on Booking / Agoda / Klook / TripAdvisor) offered what I believe to be the best possible view one can find of Busan.
Read my full review of La Valse Hotel here.
The reason that the view from this hotel is unique is that it lies just to the south of Nampodong, so there is literally nowhere else where you can squeeze such a high concentration of top Busan sights into one view, including the entire Busan Port, Jagalchi Fish Market, Busan Tower, and more.
How to get to La Valse Hotel: The distinctively designed hotel is easy to spot from Nampodong. To reach it, simply walk across Yeongdo Bridge (#36), go left, and walk along the little harbor to reach it.
Yeongdo Bridge
If you walk across Yeongdo Bridge, which connects Nampodong to Yeongdo Island, you can enjoy magnificent views, especially of the front of massive Jagalchi Market.
The bridge itself is something of a tourist attraction, as it is the first bascule bridge in Korea (dating to 1934) and first one connecting the mainland to an island. If you are lucky, you may see the bridge being lifted up to allow ships to enter the Busan Port.
Roof of Jagalchi Fish Market
While most visitors don't make it past the first two floors of Jagalchi Market, you can take the elevator up to the 7th floor for a pretty epic view of the Busan Port.
It's not quite as amazing as the view from the top of nearby Lotte Department Store, but it offers a different angle, and is easy to do if you are going to Jagalchi anyway.
Songdo Cable Car (Busan Air Cruise)
One of the many appeals of Songdo Beach is the Songdo Cable Car, now called Busan Air Cruise. The cable car was the first in Korea, opened in 1964, closed in 1988, and then reopened in 2017.
The cable car whisks passengers from Songdo Beach over the sea to Amnam Park at the tip of the peninsula. The ride includes awesome views down over the beach, Songdo Cloud Trails, ocean, and further afield. You can book your cable car tickets online here.
How to get to Songdo Cable Car: The cable car is located at the eastern end of the beach (you can't really miss it…just head to where the cable cars are coming from).
Choryang Ibagu-gil & Sanbok Road
For a pretty unique view over the city center's rooftops and the Busan Port, especially at night, walk up a winding road to these two streets perched on top of a hill in central Busan near Busan Station.
There are several lookout points, colorful wall paintings, and artworks along the way.
How to get to Choryang Ibagu-gil & Sanbok Road: From Busan subway station exit 1, you can walk there in about 30 minutes (2.5 km), take a short taxi ride, or take a left at the first corner and walk about 80 meters to Busan Station bus stop, where you can hop on bus #333.
Citizen's Park
Enormous, 133-acre Citizen's Park is the largest park space in the Busan city center. Once a Japanese then American army base, it has now been converted into a sprawling park featuring numerous ponds, squares, performance venues, water fountains, gardens, and over 1 million trees.
One feature that stands out is the 25-meter Skylight Waterfall, an artificial waterfall. The waterfall runs for an hour at noon, 3, 6 and 9 p.m. on weekdays and 10 a.m., noon, 2, 4, 6, and 8 p.m. on weekends between April and October.
How to get to Citizen's Park: It's a 10-minute walk from Bujeon station exit 5 or 7. There over a dozen buses that pass the park as well; see more info here.
The Bay 101
The Bay 101 is a luxury public yacht club & marine center that draws droves of tourists and photographers for its unbelievable views across the water at a wall of skyscrapers in Haeundae district, especially at night.
The center includes multiple upscale restaurants, both indoors and outdoors, and is a starting point for luxury cruises around Busan. It's free to enter and enjoy the view.
The Bay 101 is included on this Busan Night Tour.
How to get to Bay 101: It's a 10-minute walk from Dongbaek subway station exit 1, or you can reach it from Haeundae Beach (#5) by cutting across Dongbaekseom Island (#14).
Hwangnyeongsan and Geumnyeonsan Mountains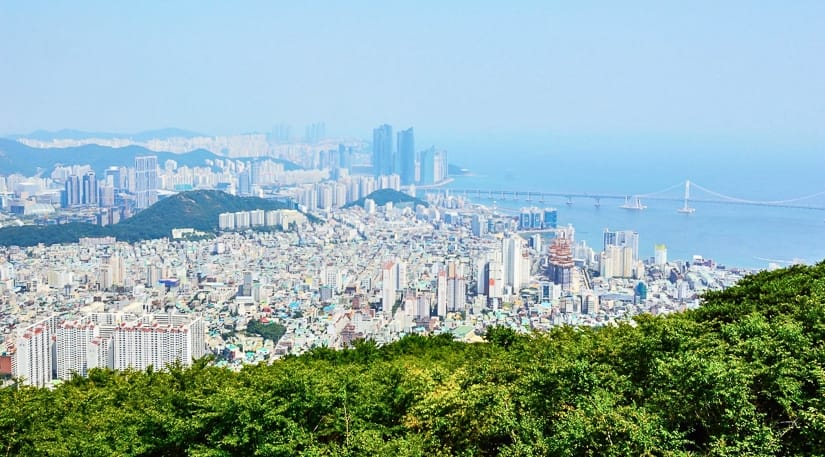 Spanning three districts between Cental Busan and Gwangalli Beach (#6), Hwangnyeongsan and connected Geumnyeonsan Mountains offer hiking trails and lookout points with some of the city's most impressive views.
How to get to Hwangnyeongsan and Geumnyeonsan Mountains: The mountains cover a huge area with many access points. You can find hiking trails near Mulmangol, Geumnyeonsan, or Yangjeong subway stations.
An easy and popular way to enjoy a quick view is by grabbing a taxi from Geumnyeonsan subway station.
Cherry blossoms on Dalmaji Road
If you happen to be visiting Busan during the cherry blossom season (late March to early April), one of the best places in Busan to see cherry blossoms is Dalmaji-gil (road), near the coast between Haeundae and Songjeong beach.
The neighborhood around winding Dalmaji road is filled with an impressive number of cherry blossom trees, including cafés with views of the flowers. Even outside of the cherry blossoms season, it's a lovely area for a romantic stroll with many pine trees and nice sea views.
If you're visiting at the right time, you can also take this cherry blossom day tour from Busan.
How to get to Dalmaji Road: Take bus #100 from Haeundae Station and get off at Yeongnam Apartment Bus Stop. It's a 10-minute walk from there; just follow the signs.
Geumgang Park Ropeway and Geumjeong Fortress
In Northern Busan, the best views to be had are from Geumjeongsan (Mt. Geumjeong), the tallest mountain in Busan, at 801.5 meters. The best way to get up there is by riding the Geumgang Park Ropeway.
The ropeway rises steeply on a five-minute ride, offering phenomenal city views after only a few seconds of going up.
From the top, a network of hiking trails lead to Seokbulsa Temple (#3), Geumjeong Fortress (the largest remaining city fortress in South Korea), and as far as Beomeosa Temple (#1).
How to get to Geumgang Park Ropeway: Walk 20 minutes from Oncheonjang subway station exit 1. As of 2019, a ride costs ₩ 9000 (return) or ₩ 6000 (one-way).
Best Museums, Cultural, and Historical Sights in Busan
There are truly some great museums, art galleries, and historical sights in Busan, not to mention enormously popular Gamcheon Culture Village, which has grown into one of the most popular things to do in Busan in recent years.
Gamcheon Culture Village
While it comes low on my list, Gamcheon Culture Village is arguably one of the most compelling Busan attractions, and it may even be the #1 reason you are visiting the city. Read my guide to the Busan Gamcheon Culture Village.
This large seaside neighborhood was originally a ghetto built by refugees of the Korean War in the 1950s. Later, the neighborhood received government funding to transform it into a brightly colored arts district.
Today the area features winding roads filled with public art, cutesy cafés, restaurants, art galleries, shops, and numerous lookout points. It's not a place you'll want to miss.
Make sure to grab a detailed map with suggested walking tours from the information center at the top.
A great way to visit Gamcheon Culture Village is on this wall painting tour and this East and West Busan tour.
How to get to Gamcheon Culture Village: From Toseong subway station, take bus 1-1, 2, or 2-1. The ride takes about 10 minutes. Budget 2-3 hours to walk down through the village, and you can catch buses from the bottom to return.
Alos read about the super colorful Rainbow Village in Taichung, Taiwan.
Jukseong Dream Church
While it may look like a beautiful place of worship by the sea (Catholicism's answer to Haedong Yonggungsa, the Buddhist temple by the sea?), Jukseong Dream church is a fake church built for the Korean series Dream.
Nevertheless, the church and surroundings are quite beautiful, and worth the trip for photographers or Korean drama fans.
How to get to Jukseong Dream Church: the church is quite out of the way, so it's easiest to come here by joining a tour such as this one.
UN Memorial Cemetery
In Nam-gu (South District), the UN Memorial Cemetery inters soldiers from 16 countries who died during the Korean War.
There are numerous halls paying tribute to the brave, and many annual events are held here. The cemetery is very tranquil and beautifully maintained.
How to get to UN Memorial Cemetery: The cemetery is a 10-minute walk from Daeyeon subway station exit 3.
Busan Museum
At the western end of the UN Memorial Cemetery, Busan Museum is an excellent, comprehensive (and free!) museum covering local history and culture.
When you enter, don't forget to sign up for the cultural experiences on offer, including Korean tea making and dressing up in traditional local clothing.
How to get to Busan Museum: The museum is located at the western end of UN Memorial Cemetery Park.
Busan Museum of Art
The Busan Museum of Art is dedicated to modern art and is located next to BEXCO (see #44) and Shinsegae Centum City (#43), not to be confused with the Busan Museum of Contemporary Art on Elsukdo Island.
Besides numerous exhibitions, the museum features the largest hanging garden in Korea, a children's art library, café, and more.
How to get to MoCA Busan: It's a 7-minute walk from Busan Museum of Art station exit 5.
3D Trick Eye Museum
For something a little sillier (and for good Instagram photo ops), head to Trick Eye Museum at the northeast corner of Yongdusan Park (#24).
The small museum features painted walls where you can take photos of yourself immersed in fake scenes like pouring lava or arctic glaciers. You can also download their app to interact with the installations.
You can also get a combined ticket online that includes entrance to the nearby Museum of Movies.
How to get to Trick Eye Museum Busan: The museum is a 10-minute walk from exit 7 of Jagalchi station. Note that it's on the 9th floor of Nampo Plaza. Open 10 a.m. to 6 p.m., closed Mondays.
National Maritime Museum
One often-overlooked Busan attraction is the National Maritime Museum on Yeongdo Island. The enormous facility includes multiple exhibitions, a 4D theater, an outdoor exhibition featuring a real submarine, and a dedicated children's museum.
The building itself is an architectural masterpiece sitting right at the entrance to the Busan Port. Please note that from December 2022, the National Maritime Museum will closed for several months or years for major renovation.
How to get to the National Maritime Museum Busan: Take exit 1 of Nampo subway station and catch bus 66 or 186 to Korea National Maritime Museum stop. The museum is closed on Mondays
Best Malls, Shopping, & Architecture in Busan
If you've come to shop, Busan's got some of the country's (and world's) largest department stores.
The dominating modern architecture of Centum City, a collection of oversized urban feats sitting on what was once the Suyeong Airport, shows off just how much this city is capable of.
Shinsegae Centum City
Shisegae Centrum City was once the world's largest department store. This behemoth of a mall is officially listed at 293,900 m2 and was opened in 2009.
There are no major surprises for what you'll find inside, with the exception of Spa Land (see below), sometimes cited as South Korea's largest spa.
How to get to Shinsegae Centum City: Centum City subway feeds directly into the depths of the mall.
BEXCO
The Busan Exhibition and Convention Center is another gigantic building, or network of interconnected buildings. The main exhibition hall is as large as three football fields combined.
The facility hosts a wide range of international events and concerts. If you stroll by or view it from MoCA Busan, you can get a feel for just how large it is.
How to get to BEXCO Busan: Exit 1 of Centum City or exit 9 of Busan Museum of Art are closest.
Busan Cinema Center
Yet another towering construction in the Centum City area, Busan Cinema Center is the headquarters of BIFF (the Busan International Film Festival – see also BIFF Square above).
The structure's most unique feature is its enormous sloping roof, which is listed as the largest cantilever roof in the world. Busan Cinema Center is especially lovely in the evening or at night when parts of it are lit up, and is a good spot for urban photography in Busan.
How to get to Busan Cinema Center: From Centum City subway station, cut through Shinsegae Centum City to reach it on the other side. If you want to avoid the mall, head around it and walk along APEC Naru Park, a lovely riverside park that is a popular place for couples to stroll.
Shopping and bar hopping in Seomyeon
The commercial heart of Busan, Seomyeon, is also one of the best neighborhoods in town for shopping. Start with the huge Lotte Department Store or by exploring the maze of underground shopping streets lying below.
This is also a great area for dining – find the best restaurants in Seomyeon here.
How to get to Seomyeon: Seomyeon station is at the intersection of Busan's two most important subway lines, line 1 and line 2.
Lotte Department Store Gwangbokdong
Besides the awesome views from the roof, this iconic department store on the Busan Port gets another mention for its incredible indoor musical water fountain, the largest in the world (notice this recurring theme in Busan?)
The best place to see the water fountain is from B1, and it plays every day at 11 a.m., 1, 3, 5, and 7 p.m.
Heads up that a new very tall Lotte Hotel is currently in the initial stages of construction beside the mall, which is sure to become a new landmark on the Busan Port.
Gwangbokdong Cultural and Fashion Street
What used to be the best place in Busan to buy cameras and camera gear is now a trendy hub for buying brand name products. Gwangbok-ro (the street's actual name) is a winding roadway lined with shops and is a center of art and fashion in popular Gwangbok neighborhood.
The street provides access to Yongdusan Park, Gukje Market, and BIFF Square (all covered above). It is also the best place in Busan to see Christmas lights in December.
How to get to Gwangbokdong Cultural and Fashion Street: Various exits of Nampo and Jagalchi Market provide access to the street.
Best Hot Springs in Busan
Jimjilbang, or Korean spas, are aplenty in Busan. Be prepared to get naked and kick back with a few hundred new local friends. For mor info on what to expect, here's a guide to public bathing in Korea!
The below are two of the largest spas in Korea (and all of Asia), but many hotels in the city also have their own.
Heosimcheong Spa
The first time I visited Busan (2008), Heosimcheong Spa (also spelled Hurshimchung Spa) was billed as the largest hot spring spa in the world, but has since been surpassed by Centum City's Spa Land (see #50), and possibly others.
Many still claim this one is their favorite, though. I visited it again recently in 2019, and I'll keep coming back for its enormous and very impressive domed main room, which features a mind-boggling assortment of scented pools, massage tubs, saunas, steam rooms, and more.
The spa is at the base of Mt. Geumjeong, so it makes sense to visit it after hiking to Seokbulsa or and/or riding the Geumgang Park Ropeway to Geumjeong Fortress (both covered above). You can buy your spa tickets in advance here.
If you don't want to get nude, you can just soak your feet in hot spring water at nearby Dongnae Outdoor Footbath.
How to get to Heosimcheong Spa: Walk 10 minutes from Oncheonjang station exit 3 or 5.
Spa Land Centum City
Located inside Shinsegae Centum City (#43), South Korea's largest spa has gone and outdone Heosimcheong Spa with what CNN has called "South Korea's most outrageous spa."
Featuring numerous themed rooms, outdoor rock pools, and so much more, the spa is a testament to South Korean's love for soaking in hot water. Kids under 13 are now allowed, which is unusual for a large Korean spa, so you may enjoy a quieter soak than at Heosimcheong.
How to get to Centum City Spa Land: The entrance is located on the ground floor of Shinsegae Centum City Department store.
Well, that brings us to the end of this ginormous list of Busan attractions, activities, and other things to do in Busan. I hope you've found more than enough ideas for planning an epic Busan trip. Let me know in the comments how it goes!
I never travel without a guidebook! I recommend these: