Dear reader: This article contains links to products and services that I may be compensated for, at no extra cost to you.

I don't know exactly where, when, or why it all started. But at some point in the past, people started to construct ridiculously large roadside attractions in Alberta, Saskatchewan, and Manitoba, the prairie provinces of Canada. Today these are some of the quirkiest things to do in Alberta.
Referred to today as the "Giants of the Prairies," these oversized statues pay homage to local products, wildlife, and peoples (most notably Ukrainian settlers in eastern Alberta), while some of them are just outright unusual. In many cases local communities have spared no expense in building them. Quite a few of them even have official "world's largest" according to Guinness World Records.
In early 2020, I had just moved back to Edmonton after over a decade of living abroad. Within months, the world as we know it went a little nuts, and many of us along with it. When I needed to get out, I would hop in my car and just drive, exploring parts of the province I'd never been to, and ticking off as many giant things in Alberta as I could. This helped me to compile these 10 classic road trip itineraries from Edmonton.
For this article, I've compiled five epic Giants of the Prairies road trips departing from Edmonton or Calgary. For the three main ones, I've also put together some handy maps to follow.
At the end, I'll provide a full list of all the Giant Roadside Attractions in Alberta, more updated and complete than any other list you'll find online!
The Original Giants of the Prairies in Alberta
One guess as to why we started building so many unusually large attractions in Alberta is that it all started with grain elevators.
These were mostly built in the early 1900s to stockpile grain before it was loaded onto passing train cars. Nearly every prairie community at the time had one, and Alberta is said to have had 1755 of them at their peak in 1934. Today only around 150 of those are still standing.
One can only imagine what it might have been like back in the day, to travel for days on end and to spot one of these towering structures in the distance. Maybe it would be the same feeling as spotting skyscrapers as you are driving into a major city on the prairies today.
More original Prairie Giants are the old school oil derricks. The title for the tallest one in the world goes to the oil derrick in Redwater, Alberta. Constructed in 1948, it soon tapped into an oil reserve that resulted in oil shooting all the way out the top of it. Welcome to Alberta!
Speaking of oil, there are also the Giants of Mining on display in Fort McMurray and other mining sites in Alberta, as well as the huge coal tipple at Atlas Coal Mine near Drumheller.
Perhaps some of these early ginormous objects inspired locals to start constructing their own oversized representations of their cultures and communities, or maybe it's just that Alberta spirit of "Go big or go home."
See which Giants of the Prairies make it onto my Alberta Bucket List!
Giants of the Prairies in Saskatchewan and Manitoba
While I'm going to focus mainly on Alberta in this article, because that is where I am from, there are just as many Giants in the two provinces to the east, Saskatchewan and Manitoba, which I want to cover briefly before getting to the Alberta beauts.
Mac the Moose
Towering, 34-foot Mac the Moose is the pride of Moose Jaw, the fourth largest city in Saskatchewan. Located at the Moose Jaw Visitor's Center, it is the largest Moose in the world, weighing a staggering 10 tons.
From 2014 to 2019, Mac the Moose was surpassed in height by the Big Elk in Norway. However, after two Canadians set up a GoFundMe campaign, Mac's antlers were replaced with taller ones, and he regained the title of World's Largest Moose. Classic Giants rivalry!
Others
Other Saskatchewan Giants include a giant baseball in Battleford, Canadian Dollar Coin in Churchbridge, Mammoth in Kyle, and the world's largest Oil Can in Rocanville, just to name a few.
Manitoba is blessed with the world's largest Curling Rock in Arborg, world's largest Coke Can in Portage la Prairie, world's largest Fire Hydrant in Elm Creek, world's largest Mosquito in Komarno, world's largest Painting on an Easel in Altona, and the Happy Rock in Gladstone, among many others.
See here for a list of the other Giants of the Prairies and other roadside attractions in Saskatchewan and Manitoba.
The term Giants of the Prairies was popularized by the Kubasonics, a Canadian polka band originally from Alberta, in a song of the same name. In it, they mention the giant Easter Egg, Pyrogy, and Mushrooms.
Giants of the Prairies Road Trip from Edmonton
Some of the best Giants of the Prairies are located to the east of Edmonton. Many of them are tied to the Ukrainian communities that settled in this area, with the most well-known being the Vegreville Pysanka, or giant Easter egg.
The best way to delve into the history of Ukrainians in Alberta us at Ukrainian Cultural Heritage Village 40 km east of Edmonton, just past Elk Island National Park, the smallest of Alberta's national parks.
For other ideas besides roadside attractions, also see my guide to the best day trips from Edmonton.
Edmonton Giants
Edmonton itself is home to some of great Prairie Giants. These include:
World's Largest Western Boot: (10007 167 St) In front of One Stop Biker Shop
Giant Baseball Bat: (corner of 118 ave and 97 st) I can't call it "world's largest" or even "Canada's largest" because Saskatoon went ahead and built a larger one!
Giant Beer at Labatt Breweries (10119 45 ave) You'll see it when driving past on the Whitemud.
Dove of Peace (near the giant pyramids at the Muttart Conservatory)
Edmonton is also home to West Edmonton Mall, the largest mall in North America, including the largest indoor amusement park and waterpark in the world, not to mention the world's largest parking lot.
If you live in Edmonton, though, you've probably seen these Edmonton giants a hundred times before, so move on to the next stop! And more Edmonton explorations, see my guide to the best places to visit in Edmonton.
Read about our stay in a space-themed room at Fantasyland Hotel in ginormous West Edmonton Mall!
Stop 1: Vegreville Pysanka (Easter Egg)
Starting with one of the best, make your way 100 kilometers east of Edmonton on the Yellowhead (Highway 16), passing Elk Island National Park and Ukrainian Village en route.
The Vegreville Pysanka was built by the local community in 1975 to honor the region's Ukrainian settlers. Pysankas are traditional Ukrainian Easter eggs which are decorate with elaborate patterns, often with beeswax. The Vegreville egg is made of aluminum anodized with gold, silver, and bronze, and took over 12,000 man hours to construct.
Unlike some of the tackier Giants of the Prairies, the Vegreville giant egg is quite beautiful, and the park build around it is peaceful.
Stop 2: Mundare Sausage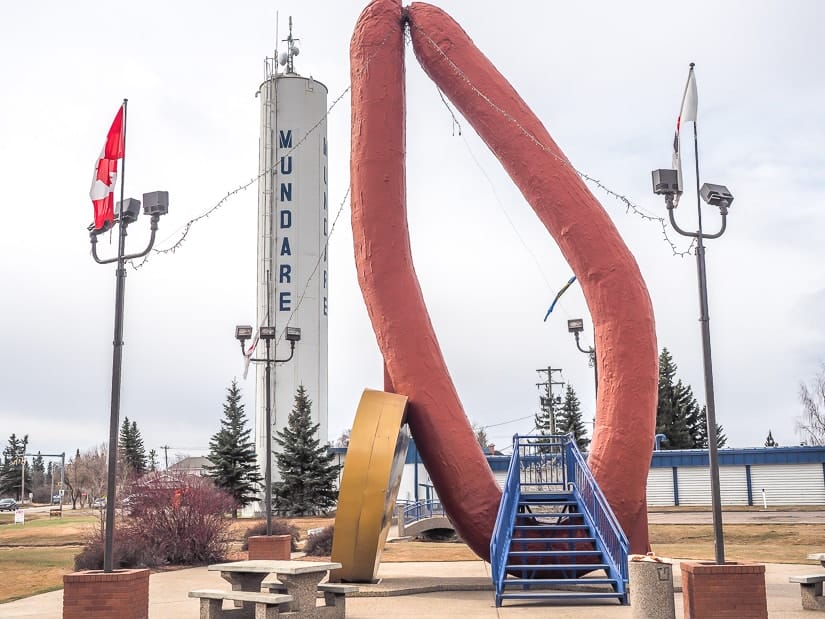 All jokes aside about "very large sausages" (I'm not going to make one directly, but I might beat around the bush a little…), the tiny town of Mundare, a short drive north from Vegreville is home to the world's largest Kielbasa, or Ukrainian sausage, which Canadians usually call "kubasa".
The sausage pays tribute to Stawnichy's, a Mundare-based, family-owned Ukrainian food company that has become a household name across Alberta.
The giant sausage cost no less than $120,000 to erect (biting my tongue…) and is a true sight to hold, I mean, behold.
Stop 3: Mini Ukrainian Church, Myrnam
OK, so this is kind of the opposite of a Giant of the Prairie (new fad: Miniatures of the Prairies?), but it's worth taking a slightly longer route from Mundare to the next stop in order to admire this one.
At the Assumption of the Blessed Virgin Mary Parish, a super cute miniature version of the Ukrainian church (yes, those silver-topped ones you see all over the prairies) stands right next to a real one. It's nearly an exact copy of it. Cute!
There's also a grain elevator in town. Heading north to the next stop, you'll pass over the North Saskatchewan bridge on a rather beautiful drive.
Stop 4: UFO Landing Pad, St. Paul
The town of St. Paul is proud of it's UFO Landing Pad, constructed in 1967, and leading to the town being called the "Centennial Capital of Canada".
Aliens as well as visitors are welcome here, with an adjoining spacecraft-like visitor's center featuring an exhibit of photos of real UFOs (!), crop circles, and more.
So why'd they build it in the first place? You'll have to drop in (or, umm…make a landing) to find out.
Stop 5: Giant Pyrogy, Glendon
Glendon jumped on the giant Ukrainian foods bandwagon in 1993, when they added the world's largest pyrogy to the mix.
The 6000-pound bundle of potato and cheese deliciousness stands 27-feet tall. A big ass fork was added after-the-fact to make it easier to identify.
There used to be a Glendon Pyrogy Motel down the street and a restaurant across the main road serving up (you guessed it) pyrogies, but both are unfortunately history. I'd stay in the Pyrogy Motel if they ever brought it back…
There are washrooms and a small playground for the kids on site.
Stop 6: Giant Mushrooms, Vilna
Having reached your furthest extent, you'll now circle back west to Vilna, which features a small collection of three very large mushrooms. Weighing in at 18,000 pounds and standing 20 feet tall, I can confirm that these mushrooms are very large. However, I must admit that I wasn't as smitten with them as I was with the other giants so far.
What did impress me more, though, was the super cute Main Street of Vilna, which features a nicely restored Pool Hall, Hotel, and other photogenic buildings. Remind me to return to Vilna the next time I need to make a Wild West film.
Stop 7: Giant Pumkins, Smoky Lake
Giant pumpkins only make sense when you're in the "Pumpkin Capital of Canada"! These babies are large, a little faded, and waiting for you to pose with them.
The concrete pumpkins were erected by a team of volunteers ranging in age from 7 to 78 in the year 2004.
In the same park, you'll find an old train car and station which now houses an ice cream shop. Nice!
Stop 8: Mallard Duck, Andrew
What can I say, other than this is the world's largest mallard duck! This big boy weighs a metric ton, with a wingspan of 23 feet.
There's also a nice grain elevator just south of the Giant Mallard.
Stop 9: Oil Derrick, Redwater
On your final leg back to Edmonton, you can't not stop at the world's largest oil derrick in Redwater. The thing is so tall that I get a hint of vertigo standing at the base and looking up at it.
You can see a pic of us at the Redwater Oil Derrick at the top of the article.
An optional detour before heading back to Edmonton would be the large Sunflower in Thorhild, 20 minutes north of Redwater.
Far Eastern Alberta Route
As an alternative to the above, if you've already seen most of them, head from Edmonton to the far east of Alberta for the small collection of Giants out there.
After taking in the Vegreville Egg and Mundare Sausage, continue east toward Saskatchewan to see the world's largest border markers in Lloydminster, chuckwagon in Dewberry, softball in Chauvin, and bison in Wainwright. It's quite a long drive though!
Northwestern Alberta Giants Route
From Edmonton, head west on the Yellowhead to Wabamum for the world's largest dragonfly. Then veer north to see the grain elevator in Mayerthorpe, Aaron the Blue Heron in Barrhead, the giant Wagon Wheel and Pickaxe in Fort Assiniboine, and Bear Fighting a Swan in Swan Hills.
From there, it's quite a drive, but if you're dedicated enough, you can make it to the giant Beaver in Beaverlodge, Bee in Falher, and world's largest Railroad Spike in Hines Creek.
This is getting too far for day tripping distance, so consider spending the night in Grande Prairie and making a weekend of it!
If you happen to visit Fort McMurray in the northeast of the province, don't miss the Syncrude Giants of Mining! Be sure to have a look at my recommended things to do in Fort McMurray.
Edmonton to Calgary Giants
If you're making the drive from Edmonton to Calgary on Highway 2 via Red Deer, there are a few noteworthy Giants en route.
Heading south from Edmonton, check out the giant world's largest Bucking Saddle in Ponoka (in Centennial Park), world's largest Fishing Lure in Lacombe, and world's largest Animated Grizzly Bear in Innisfail (you'll see it as you drive past the Disovery Wildlife Park on the highway).
Just before Calgary, the Korean Totem Poles in Gwacheon Park, Airdrie are worth a look, albeit not the world's largest ones.
Giants of the Prairies Road Trip from Calgary
There aren't quite as many Giants of the Prairies around Calgary as there are in northern Alberta, but there are still enough to make a road trip of it. You can also easily do the Southern Alberta Giants road trip (see next section) from Calgary.
2023 Edit: You can now add the brand new Giant Cheeto of Cheadle, Alberta! On the above map, Cheadle is located directly east of Calgary, between Chestermere and Strathmore on Highway 24. You could make it the last stop after Beiseker before heading back to Calgary, if you do the above route clockwise, or make it your first stop, if going counterclockwise.
Calgary Giants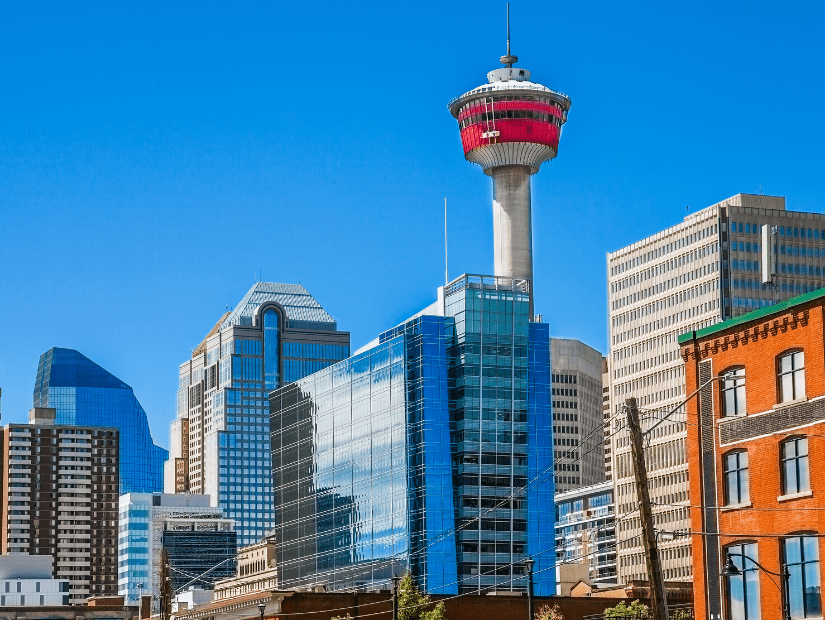 Right in Calgary, check out the Giant Blue Ring, dubbed "Travelling Light" (Deerfoot Trail and 96th Avenue N.E.). Controversially, the rather simple statue cost the city nearly half a million dollars.
Calgary is of course also home to the iconic Calgary Tower.
Stop 1: Korean Totem Poles, Airdrie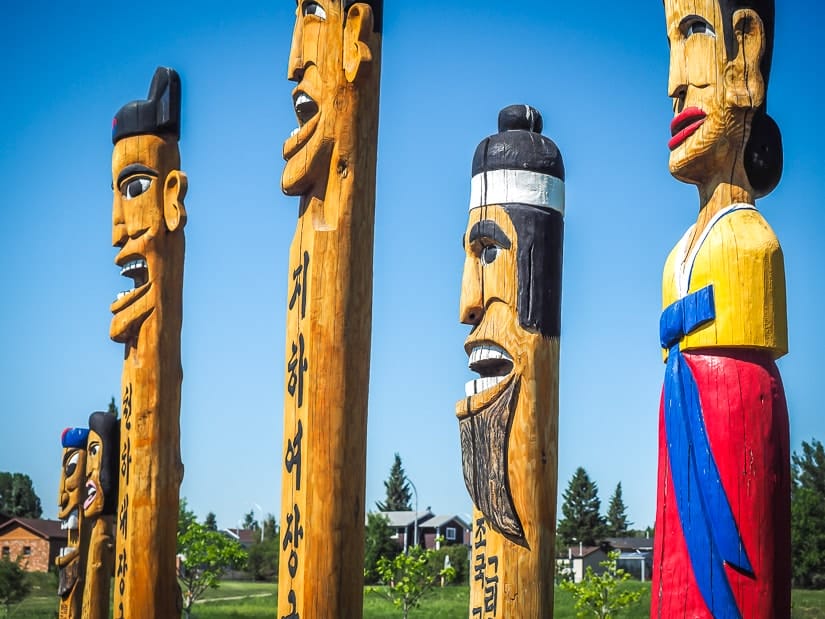 Already mentioned above, the Korean Totem Poles in Gwacheon Park, Airdrie are a fun first stop as you travel north from Calgary.
These six handmade poles were donated by Airdrie's sister city, Gwacheon, in South Korea in 2006. The park sits on the edge of Airdrie Pond, which has biking/walking trails and a playground on the other side.
Stop 2: Squirt the Skunk, Beiseker
This 13-foot skunk (and that's including the base, so it's really not THAT big…) is the town's mascot. It is located in the Beiseker Campground.
The best part about the Skunk is his motto, "It makes scents to stop in Beiseker." For that, I'll give it one thumb up.
Note that there is also a large horse statue south of Beiseker in Irricana, but it's not really worth the small detour, especially when you have this to look forward to:
Stop 3: World's Largest Dinosaur, Drumheller
The World's Largest T-Rex is so large that it is actually 4.5 times bigger than a real T-Rex was. This is without a doubt one of the most famous roadside attractions in Alberta.
The best part of the T-Rex is that you can climb right up into her (yes, it's a girl) mouth for a small fee. There's also a spray park and dinosaur souvenir shop on site.
Besides the T-Rex, there are several large dinosaur statues throughout town.
If you haven't been before, Drumheller is not the kind of place you just pass through. For more information, see my guides to things to do in Drumheller and visiting Drumheller with kids.
Drumheller is also famous for its hoodoos, which could be considered natural Giants of the Prairies. Also don't miss the Little Church (another "Miniature of the Praries") next to the Royal Tyrrell Museum of Paleontology.
For a less touristy dinosaur experience, I strongly recommend visiting Dinosaur Provincial Park, 164 kilometers southeast of Drumheller. See my guides to hiking as well as camping in Dinosaur Provincial Park.
Stop 4: World's Largest Coal Tipple, Atlas Coal Mine
A short drive south of Drumheller, Atlas Coal Mine is a National Historic Site and well worth a few hours' visit.
The main feature you'll spot from afar is the huge coal tipple, the wooden platform used to load the coal onto trains. It is the last remaining one in Canada and the largest in the world.
If you drive a little further south to the tiny hamlet of Dorothy, there is a rather photogenic grain elevator and church (Our Lady of Perpetual Help) there.
Stop 5: Rowley Ghost Town
Traveling north from Drumheller, you can't miss Rowley Ghost Town, one of the most beautifully restored old towns in Alberta. There are several old-timey shop and saloon fronts, an old church, train station, and two large grain elevators.
For an optional detour, you can head east from here to see the huge Geese in Hanna and Crown in Coronation before continuing to the next stop.
Stop 6: Golf Tee, Trochu
Turning back west after Rowley, the next stop is the world's largest Golf Tee in Trochu, which you'll find next to the Trochu Golf Course (duh…)
You can turn off Highway 585 if you want to get up close and get a picture of it (we didn't bother), or you'll just see it as you pass after you turn onto Highway 21.
Stop 6: Torrington Giant Gopher & Gopher Museum
There's a large (but not crazy large) statue of a gopher, dubbed Clem T. Gofur, at the Torrington Campground.
But the real reason to come to Torrington is to visit the super quirky Torrington Gopher Museum. Inside, dozens of stuffed gophers are displayed in various real (human) life situations, many quite humorous. The small admission fee is money well spent!
Although not a "Giant of the Prairies", the gopher museum is one of the absolute must-see Alberta roadside attractions!
From here, you have the option of heading north on Highway 2 to visit the Giants I mentioned in the Edmonton-to-Calgary section above, or call it a day and return to Calgary.
Giants of the Prairies Southern Alberta Road Trip
The remaining giants are in the far south of Alberta, and could be visited as a long day trip from Calgary, Lethbridge, or Medicine Hat. I'll describe them in order from Calgary. It would be more reasonable to split this into two days and spend the night in Medicine Hat, which I'd highly recommend!
For more fun in Southern Alberta, read my suggested things to do in Medicine Hat and Lethbridge, and check out my Waterton Lakes National Park guide.
Stop 1: Starship Enterprise, Vulcan
One the great gems of Alberta roadside attractions is this large replica of the U.S.S. Starship Enterprise from Star Trek. Vulcan takes its name from the Roman god of fire, which also happens to be the name of a planet in Star Trek.
If you're wondering how the Star Trek connection came about, there's a fun and informative explanation on the town's website. You can also read more about the building of the Starship Enterprise.
The model is found beside Vulcan's tourism info center, which also looks like a landing spacecraft. There are more memorabilia, gifts, and displays in and around the center.
Stop 2: Giant Potatoes, Vauxhall
Sammy and Samantha, the potato mascots of Vauxhall, welcome visitors to town. Vauxhall is the "Potato Capital of the West", as the sign informs us. The potatoes are big, but I wouldn't call them giant.
Stop 3: Corn Stalk, Taber
Even up in Edmonton, everyone knows the name of this small Alberta town, because the best corn comes from there.
A 36-foot corn stalk stands outside the Taber Community Center; the ears of corn are four feet tall, while the leaves are 4-10 feet. It was built in 1994 and is a symbol of local agriculture.
Stop 4: Golf Putter and Pinto McBean, Bow Island
Following Highway 3 toward Medicine Hat, the next noteworthy Giant is the world's largest Golf Putter at the eastern end of Bow Island town. This fine landmark points right at, you guessed it, the local Golf Club.
The town's second claim to fame is Pinto McBean, the world's largest Pinto Bean.
Stop 5: Giant Sanstone Concretions, Red Rock Coulee
It's a bit of a detour, but this remote Southern Alberta coulee features a unique landscape covered with enormous, red, spheroid rocks, called sandstone concretions.
In my opinion, this is a totally worthwhile Natural Giants of the Prairies stop.
Stop: 6: Saamis Teepee, Medicine Hat
Saving the best for almost last, Saamis Teepee is the world's largest teepee. It was originally built for the 1988 Winter Olympics in Calgary, then moved to Medicine Hat in 1991.
The steel teepee features circular panels of indigenous artwork and has a lovely view looking down on a coulee. It is near the Medicine Hat Tourist Information Center, just off the Trans Canada (Highway 1) as it passes through town.
While in Medicine Hat, you can also play a game on the world's largest Chess Board. Also check out the huge, iconic Cowboy Sign at Ranchmen Motel in the strip of motels along Highway 1.
Stop 7: High Level Bridge, Lethbridge
On the way back to Calgary, I'd recommend stopping in Lethbridge to see the High Level Bridge (also known as the Lethbridge Viaduct) across the Old Man River.
This massive steel bridge is the largest of its kind and is truly a sight to behold. There are some great walk trails through the river valley around the bridge.
While you're there, you can also pop into Galt Museum, which includes an oversized can of Old Style Pilsner, a legendary brew on the Canadian prairies.
If you're up for even more stops, there are several notable grain elevators along the above route, including the towns of Mossleigh, Scandia, Wrentham, Raley (Alberta's oldest), and Nanton.
You could also venture west to see the world's largest Piggy Bank in Coleman.
Enjoy your road trippin, and please let me know if I missed any Alberta Giants in the below list!
Full List of Giants of the Prairies in Alberta
Animated Bear (Innisfail)
Badminton Racket (St. Albert)
Baseball Bat (Edmonton)
Baseball Glove (Heisler)
Bear (Jasper)
Bear vs. Swan (Swan Hills)
Beaver (Beaverlodge)
Bee (Falher)
Big Head (Canmore)
Big Horn Ram (Grande Cache)
Bison (Wainwright)
Black Diamond (Black Diamond)
Blue Heron (Barrhead)
Brown Eyed Susan flower (Hughenden)
Bucking Saddle Bronc (Ponoka)
Bull and Rider (Brownvale)
Border Markers (LLoyminster)
Cheeto (Cheadle)
Chuckwagon (Dewberry)
Corn Stalk (Taber)
Cowboy Boot (Edmonton)
Crown (Coronation)
Dove of Peace (Edmonton)
Dragonfly (Wabamum)
Easter Egg (Vegreville)
Fishing Lure (Lacombe)
Geese (Hanna)
Giants of Mining (Fort McMurray)
Golf Putter (Bow Island)
Golf Tee (Trochu)
Gopher (Torrington)
Horse (Irricana)
Korean Totem Poles (Airdrie)
Kubasa (Mundare)
Labatt Beer Can (Edmonton)
Lamp (Donalda)
Mallard Duck (Andrew)
Mushrooms (Vilna)
Old Pilsner Beer Can (Lethbridge)
Oil Derrick (Redwater)
Piggy Bank (Coleman)
Pinto Bean (Bow Island)
Potatoes (Vanxhall)
Pumpkins (Smoky Lake)
Pyrogy (Glendon)
Railroad Spike (Hines Creek)
Ring (Calgary)
Skunk (Beiseker)
Softball (Chauvin)
Squirrel (Edson)
Starship Enterprise (Vulcan)
Sunflower (Thorhild)
Swan (Grande Prairie)
T-Rex (Drumheller)
T-Rex (Milk River)
Teepee (Medicine Hat)
UFO Landing Pad (St. Paul)
Wagon Wheel (Fort Assiniboine)
Wind Gauge (Lethbridge)