Dear reader: This article contains links to products and services that I may be compensated for, at no extra cost to you.
Jasper National Park is the second-most visited of Alberta's five national parks. But compared to its more popular cousin to the south (Banff), Jasper is nearly twice as large, and every bit as beautiful, making it one of the most compelling places to visit in Alberta.
You may notice that there seems to be jaw-dropping lakes everywhere you look in Jasper. This is because during the ice age, the entire Athabasca River basin, which today covers a quarter of Alberta, was a huge glacial lake. Jasper's lakes today are mostly kettles, or holes made by the movements of glaciers, now filled with residual water from that huge lake.
You'll also notice that lakes in Jasper have a vivied turquoise color. Most of them are glacier-fed, so they contain silt from the rubbing of ice on rocks. This suspended silt lights up under the sun's rays, giving the water that exquisite hue that we all journey from afar to gaze upon.
Now that we got all that fun science covered, let's get down to business. What are the most beautiful lakes in Jasper? In this article I've narrowed it down to the best of the best, sticking to ones that are easily reached on a road trip from Edmonton or beyond, whether you're simply looking for a casual stroll or you're traveling to Jasper with kids. For serious hikers, there are countless alluring alpine lakes in Jasper calling your name, but we won't name them here.
I'll start with the best lakes in Jasper town, then over to lakes accessed from the Yellowhead (Highway 16) northeast of town, and finally lakes along the Icefields Parkway (Highway 93) heading south toward Banff.
To continue lake-hopping south, see my guides to the best lakes in Banff, lakes in Canmore & Kananaskis, and Waterton Lakes National Park.
Lakes Near Jasper Town
The following lakes are all located within 10 minutes' drive of Jasper Townsite, and most can even be walked to from town.
The first two are located to the west of town, while the next four are all located on the east side of the Athabasca River near Jasper Park Lodge.
1. Patricia Lake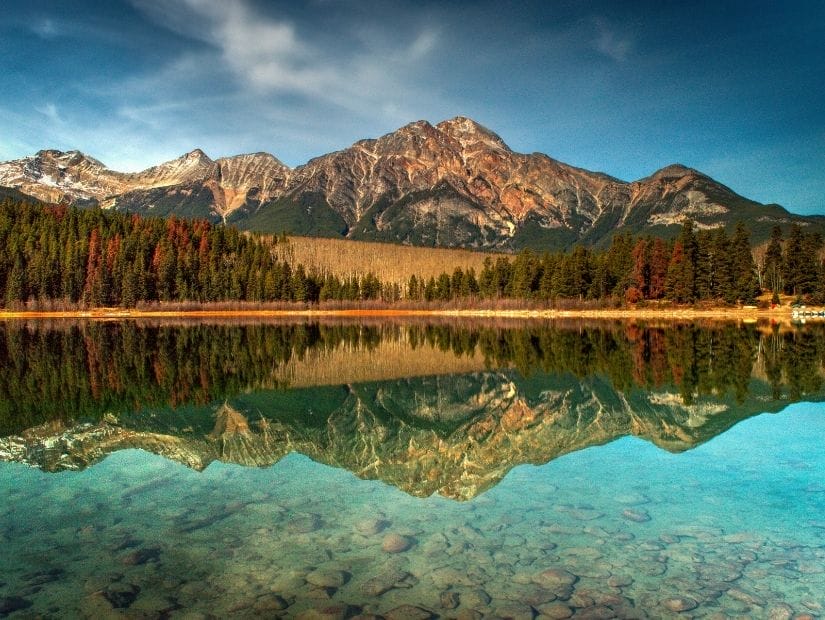 Patricia and Pyramid Lakes are two gorgeous twins located just northwest of Jasper townsite.
Patricia Lake is named after Princess Patricia of Connaught, granddaughter of Queen Victoria. The lake even contains a WWII wreck and underwater memorial plaque that divers can visit.
Like Pyramid Lake, Patricia Lake offers grand views of Pyramid Mountain from its eastern shore, with reflections of the mountain on the lake on calm days. I must admit, though, that the mountain looks more commanding from Pyramid Lake because, which is closer to it.
There are two easy hikes near the lake: Patricia Lake Circle and Patricia Lake North Loop. The former starts before reaching the lake, while for the latter, you can park at the lake's small parking area.
Patricia Lake Bungalows (see on Booking / Agoda / TripAdvisor) offers quaint cabins on the south shore of Patricia Lake.
Getting to Patricia Lake: Follow Pyramid Lake Road from the center of Jasper all you'll reach Patricia Lake in only 4.5 km (five minutes). There's a small parking lot along the shore of the lake before the road continues north toward Pyramid Lake.
2. Pyramid Lake
Pyramid lake is Jasper's most famous lake, along with Maligne Lake (see #8). The lake's classic viewpoint is of the wooden walkway to Pyramid Island (see picture above), with mighty Pyramid Mountain looming in the background.
Pyramid Lake is a popular spot for stargazing and watching Northern Lights, keeping in mind that Jasper is an official Dark Sky Preserve.
Taking a stroll on Pyramid Island is a must. Watch for the Pyramid Island Picnic Shelter, a recognized Federal Heritage Building built in 1933.
Several decent hikes start at Pyramid Lake, including Pyramid Lake Loop, Pyramid Lake Overlook, and the difficult trail up Pyramid Mountain.
In summer, you can rent bikes, canoes, or kayaks from Pyramid Lake Resort.
In winter, Pyramid Lake is a great place for snowshoeing, sleigh rides, or ice skating on the patch of ice cleared off beside Pyramid Lake Resort (see on Booking / Agoda / TripAdvisor), a gorgeous hotel on the lake shore. The skating rink open to the public and free.
For more incredible places to skate in the Alberta Rockies, see my guide to visiting Banff in winter.
Getting to Pyramid Lake: Pyramid Lake is just a few minutes up the road from Patricia Lake. You'll see Pyramid Lake Resort right away on the right. A few minutes past it you'll reach the parking lot for Pyramid Island.
3. Beauvert Lake
Beauvert Lake (often referred to by the French "Lac Beauvert") is the closest major lake to Jasper townsite and is famously located right beside Fairmont Jasper Park Lodge (see on Booking / Agoda / TripAdvisor), Jasper National Park's most renowned hotel.
Besides witnessing the stunning blue-green color of the water, most people come here to walk the easy walking or cycling loop trail around the lake (3.4 km, one hour). The trail is stroller friendly but can get muddy at times.
There are also walking trails connecting Beauvert Lake to Mildred Lake, Treffoil Lake, and Annette Lake to the north, and Old Fort Point, a great hike overlooking Jasper, to the south of the lake. You can also swim, canoe, or kayak on the lake.
Getting to Beauvert Lake: You can access the lake from Jasper Park Lodge, but I don't recommend it because it can be confusing to find the way.
A much better way is to park at the small parking lot on the south side of the lake, opposite Japser Park Lodge, which you can access on Old Fort Road from the south end of Jasper. Don't use GoogleMaps to get to the lake, which will just lead you to Jasper Park Lodge.
4. Mildred Lake
Mildred Lake is a smaller but equally beautiful lake also located right next to Jasper Park Lodge.
There's no round-the-lake walking trail, but a trail along the Athabasca River connects Mildred Lake with Beauvert Lake to the south and Annette Lake to the north.
Mildred Lake is especially known for its winter ice skating loop, maintained by Jasper Park Lodge.
Getting to Mildred Lake: There's a parking area for Jasper Park Lodge at the south end of the lake. It can be very busy.
5. Annette Lake
Yet another stunner among the collection of lakes just east of the Athabasca River and Jasper townsite, Annette Lake is especially popular for small Lake Annette Beach on the northern shore.
This is one of the best places to go swimming or spend the day on the beach in Jasper, especially if you've got little ones.
Lake Annette Loop is an easy walk around the lake (2.7 km, less than one hour) that is kid-friendly and stroller friendly, with numerous benches for admiring the lake. It is even possible to do the hike around the lake in winter.
Watch for Ochre Lake, a quicksand-filled lagoon on the northeastern shore.
Getting to Annette Lake: Access is from the Moberly Bridge over the Athabasca River at the start of Maligne Lake road just north of Jasper townsite. The parking lot is at the north end of the lake, near the beach. Edith Lake (see below) can be accessed from the same parking lot.
Love national park hopping? Read my introduction to each of Canada's national parks.
6. Edith Lake
The fourth (and last) in this collection of lakes on the eastern bank of the Athabasca River near Jasper townsite, Edith Lake is popular among locals and slightly removed from the tourist crowds of the above three lakes.
Along with Annette Lake, Edith Lake makes for a quick and easy stop if you're just passing through Jasper, as it is just a few minutes off the Yellowhead Highway.
There are several day use areas and the lake is one of the better ones for swimming as it isn't quite as freezing cold as most.
Getting to Edith Lake: Park in the same parking lot as Annette lake for the southern end of the lake, or access various spots on the north end of the lake by taking the small turnoff further up Maligne Lake Road.
Lakes East of Jasper Town
The next four lakes are accessed from the Yellowhead Highway (Highway 16) northeast of Jasper Townsite, so you could see these first if driving into Jasper National Park from Edmonton or other places to the east (see my guide to the best things to do in Edmonton here). This also means that they could be visited as day trips from Edmonton.
Medicine Lake and Maligne Lake are in the Maligne River Valley, where Maligne Canyon, one of Jasper's most popular attractions, is also found. Talbot and Jasper Lake are closer to the eastern entrance to Jasper National Park, so if you're driving in from the east, these will be the first lakes tempting you to stop.
7. Medicine Lake
Medicine Lake is a long, thin lake in the Maligne Valley Watershed. This is a valley where lakes and rivers disappear into underwater sinkholes, only to resurface kilometers away. As the crow flies, the lake is directly east of Jasper townsite.
The lake is roughly halfway between the highway and the more popular Maligne Lake, but absolutely deserves a stop. There's a small parking lot and viewpoint at the western tip of the lake as you first arrive, with a staircase leading down to the water (see above photo).
It's also a pretty awesome drive along the northern shore as you continue on toward Maligne Lake. Don't give in to the temptation to stop, though, as the road here is prone to landslides.
Getting to Medicine Lake: It's a 20 km (20 min) drive from Moberly Bridge on the Yellowhead north of Jasper town to Medicine Lake, on Maligne Lake Road. You'll pass Maligne Canyon on the way, one of Jasper National Park's most famous attractions.
Secret Tip: On the way to Medicine Lake, watch for the Lower Maligne Day Use Area, marked by an outhouse and a small parking lot on the right, from where a short trail follows the river to two of the famous Canada Parks Red Chairs in a pristine spot.
8. Maligne Lake
If you've ever seen a postcard of Jasper National Park, there's a good chance it had a picture of Maligne Lake on it (if it wasn't a bear or moose, that is).
This iconic view is of Spirit Island, a tiny island connected to the shore in the lower third of this super long, thin lake. The lake is the largest in all of the Canadian Rockies. The only way to get there is by taking a lake cruise, which has even been described as the most beautiful cruise in Canada.
This is an extremely popular activity, so of course you are going to want to book it well in advance. If you don't take the cruise, you can still explore the lakefront, but views are fairly limited. One short trail follows the north shore of the lake for a few minutes.
Come here in winter and you'll have the lake practically to yourself.
Getting to Maligne Lake: The lake is 43 km (40 min) from Moberly Bridge on the Yellowhead Highway, along Maligne Lake Road. Budget 45 minutes to get there from Jasper. Watch for wildlife along the way!
10. Jasper Lake
When driving into Jasper National Park from the east (such as Edmonton), Jasper Lake is the first lake you'll actually have a chance to stop at.
Except, surprise! It's not really a lake. Jasper Lake is actually just a very wide section of the Athabasca River, but it's depth and size qualifies it as a lake.
This is a very popular spot, perhaps because it is one of the first places to actually stop and admire the Athabasca River scenery you've been seeing from your car so far.
If you walk along the shore, you can actually find some beaches and sand dunes along the lake.
I also recommend Jasper House National Historic Site, a few minutes before the lake (when driving in from the east), which has a short walk and view over the river just before it becomes a lake. There's a small parking lot and outhouse there as well.
Getting to Jasper Lake: There are usually tons of cars parked in the long space between the highway and lake, and there are a few outhouses. It is 30 km (22 min) north of Jasper Townsite on the Yellowhead.
Drive slowly through this bit, as there are often tourists not paying attention (as well as wild animals) walking on the highway.
9. Talbot Lake
On the other side of the highway from Jasper Lake is the smaller Talbot Lake. For a few minutes, the highway travels along a thin strip of land between Jasper and Talbot Lakes, so you'll have gorgeous lakes on either side of you.
Even though you'll look over Talbot Lake from the highway, it feels more secluded if you actually stop and visit it. A lot of people come here for kayaking or canoeing on the lake. The lake is also full of pike, so it's a popular fishing spot.
The scenery is fantastic.
Getting to Talbot Lake: A small parking lot provides access at the southern end of the lake. If driving in from Edmonton, you'll be driving along the lake for a while before you see it. It's the same distance from Jasper as Jasper Lake (see above).
If you'd like to stay in this part of Jasper, Pochahantas Cabins (see on Booking / Agoda / TripAdvisor) and Jasper East Cabins (see on Booking / Agoda / TripAdvisor) are two popular options.
Lakes in Southern Jasper National Park
Traveling south from Jasper Townsite, Highway 93 connects Jasper and Banff National Parks. Called the Icefields Parkway, it is considered one of the most beautiful drives in the world.
Our final four lakes are found along this drive. Each of them requires a short hike, but all are doable with young kids.
11. Valley of the Five Lakes
Here you get not one but five stunning lakes with incredibly clear water and quintessential Jasper National Park scenery.
It only takes about 30 minutes on an easy trail to reach a small loop around the second, third, and fourth lakes, which are considered the most beautiful. You can hike to all five lakes in 1.5-2 hours return.
Because these trails are easy walking, this is one of the best hikes to do in Jasper with kids.
Getting to the Valley of Five Lakes: The parking lot and trailhead are 10 km (11 min) south of Jasper townsite on Highway 93.
12. Cavell Lake
A short and super easy 0.8 km (30 min return) hike will bring you to this gem of a lake, where you can see one of Alberta's most recognizable mountains, Mt. Edith Cavell (3363m), reflecting on the lake.
The mountain and lake were named after a British nurse who saved the lives of many soldiers from both sides during WWI.
Getting to Cavell Lake: You'll need to turn off Highway 93 onto 93A, then turn onto Edith Cavell Road and follow it up for 13km. The trail leading down to Cavell Lake is beside HI Mount Edith Cavell Wilderness Hostel, but park on the side of the road and not in the hostel's parking lot.
13. Cavell Pond
If you've made it as far as Cavell Lake, be sure to continue up the road and walk the start of the Edith Cavell Meadows hike, which provides access to the awesome Cavell Pond.
The hike is 8.4km in total, but you don't have to walk very far to reach Cavell Pond, a gorgeous body of water at the base of Mt. Edith Carvell and Angel Glacier, which you can see hanging high above the pond. The pond usually has ice flaoting in it, even in summer.
Heads up that bears are often sighted around here.
Getting to Cavell Pond: To access the start of the hike to Cavell Pond, drive to the end of Edith Cavell Road, just a few minutes past the hostel.
14. Horseshoe Lake
Want to jump off some cliffs into a gorgeous Jasper lake? Here's your spot!
An easy, 1.6 km trail along the southern shore of the lake leads to various points that are highly suitable for jumping in. Just take care, make sure you're jumping into deep enough water, and that you'll also have a way to get back out.
Even if you aren't going for a swim, the trail offers breathtaking views over the lake and is suitable for young kids. It can be a very popular spot on hot summer days.
Getting to Horseshoe Lake: There's a small parking lot right on Highway 93 about four minutes before Athabasca Falls. It is 28 km (22 min) from Jasper townsite.
There are very few hotels along the Icefields Parkway. You can try Jasper House Bungalows (see on Booking / Agoda / TripAdvisor), HI Athabasca Falls (see on Booking / Agoda / TripAdvisor), or Glacier View Lodge (see on Booking / Agoda / TripAdvisor).

For camping, you can book spots at Whistlers, Wapitit, or Wabasso, or try the first-come-first-serve campgrounds of Kerkeslin, Honeymoon Lake, Jonas, Icefield, or Wilcox.
15. Honeymoon Lake
The only lake on this list that you can camp beside, pretty Honeymoon Lake has a small, first-come-first serve campground with 36 sites and a small day use area. Come early in the day for any chance of getting a spot!
The lake is in a very quiet, peaceful location surrounded by mountains. Come at the right time and you'll see them reflecting in the water. No wonder they called it Honeymoon Lake!
If you're heading to Banff National Park next, be sure to consult my recommended Banff itinerary and guide to Banff's most beautiful lakes.
Getting to Honeymoon Lake: The campground and lake are just off Highway 93, six minutes before Sunwapta Falls, and 52 km (40 min) from Jasper townsite.
Fun side trip: Check out the famous methane ice bubbles on Abraham Lake in winter.
FAQ About Lakes in Jasper
Can you swim in Jasper lakes?
Swimming is permitted at almost all lakes in Jasper. The only thing stopping you is the icy cold temperature of the water! Some of the best places for swimming in Jasper are Lake Annette Beach, Edith Lake, and Horseshoe Lake, which is known for cliff diving.
When do lakes in Jasper freeze and thaw?
Winter lasts longer in the Canadian Rockies. Most lakes in Jasper National Park don't fully melt until May or even early June. They usually begin freezing again in late September to October, but it takes a few months before the ice becomes thick enough to skate on.
Which lakes can you ice skate on in Jasper?
The best lakes for ice skating in Jasper are Pyramid Lake and Mildred Lake. You can also usually skate on Snaring River, around Snaring Road. It may also be possible to skate on Annette Lake, Edith Lake, Horseshoe Lake, Medicine Lake and Maligne Lake, but conditions are variable and the ice could be bumpy or not well maintained.
Never skate on a lake without first confirming that the ice is thick enough. People fall though lakes and even die every year.
Is fishing allowed in Jasper lakes?
Yes, fishing is allowed in most lakes in Jasper, and there are loads of fish. You must have a National Parks fishing license (different than provincial licenses) and familiarize yourself with the different regulations. See more information here.
Can you drink alcohol on beaches or lakes in Jasper?
No, drinking is not permitted in public places in Jasper, including lakes or beaches. Drinking is only allowed in campsites, private residences, or licensed areas such as bars or restaurant patios. Note that drinking is also banned at some campsites on long weekends.
Is there a public swimming pool in Jasper?
There's a public swimming pool at Jasper Fitness & Aquatic Centre (address: 305 Bonhomme St), which is located at the western side of town, near Jasper Elementary School and Jasper Museum.
Which hotels have swimming pools in Jasper?
The following hotels in Jasper National Park have swimming pools. Only Jasper Park Lodge has an outdoor heated pool, while the rest are indoor pools.