Dear reader: This article contains links to products and services that I may be compensated for, at no extra cost to you.
Do a quick search and you'll find plenty of articles covering the best areas to live in Edmonton or the safest neighborhoods in Edmonton. This is not one of them.
In this article, I'm going to cover the most interesting neighbourhoods in Edmonton to explore, either on foot or by your preferred mode of transportation. We're going to get up close and personal with this culturally diverse and surprisingly rewarding prairie town just shy of 1 million residents.
Assuming you either live in Edmonton already or are planning to go there, I encourage you to follow this guide and dive deeper into our city's history and vibrant mosaic of communities, best experienced through its many cafes, restaurants, breweries, shops, art galleries, and museums.
For even more ideas, head over to my guides to 99 things to do in Edmonton, the best things to do in Edmonton with kids, and the best Edmonton day trips!
Old Strathcona & Whyte Ave
It should come as no surprise that Old Strathcona tops the list as the best neighbourhood in Edmonton to explore. Old Strathcona is Edmonton's most atmospheric historic district, dotted with early 20th-century brick buildings.
A town of its own until it was incorporated into Edmonton in 1912, Old Strathcona was built up around the terminus of the Calgary-to-Edmonton railway line.
Enjoy a pint in the original Strathcona Train Station, which dates to 1908, at MKT Fresh Food | Beer Market, or admire it from the patio of Situation Brewing across the street.
In the lot in front of the station, fronting Whyte Avenue, a few shipping containers mark the beginnings of what is soon to be Station Park YEG, a collection of local vendors housed in a building made of shipping containers, slated for opening in summer of 2022.
Kitty-corner to Station Park YEG, Strathcona Hotel (or "The Strat") dates to 1891. Some of the earliest visitors to Edmonton stayed here or enjoyed a beer in its tavern. You can do the same today at Leopold's Tavern on the ground floor.
The large space across from the Strat, and stretching all the way to the Roxy Theatre and Yardbird Suite (jazz bar), is ground central for the Edmonton International Fringe Festival, the largest in the world beyond the original one in Edinburgh.
Behind the Strat, Old Strathcona Farmers' Market is the city's most well-known. From the entrance to the market, look across the street for the iconic 6-story mural by Spanish artist Okuda San Miguel on the back of Crawford Block, seen in the below photo.
The High Level Bridge Street Streetcar stops right at the back of the market. Hop on the streetcar in summer for one of the city's most exhilarating and scenic rides across the River Valley to downtown. There is also a small museum detailing the history of streetcars in Edmonton inside the Strathcona station.
Whyte Avenue (82 Ave), Edmonton's trendiest strip, runs east-to-west along the southern border of Strathcona neighborhood. The hottest section is between Gateway Boulevard (Station Park YEG) in the east to 109 street in the west.
Highlights along Whyte include the following:
These are just a small sample of what's on offer on Whyte; don't be surprised if I missed your favorite spot – there are too many to include everything. Explore for yourself and see what you can find!
Along the northern border of Strathcona, Saskatchewan Drive offers some of the best views of Edmonton, as below.
For more explorations in Alberta, see my guides to Red Deer, Fort McMurray, Canmore, Medicine Hat, Lethbridge, Drumheller, Waterton National Park, and Dinosaur Provincial Park!
Downtown Edmonton
Often written off by locals for its lack of parking, Downtown Edmonton actually has loads going for it, and it's only getting better as the area continues to be revitalized.
Start your explorations at Churchill Square, downtown's main square. Bordering the square are the newly renovated Stanley A. Milner Library, the new location (2010) of the Art Gallery of Alberta with its contemporary design (the flowing metal exterior is meant to replicate the bends of the North Saskatchewan and Northern Lights), and the inviting water fountains in front of pyramid-topped Edmonton City Hall.
A few steps to the north, the new (2018) location of Royal Alberta Museum shouldn't be missed; it is now the largest museum in Western Canada and tops my list of the best museums in Edmonton!
At the northeastern edge of downtown, the Edmonton Downtown Farmers' Market runs every weekends, with roots going back over a century.
Just west of RAM, check out The Backyard, a new outdoor art & music venue where you'll find local food vendors and a wide variety of events.
A few blocks further west, Ice District is Edmonton's new testament to hockey; watch for the Wayne Gretzky statue at the 104 ave entrance to enormous Rogers Place. Opposite the statue, follow the walkway between buildings toward 103 ave to find the statue of Bob and Doug McKenzie, two more Canadian legends.
A few steps away, take a stroll down 104 Street, starting at Neon Sign Museum, a collection of 20 vintage signs from all over the city.
Follow 104 Street all the way to Jasper Avenue; this is Downtown's prettiest strip, with red brick building's housing some excellent restaurants and bars. Notable ones include Baijiu (modern Asian dishes and cocktails), Evolution Wonderlounge (Edmonton's premier gay bar), Tres Carnales Rostizado (Mexican), and Cavern (wine and artisanal cheese). Also don't miss Campio Brewing (with amazing Detroit-style pizza) and Sofra Turkish Cuisine a few blocks away.
On Saturdays in summer, the 104 Street Promenade hosts Alfresco on 4th, closing off to traffic and filled with local vendors.
Last but not least, you can't forget Jasper Avenue, Downtown's main strip. From the historic wedge-shaped Gibson Block Building east of downtown all the way to 124 street in the west (see next section), Jasper Ave is known for its many restaurants and historic buildings.
Notable highlights along the way include Community Medicine Wheel Garden, River Valley-facing Fairmont Hotel Macdonald (Edmonton's most iconic hotel), and the 100 Street Funicular (providing access from downtown to the River Valley and Louise McKinney Riverfront Park, with its Chinese Garden).
For food & drink along Jasper Ave, don't miss Bistro Praha (Czech cuisine), Remedy Café, Dorinku Osaka, and the Russian Tea Room.

On cute little Rice Howard Way, there's also Tres Carnales Taqueria, Dalla Tavola Zenari, and Craft Beer Market.
At the southwestern edge of downtown, the Alberta Legislature Grounds are one of the city's best hangout spots, with water fountains to play in and a large grassy space at the back ideal for secluded picnics. In winter, the grounds host Christmas lights and ice sculptures (learn more in my guide to the best Christmas lights and other winter festivals in Edmonton).
Oliver & 124 Street
Oliver is a primarily residential neighborhood just west of downtown. It is intersected by two main roads, Jasper Avenue and 104 Avenue.
At the southeastern corner of Oliver, Grandin (currently undergoing renaming) is a lovely, leafy neighborhood. Hop on the High Level Bridge Streetcar from here, or enjoy the River Valley views from Constable Ezio Farone Park.
The Common and Central Social Hall have two of the best outdoor patios in the city. On 113 street, St. Joseph's Cathedral is one of the city's most impressive.
Further down Jasper Ave, try An Chay for vegetarian Vietnamese, Teddy's (a nostalgic, friendly local bar-restaurant dating to 1932), Normand's (a French bistro), and just off Jasper Ave, Odd Company Brewing.
104 Ave is mostly lined with strip malls and chain stores, but a few gems include Sofra Turkish Restaurant, Brits Fish & Chips, and Beer Revolution. At the western end of 104 Ave, Brewery District is a collection of shops housed in the old Molson Canadian brewery; don't miss the creative donuts at Doughnut Party.
Delineating the western border of Oliver, 124 Street is Whyte Ave's main competitor for coolest street in Edmonton. It is especially known for its many art galleries, including indigenous Bearclaw Gallery, Alberta Craft Gallery, Peter Robertson Gallery, and more.
124 Street is also well known for the excellent 124 Grand Market. The market rotates between two locations on 124 street: 108 avenue on Thursdays (4-8 p.m., mid-May to early-October) and 102 avenue on Sundays (11 a.m. to 3 p.m., early-June to late-September).
Beginning at the point where Jasper Ave curves into 124 street, here are some other great places to seek out:
Also don't miss The Lot, a new square of food trucks with live music in summer at the corner of 107 ave and 104 st. A few blocks east of it, Manchester Square is an up-and-coming complex of local businesses that looks straight out of Europe. Arcadia Brewing, one of the city's best, is in the corner by the water fountain.
Last but not least, head to little Paul Kane Park for a tranquil oasis built around a pond, and Oliver Outdoor Pool.
Ritchie
Heading east from Strathcona, Whyte Ave continues on into Ritchie neighborhood.
Some of Whyte Ave's best spots are actually in Ritchie, including Yelo'd Ice Cream & Bake Shoppe, Cat Café on Whyte, and further down, Earth's General Store, Edmonton's best spot for all things organic and environmentally friendly. Bring your own bags!
99 Street and surroundings has so many breweries that they have banded together to dub it Happy Beer Street. The seven breweries on or around the street include Bent Stick, Blind Enthusiasm & the Monolith, Longroof, and stretching south of Ritchie, there's Omen, Sea Change, and Alley Kat, Edmonton's original craft brewery.
Other spots in Ritchie neighborhood to check out include Boocha Kombucha, Ace Coffee Roasters, and Barb & Ernie's Old Country Inn for old-school German food & beer.
Running along the eastern edge of Ritchie all the way to the North Saskatchewan, Mill Creek Ravine is green escape lined with hiking and cycling trails, plus Mill Creek Ravine Outdoor Pool.
Garneau & University of Alberta
Garneau is another extension of Old Strathcona, but to the west. There you'll find atmospheric, leafy streets, more historic buildings, and some lovely old houses.
The Garneau Theatre is Garneau's most iconic attraction, housing the still-running Metro Cinema. Dating to 1940, the theatre is one of the last of the Art Moderne architectural style in Canada.
There's a cluster of cool businesses on 109 street, just off the high level bridge, including:
West of Garneau neighborhood sits the sprawling University of Alberta. Take a stroll on campus to appreciate its large lawns and historic buildings, the oldest of which is Athabasca Hall, dating to 1911.
Facing Saskatchewan Drive and the River Valley, Rutherford House is the restored home of Alberta's first premier, now a provincial historic site, and can be visited for a small fee.
There's also a small Museum of Paleontology, while Dewey's in the old North Power Plant is the main bar on campus.
Alberta Avenue
A 10-minute drive north of Downtown, the section of 118 ave from NAIT to the old Northlands Ice Coliseum is referred to as Alberta Avenue.
Having grown up in this area, I can say that it used to be pretty rough. It still isn't perfect today, but has been slowly improving for a few years. Today it is known for its high concentration of ethnic grocery stores and restaurants, as well as some pretty cool murals and other street art.
Going from east to west, here are some spots along 118 avenue worth a visit:
There are also local initiatives such as the Carrot Community Arts Coffeehouse and Nina Haggerty Centre for the Arts on 118 avenue.
Last but not least, you can't miss the Giant Baseball Bat on 97 street, one of the Giants of the Prairies that Alberta is famous for.
McCauley
McCauley might be a surprising entry for some, as one of Edmonton's poorest and least safe neighborhoods.
Still, I recommend giving McCauley a chance. In Chinatown, which runs between 97 and 101 streets, you'll find staple Asian grocery stores like Lucky 97 and 99 Supermarket.
My family has been going to restaurants in Chinatown like All Happy and Thanh Thanh Noodle House since I was a kid. Meanwhile, Padmanadi (vegan Chinese & Indonesian) is often rated the best restaurant in Edmonton, and is one of my all-time favorites, run by my friend Kasim, one of the kindest humans I know.
Then there's Little Italy, which occupies 95 street between 109 and 108 avenues (you can't miss the sign over the road, seen above). The original Italian Centre Shop (a grocery store and café/bakery that takes you right to Italy) is the focal point, while Sorrentino's and Allegro Italian Kitchen are other staples.
For flowers and other pretty things, step into Zocalo, a small greenhouse & café, where you can have an espresso while you shop.

(As a side note, growing up nearby, I was on the McCauley soccer team as a kid, and we won the city championship because all my teammates belonged to Italian families that took the game so seriously!)
One more cool thing about McCauley is that it has a huge concentration of churches and other religious buildings; 96 street was once listed in Ripley's Believe it or Not for having more churches than any other street in the world! The whole street has thus been designated a protected Heritage Area.
Glenora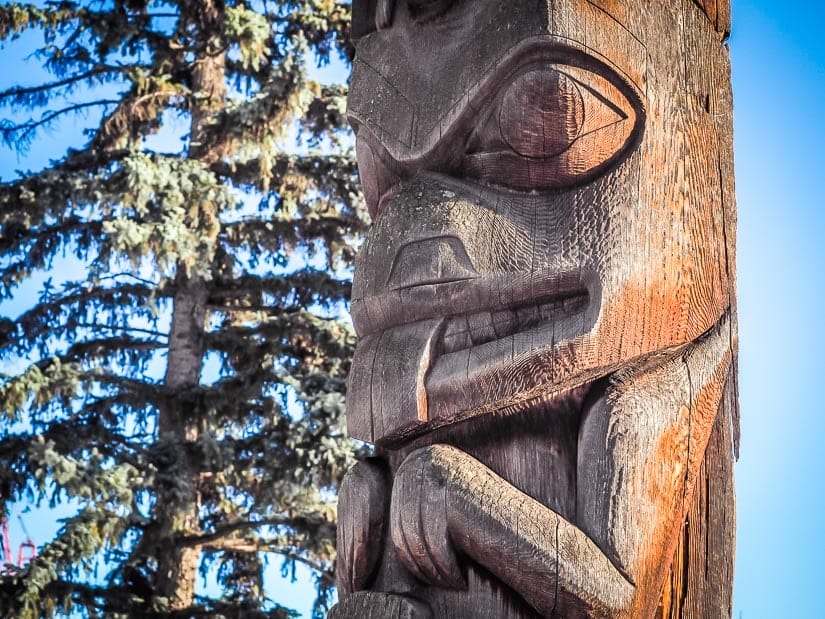 Glenora is Edmonton's original exclusive neighborhood, with street upon street of gorgeous historic homes and mansions; we sometimes like to drive through just to look at the houses.
This neighborhood was the original location of the Royal Alberta Museum (I worked there for a few years!) While the museum has relocated downtown, the old grounds remain a nice place to visit.
Still standing on site, Government House is a historical landmark dating to 1913. It housed Alberta's first six Lieutenant Governors, and is still used for government meetings and events today.
In front of it, a Korean Pavilion and Hosaqami Totem Pole face the river valley. The 24-foot totem pole was carved from a solid 500-year-old cedar by BC Kwagiulth artist Chief Tony Hunt.
While there aren't too many businesses operating in Glenora, Vi's for Pies, a cozy shop with awesome pies and other meals, is a notable exception.
Summerlea
Summerlea is synonymous with West Edmonton Mall, which takes up nearly 50% of the neighborhood. Love it or hate, North America's largest mall is one of Alberta's top attractions, and it features loads of things to do.
WEM is so big that it can definitely be considered a neighborhood of its own.
Some of the more obvious things to do at "The Mall" include Galaxyland and World Waterpark, the world's largest indoor amusement park and waterpark, respectively.
But those are just the tip of the iceberg. Here are more interesting things to do at West Edmonton Mall:

Blatchford
Blatchford is an up-and-coming neighborhood that is currently being constructed on the site of the old Blatchford airport in central Edmonton.
Once completed, Blatchford will be a large sustainable community fuelled by renewable energy. The neighborhood will make use of various former airport structures and materials, including the old air traffic control tower.
Some houses are already built and occupied in Blatchford, while many more have yet to come. You can already walk in and explore the grounds, with several new facilities beginning to take shape, including a Tomato-Themed Playground, which my kids enjoy playing in (see here for our other favorite playgrounds in Edmonton).
Eventually, the neighborhood will be connected to downtown via the LRT system.
To get a taste of Blatchford's past, pop into the Alberta Aviation Museum on 118 avenue, the south side of the neighborhood. The museum highlights the history of airplanes and other aircraft in Edmonton and the far north.
There are dozens of old planes on displays, as well as interactive computer games and simulated flights for kids. You can't miss the museum; just watch for the two large planes and rocket towering above ground out front on 118 ave.
While you're in the area, finish off your day with a cold one at the Growlery Beer Co., Blatchford's own craft brewery.
Well, that finished off my list of the 10 best neighbourhoods in Edmonton to explore. I realize this could be a controversial subject and you may totally disagree with my choices, so feel free to share your thoughts on the best and worst Edmonton neighbourhoods below!