Dear reader: This article contains links to products and services that I may be compensated for, at no extra cost to you.
In Edmonton where I live, you'd be hard-pressed to find someone who has been down to Medicine Hat. It's a 5.5-hour drive, longer than it takes us to reach Jasper or Banff (but for those in Calgary, it's within day tripping distance!)
In the southwestern corner of Alberta, it is the sixth largest city in Alberta by population. "The Hat" is more commonly visited by travelers on the Trans-Canada Highway, which runs through town between Calgary and Regina. Surrounded by arid grasslands and with 2554 hours (330 days) of sunshine per year, it has been called the sunniest city in Canada and the "oasis of the prairies," in a province that I consider to be Canada's most beautiful.
Deciding to finally make the trip and check Medicine Hat (as well as nearby Writing-on-Stone Provincial Park and the city of Lethbridge) off my Alberta bucket list, I was pleasantly surprised by the wide range of things to do in Medicine Hat, from top-notch breweries and cafes in historic buildings to stunning green spaces and even a few 'Giants of the Prairies'.
Medicine Hat is also rich in history, being one of the oldest cities in Western Canada. It was once a border area between Blackfoot and Cree-Assiniboine lands. In 1883, the Canadian Pacific Railway first crossed the South Saskatchewan and established the frontier settlement, naming it Medicine Hat after indigenous legends.
As the town developed, it had the first hospital west of Winnipeg. It saw rapid industrial development due to its rich natural gas deposits (lending it the name "Gas City") and clay highly suitable for pottery, for which the town became famous.
Today this history can be experienced in the super cute and totally walkable Medicine Hat downtown, as well as Medalta Historic Clay District in the east of the city.
After a whirlwind tour of Medicine Hat, I've put together this comprehensive list of my recommended sights & experiences for your Medicine Hat itinerary, whether you're just passing through or staying for a few days like I did!
Where to Stay in Medicine Hat
You'll find the highest concentration of chain hotels and aging motels along the Trans-Canada running through town, though none are really convenient for visiting most Medicine Hat sights.
For a more unique experience, I chose to stay in an Airbnb which is run by local artist Kari Kanvas, who has done some of the awesome murals in town (see #5 below). The Airbnb features a wicked 60s retro themed living and dining room and loads of stunning artwork. Kari lives upstairs while the Airbnb is found on the main floor and basement, and I got to meet her super friendly dog and three cats.
The Airbnb was in a lovely, quiet neighborhood only a couple minutes' walk from Swirls (see #12), Kin Coulee Park (#21), and about 15 minutes on foot to downtown.
You can also search here for the best hotel deals in Medicine Hat.
Things to Do in Medicine Hat with Kids
If you're visiting Medicine Hat with kids, then you may want to prioritize Saamis Teepee (#1), which is so big that even kids will be impressed, Page & Whisker (#11) for seeing cats, Swirls (#12) for icy treats, Windmill Garden Center (#18) for their petting zoo and butterfly garden, and all the parks I mention (#19-22).
You can also try Six One Entertainment for virtual reality games, swimming pools in town, or Col. Pepper's Paintball out of town.
In summer, the Medicine Hat Exhibition & Stampede is a popular multi-day event.
For more family fun, read about our stay in this space-themed hotel room in Edmonton and the best things to do in Drumheller with kids!
Top Medicine Hat Attractions
I arranged the below as follows: the top two sights in Medicine Hat, places to visit in Medicine Hat's downtown, parks around the city, and finally a few day trips from Medicine Hat. At the end of the article, I've also listed some of the best places to eat in Medicine Hat.
See Saamis Teepee, the world's largest!
Standing a staggering 65.5 meters tall, Saamis Teepee is the city's most iconic sight and one of the top things to do in Medicine Hat. If you're arriving in town on the Trans-Canada Highway, you'll see it towering beside the highway. It's one of my personal favorites of the many giant roadside attractions found throughout Alberta, Saskatchewan, and Manitoba.
The metal teepee was originally designed by Steve Illes, in consultation with local indigenous tribes, for the 1988 Winter Olympics in Calgary. It was later purchased by Italian immigrant Rick Filanti and donated to the city of Medicine Hat. Today's it's a popular tourist attraction by day and hangout for local teens at night.
The teepee pays homage to Medicine Hat's indigenous roots, and I felt humbled by its sheer size. I also enjoyed peering down into Seven Persons Coulee, beside which the teepee stands. The coulee is the location of the Saamis Archaeological Site, where millions of artifacts still lie in situ.
Saamis Teepee is free to visit and is only a few minutes (by car) from Medicine Hat's Visitor Information Center. Due to the location, it's best to arrive by car.
Here are some fun things to do in Red Deer, Kananaskis, Canmore, Fort McMurray, Drumheller, and Waterton, four other fascinating Alberta regions!
Uncover pottery history at Medalta
Medicine Hat's other most significant attraction is undoubtedly Medalta, the heart of the historic clay district. In the early 1900s, abundant gas and clay in the Medicine Hat area contributed to its development into the most important ceramics production center in Western Canada.
Today, the Medalta Potteries National Historic Site preserves a ceramics factory that operated from 1912 to 1954, including four beautifully maintained brick beehive kilns that visitors can enter today.
When I visited Medalta, I opted for the self-guided tour (which you can book online here). This included full access to the facilities and museum, including seeing the original foundations below the building and the impressive factory, which seems to have been left untouched since it closed down. Did you know that ceramic cowboy hat ashtrays were once a quintessential Medicine Hat souvenir? This was just one of the many things I learned during my visit.
Medalta also has guided and group tours available and hosts a variety of other events activities. The factory is at the east end of town; for a fun way to arrive you, can hop on the Medicine Hat Sunshine Trolley (see #13 below).
Explore historic downtown Medicine Hat
The next 15 or so entries are all located in downtown Medicine Hat, the historic city center on the south side of the South Saskatchewan River. The downtown core is located on 1st, 2nd and 3rd street SE, between McLeod Trail SE and S Railway Street. Coming from the south or west, all roads go downhill into the downtown area.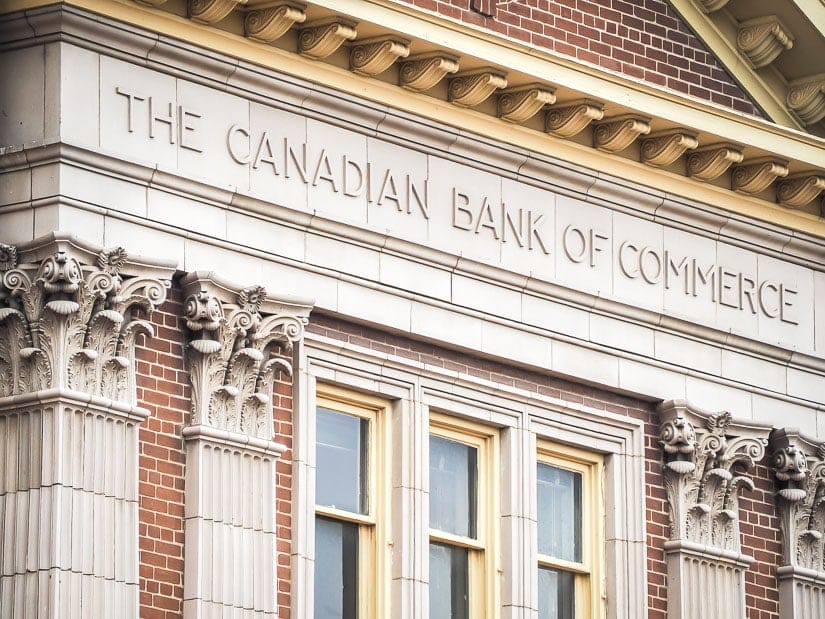 You could easily spend a whole day downtown doing all the things mentioned below, but make sure you dedicate at least some of that time to simply strolling and admiring some of the historic buildings still standing and housing businesses today. I was particularly impressed by St. John's Presbyterian Church, Monarch Theater (#15 below), the Canadian Bank of Commerce, Ewart Duggan House (#7), the Medicine Hat Railway Station, Kerr Wallace House, and St Patrick's Church (#10 below).
See here for a full list of historic buildings in Medicine Hat, including a recommended walking tour of the best ones.
Have an ice cream at Moose & Squirrel Artisan Village
One of the newest and coolest spots to check out in downtown Medicine Hat is Moose & Squirrel. This unique artisan village is sandwiched between two buildings on 2nd street, across and just slightly over from Station Cafe (see "best cafes" section below).
Moose & Squirrel serves up excellent ice cream, sundaes & floats, with rotating flavor combinations themed on Canadian pop culture. While taking a seat on one of the city's best patio's you can admire murals by local artists, then peruse artwork and crafts by artisans from across western Canada and the US.
Support local craft beer breweries
I am an avid lover of craft beer. And while it's hard to find a city or major town in Alberta that isn't creating excellent suds these days, I must say I was still thoroughly impressed at the quality of brews being put out by Medicine Hat's three craft breweries.
Hell's Basement
Started in 2016, Hell's Basement is Medicine Hat's first modern-day brewery (there were breweries back in the old days; see more on that in #6 below). Their name comes from a quote that you'll see all over town from Jungle Book author Rudyard Kipling. After passing through town in 1907, Kipling famously said, "This part of the country seems to have All Hell for a basement, and the only trap door appears to be in Medicine Hat."
Refreshingly satisfying brews like The Yard Pineapple Milkshake IPA, HuruHuru Pale Ale (made with New Zealand hops), award winning Ryes Against The Machine, and a dozen other choices make the quick hop to their homey taproom on the other side of the Trans-Canada Highway absolutely worth the trip. Even if you don't make it over, you can find their beers at liquor stores and bars such as the Yard (see below) in town.
Travois Ale Works
Travois gets extra points for having the best location, right on 3rd street downtown. But the reasons to visit don't stop there. First you get to choose between sitting in the handsome brick interior of a building dating to 1939, from where you can peer into the brewing facility at the back, or on the stellar patio affording ideal downtown views for a late afternoon buzz.
And the beer itself? "Damn," is all I can say. The focus here is on small batches of seasonal brews alongside longstanding staples. I was especially smitten with the guava lime blonde. A hibiscus mead also added some color to my beer flight. As if that weren't enough, some locals told me that Travois also does excellent pizzas during normal times.
Medicine Hat Brewing Company
Although I never made it over to the Medicine Hat Brewing Company (it's at the north end of town, and driving would have meant I wouldn't be able to enjoy much beer), their beers are available at liquor stores and bars in town.
I tried their Burnside Blood Orange on tap at The Local (see the "Where to Eat in Medicine Hat" section at the end) as well as their February Frost White India Pale Ale. Both were exceptional! If you do make it over, they also serve food in normal times (the restaurant was closed when I was in town).
The Yard
Even if you don't make it to one of the three Medicine Hat breweries (shame!), you can try all their beers at the Yard, a pop-up beer bar that, like Moose & Squirrel, makes use of the space between two buildings in downtown Medicine Hat.
It's across the street and just over from Travois on 3rd street. It's pretty much THE place to be in summertime in Medicine Hat, but sadly was closed when I visited on a weekday in September; they had just reverted to off-season hours.
Go on a street art tour
Little Medicine Hat has a high concentration of awesome street art thanks in large part to Mural Fest, an event that was held in July 2019. Local artists as well as a few international ones (from California and Australia) painted several murals in town for the event, transforming the core downtown area into an outdoor art exhibit.
For a super detailed intro to Medicine Hat's street art, including locations of all the murals, see this awesome guide to the Instagrammable walls of Medicine Hat from fellow Edmonton blogger Linda Hoang! Her site also features several articles covering Medicine Hat that were valuable resources when I visited, so do check it out!
In parks around town, including Central Park, you can also find artworks by local chainsaw artist Marina Cole!
Experience local arts & culture at The Esplanade
The Esplanade is Medicine Hat's primary center of local arts & heritage. The galleries and theater halls there showcase local music, dance, theater, painting, sculpture, & more. The center is named after the original riverfront street where the building now stands. It is located on the same street as the Medicine Hat Public Library, Court House, and City Hall, all worth a quick look when you're in the area.
When I visited the Esplanade, there was a small exhibition on local street artist Jeff Goring and Regina-based pastel drawing and ceramic artist Zachari Logan. I was also able to visit the Esplanade Museum, a small but highly informative exhibit which covers Medicine Hat history. I was fascinated to learn that Medicine Hat has a beer brewing history that goes back to 1885 and thriving until the prohibition era!
Entrance to both was PWYW (Pay What You Will). Under normal times, there are drinks served on site during theater events. Check out the Esplanade website for information on what's going on now.
You can also try the Medicine Hat Musical Theater for live events in town!
Admire Ewart Duggan House
At the northeast corner of the Esplanade stands Ewart Duggan House, a well-preserved 1.5-story red brick Victorian house dating to 1887. The house is believed to be the oldest brick residence in all of Canada. It was originally built for a local businessman and his wife, daughter of an important pioneer. You can walk right up to the house and read more about its history on the plaques.
Some important features to note include its remarkable condition, corbelled chimney, painted wooden sills and lintels, front bay window, and decorative gingerbread trim.
Play on the world's largest chess set
That's right, Medicine Hat is home to the world's largest chess set, certified by the Guinness World Records. It is located on the lawn between Court of Queen's Bench Building and the Medicine Hat Public Library, with pretty river valley views just a few steps away. The chess set was made by the Medicine Hat Chess Club.
To actually play the chess set, with pieces up to 4 foot in height, you'll have to book it online up to two days in advance, with a suggested donation of $10/hour.
Chill out in a local café
There are some fine choices in downtown Medicine Hat when it comes to coffee time!
The Station
I got my fix at The Station, a few steps away from the railway tracks on 2nd street SE. The historic brick building was originally a Japanese-owned grocery store. It was later occupied by a sewing store for 20-some years. The café owners retained the sewing store sign, an old clock, and the gorgeous wooden floors.
The Station is highly atmospheric; they've really preserved the historic feel, right down to details like black piping holding up the tables. Highly recommended!
Madhattter Coffee Roastery
Another local favorite, Madhatter roasts its coffee beans in house. The smell inside will have you lingering! The café is run by a passionate young couple who support local causes. You can read their story and more on their website.
Inspire Café
For a unique experience, try Inspire Café, which is a café within an art gallery showcasing local artwork. It is located inside the historic Hargrave-Sissons Block by the railway line. They also serve comfort foods, desserts, and occasionally host live music.
Cross Finlay Bridge to see St. Patrick's Catholic Church
Dating to 1908, the 274-meter Finlay Bridge was the largest steel bridge in Western Canada when it was first constructed to connect northern and southern Medicine Hat. Before it was built, residents could only cross the river by ferry or by riding across the train bridge next to it.
Today, you can follow 2nd Ave NE past City Hall to cross the bridge and enjoy lovely South Saskatchewan river valley views. On the other side, you'll be taken right to stunning Saint Patrick's Roman Catholic Church
The church is one of the most beautiful buildings in all of Medicine Hat. It is a fine example of the Gothic Revival Style and is recognized as a national historic site.
Support street cats at The Page & Whisker
Just opened in January 2020, The Page & Whisker was an awesome new addition to Downtown Medicine Hat (unfortunately it is now closed). All purchases from their large selection of used books went towards helping street cats. Several frisky felines from the local animal shelter inhabited the bookstore, waiting for you to adopt them.
According to the super friendly staff when I visited, they had great luck so far, finding homes for 40+ cats, despite 2020 COVID difficulties and temporary closure.
Find out why Swirls' ice cream is so famous
If you don't stop at local institution Swirls for an ice cream, then you haven't really been to Medicine Hat. The walk-up ice creamery has been operating for over 35 years. The menu features soft ice cream with flavorbursts or dips, milkshakes with 30+ flavors, arctic swirls (like a blizzard/McFlury but with way more of the good stuff added), icebergs (slushies with soft ice cream), floats, parfaits, and more.
A word of warning; the sizes are insane. I couldn't even finish my small! They've also got a branch in Lethbridge and some trucks that cruise around town, plus a new one operating in White City/Regina!
Pay your respects at the Riverside Veterans' Memorial Park
Facing the South Saskatchewan just east of Finlay Bridge, Riverside Veterans' Memorial Park is dedicated to local veterans who've fought or died in wars. The park is a peaceful escape affording pleasant river views, and there's a beautiful mural by local artist Jim Marshall depicting local history. You can see other works by Marshall at the beautiful Medicine City Hall building, which details the history of the town, as well as a piece on the life of Christ north of the river.
You'll also want to check out the two Canadian Pacific diesel trains on site, which traveled over seven million miles before being retired, as well as the World War II Sherman tank which was donated to the city in 1967.
Ride the Medicine Hat Sunshine Trolley
The coolest way to travel between the major sites of Medicine Hat is by hopping on the restored Medicine Hat Sunshine Trolley. There are three scheduled routes, which can get you to the Visitor's Information Center (for Saamis Teepee), downtown, Police Point Park, and Medalta.
A day pass costs $10, while kids ride free! You'll want to purchase your ticket online to guarantee a spot, as the trolley isn't always running (it wasn't on the day I visited, hence I didn't get a photo of it). The bus can also be rented for private tours, including a brewery tour. Find ticket info, schedules, and everything else you need to know on the official site.
See a Movie at Monarch Theater
Located on 2nd street SE, The Monarch is the oldest continually running theater is Western Canada, dating to 1911. Movies are shown on Wednesday, Friday, Saturday, and Sunday at 7:30 p.m. See what's currently showing on the official site!
Shop for olive oil & vinegar at The Hat's Olive Tap
This was my top accidental find when exploring downtown Medicine Hat. The Hat's Olive Tap has dozens of top-end, flavor-infused, and artisanal olive oils and dark & white balsamic vinegars from around the word. You can taste anything before you buy, and if you've come to shop, you are going to be hard-pressed to narrow down your choices. They'll fill up a fresh new bottle for you when you buy.
Not only did I stock up on Christmas presents for my family, but I left wishing I hadn't just eaten, as they also serve what looks like an incredible menu of focaccia, salads, soups, chips and salsa, and more.
Stock up on booze at Aberdeen Spirits & Track Side
If touring breweries wasn't quite enough for you, you can also purchase bottles of your beverage of choice at some great local liquor stores. Aberdeeen Spirits is just a few blocks up the hill south of downtown and has a decent selection of wines, spirits, and local beers. It's housed in a century old building that has in the past been a grocery store, drugstore, and bookstore. The shop even won the Alberta Liquor Store Association for best liquor store in Alberta, South Zone, a few years ago. I had the pleasure of meeting a super friendly Sue manning the shop when I visited!
If beer is your thing, Track Side Liquor Store has by far the most varieties on offer in town.
See butterflies at Windmill Garden Center
Another special business worth visiting in Medicine Hat, just west of downtown, is the Windmill Garden Center. Besides the multitude of plants available for purchase in the greenhouse, you can also pop into John's Butterfly House, where you can spot owl butterflies, monarchs, blue morphos, atlas moths, and more. There are also turtles, coi, and a petting zoo complete with bunnies, ducks and more, so it's a great place to take the kids!
See the entrance fees on the Windmill Garden Center website.
Go for a stroll at Strathcona Island Park
For a green retreat, head to Strathcona Island Park at the eastern end of town, on the southern bank of the South Saskatchewan. It may not look like an island on the map, but creeks around the park make it so at certain times of the year. The island was originally inhabited by indigenous people, but frequent flooding and difficulty accessing the island when water levels were high forced them to abandon the settlement.
I'd recommend driving in to the far end of the park, then following the walking trail along the river to the end (trail pictured above), where I enjoyed awesome views of the cliffs and looking across to Police Point Park on the other side (see #20 below). There's also a spray park and playground on site for the kids, as well as a river boat launch and baseball facilities.
This park was totally flooded by the great 2013 Medicine Hat flood, and they've since installed flood gates that you'll drive though on the way in.
See the Cottonwoods at Police Point Park
Across the South Saskatchewan from Strathcona Island, Police Point Park has a totally different feel and is equally worth a visit. The park preserves nearly 100 hectares of untouched nature; even after the 2013 flood they left all the accumulated wood piles as they were. The park is named after the fact that it was once the site of the Northwest Mounted Police outpost in Medicine Hat.
Many people come here to see the beautiful cottonwood trees in their final stages of life. The park also has some of the best hiking trails in Medicine Hat. To access the park, park your car at the Police Point Park Interpretive Center, and step inside first to get a map of the walking trails, learn about local plants & animals, and get answers to any questions you may have from the super informative staff on duty.
Get fit at Kin Coulee Park
Closer to the Medicine Hat city center than the above two parks, Kin Coulee Park occupies a coulee adjacent to Highway 1 just south of downtown. The park is a go-to place among locals for recreational activities such as picnicking, tennis, basketball, and skateboarding/scootering at the dedicated skatepark.
Gaze at red cliffs at Echo Dale Regional Park
A 15-minute drive from Medicine Hat will bring you to Echo Dale, one of the best parks in the greater Medicine Hat area. Before driving down into the park, you can stop for an epic view looking down on the two man-made lakes and the cliffs on the opposite bank of the South Saskatchewan.
At the smaller of the two lakes, there's a fine beach, playground, and swim center. There are also some good walking trails, campfire and picnic spots, and boat rentals on the larger lake. Follow the trails east along the river to get a close-up view of the impressive red cliffs, which give the town of Redcliff on the other side its name.
If you're driving into Medicine Hat on Highway 1 from the northwest, you can also stop at Redcliff and go for a stroll along the river in River Valley Park, but to actually see the red cliffs, Echo Dale is best! If you do happen to stop in Redcliff, the Redcliff Museum also comes highly recommended by one reader, who says it features giant photo murals of the town taken in the 1920s. The museum was closed at the time I visited.
Experience the surreal landscape of Red Rock Coulee
About 50 kilometers southwest of town (35 minutes by car), Red Rock Coulee Natural Area is an off-the-beaten track spot that is worth the effort. There the arid coulee slopes are dotted with huge red sandstone concretions. These spherical boulders are formed when the sediment around them erodes away, and they range in size from 1.5 to 2.5 meters in diameter.
When I visited in the early morning, I was the only one there (unless you count the rabbits). The concretions are an unusual but awe-inspiring sight. Note that there are no facilities on site besides one picnic table a sign explaining the landscape. You can visit Red Rock Coulee en route to Writing-on-Stone (see #24).
Day Trips from Medicine Hat
My final three entries are more like day trips from Medicine Hat, or overnighters if you've got the time.
Hunt for Dino Fossils at Dinosaur Provincial Park
An hour and 15 minutes' drive to the northwest will bring you to yet another incredible place: Dinosaur Provincial Park. More than 50 dinosaur species have discovered in the park, and it is the largest badlands are in all of Canada. The park features an excellent campsite and some amazing hiking trails & interpretive tours, on which you could even find dinosaur fossils (we did!)
See my information in my guide to things to do in Dinosaur Provincial Park.
See the rock art and hoodoos at Writing-on-Stone Provincial Park
The incredible Writing-on-Stone Provincial Park is an hour and 45 minutes drive from Medicine Hat, near the United States border.
Writing-on-Stone features some of the best-preserved indigenous rock art in North America, impressive hoodoos, walking trails, a great campsite with a beach on the Milk River, and out-of-this-world scenery. It's really the kind of place you must see in your lifetime.
Get back to nature at Cypress Hills Interprovincial Park
An impressive park that spans the Alberta-Saskatchewan border is Cypress Hills. The whole area was not glaciated, so it has a lush, green, hilly landscape that is rich in plant and animal life and is in complete contrast to the surrounding dry, flat grasslands. There are numerous campsites, lakes, and other activities to enjoy within the park.
The Alberta side of Cypress Hills is centered on Elkwater Lake, which is only a 45-minute drive from Medicine Hat. Find more information on the park's official site. For winter visitors, there's also decent skiing at Hidden Valley Ski Resort nearby! If you're heading to the area, you can also consider visiting Fort Walsh, a national historic site, across the Saskatchewan border.
Where to Eat in Medicine Hat
You definitely aren't going to be short for dining options in Medicine Hat. My favorite meals while in town were at The Local, a popular pub restaurant, and the excellent vegan lunch I had at Fatuma's Ethiopian Restaurant, both downtown.
Travois Ale Works apparently does excellent pizzas, while Medicine Hat Brewing also has good meals to go along with their fine beers. Try The Kommon for healthy eats, Thai Orchid Room for Thai, Tsuki for Japanese, Redcliff Bakery for baked goods, and The Donut People and of course Swirls for dessert.
I hope you've found more than enough ideas for things to do in Medicine Hat so that you can plan an epic visit. If anything needs to be updated or you think I've missed something great, please let me know in the comments below!