Dear reader: This article contains links to products and services that I may be compensated for, at no extra cost to you.
Like many residents of Edmonton, the capital city of Alberta, I'm guilty of never having made it anywhere south of Calgary or Drumheller.
I decided to change that recently by doing a southern Alberta loop to Medicine Hat, Writing-on-Stone Provincial Park, Waterton Lakes, and Lethbridge so that I could check several items off this list of must-visit places in Alberta. I was seriously blown away by how much I've been missing out on!
LA (Lethbridge Alberta; take that America!) is the province's 4th largest city, with a population of around 100,000. It is located two hours southeast of Calgary and is known for its arid climate, warm but powerful Chinook winds (lending the city the nickname "the windy city"), and a whole lot of sunshine. This is the furthest north you are likely to see rattlesnakes in Alberta!
Lethbridge was full of surprises for me. Idyllic Nikka Yuko Japanese Garden and the iconic High Level Bridge are two totally unique and unmissable attractions in Lethbridge. I learned about the history of one of Alberta's most recognizable beers, did some unexpected shopping, ate like a king, and spotted loads of wildlife in the city's expansive green spaces.
Read on to find out more than enough things to do in Lethbridge, and start planning your Lethbridge itinerary for your next Alberta staycation! (Note: you may notice that some of the skies are gray/hazy in my photos below, which was due to the major US fires in September 2020).
Where to Stay in Lethbridge
While there are plenty of hotels in Lethbridge to choose from, I went with the Sandman Signature Lodge (see on Booking / Agoda / TripAdvisor) for its good reviews and especially its unbeatable location.
Galt Museum (#9 below) was right around the corner, anywhere downtown was walking distance, and the Old Man River Valley and High Level Bridge (#16) were at my doorstep.
You can search here for other hotels in Lethbridge here on Booking or Agoda.
Things to Do in Lethbridge with Kids
If you're visiting Lethbridge with kids, you may want to prioritize:
Swirls (#4) For the best Ice Cream
Galt Museum (#9) For older kids
Two Guys & A Pizza (#12) For the best pizza in town
Fort Whoop-Up (#17) For history-related fun
Helen Schuler Nature Preserve (#20) For nature walks
Elizabeth Hall Wetlands (#21) For finding critters
Provincial Lake Park (#23) For some beach time
Lethbridge Corn Maze (#24) For obvious reasons
Devil's Coulee Dinosaur Heritage Museum (#25) For dinosaurs!
Alberta Birds of Prey Wildlife Foundation (#27) Out of town in Coaldale
All the parks I mention are great for kids as well!
For more fun in Alberta with kids, read about visiting Drumheller with kids and our stay at Fantasyland Hotel in Edmonton!
Things to Do: East Side
There are a handful of things to do on the east side of town. Driving to these sights is best.
Find serenity at Nikka Yuko Japanese Garden
The 3.75-acre Nikka Yuko Japanese Garden is arguably Lethbridge's most unexpected, unique, and enticing attraction. It was built on the western shore of Henderson Lake for Canada's centennial in 1967 to celebration the contributions of Japanese to the city of Lethbridge, and its name translates as "Japan-Canada friendship."
Although the garden isn't huge, it is rich in beauty and symbolism, integrating southern Alberta landscapes with Japanese elements. The walking path through the garden brings you past ponds, trickling streams, and a waterfall, with several suitable spots for meditation.
You can also strike a huge iron bell which was cast in Kyoto. Inside the Pavillion, you can see a traditional tea serving room, traditional rock garden, and learn about Japanese martial arts history in Lethbridge.
Besides regular admissions, there are a variety of packages that include drinks and even yoga in the garden. I went for the Ochakai (Tea) package, which included a 30-minute tea ceremony and tasting matcha tea. Having been to Japan several times, I never though I would finally see a Japanese tea ceremony right here in Alberta!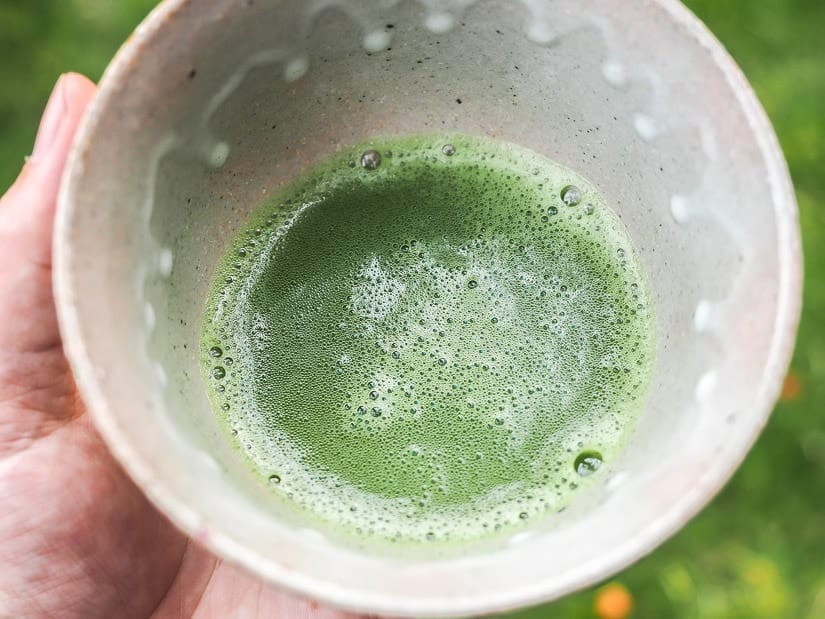 If you enjoy this article, please see my similar posts on things to do in Fort McMurray, Drumheller, Canmore, Kananaskis, and Red Deer!
Go for a stroll at Henderson Lake Park
On the north shore of Henderson Lake, only a few minutes away from Nikka Yuko Japanese Garden, leafy Henderson Lake Park is the perfect place to have a picnic, go for a jog, or take a fresh-air escape from the city.
A trail circumnavigates the lake, and there are outdoor waterslides at Henderson Pool on the northwest corner of the lake, in between Nikka Yuko and Henderson Lake Park.
Also check out SLP Skate Park for skateboarding, Henderson Ice Center for skating, Spitz Stadium for ball games, Lethbridge Tennis Club for tennis, Exhibition Park Lethbridge for events, and while you're in the area, check out the impressive houses in the neighborhood facing the north side of Henderson Lake Park!
Sample local brews at Coulee Taproom
For excellent food and a chance to try a variety of local beers, head to Coulee Taproom at the intersection of Crowsnest Highway and 43rd St. SW. Besides their own beers brewed on site (unfortunately not available when I visited), they've got draught offerings from all over Alberta.
Go for the beer flight to try several beers at once, and note that the iconic High Level Bridge (see #16) is carved into the side. I'd recommend the beer from Theoretically Brewing (see #13) as well as the Blood Orange from Medicine Hat Brewing, which, ironically, I had just visited the day before. The Seoul Bowl (tuna poke) I had was fantastic.
Get ice cream at Swirls
Speaking of Medicine Hat, the next item on my list also originates there. Swirls is a Medicine hat institution, serving legendary ice cream desserts for over 35 years. Now you can enjoy Swirls in Lehtbridge, too.
Some swirls staples include dipped cones, milkshakes with loads of flavors to choose from, arctic swirls (like a blizzard but better), icebergs (slushie with soft serve ice cream), parfaits, and more. Be warned, the sizes are enormous!
Things to do: Downtown Lethbridge
Downtown Lethbridge offers the highest concentration of cultural and historic attractions, as well as some excellent restaurants, cafes, and shops. The area is very walkable.
Go on a tour of historic buildings
Lethbridge's laid-back downtown, roughly between Galt Gardens and Lethbridge City Hall, is easily walkable and full of historic buildings worth having a look at.
West of Galt Gardens you'll find Lethbridge's Chinatown with a few old buildings, while facing the south side of the park is iconic Shanghai Chop Suey (which also happens to serve some delicious Chinese food!)
Other buildings worth seeking out include the Paramount building (now housing ATB financial at 727 4 Ave S), Umami Shop, and the large Canada Post building on 4 Ave. S and 7 St. S. Here's a video with information on more historic buildings to explore in Lethbridge:
Admire art at Southern Alberta Art Gallery
Although closed at the time of my visit, the Southern Alberta Art Gallery (SAAG) is a highly regarded facility on the south side of Galt Gardens downtown.
Continually rotating exhibits focus on contemporary art from local, national, and international names. Admission is only $5, and normally they are closed on Mondays and Tuesdays.
Chill out in local cafés
To get your coffee fix, you'll have some excellent choices in downtown Lethbridge. The Penny Coffee House is a local favorite, and the drip coffee I had there was *really* good. They also have some beautiful local art on display and bake fresh goods in clear view at the back.
Just down the street from Penny, Bread Milk and Honey is another contender for the best café in Lethbridge. They also do fantastic coffee, sweet treats, and light meals.
Buy locally made bath bombs at The Bomb Bar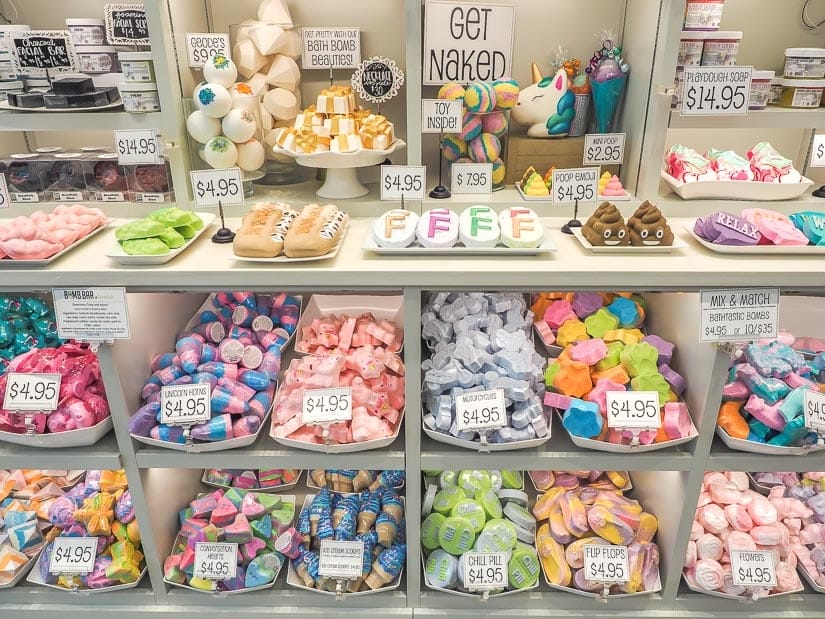 Normally I don't recommend heading to the mall in my articles, but in this case you absolutely should step into Park Place Mall downtown to pay a visit to The Bomb Bar. This Lethbridge-born business does one thing only, and they do it oh so well: bath bombs! Just check out some of the beautiful creations here on their website.
From insanely cute shapes to traditional bath balls with deeply calming scents, they've got something for every kind of bather. Some even create bubbles in your tub as well! These were the perfect souvenirs for me to take home to my wife in kids; I left with a Ghostbusters Slimer, a poo poo man, a unicorn, blueberry vanilla, and chai-scented, just to name a few.
They've also got a shop in Winnipeg, with plans to further expand.
Learn about Lethbridge history at Galt Museum
Galt Museum and Archives is Lethbridge's premier museum covering local culture and history. In their Discovery Hall, you can learn about local flora & fauna, indigenous peoples, ranching, war history, the Chinese experience, mining, the High Level Bridge (see #16), and more. You can also see what rotating exhibits are currently taking place on their website.
Although the museum isn't huge, entrance is a reasonable $6.30 for adults, and they are closed Mondays. The Galt occupies a beautiful location overlooking the Old Man river valley, and a trail from the museum goes down into the valley to Fort Whoop Up (see #17), which is affiliated with Galt Museum. The trail is part of the larger Coulee Loop trail (see #18 below).
Have high tea (or bubble tea!) at The Jasmine Room
For tea lovers, you have to check out this little gem just southeast of Lethbridge City Hall. There's an incredible number of teas on offer at The Jasmine Room, covering herbal, black, green, yerba mate, bubble tea, and more. You can get any of them served high tea style in fancy china, complete with homemade treats prepared by friendly owner Kathleen, whose parents once owned a historic grocery shop in Lethbridge dating to 1918!
There's also an attached décor & gift shop, and a small patio outside. You can buy several teas in bulk as well.
Eat the best pizza in town at Two Guys & A Pizza Place
A visit to Lethbridge wouldn't be complete without trying the pizza at Two Guys & A Pizza. They've won a string of awards including best pizza in Lethbridge, best in Alberta (by vote), and their Louisiana Cajun Chicken even once won for best pizza in Canada.
What's so good about it? For one, it's the creative toppings. For example, their "Sorry Italy…We've Gone Too Far!" section includes unique creations such as the Hot Nashville Chicken X Jalepeno Popper", "Taco Salad in a Bag…On a Pizza" and "Bahn Mi Chicken".
For me, it was all about the crust. On my Peppadew Pesto (which came with peppadew peppers, pecans, red onions, feta, arugula, Parmesan, and balsamic glaze), the crust was thin but not too thin, and with a supremely satisfying level of crunch. On top of that, they've got a huge selection of Lethbridge and Alberta craft beers to wash the pies down.
Geek out at Round Table Board Gamerie
For cocktails, bar-style eats, and more than 400 board games to choose from, spend an evening at Round Table Board Gamerie, across from the southeast corner of Melcor Centre downtown.
For just $10, you can play as many games as your heart desires, and if you spend over $20 on food or drink, they'll waive that fee.
Sample Lethbridge craft beers
In addition to Coulee Taproom (#3), there are two other craft breweries in Lethbridge worth seeking out. Theoretically Brewing is in the Historic Warehouse District just east of downtown, with good tunes and a cozy patio. They do seasonal and experimental brews to complement six core beers, with distinctive labels resembling elements on the periodic table.
Another Lethbridge micro craft beer brewery to know about is Spectrum Ale Works. Although I never made it over to their taproom at the northeast end of Lethbridge, I had a chance to try their Big Juicy Hybrid IPA at Two Guys & A Pizza (#11) and it was Oh So Good.
Try an escape room
Have you tried an escape room yet? Basically you and your friends will be locked in a themed room and have 60 minutes to figure out how to escape from it. Escape from LA is a top-rated escape room in downtown Lethbridge, while Underground Escape is another choice on the north side. Check their websites for the current themes on offer!
Things to Do: Old Man River Valley
Just adjacent to downtown, you can access the vast Old Man River Valley. Here you'll find some of Lethbridge's most iconic attractions and an incredible network of walking trails. Look out for wildlife!
Take in Lethbridge High Level Bridge views from Brewery Gardens
The Lethbridge High Level Bridge (or Lethbridge Viaduct) is the most iconic sight in Lethbridge. This incredible steel trestle spanning 1624 meters across the Old Man River was built by the Canadian Pacific Railway in 1907-1909, and trains still run across it today. It is the largest train structure in Canada and largest bridge of its kind in the world.
The bridge makes my list of top places to visit in all of Alberta and is on my recommended road trip to Giants of the Prairies in Southern Alberta.
For the best views of the bridge, try Brewery Gardens, which is the site of Sick's Breweries, the first large scale brewery in Lethbridge. Anyone from Alberta will recognize the label of Old Style Pilsner, which was originally brewed here.
From the small parking lot at the gardens (closed for renovation when I visited; I had to park further up the road), you can follow a trail parallel to the bridge (pictured above) for unbeatable views. The trail goes all the way down to the base of the bridge if you want to walk right under it. It will bring you to the road connecting Indian Battle Park (#18) and Helen Schuler Nature Reserve (#20). The trail is actually a part of the Coulee Loop (see #18).
Step back in time at Fort Whoop-Up
Named after an old-time whiskey trading post that was further upstream in the Lethbridge area, Fort Whoop-Up Interpretive Centre is a replica of that trading post set in the 1800s. You can learn about life at that time, illegal whiskey trading, the High Level Bridge, mining, and see a variety of indigenous Blackfoot artifacts, firearms, and more.
In summer the fort hosts re-enactments, or you can book a picnic on site that includes dishes like bison salad, bannock, and haskap berry crumble. Fort Whoop-Up is currently only open on weekends and holidays, and tickets can be purchased online.
Chill out in Indian Battle Park
Fort Whoop-Up is located in Indian Battle Park, a large park in the Old Man river valley adjacent to Downtown Lethbridge. The park is a huge, verdant flood plain of the Old Man, replete with picnicking spaces and shelters. This includes Elk's Compound, which can be booked here for larger groups.
The High Level Bridge dominates Indian battle park, making the park one of the best places to view Lethbridge's most important landmark. There's a decent playground for children close to the base of the bridge, with its own parking lot (head to "Alberta Picnic Shelter" on GoogleMaps).
There's a network of walking trails in Indian Battle Park, including 2.4 km Indian Battle Loop, a flat & easy trail which does a circuit of the park starting from the Fort Whoop-Up parking lot.
You can also try the more difficult 3.3 km Coulee Loop, which starts at Fort Whoop-Up, follows the road toward Helen Schuler Nature Reserve (#20), then goes steeply uphill to a lookout pavilion just before the bridge, up to Brewery Gardens, then zigzags through some coulees before following the trail from Galt Museum back down to Fort Whoop-Up.
Walk to Botterill Bottom Park
From Indian Battle Park, you can also follow the walking trails south under Whoop-Up Drive Bridge to expansive Botterill Bottom Park. You'll enjoy fine views along the way of Lethbridge University perched on the hills of the opposite bank.
In Botterill you'll find even more trails in natural surroundings. Just like in Indian Battle Park, there's a good chance of seeing wildlife such as deer, rabbits, rattlesnakes, and more.
Explore Helen Schuler Nature Reserve
Going north from Indian Battle Park, the road and parallel walking path pass under High Level Bridge to Helen Schuler Nature Reserve. The small interpretive centre has rotating exhibits (it was focused on owls when I visited). Entrance is by donation, and you can go up to the roof for some good views of the bridge and surrounding landscape.
They have loads of maps and other information for the various sights and walking trails in the river valley. There's also Taco-Charlie, a resident tiger salamander.
Behind the centre, there are two connected interpretive trails, Nature Quest and Oxbow Loop, which are both perfect for kids.
You can pick up a map of each one in the centre or at the trailheads, which give loads of info about what you're seeing along the way, including evidence of beavers. It's really common to see deer here, too.
Helen Schuler Nature Reserve is also the starting point for Coulee Climb (not to be confused with Coulee loop – see #18).
This one starts at Coal Banks Kiosk, which is the preserved entrance to Galt Mine #1, on the path just before the Helen Schuler parking lot. It goes up a coulee and back down to the same spot, remaining on the north side of High Level Bridge. You can get a trail map in the interpretive center.
Spot wildlife at Elizabeth Hall Wetlands
Across the river from Helen Schuler (but you'll have to drive a ways to get there), Elizabeth Hall Wetlands preserves 32 hectares of wetland space beside the river. Following the trail around the oxbow pond on site, you can spot all kinds of wildlife, including painted turtles, muskrats, boreal chorus frogs, and various colorful birds and skittering invertebrates.
Immerse yourself in nature at three more Old Man river valley parks
Northwest of Lethbridge, three more huge green spaces hug the Old Man River. From south to north they are: Peenaquim Park (featuring an off leash area for dogs and sports facilities), Alexander Wilderness Park (remote walking trails and river views), and Pavan Park (a favorite among locals for barbecues, fishing, walking trails, and more).
Day Trips from Lethbridge
Lethbridge is well positioned for accessing several incredible sights spread across Southern Alberta. There are also some fun activities just outside of town.
Hit the beach at Park Lake Provincial Park
Park Lake is the nearest provincial park to Lethbridge, only 15 minutes away by car. The hook shaped lake is suitable for swimming, campfires, kayaking, lounging on the beach, and there's a campground. There's also a shop selling ice cream in summer.
When I visited on a weekday in September, I was the only one there. My only complaint is that there was an overpowering smell of manure from nearby farms, but I would assume this only happens at certain times of the year, as locals seem to speak highly of the park in summer.
Lethbridge Corn Maze
A few minutes up the road from Park Lake Provincial Park you'll reach Lethbridge Corn Maze. Besides the large and well manicured corn maze, they've also got more family fun including a petting zoo, large sandbox, playground, and rides for young kids.
Devil's Coulee Dinosaur Heritage Museum
For more family fun, try Devil's Coulee Dinosaur Heritage Museum 45 minutes southeast of town on Highway 4. The small museum displays various fossils and offers activities such as scavenger hunts and fossil digging. They also offer tours twice a day (10:30 and 1:30) to a dinosaur egg dig site about 20 minutes away (transportation not provided).
The museum is open in summer only. Find more information on the official website. You can visit the museum en route to Writing-on-Stone Provincial Park (#26).
Writing-on-Stone Provincial Park
Remote Writing-on-Stone Provincial Park is one of the great jewels of Southern Alberta and is featured on my Alberta bucket list. Lesser known than Drumheller, it features far better hoodoos spread out along the banks of the Milk River, near the US border.
The park is named after the impressive indigenous rock carvings preserved in the park. There's also an excellent campground and walking trails among the hoodoos. It's a 1.5-hour drive from Lethbridge, making it totally doable as a day trip from Lethbridge.
Alberta Birds of Prey Foundation
20 minutes east of Lethbridge, in the direction of Medicine Hat, the Alberta Birds of Prey Foundation is located in the town of Coaldale. The foundation is a registered charity that rescues and releases birds of prey. The site is located on a former prairie wetland. You can observe various birds up close on the Hawk Walk, see live flying demonstrations, feed ducks, and more.
The entrance fee of $13 ($8.50 youth, $6 for kids, 3 and under free) goes to support conservation efforts. The foundation didn't open in the 2020 summer season, but hopefully we'll see them in 2021!
Vulcan Starship Enterprise
The town of Vulcan is one hour north of Lethbridge, and its claim to fame is the giant Starship Enterprise at the Vulcan Tourism & Trek Centre, one of the great Giants of the Prairies. The information center itself is built to look like a landed space station, and there is various other Star Trek memorabilia on display.
However, you may be sad to learn that the town was actually not named after Vulcans, the extraterrestrial humanoid species in Star Trek. You can learn the true story behind the name here.
Head-Smashed-in-Buffalo Jump
The UNESCO World Heritage Site of Head-Smashed-in Buffalo Jump is yet another of the top things to do in Alberta that is located within easy reach of Lethbridge, about 45 minutes' drive directly west, just past Fort Mcleod.
Head-Smashed-In is an ancient buffalo jump site, where indigenous people drove herds of bison off the cliff as a hunting method. There's also an excellent interpretive centre/museum on site introducing the plains peoples.
Note that even though Alberta's national and provincial parks have long since reopened following brief closures in 2020, Head-Smashed-In remains closed (last updated mid 2021).
Waterton Lakes National Park
Overshadowed by other Alberta national parks such as Jasper and Banff to the north, Waterton sees far fewer visitors but has much to offer. Amazing hikes, waterfalls, wildlife, landscapes, flowers, and iconic Prince of Wales Hotel on the shore of Waterton Lake are but a few of the attractions on offer.
Lethbridge is a good starting point for a visit to Waterton Lakes, at less than 1.5 hours way. It's within day tripping distance, but you may want to spend one or more nights to fully enjoy the park.
Further afield – Read about our experience camping in Dinosaur Provincial Park, about two hours away from Lethbridge!
That brings us to the end of my list of the best things to do in Lethbridge, Alberta. If you feel I've made a glaring omission or something has changed, please let me know in the comments below!