Dear reader: This article contains links to products and services that I may be compensated for, at no extra cost to you.
Most years, to celebrate my birthday, I like to plan a small trip with family and friends to celebrate my birthday. In 2020, of course, my options were limited.
I decided on doing a hotel staycation as close to home as possible. Ideally it would be somewhere memorable, fun for the kids, and have a hot tub in the room–my birthday is in November, a month that is too cold to do much outside, yet too early for most winter activities.
It didn't take long before the perfect venue popped into my mind: Fantasyland Hotel in West Edmonton Mall. Despite having grown up in Edmonton, and WEM being one of Edmonton's top attractions, I'd never stayed there.
Perusing the Fantasyland Hotel themed room choices, the Space Room was the clear title-holder of most awesome room. This conclusion was confirmed by my sister, who is employed by the mall and helps to decorate and paint the hotel's rooms.
This article is my (non-sponsored/totally unbiased) Fantasyland Hotel Space Room review. Please keep in mind that due to restrictions at the time of our stay, we weren't able to enjoy some of the services offered by the hotel or mall. But the room itself is what made the stay!
You can read about other Alberta experiences we love in my guide to the best places to visit in Alberta. And if you have kids like us, then here are our other favorite things to do in Edmonton with our kids!
Search reviews and room prices at Fantasyland Hotel here on Booking, Agoda, TripAdvisor, or on the hotel's official website.
Welcome to West Edmonton Mall
In fact, like many Edmontonians, I usually avoid "The Mall" like the plague. Once the largest shopping center in the world, WEM is today known for its crowds of tourists and shopaholics.
The Mall receives a staggering 32 million visitors a year, eight times more than Banff National Park, the most visited of Canada's national parks and most well-known of Alberta's five national parks (read about the things we usually love to do in Banff in winter).
Opened to the public in 1981 (the year I was born!), WEM was built by the Ghermezian brothers, who also built two of the largest malls in America and reside in Edmonton. Today the Mall takes up nearly half a million square meters and is like an enclosed city of its own. It is so big that I even include it on my list of the best areas in Edmonton to explore.
Some Edmontonians STILL believe WEM is the largest mall in the world; it actually lost the title in 2004 and is now somewhere around position 23. I've personally been to some of the current largest malls in the world, though (most of them are in Asia), and I must say that WEM still feels just as big, if not bigger than many of them (maybe that's just the Edmonton loyalty in me…)
Inside the malls of WEM, people can escape Edmonton's often brutal winters to find a long list of attractions, including but not limited to 800+ shops, 100+ restaurants, an IMAX theater, a huge waterpark, the world's largest indoor amusement park, a shooting range, chapel, dinner theater, and several bars and night clubs.
It has even got its own Chinatown, New Orleans Street, European Boulevard, and a replica of the Santa Maria ship!
Fantasyland Hotel Themed Rooms
In 1986, five years after WEM welcomed its first shoppers, the Fantasyland Hotel opened to the public, with its 360 themed rooms instantly selling out for many months.
It was named after Fantasyland, the name of the Mall's indoor amusement park until 1996, when it was forced to change its name to Galaxyland after a lawsuit with Disneyland. The hotel was still allowed to keep its name. Note that the hotel is actually quite a walk from the amusement park itself.
The hotel is physically connected to the Mall, located at the far western end, only a few steps from the IMAX theater and the huge artificial lake (that drunk people occasionally jump into). This means guests can access all of the mall's facilities without stepping outside, not to mention take a stroll after most visitors have gone home and shops have closed for the night.
Many of the theme rooms at Fantasyland Hotel are well past their glory days. For example, the Polynesian, Roman, and Western rooms looked especially dated and tacky to us. Reviewers also complain that parts of the hotel are falling apart, while guests from out of town often treat the facilities and rooms as an amusement park.
Our top suggestion to Fantasyland Hotel would be to replace and introduce some more modern and compelling themes. Like why are there no dinosaur rooms??? We'd love to see more rooms that focus on science & landscapes, or even themes from popular culture, rather than exoticizing foreign lands and peoples. Just my two cents!
The Space Themed Room
The space room is one of the newest themed rooms at Fantasyland Hotel, and it instantly stood out from the rest for us.
From the moment we stepped into this room, everything about it was simply awesome. Nearly every square inch of the walls, ceiling, and carpet were expertly decorated with stars and constellations, all of which glowed in the dark under the room's black lights.
All natural light was blocked out, while a control panel on the wall allowed us to transform the mood of the room with a variety of colored lights. These could be set to darker and lighter, change with time, or even a crazy strobe light mode, for those looking for a miniature in-room rave experience.
Two oversized televisions framed with thousands of LED lights broadcast videos of satellites floating in space when we entered the room, and which we kept on throughout our stay. Even the the chair at the work desk looked space-like.
Probably the single best feature was the space pod bunk beds for the kids. Complete with their own dashboard of knobs and dials to customize their lighting, these pods kept the kids entertained for hours and really were the icing on the cake in the room.
Because every detail in the room has been so meticulously executed, you really feel like you are stepping right into space, which is what a themed room is supposed to do!
Simply put, the team that designed and decorated the Fastasyland Space Rooms deserve applause for this room. We look forward to seeing more themed rooms of this caliber at Fastasyland Hotel!
Not only would this room appeal to families with young kids like us, but I think most adults would love it too, and the possibilities for photographers are pretty epic!
Our Stay in the Space Room
Check-in at the Fantasyland Hotel was a breeze. The hotel has its own mall entrance, and there was plenty of parking right outside (WEM still holds the title for largest parking lot in the world, with over 20,000 spaces and another 10,000+ overflow spaces).
The front desk clerk was polite and quickly but thoroughly explained everything we needed to know. In terms of health and safety concerns, there were plexiglass dividers, and at no other point during our time in the hotel were we close to any other guests or staff (with one exception being when we had to call for coffee to be brought to the room in the morning, one of the current protocols).
For those looking for a staycation during these unusual times, a stay at West Edmonton Mall, ironically, is a safe option, so long as you stick to the room and don't go out into the mall (note: we did go out into the mall, but in the evening, it was almost totally empty of people).
The halls that led to our room looked very much like they dated to the early 80s when the hotel was built. But everything changed from the moment we stepped into the room, or, er…stepped into space.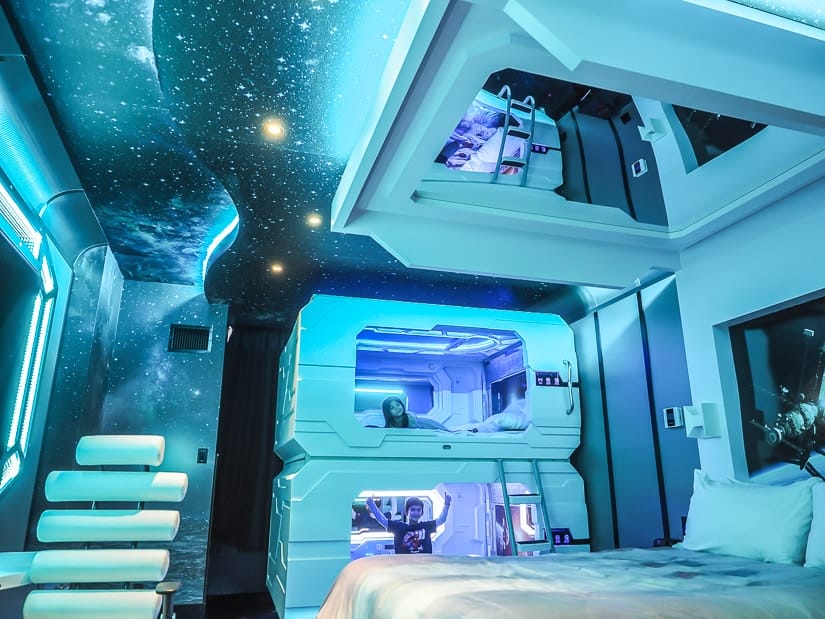 We spent the first couple of hours just admiring our room, playing with the lights, testing out the space pods, and taking pictures. I don't think a room alone has ever held our attention for so long, without even having a balcony or view to write home about!
For dinner, we did venture out into the mall. It was my birthday, after all. Shops were on reduced hours and just closing up. They were almost no shoppers around.
We headed straight to 1st Round, a burgers & beer sports bar, which features some fun options like pyrogy burgers, pizza burgers, and donut burgers (with plenty of non-meat options for myself).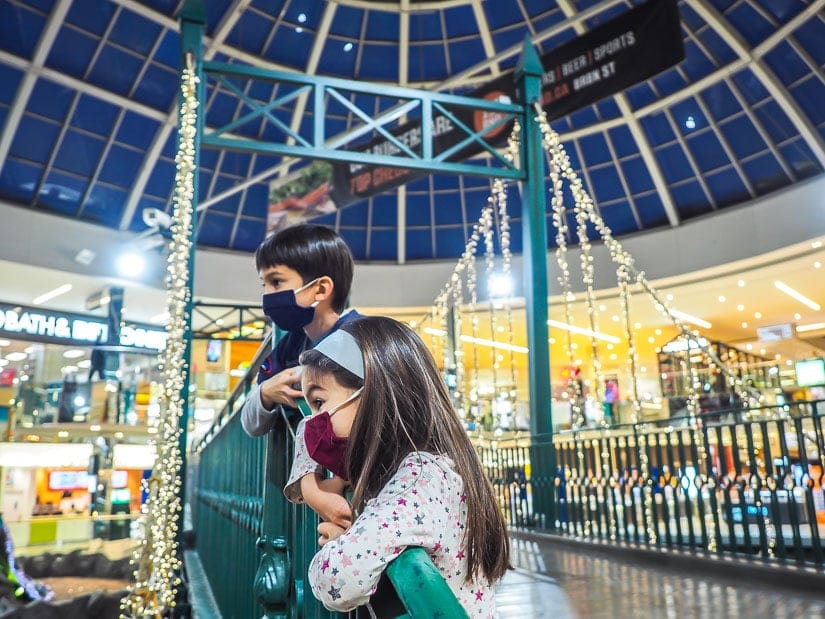 After dinner, we enjoyed a spooky walk back to the hotel, with everything closed after virtually empty of people.
This was followed with post-dinner soak in our hot tub, which is precisely where I stayed for the rest of the evening, after the kids went to sleep in their space pods. Except, that is, when I got out of the tub to grab new beers from the mini-fridge.
In the morning, to complete our mini holiday, we did something we almost never do: be lazy and watch TV. While two televisions side-by-side may seem like overkill, it allowed us to watch whatever we wanted, from the comfort of the hot tub, and simultaneously put on cartoons for the kids.
For breakfast, we headed to T&T, the enormous Chinese grocery store in West Edmonton's Chinatown, to pick up some tasty Asian treats, completing our fun & relaxing, albeit a little weird given the times, birthday staycation!
While they were actually open at the time of our stay, we didn't visit the lounge adjacent to the lobby or the L2 Grill at Fantasyland Hotel. The hotel sometimes has some very good package deals if you dine in at the hotel, but we chose to eat elsewhere in the mall for the variety of choices.
Under normal times, the hotel also has a spa. Note that there is also a small convenience store outside the lobby which is open 24 hours, every day.
To read more about our travels around Alberta, read my guides to Canmore, Kananaskis, Fort McMurray, Red Deer, Lethbridge, Drumheller, Dinosaur Provincial Park, Waterton, and Medicine Hat!
Other Things to Do in West Edmonton Mall
Under normal times, there is practically an unlimited number of things to do in West Edmonton Mall.
The biggest draws are Galaxyland and the World Waterpark. You could easily spend a full day at each. Within the waterpark, you can even go ziplining and bungee jumping. If you just want to take a peek at the waterpark, there are doors at the same to a platform overlooking the waterpark.
Shopping, dining, going to a bar, or catching a movie are some other obvious things to do in the mall. Even just going for a stroll to admire the huge fake lake or through Galaxyland can be fun.
Other fun options include the Wild West Shooting Centre, Professor WEM's Adventure Golf, and Lazer Vault.
Final Thoughts on Our Fantasyland Hotel Stay
For anyone living in Edmonton and running out of ideas for things to do, especially in winter and during these odd times, a staycation in a themed room at West Edmonton Mall's Fantasyland Hotel is a fun way to break routine for a night or two.
While we almost always prefer to do something outdoors, we still like to try everything once, and this is right in our backyard. I can also see the appeal of staying at the Fantasyland Hotel, especially for visitors from out of town who plan to visit the mall anyways. There's no doubt that it's super convenient, and even if you want to explore the rest of the city, there are bus connections to downtown in only 30 minutes.
In the end, the space room at Fantasyland Hotel actually exceeded our expectations, and we would highly recommend it, whether you have kids or not!
Well, I hop you've enjoyed this Fantasyland Hotel review. Let me know in the comments if you've tried any of the other themed rooms!