Dear reader: This article contains links to products and services that I may be compensated for, at no extra cost to you.
Banff National Park is the most iconic national park in all of Canada, and is by far the most popular of Alberta's five national parks. Established in 1885, it was Canada's first, and remains the most visited of Canada's 38 national parks today.
From dramatic peaks and impossibly turquoise lakes to abundant wildlife and some of the best skiing in the world, Banff has everything you could possibly hope for in a Canadian Rocky Mountain holiday, whether you are visiting in the popular summer season or visiting Banff in winter. That's why Banff's attractions feature prominently on my extensive Alberta bucket list and I consider Alberta to be Canada's most visually stunning province.
Three days in Banff is more than enough time to enjoy a grand experience in this grandiose natural theme park. In this article I'll lay out a Banff 3 day itinerary that takes in the perfect balance of natural, cultural, culinary, and historical wonders, with all the info you need for taking public transportation or driving yourself.
I was born and raised in Edmonton, the capital of Alberta, and have been to Banff numerous times since I was a child. Now we take our our kids there regularly; here's my guide to all the best things to do in Banff with kids.
Although we Edmontonians tend to prefer Jasper National Park, which is a little closer to us and less touristy, we are always willing to go the extra kilometers to take in the even more dramatic peaks of Banff National Park. Most recently, we've been exploring Banff National Park with our kids!
Banff Essentials

You'll need to pay a daily entrance fee to stay or stop anywhere in Banff National Park. If you plan to spend more than 6 days in any Canadian national parks in the next year, it's worth getting a Parks Canada Discovery Pass.

Find the best hotels in Banff here. For visitors on a budget, you can find cheaper accommodations in Canmore, just outside of the Banff National Park entrance gate. See my Canmore travel guide and other places to visit in Kananaskis, the surrounding area.

You can also find free camping in Banff.
Banff Itinerary 3 Days
Three days is just the right amount of time to take in the best of the many things to do in Banff National Park. I recommend breaking down your three days as follows: Day One in the Banff town center, Day Two for exploring the sights just out of town, and Day Three for the big attractions further afield.
If you've got more time, then extend your Banff adventure by traveling north along the Icefields Parkway, considered one of the most beautiful drives in the world, to Jasper National Park. You can also venture south to Kananaskis country and escape from all the tourists; here's my post covering the best easy walking trails in Kananaskis.
If you're planning to do any serious skiing, hiking, or other outdoor activities, you'll need more time as well; in this itinerary I'll mainly focus on how to cover the main sights of Banff National Park in three days.
Getting to Banff from Calgary is a breeze, while from Edmonton you should budget a 4.5-hour drive, and Vancouver is about 10 hours away (if you don't stop along the way, which you will want to).
To get further off the beaten track, consider extending your Rocky Mountain trip further south to the stunning Waterton Lakes in the southwestern corner of Alberta!
Day 1: Exploring Banff Town
Banff town is a quintessential Canadian mountain resort town, located at the heart of Banff National Park. It was first developed when Canadian Pacific Railway workers discovered natural hot springs on the side of Sulfur Mountain. Canada began promoting the site as a spa resort on the railway, developing it into Canada's first national park.
Banff and surrounding areas were declared a UNESCO World Heritage Site in 1985, and today there are strict development restrictions and design guidelines to maintain the town's small size and "Rocky Mountain" style.
Banff Avenue runs into town from the Trans Canada Highway and is the town's main street. Driving in, you'll need to slow down to 30 kilometers/hour, mainly to avoid hitting any of the resident elk or deer that are always hanging out around town. Mount Norquay Road provides a second entrance into town from the Trans Canada, and it is along this road that you can find the Banff Town Sign, if you need to make a selfie stop 🙂
If you're arriving by car, before parking it, first head to Surprise Corner to take in what is probably the most famous postcard scene in town. The lookout is named for the fact that as soon as you round one corner, you are greeted with an unbelievably beautiful view of Fairmont Banff Springs Hotel across the Bow River. This is easily one of the most famous hotels (and views) in all of Canada.
If you don't have a car, don't worry, my Banff Itinerary will get you to Surprise Corner later below. Surprise Corner is also the starting point for the Banff Hoodoos Trail, if you're looking to stretch your legs on a pleasant trail after that long drive.
Next, park your car in one of Banff town's free parking lots or at your hotel then begin exploring downtown Banff on foot. Start by heading to the Banff Visitor Center to get a handy map and any information you might need. There are also free "Club Parka" activity booklets for the kids; if the kids complete the books and bring them back to the Visitor's Center, they get to become members of the club.
Spend a few hours exploring the town center, with its numerous souvenir shops, cafés, eateries, and art galleries. You'll quickly notice that besides Banff Ave, every street in town is named after a local animal, such as Wolf Street, Bear Street, Lynx Street, and so on. Our kids got a real thrill out of this.
For a stereotypically Canadian lunch, head to Banff Poutine (#223 Bear Street) for some authentic, Montreal-style poutine. This stuff is the real deal, with huge cheese curds and loads of gravy.
For dessert, don't miss your chance to try a uniquely Canadian "Beaver Tail", a long slab of deep fried pastry topped with your choice of sickly sweet confections. There's one BeaverTails location at #120 Banff Ave, and another one across the street. If that isn't enough sugar for you (trust me, it probably will be), then you can also indulge in the fudge sold from shops and cafés throughout town.
After lunch, walk it off by crossing the Bow River Bridge at the southern end of town. Don't forget to look back from the bridge at the classic view of Banff town, with Cascade Mountain towering behind it.
Hang left at the end of the bridge and follow the riverside path to Bow Falls Viewpoint. If you didn't make it there by car earlier in the day, take the Pedestrian Bridge to the path on the north side of the river to reach Surprise Corner Viewpoint for epic views of Fairmont Banff Springs Hotel.
Spend the rest of the day checking out one or more of Banff's excellent museums. On the south side of Bow river (hang a right at the end of Bow River Bridge), Buffalo Nations Museum is dedicated to the First Nations people of the Canadian Plains and Rockies. Built to resemble an old-time fort, the museum showcases indigenous culture and local wildlife. You can even experience an eagle's flight or indigenous song and dance with a VR headset.
On the north side of the river, between Banff Ave and picturesque Central Park, Banff Park Museum National Historic Site is the most well-known museum in town. The museum is housed in the oldest federal building in any Canadian national park, with exhibits focusing on local plants and wildlife. I have vivid childhood memories of this museum, especially the all the vintage stuffed local wildlife on display. The museum is free for Parks Canada Pass holders and youths, or only $3.90 for adults.
Another museum to consider visiting is the Whyte Museum of the Canadian Rockies, which is mainly on artwork and local history.
Skiing in Banff National Park

Banff is a world-class skiing destination, with three excellent ski resorts to choose from: Norquay, Sunshine Village, and Lake Louise Ski Resort. The ski season is one of the longest lasting in the world, generally from mid-November to late May. The powder and views are awesome.

Also consider visiting Jasper National Park in winter, home to the excellent Marmot Basin Ski Resort.
Day 2: Sights Around Banff Town
You won't have to venture far from Banff town to find enough incredible sights and activities to fill up your entire second day in Banff.
For early risers, start your second day in Banff by catching the sunrise from one of the pretty lakes around town. Note that the time for sunrise will vary by nearly three hours from summer to winter (around 6 a.m. to 9 a.m., respectively), but even if you don't make it for sunrise, the mountains tend to be the most beautiful (and the sky the clearest) anytime in the morning.
The picturesque Vermillion Lakes, just west of town, are the perfect vantage point. It takes about 30 minutes to walk to the lakes from the town center (one hour return). For other possibilities around town, see my guide to the most beautiful lakes in Banff.
If you've got your own wheels, then Two Jack Lake (about 15 minutes' drive from town) is a great option; you'll be looking across the lake to the rising sun. Two Jack Lake also maintains one of the best campsites within easy reach of Banff Town (another much larger one can be found at Tunnel Mountain, even closer to Banff's downtown).
Also read my guide to the most stunning lakes in Jasper, just north of Banff!
Follow the same road to reach the much larger Lake Minnewanka, which is connected to Two Jack Lake, but note that the loop road from Minnewanka back to Banff town is closed in winter to allow wildlife to pass; you'll just have to drive back the way you came. If you're visiting in early winter, it is sometimes even possible to ice skate on Lake Minnewanka.
Roam public bus #6 operates to Lake Minnewanka via Two Jack Lake from late May to late September; the first bus departs at 8 AM, so you won't quite make it for sunrise, though.
Next, head back through Banff and drive up Mountain Ave to reach the Banff Gondola. If you're going by public transportation, there's a free shuttle bus every 20 minutes from downtown Banff (Elk + Avenue Hotel at 333 Banff Ave) and Fairmont Banff Springs Hotel, or you can take Roam Public Bus route #1.
The Banff Gondola is not cheap (see ticket prices here), but you're paying for a once-in-a-lifetime experience. The 8-minute gondola ride whisks passengers up to the peak of Sulfur Mountain (upper terminal elevation: 2281m), where an indoor observation center offers unparalleled 360-degree views over Banff town and the surrounding mountains.
The center includes a kid-friendly interpretive center, multi-sensory movie theater (included in ticket price), rooftop observation deck, a mountaintop boardwalk path, and two renowned restaurants to choose from: Sky Bistro and Northern Lights.
Gondola tickets can easily be booked online, and there are a variety of packages available, including family deals, meal packages, and discounts for Alberta residents and evening visitors. The early evening is an especially romantic time to visit.
After riding back down the gondola, you can walk (8 minutes) or drive to Upper Hot Springs to treat yourself to a well-deserved hot spring bath. Ever since the permanent closure of the "Lower" hot spring pool in 1992 (now the Cave and Basin museum, see below), Upper Hot Springs is the main hot spring spa in Banff National Park.
The modestly sized (and priced) hot spring pool offers stunning mountain views from its position on the side of Sulfur Mountain. Taking a dip here is pretty much a mandatory experience, as this is the main reason visitors were attracted to Banff from the very beginning.
It is equally essential to follow up your soak with a visit to Cave and Basin National Historic Site, or "Lower Hot Springs", at the base of the mountain, before crossing the bridge back to Banff Town. Cave and Basin is where it all began; here you can go right into the cave where the hot springs were first discovered, paving the way for Canada's national parks system.
You may want to fit this into your itinerary earlier in the day, but I put it here at the end because it doesn't open until 11 AM in winter. See the complete opening times here.
Here you can learn about the endangered snails that live in the hot spring water, and walk through the history of Banff's hot springs. There are often activities in the courtyard where the Lower Springs pool once sat. There are also two boardwalk interpretive trails beginning at Cave and Basin: the Marsh Loop and the longer Sundance Canyon Trail.
Entrance to the museum is free for Parks Canada Pass holders; make sure to bring your pass in from your car. There's no bus to Cave and Basin, but you can follow the Cave and Basin trail there in about 20 minutes from Bow River Bridge.
Day 3: Johnston Canyon and Lake Louise
You'll want to reserve a whole day for exploring further afield in Banff National Park, and you'll be a little more limited if you're not driving; buses travel from Banff's downtown to both (but only in summer for Johnston Canyon), and there's no bus between Johnston Canyon and Lake Louise.
Johnston Canyon is one of the easiest and most popular day hikes in Banff National Park, while Lake Louise is often described as the prettiest lake in all of Canada (although some think that nearby Moraine Lake is even more beautiful).
Start of by heading to Johnston Canyon, which is a 30-minute drive west of Banff on Highway 1A, a forest road that runs parallel to the Trans Canada Highway. Roam Public Transit operates bus route #9 from Banff to Johnston Canyon from mid-June to mid-September.
2021 Note: The Bow Valley Parkway is currently closed to vehicles, so it is not currently possible to drive to Johnson Canyon.
The walking trail meanders up a dramatic canyon dug out by Johnston Creek, a tributary of the Bow River, to two waterfalls (Lower Falls at 1.1km and Upper Falls at 2.7km), terminating at the Ink Pots, 7 bubbling mineral springs in a meadow.
The scenery along the trail is nothing short of breathtaking. The first section is mainly along boardwalks, while the paths in the second half are more natural. You can budget one hour return for Lower Falls, two hours return for Lower and Upper Falls, and four hours return if you go all the way to the Ink Pots (most feel that Upper Falls and back is enough).
The trail is open year-round; in summer you can appreciate the vibrant color of the water, while in winter you can gaze upon frozen waterfalls and blue-tinted icicles. Some people walk the trail with ice cleats strapped to their boots in winter as there can be some slippery sections.
The trail is easy enough for kids; we recently took our 4- and 5-year-old in winter, and the one-hour return walk to Lower Falls was just right for us. We didn't find cleats necessary, but some others were using them, and trail conditions can surely vary by the day.
From Johnston Canyon, it is a 30-minute drive to Lake Louise. At the point just before the 1A connects back to the Trans Canada Highway, make sure to take a photo stop at Castle Mountain Viewpoint near Castle Junction, just after the bridge over the Bow River.
When you turn off the Trans Canada toward Lake Louise, you can stop at Samson Mall/Lake Louise Village if you need any supplies or a bite to eat. Head to Wilson Mountain Sports if you want to rent a bike, snow shoes, ice skates, skis, or any other outdoor equipment. If you plan to ice skate on Lake Louise, the skate rentals here are cheaper than at the lake.
If traveling by public transportation, unfortunately there is no service between Johnston Canyon and Lake Louise, so you're going to have to choose one or the other, do them on different days, or squeeze them both into one day by traveling between them via Banff.
Banff Roam Public Bus 8X runs between Banff and Lake Louise. The bus also stops at Samson Mall in Lake Louise, but if you're stopping just to rent equipment, you may want to consider renting it in Banff so you don't have to wait for the next bus at Samson Mall. Try Banff Adventures for equipment rentals in Banff.
A visit to Lake Louise can range from a leisurely stroll around the lake to a plethora of outdoor activities that could fill one or more days. In winter, the possibilities include sipping a drink in an ice bar, admiring ice sculptures at the Lake Louise Winter Festival, snowshoeing, dog sledding, and of course skiing at world-renowned Lake Louise Ski Resort.
And of course you can't forget ice skating on Lake Louise! We loved this so much, we would even consider buying this experience as a gift for ice skating friends.
In summer, the glacier-fed lake's turquoise color is a sight to behold, while canoeing, horseback riding, riding the Lake Louise Ski Resort's summer gondola, and exploring the many hiking trails around the lake are a few of the many options.
No matter when you visit, you can't ignore the Fairmont Chateau Lake Louise, whether you stop in for afternoon tea, to take a peak in some of the shops, have a meal, spend the night, or just admire the building's majestic lakeside location from various points on the lake shore.
If you've got more time, a 12-kilometer road leads from Lake Louise Drive to Moraine Lake in the Valley of the Ten Peaks. A shuttle bus also runs from Lake Louise to Moraine Lake from late June to late September. Moraine Lake is inaccessible in winter.
Is Moraine Lake really even more beautiful than Lake Louise? I'll let you decide! The lake was even pictured on the Canadian 20-dollar bill from 1969-1979. Make sure you follow the trail up the large rock pile beside the lake for the best views.
Going north from Lake Louise, the Icefields Parkway connects Banff and Jasper National Parks, and is considered one of the most beautiful drives in the world. Peyto Lake is yet another incredibly beautiful lake, with an awesome viewpoint overlooking the lake that is a short walk from the parking lot (I shot the below photo from there).
Before the Icefields Parkway enters Jasper National Park, you can't miss Cirrus Mountain, one of the most beautiful in the Canadian Rockies. I snapped the cover image of this article of Cirrus Mountain from the side of the highway!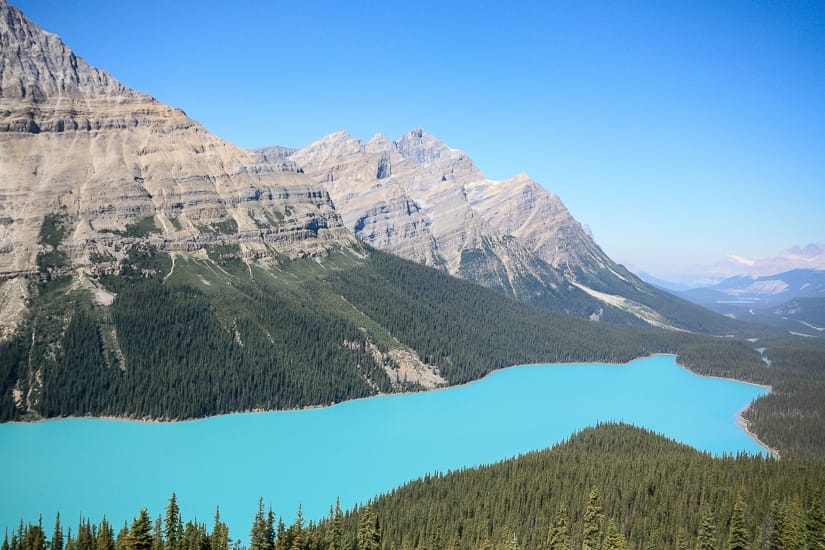 Optional Side Trip: Abraham Lake Ice Bubbles
If you happen to visiting in winter, consider making a side trip from the Icefields Parkway to Abraham Lake. This lake is famous as being one of the best places in the world to witness the natural phenomenon of frozen methane ice bubbles.
For more information on how to have this experience, see my guide to seeing Abraham Lake's ice bubbles in winter.
Also see my guide to visiting nearby Jasper in winter.
Well, I hope you've found all the info you need here for planning an absolutely EPIC three days in Banff National Park. Feel free to comment below if you've got any questions about planning your trip!