Dear reader: This article contains links to products and services that I may be compensated for, at no extra cost to you.
Are you looking to dig a little deeper into Korean Buddhist culture during your travels in South Korea? If so, doing a Beomeosa temple stay in Busan is an experience you won't soon forget.
Recently I took advantage of insanely cheap flight deals (only $200 return!) from Taipei, where I live, to Busan, South Korea's second largest city. The highlight of my trip was staying at Beomeosa temple, the most famous temple in Busan and one of the most well-known temples in South Korea.
Needless to say, Beomeosa makes it onto my list of 10 temples you can't miss in Busan and 50 best things to do in Busan. You can also see how to fit it into your travel plans in my Busan itinerary for 5 days.
Check out my related articles:

-Get off the beaten track in Busan by hiking to Seokbulsa Temple, which features amazing carvings of Buddhas in cliff walls, in the same area as Beomeosa.

-Two other awesome temples in Busan are Samgwangsa, site of the best lantern festival display in Korea, and Haedong Yonggungsa, the temple by the sea!

-Besides staying at Beomeosa Temple, this is my favorite hotel in Busan, and here's my super detailed guide to where to stay in Busan!
I've stayed in Buddhist monasteries several times before, such as my temple at Koyasan, Japan, and another at Foguangshan, the largest Buddhist monastery in Taiwan. However, my Busan temple stay experience was incomparable to the others in many ways.
Instead of merely being a guest and observing, participants in the Beomeosa temple stay get to join in rituals and engage freely with Buddhist monks, getting a real taste of what daily life is like in a Korean Buddhist temple.
Below I'll give my honest review of my Busan temple stay experience and tell you everything you need to know if you're thinking about signing up for the program.
You can find the below deals on Klook. Sign up first with this link to get free credit.

– Arrange a discounted portable WiFi device for pickup at the airport when you arrive.

– Save money by booking your Korea Rail Pass or KTX High Speed Rail ticket online.

– Visit another interesting temple and some of the best Busan attractions on this full-day tour.
South Korea's Temple Stay Program
South Korea is blessed with a fantastic nation-wide Buddhist temple stay program. Over 100 temples across the country offer temple stays, from Jogyesa Temple in the heart of Seoul to remote monasteries in the mountains and even on volcanic Jeju Island.
Around 30 temples offering English temple stay programs are listed on the official Korean temple stay program website. You can also get information or make a booking at the the Templestay Information Center across from Jogyesa Temple in Seoul.
A few temples offering temple stays are not listed on the website, notably Tongdosa, one of the most important temples in South Korea, which is only one subway stop and a 30-minutes bus ride north of Beomeosa.
So if you are looking to do a Busan temple stay but want to get a little further out of town than Beomesa, then have a look at Tongdosa's temple stay program, but be warned that the wake up time at Tongdosa is extremely early!
Related: See this detailed post on the best way to see Jeju island and my detailed guide to Gamcheon Culture Village, another popular sight in Busan!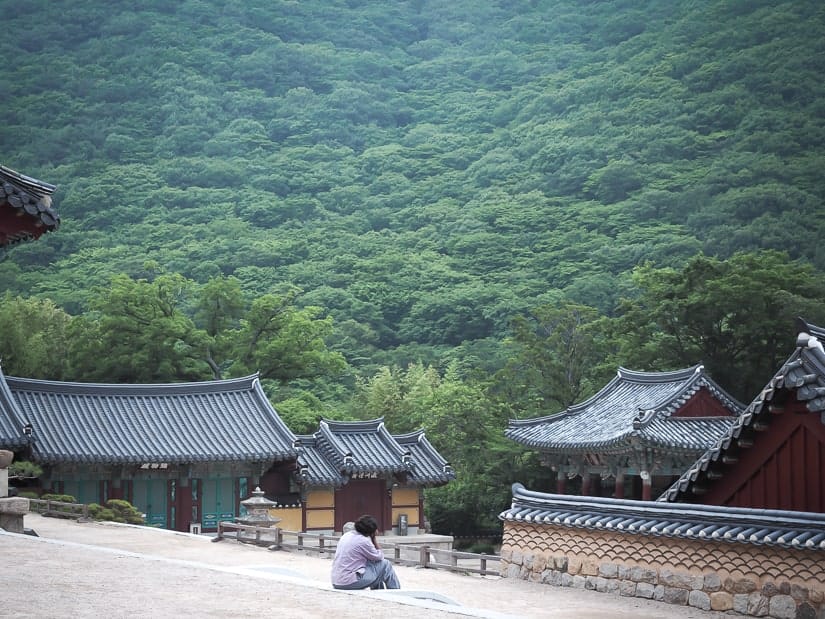 Experiences offered at each temple vary, but generally the main options are a single day, overnight visit with full program of activities, and rest-oriented stay in which one is relatively free to relax and explore the temple grounds.
Typical activities during a temple stay may include learning temple etiquette, cham-seon (meditation) practice, prostrations (which is actually quite physical; you get a real workout!), da-seon (tea ceremony), balwoogongyang or barugongyang (Buddhist vegetarian monastic meals), yebool or yebul (worship or chanting), making crafts, and chatting with monks.
If you do a temple stay at Baekyangsa, which belongs to the same order of Korean Buddhism as Beomeosa, you can even learn to cook with a monk that was featured on the Chef's Table on Netflix!
For overnight temple stay programs, visitors are usually expected to arrive around 2:00 in the afternoon, go to bed around 9:30 PM, and wake up the next morning anywhere from 3:00 to 5:30 A.M. Clothing is usually provided and sleeping is typically on futons in shared, sex-segregated rooms with other guests.
The Temple Stay Program at Beomeosa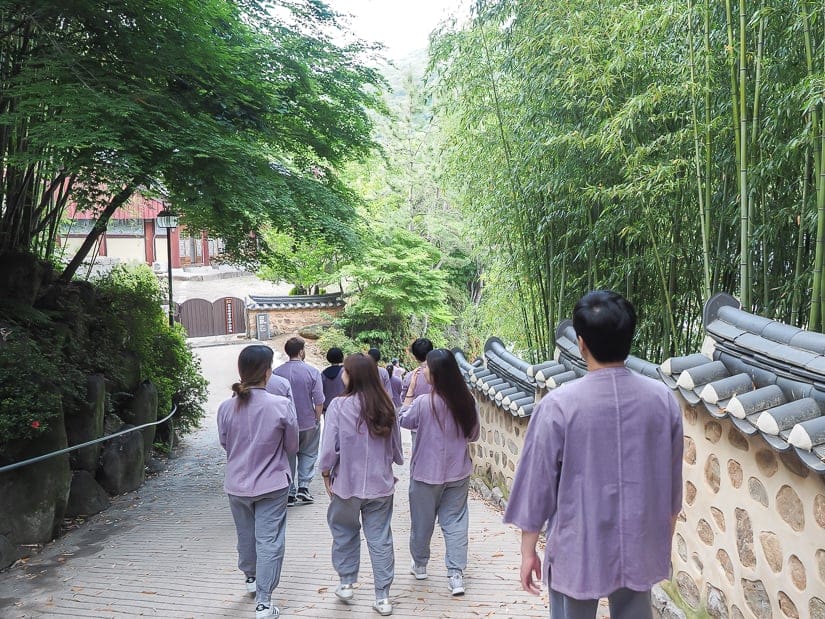 Korean Buddhism, also called Seon Buddhism, is similar to Chan Buddhism in China and Zen Buddhism in Japan. Beomeosa is the head temple of the Jogye Order (the most common one) of Korean Buddhism in Busan.
Beomeosa is the most famous Korean Buddhist temple in Busan and the only one offering a temple stay program. So if you are looking for a Busan temple stay experience, this is it!
Located within the Busan city limits, Beomeosa is easy to get to but far enough up on the slopes of Mount Geumjeong (Geumjeongsan) that it feels remote and is surrounded by natural beauty with exquisite views.
There are two programs offered at Beomeosa. The Relax & Relax program (50,000KRW or $40) offers a more flexible schedule and later wake-up time. The most popular and signature program is the Geumeo program (70,000KRW or $60), which is the one I participated in.
Personally, I'd recommend the Geumeo program because you get the full experience, and my favorite part, talking with the monks, is not included in the "relax" program.
How to Book a Temple Stay at Beomeosa
You can easily follow the links above to book your temple stay at Beomeosa. The temple stays only take place on Saturday nights, and you will notice that only certain Saturdays are available. The program is not available when there are other temple activities taking place.
For example, I originally thought about joining the program during the Buddha's Birthday, which is a huge national event in Korea, but the program was not available for any of the weekends around the event.
The available dates are only released two months in advance. Therefore, if you only have a short time in Busan and really want to do a temple stay at Beomeosa, you should consider waiting to book your flight until you secure your temple stay reservation.
If that's not possible, you can always send them an email at [email protected] to see if they know what the schedule will be like in upcoming months. I also emailed them when I noticed that the weekend I wanted didn't seem to be available two months in advance, and after my email they updated the website and it was in fact available.
After you make a reservation, you'll receive an email with very specific instructions on how to get there and other things to know. Payment is in cash when you arrive, or by bank transfer if you happen to be living in Korea already and have a local bank account.
Related: Check out my guide Taejongdae Resort Park in southern Busan!
Getting to Beomeosa
Beomeosa subway station is the second-northernmost stop (stop #133) on Line 1, the orange line. Budget 30 minutes to get to Beomeosa station from Seomyeon station, 45 from Nampo, and just under an hour from Haeundae.
From Beomeosa station, the fastest way to the temple is by taxi from exit 5 or 7. It takes about 10 minutes and costs approximately 5000 won. This is how I arrived because I didn't want to be late.
The second fastest way is to walk up the street between exits 5 and 7 (you can also find several restaurants on this street) and you'll find the clearly marked bus stop for bus #90 to Beomeosa. The bus takes 15-20 minutes and you can swipe your metro card.
The slowest way is to walk uphill from the subway to the temple. I actually walked down from the temple back to the subway the next day, and it was a lovely stroll through the forest along a stream, with a boardwalk along the road for about half the way. I was also able to stop at Jijangam Hermitage, a little temple with a cool cave shrine that felt like a sauna from the warmth of so many candles inside, about halfway down from Beomeosa.
The walk down took me 50 minutes, so you'll probably need a full hour to reach the temple entrance if going up.
Related: 15 Jaw-Dropping Temples in Chiang Mai and 30 Jaw-Dropping Temples in Taipei.
Arriving at the Temple Stay
You should budget an additional 15 minutes for walking from the bus stop and Beomeosa temple entrance to the actual temple stay building.
About five minutes walk up from the bus stop, you'll reach a path that leads uphill to the first of four entrance gates to the main temple area of Beomeosa. Before even reaching the first entrance gate, you'll see a road going to the left and a sign pointing to 'Temple Stay' among other things.
You can take this road, or I'd recommend going up even further, as there is a second and prettier cobblestone path between the first and second entrance gates, which also has a sign and leads to the left to the temple stay building.
If you take a taxi like I did, the taxi driver may take you up further to one of the higher parking lots. This is what happened to me and I was very confused when I arrived, because there were no signs from the parking lot.
If this happens to you, just continue walking uphill towards all the temples, and you will eventually reach the temple stay building, which is located above and to the far left of the main temple area.
When I first arrived at the temple stay building, several other participants were checking in. I was greeted by Jeong-yun, a female Korean volunteer program coordinator and interpreter throughout our stay. Jeong-yun gave me a pair of comfortable pants and shirt to change into.
The uniform was warm enough for me, even in the early morning chill the next day, but some participants wore jackets (visiting in June), so in colder seasons you'll definitely want more layers to wear under or above the uniform provided. It's noticeably cooler up there than in the Busan city center.
Next I was asked to pay and fill out a form and survey that was several pages long. While we waited for all the participants to arrive, Jeong-yun gave us canvas bags and color markers for us to draw on them.
Not being much of an artist, I decided instead to sit out on the veranda with some other participants and admire the extraordinary view in front of us of temple rooftops, a mesmerizingly beautiful tree, and the valley descending in the background.
Welcome Talk
To begin the temple stay, we all sat on cushions in the temple stay building and took turns to introduce ourselves. Our group of about 30 was half Korean and half international participants, from countries including the US, Sweden, Singapore, England, and myself from Canada.
The Korean side was a varied bunch as well, with married couples, Catholics, a nurse, interior designer, construction worker, PE teacher, business owner, and more.
Our talk was led by Jang-san Sunim, a novice Korean monk in his final year of training before being officially ordained ("Sunim" is a titled used for monks). Jang-san Sunim spoke in Korean while Jeong-yun interpreted and we listened on Bluetooth earbuds.
When Jang-san Sunim introduced himself, he revealed that he had in fact lived in the US for most of his life and admitted that he was more comfortable speaking in English and with the foreign visitors, although he continue to speak only in Korean at this point.
Jang-san Sunim went on to introduce the basics of Korean Buddhist culture and temple etiquette. This included how to sit in the half lotus, the preferred pose among Korean monks.
I was pleased to find that the talk was both practical yet informative. There was very little on Buddhist dogma or esoteric philosophy. We weren't inundated with Buddhist jargon or lists of principles to follow.
And most importantly, Jang-san Sunim emphasized that people of all beliefs were welcome, and none of the following activities were mandatory. Participants were free to sit out meditations or prostrations if they found it physically uncomfortable or didn't want to for ideological reasons.
Beomeosa Temple Tour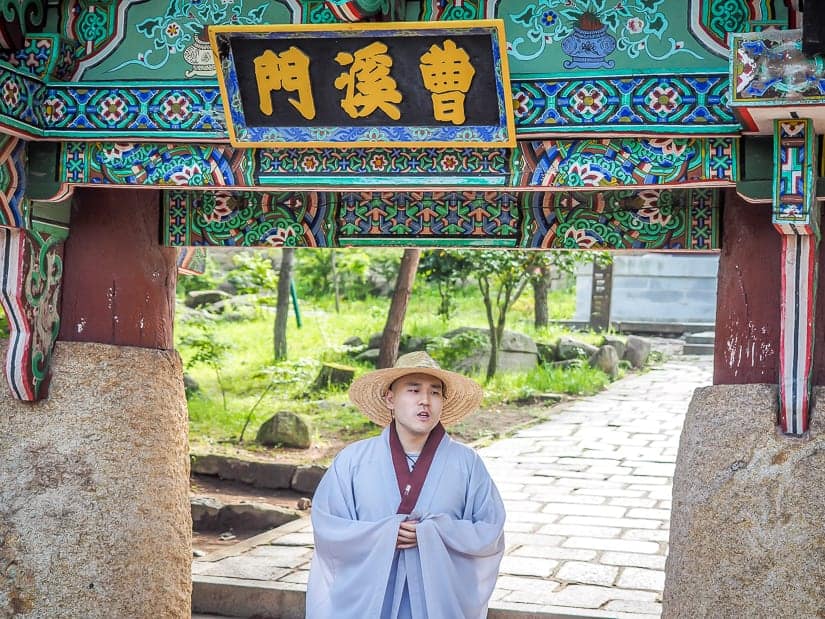 After a little free time, we embarked on a temple tour led by Jang-san Sunim and again interpreted in English by Jeong-yun. The tour began at the bottom of the temple, where we first looked at a pillar engraved with the characters 下馬 or "dismount horse", which in the past indicated to guests arriving by horse to do so.
We continued up through the temple's four entrance gates: the first uniquely held up by four stone pillars, the second containing four fierce temple guardians, the third representing the Buddhist concept of non-duality, and the final one holding up an entire building above it.
This brought us into the temple's main courtyard, from where we further ascended a flight of stairs to Daeungjeon, the main temple hall, which Jang-san Sunim referred to as the Dharma Hall.
Jang-san Sunim pointed out that despite being the main hall, two buildings to its left and right are in fact more popular: to the left, a small building behind an enormous engraved stone harks back to pre-Buddhist times. Devoted to the mountain god, it is the only place at Beomeosa where devotees are permitted to place alcohol as an offering on the altar.
To the right of the main shrine, Gwaneumjeon Hall is Beomeosa's most popular temple, as it is where Avalokitesvara, the Bodhisattva of Compassion, answers people's wishes.
Temple Stay Dinner
At 5:00 it was time for our barugongyang, or vegetarian monastic meal. Probably more so than any other part of the temple stay, this was when some of us faced a bit of culture shock.
In the eating hall, we participants sat is a circle and for the first time met Hyeon-yeo Sunim, the monk in charge of the temple stay program. I was immediately entranced by Hyeon-yeo Sunim's presence. Each of his movements, from the way he sat to the manner in which he looked around the room into each of our eyes, was streamlined, as if practiced countless times. While most of us shifted awkwardly on our floor cushions, he seemed to fit onto his like a puzzle piece. His face was serious but his eyes radiated joy.
Hyeon-yeo Sunim went on to discuss food customs in Buddhist and Korean Buddhist culture before showing us how to unravel the elaborate bundle of eating utensils before each of us. He informed us we would eat in "strict silence."
The food came around on a circular platter on wheels. Rice went into one bowl, soup in another, side dishes in another, and chopsticks into yet another filled with rinsing water. Before the silence began, we were mysteriously advised to leave one slice of danmuji (yellow pickled radish) uneaten.
One by one guests finished their meals and waited in silence for the others to finish. Towards the end, only one young American woman remained; she had accidentally taken way too much food, and the embarrassment gave her a serious case of the giggles. For minutes she tried unsuccessfully to resist it. I could sense others around me looking down to avoid contracting the contagious snickering.
I looked up to see the monk's reaction. Jeong-yun, who sat beside him waiting to interpret, looked less than pleased. Hyeon-yeo Sunim, on the other hand, was smiling from ear to ear. It was clear that he was enjoying every second of the girl's cultural faux-pas. This was when I really started to like Hyeon-yeo Sunim.
Next, Hyeon-yeo Sunim led us in receiving a serving of tea to be used for rinsing each of the eating bowls into the next and ingesting the end result. That yellow radish we'd been instructed save would now be pushed around with our chopsticks to clean out each bowl and finally eaten; not a single morsel of food is wasted. These instructions led to outright explosions of laughter from several participants, perhaps the build-up of concealed laughter finally being released.
Last, we used the water from our rinsing bowl to scrub each of the eating bowls with our fingers (no, we didn't have to drink that water…) before taking them to a dishwashing room to wash them properly with dish soap.
Evening Musical Performance
After another break we met in the temple's main courtyard to observe a drumming performance. A handful of monks stood on the drum tower and went right into it. The monks beat an oversized leather drum wildly, transitioning from solo to duo thrashings. This was definitely one of the highlights of the temple stay for me!
108 Prostrations
Earlier in the welcome talk, Jang-san Sunim had taught us how to do Korean Buddhist prostrations, a kind of elaborate (for first-timers at least) series of movements for bowing to the Buddha. Now it was time to put our knowledge to practice…108 times that is.
Jang-san Sunim used English for the first time at this point and with the fluency of a native English speaker. He explained precisely why the number 108 is used.
I really liked how Jang-san Sunim always explained WHY things were done a certain way, rather than simply HOW they were done. He also reminded us that we were free to skip bows if necessary in the serious physical workout we were about to endure.
I was already sweating 30 bows in, and once we passed 50 I was grateful for Jang-san's go-ahead to skip the occasional bow. I can see now how Korean monks keep in shape after sitting and meditating for so long every day!
Interestingly, Jang-san Sunim would later confess to us that he disliked the many rituals associated with Buddhism in Korea, and the Buddha himself had stated he never wanted his followers to "worship" him. Jang-san Sunim felt the Buddhism of the future should do away with most rituals and be simplified to its core philosophy.
I would wholeheartedly agree with this, although it is the rituals that makes each country's expression of Buddhism distinctive, and oftentimes, beautiful.
108 Beads Bracelet Making
The last (and far more relaxing) activity before bed was making our own bracelets, which could also be used as necklaces. While we carefully placed each of the 108 beads on the string, Jang-san Sunim invited us to ask him ANY question, except about his age.
Predictably, the questions centered on why he had become a monk, reactions from his family, life in general as a monk, and so on, but his answers were also very interesting. Personally I was curious to know about how the rise of smartphones has impacted the lives of monks, as I had already noted several monks using smartphones while visiting various temples in Korea.
His reply was that smartphones are not only permitted but required, as monks have many daily duties and need to be reachable. Moreover, there are no specific restrictions against using social media. On a similar note, Korean monks are paid a small monthly wage, which Jang-san Sunim pointed out they need for daily necessities, insurance, their phones, and so on.
Finally, 9:30 rolled around and it was time for a hot shower and bed. The lights were out quickly but a good sleep I did not have. I have trouble sleeping on a regular night in my own bed, let alone trying to fall asleep several hours earlier than usual, in a room with half a dozen other guys, on a hard floor with a thin mattress.
But sleep did eventually come, only to be abruptly interrupted at 5 AM with the fluorescent lights being switched on by Jeong-yun. Don't worry about setting your alarm!
Morning Yebul (Meditation)
Hyeon-yeo Sunim, the happy monk, started the yebul ceremony by leading us to do three more prostrations, a flashback of the physical endurance test from the night before. Next he talked to us about Buddhist meditation in general, and the similarities and differences between meditation techniques in different countries.
Korean Seon Buddhism, like Chan and Zen, is differentiated by the use of hwadu (which most Western people know as kōan, from Japanese Zen Buddhism). These are a kind of unanswerable question posed by master to students that is a point for reflection during meditation, like "If a tree falls in the forest…"
The hwadu presented to us by Hyeon-yeo Sunim was "Who was I before I was born from my mother and father?"
We meditated on this for about 20 minutes, and suffice to say that I found it difficult, either to think much about that question without my mind trailing off or to sit in the same position without getting sore and shifting.
After the meditation, Hyeon-yeo Sunim assured us that this physical discomfort and lack of control over the mind is very normal for the inexperienced. Typically, once monks overcome this and become more comfortable with the pose, the second challenge to tackle is not falling asleep.
Breakfast and Hiking
After the meditation, we enjoyed a far more casual breakfast than the previous evening's dinner, again in the company of Hyeon-yeo Sunim, but this time at Western tables and with talking allowed.
As can be expected in Korea, there was little difference between the food served at dinner and breakfast, which I first learned many years ago when I visited Korea to teach an English winter camp in a suburb of Seoul.
Next we went "hiking" to one of the 11 hermitages, or small temples, located in the hills surrounding Beomeosa. I put hiking in quotations because it was nothing more than a five-minute stroll up a vehicle road and short path to reach Cheongnyeonam or "Blue Lotus" Hermitage.
Jang-san Sunim led the brief tour, and explained how this hermitage was once the headquarters of Sunmudo, a form of Korean martial arts invented by one of the past heads of Beomeosa. Images of monks doing Sunmudo moves decorated exterior panels of the one of the buildings.
According to Jang-san Sunim, a lot of Korean monks practiced some kind of sports or martial arts before becoming monks. The training and endurance skills developed in these are similar in some ways to those required for monastic training. Jang-san Sunim himself was into martial arts before entering monkhood.
Up a flight of stairs, the hermitage is dominated by a large golden Buddha surrounded by multiple statues. A lot of animal imagery and statues can be seen, elements of indigenous Korean religion. Whether you are doing a temple stay at Beomeosa or just visiting on your own, I would highly recommend visiting Cheongnyeonam Hermitage!
Tea with the Monk and Final Goodbye
Our final activity was tea and sweet snack while chatting with Hyeon-yeo Sunim. As a tea lover (see my many articles on tea), I couldn't resist several refills of the Korean yellow tea served.
While the questions posed earlier to Jang-san had revolved around him and the practicalities of monkhood, the final discussion with Hyeon-yeo Sunim was more philosophical, and many of us, myself included, reached out to him for personal advice on matters related to our lives.
I was very satisfied with the response I received from Hyeon-yeo Sunim. He really took them time to address my question thoroughly and his advice was very practical.
Final Thoughts on My Beomeosa Temple Stay
Doing a temple stay in Busan was truly the highlight of my three trips to South Korea thus far. My favorite parts were the natural surroundings and being able to experience the temple after all the tourists were gone.
I also loved the chance to chat freely and on a personal level with the monks, and the fact that one of them was American-Korean really gave us an insider's perspective explained very honestly and directly in terms that Western people can easily understand and identify with.
If you are planning to do a temple stay at Beomeosa or anywhere in Korea, I would say that you shouldn't expect a "relaxing" experience like you might enjoy at a yoga or meditation retreat.
Rather, come for authentic cultural immersion, and to gain something deeper than what you will at the usual sights or by visiting Korean temples on your own. Last but not least, expect to learn some things about yourself, if you are willing to listen, open yourself to the experience, and simply ask.
I never travel without a guidebook! I recommend these: