Dear reader: This article contains links to products and services that I may be compensated for, at no extra cost to you.
Istanbul is without a doubt one of the great cities of the world. It is ancient Byzantium & Constantinople, the largest city in Europe, home of the Aya Sofya (Hagia Sophia), and the only metropolis in the world to straddle two continents.
But what does this all mean to a 4 and 5 year old? Not much, really, but visiting Istanbul with kids was eyeopening, for both us and are little ones. I had personally been to Turkey twice before on my own, riding sleeper trains around Turkey and exploring different parts of the country, but visiting Istanbul with children was a different experience altogether.
It was really interesting for us and our kids to compare Istanbul to our family trip to Oman just before it, and Amalfi Coast just after it.
If you're reading this, chances are that you are a parent, and you know that when traveling with kids, you notice completely different things about a place, often because your kids do. For Istanbul, three things in particular stood out for our family: the sheer number of cats in the city, the kindness complete strangers in this city showed toward our kids throughout our trip, and all the fun ways to get around the city. I'll elaborate on all these points below.
There is a plethora of child-friendly things to do in Istanbul, such as theme parks, aquariums, and so on. There are also some excellent family-friendly resorts in Turkey. But for this particular trip, there was so much that we as parents wanted to see in Istanbul that we did very few "kid-specific" things in Istanbul.
Therefore, our 3 day Istanbul itinerary with kids outlined below covers the main sights that we wanted to see, with the addition of one family-friendly museum that I chose after careful consideration. For those who do want to visit child-specific attractions in Istanbul, I'll list them in a section at the end of the article.
For any foodie parents out there, check out this foodie-focused 3-day Istanbul itinerary, and for a longer trip, here's a recommended 2-week Turkey itinerary.
Istanbul Family Trip Essentials
– Like most places in the world, we recommend visiting in the shoulder season. That way you avoid the summer heat, crowds, and waiting in long lines with kids. We visited in early October and the weather was great (it did get a little cool when it rained)
– If you prefer to cover the main sights on a tour, this one includes the city's top attractions in an easy to handle half day Istanbul tour.
– To find cheap flight deals to Istanbul, we recommend using this great flight booking website.
– For more information on visiting Istanbul for families, see this article on things to know when traveling to Turkey.
Where to Stay in Istanbul with Kids
We strongly recommend staying in Sultanahmet, the center of Old Istanbul on the European side. Most of the sights you'll want to visit are there, and being able to walk directly from your hotel and back quickly will save lots of energy for those little legs.
Since we stayed in Istanbul as a part of a 10-week European trip with some more expensive countries down the road, we decided to make our stay in Istanbul a low budget one. We stayed in an Airbnb, but we don't recommend it.
One mid-range hotel that we seriously considered when planning our trip and now wished we had stayed in was Seven Hills Hotel (see on Booking / Agoda / TripAdivosr), which also has a famous rooftop restaurant overlooking the Aya Sofya. The rooms and hotel look gorgeous and it is highly rated, so that's where we'd stay if we went back again!
Getting Around Istanbul with Kids
Both of Istanbul's major airports are quite a ways from the city center. We arrived at Sabiha Gokcen (SAW) airport on the Asian side. We decided to take a taxi to our hotel, and it was quite expensive (300 TL, including all the tolls). It also took quite a long time, especially once we crossed the tunnel from the Asian to European side and had to navigate the small streets to get to our hotel.
On the way back to the airport, we took this route from Sultanahmet, which we would recommend: T1 tram line a few stops to Eminonu station (best done not during rush hour if you've got luggage), ferry from Eminonu to Katikoy on the Asian side (25 minutes, leaves every 20 minutes or so), then the Havabus airport shuttle (1 hour, see times here).
Unfortunately there is not direct shuttle from this airport to Sultanahmet, but there are shuttles to Taksim Square, another popular area, north of Sultanahmet across the Golden Horn.
If you are flying into the new Istanbul Airport (İstanbul Havalimanı), here's a detailed guide for getting to the city.
To avoid the hassle, here's a highly rated private airport transfer service from the city center to or from either of the main Istanbul airports.
Getting around Istanbul was actually one of kids' favorite parts of the city. During our trip, we took trams, buses, an underground funicular, and ferries. There are also a subway system and cable cars. We found that GoogleMaps worked extremely well for getting from point A to point B. We often didn't plan how to get to each stop beforehand; we would just use GoogleMaps when it was time to go, and it worked like a charm!
Definitely you'll want to pick up a Istanbulkart, which are available from newsstands everywhere or from machines at train stations or ferry terminals. You can use these cards on all forms of transportation, including the airport shuttle, and they give you a 40% discount.
One person can swipe for up to five people (but only the first person gets a discount), so you only need one for your whole family, and under 6 are free! This saves you the deposit from several cards; just remember that at the end of your trip, you can't get what's left on it back. Here's a detailed guide to using the Istanbulkart.
Practically speaking, we had to come up with a system for entering tram stops. Usually I would swipe in, and then hand the card back to Emily. One kid would squeeze through the turnstile with each of us, or sometimes they could go through a gate on the side. For buses, we just had to swipe twice, pausing for a few seconds in between.
Read about our travels in Austria, Croatia, Italy and Hungary with kids!
The Cats and Kind People of Istanbul
I mentioned above that the number of cats and the kindness of the locals were two things that stood out for us in Istanbul.
Starting with the cats, they were EVERYWHERE! I've never been to a city with so many cats before in my life (although Kotor and Perast in Montenegro were pretty close!)
And since our kids are cat lovers (we had recently shipped our own cat across the world ahead of us, as we were in the midst of moving from Taiwan to Canada), they couldn't get enough of the cats. We even bought them special cat teasers to play with the cats so they wouldn't use sticks they found on the street.
Countless businesses in Istanbul have resident cats or place feeders and even cathouses out on the street for strays. Many small parks that we saw also had multiple cathouses for the street cats, and it seemed like there were always piles of cat food and scraps left out by locals.
Overall we got the impression that while the city has a serious cat problem, most locals seem to love and help out taking care of them.
Regarding the people, we had just come from Oman, where the people were exceptionally welcoming to us and our kids. But Turkey was a whole new level!
It all started on our budget flight from Oman to Istanbul. Our flight was full of families, and we noticed that people just let their kids play and run up and down the aisle. Nobody seemed to mind, and random strangers would just pick up other people's kids and hold them for a while or play with them. A male flight attendant did the same with ours.
Visiting Istanbul, we quickly noticed that our kids got A LOT of positive attention, especially from men (young and old). This ranged from hellos and questions, to patting their head, caressing their face, picking them up, hugging them, and even kissing them. It happened constantly everywhere we went.
We really had to reevaluate our boundaries in terms of strangers touching our kids. For some parents, this would surely be too much, but for us we could tell that this kind of behavior is completely normal in Turkey and everyone meant well by it.
We also realize that this kind of extra attention (and even occasional touching) for not sit right with certain travelers, not only those with kids. For example, this writer found she received a lot of extra attention as a brown female solo traveling in Istanbul, some positive, and some negative. It's just something to be aware of an expect, no matter what kind of traveler you are.
Just to site a few examples, one time our kids were walking around in a restaurant and being a little noisy. We thought they might be bothering a man working on his laptop. When he looked down at them, his face suddenly lit up and he started rubbing their cheeks.
Another time, we were standing on a crowded bus, and one middle aged woman seemed annoyed that we were squished up beside her. Then she suddenly picked up Lavender, plunked her onto her lap, and held her for the duration of the ride so she wouldn't have to stand.
This is something that parents must be aware of when traveling to Turkey with kids, and for some it could be an issue, but for us it was really heartwarming, and as parents visiting Istanbul, it was the one thing that stood out the most about our trip.
Our Istanbul Itinerary with Kids
Because our kids only have the patience for 1 or 2 historical sights per day, we decided to split up the major sights we wanted to see and only cover a few of them per day, leaving our afternoons free for some down time.
This is how we planned our three days in Istanbul with kids:
Day 1 (Sunday): Galata Tower + Rahmi M. Koc Museum
Day 2 (Monday): Blue Mosque, Theodosius Cistern, Spice Market
Day 3 (Tuesday): Hagia Sophia + Asian side of Istanbul
The reason we chose this order of sights was intentional. We wanted to visit Rahmi M. Koc Museum on the weekend, when more of its activities are running. The Hagia Sophia is closed on Mondays, so we saved it for Tuesday.
There are a few major (and several minor) attractions that we didn't visit, notably:
– The Grand Bazaar: We chose to visit the Spice Market instead. I've been to the Grand Bazaar before on my own. It's super touristy, and ridiculously large. The Spice Bazaar is also touristy, but not quite as bad. It's a far more manageable size for kids.
– Topkapi Palace: Again, I've been there before on my own, and beautiful as it is, I don't think my kids would appreciate it at their age, and it take a long time (and a lot of walking) to visit.
– Basilica Cistern: We chose the smaller, lesser known, less touristy (and free!) Theodosius Cistern instead.
For a list of kid-friendly attractions in Istanbul such as amusement parks that we also didn't visit, see the end of the article.
If you're looking for a 1, 2, or 3-day private small group tour of Istanbul, this one is the highest rated on Viator.
Day 1: Galata Tower and Rahmi M. Koc Museum with Kids
As excited as we all were to explore the bustling streets and famous attractions around our Airbnb in Sultanahmet, we devoted our first day to Beyoğlu, the district north of the Golden Horn from Sultanahmet on the European side of Istanbul.
The reason for this was logistical; our first day was a Sunday, and I had read that Rahmi M. Koc Museum was best to visit on weekends, when more local families visit the museum and there are more children's activities going on. Similarly, the famous pedestrian street Istiklal Caddesi is at its liveliest on weekends. In the end, I don't think it mattered much, and we could have enjoyed these on any day of the week.
From Sultanahmet, we caught the T1 tram four stops to Karakoy, the first stop just after crossing the highly scenic Galata Bridge pictured above. From there, we faced the dilemma of walking 10 minutes uphill to Galata Tower, or taking the historic underground Tünel funicular up, and then walking down 10 minutes to Galata.
Of course we went with the latter option. The 573-meter, 2 stop funicular runs from Karakoy to Beyoğlu, near the start of Istiklal Caddesi. Constructed in 1875, it is the second oldest underground urban railway line in the world, after that of London.
For the kids, any new kind of transportation is always fun, especially when it goes uphill. At the top, we spotted the famous Nostalgic Tram which runs the entire length of Istiklal Caddesi, from where we stood and going uphill all the way to Taksim Square, of the most significant squares in Istanbul. Although we never actually rode on the tram, it was fun to at least see it.
Instead, we wandered through the atmospheric lanes (and spotted lots of cats) heading downhill to Galata Tower, a medieval cylindrical lookout tower made of stone.
The tower is an iconic structure in Istanbul that can be seen from all over the city. I figured it would be a cool place to take the kids because it is so easily spotted; before going, I could point it out to the kids and them we were going there, and after we went, I could say, "See the tower again? We went there!"
Arriving at the square in front of the tower, we spent more time watching cats before actually going in. The entrance fee is 25TL (kids under 7 free).
It is recommended to get there as early as possible (opening times are 9 a.m. to 7 p.m.). We were there shortly after nine, and while there wasn't much of a line to get in, the narrow, circular viewing platform was already completely full of people, and by the time we left, the line to get in to the tower was already quite long.
An elevator goes up to the 7th floor, after which you must walk up a spiral staircase to the 9th floor. There are restaurants on the 8th and 9th floors. The kids probably enjoyed the staircase more than the incredible 360-degree Istanbul view; what young kids really care about a city view?
Also, amazingly, they somehow managed to spot a cat on the roof of one building far below.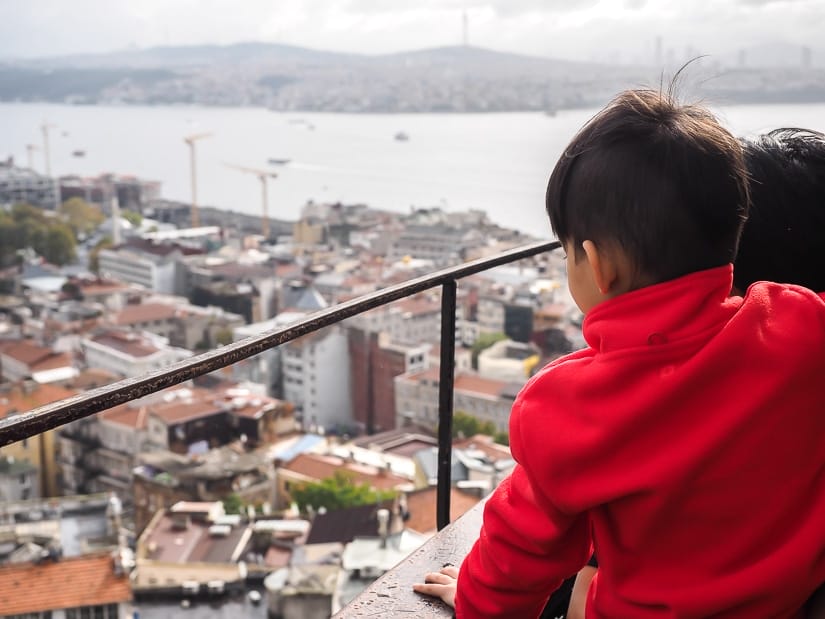 After visiting the tower, we decided to scratch our plan to walk (or take the nostalgic train) up Istiklal Caddesi. The famous pedestrian street winds its way 1.4 kilometers uphill and is visited by 3 million people per day on weekends. It is lined with cafés, restaurants, and hip boutiques. I actually stayed on the street on a previous visit to Istanbul, and wanted my wife to see it. She didn't seem to care much though, and it would have been a tiring (and boring) walk for the kids, so we didn't bother.
Instead, we made a beeline for our main stop of the day, the Rahmi M. Koc Museum (official site here). As I mentioned above, there are actually many kid-oriented attractions and amusement parks in Istanbul, but this is the only one that stood out to us as really special or unique, and all reviews seemed to praise it.
Rahmi M. Koc is a Turkish billionaire who has a love for all things transportation. The museum houses his private collection of antique cars, airplanes, buses, trains, boats, engines, appliances, and even a tank and submarine.
We aren't usually much of a museum family, and I've never personally cared much about cars, but I must say that this museum truly lived up to the hype. The museum was very interactive, allowing kids to push buttons and turn wheels, enter various vehicles, and much more.
The collection of antique cars was incredible, including some really cute miniature cars, a mint condition antique Rolls-Royce, and a wartime medical truck.
We were all bewildered by the sheer size of the ship anchors outside, and my son desperately wanted to enter the real submarine docked on the river, but unfortunately only children six and above are allowed (I have no idea why).
There was also an impressive collection of trains and street cars, a double decker bus, a merry-go-round and small playground, and our ticket included a ride on an old train. We spent a couple hours at the museum and didn't even cover it all!
Next, we had lunch in a café then caught a bus in front of the museum back to Karakoy. We could have hopped on the T1 tram back to our hotel, but I really wanted to walk across Galata Bridge first. And before doing that, we had to stop and spend some time in yet another square & park that was full of cats.
Walking across Galata Bridge is one of my fondest memories from my first visit to Istanbul many years ago. Not only is the view incredible (both sides of the Golden Horn are visible, as well as the Asian side of Istanbul), but the harbor is always lined with fishermen casting their lines into the sea.
The bridge has two levels; the cars and fishermen are on the upper level, while the lower level is lined with restaurants offering fresh seafood and fine river views. We didn't partake, but just walking along them was enough to get a taste of the experience.
Arriving back on the Sultanahemet side, all of us were totally exhausted and ready to call it a day. We hopped on the tram at Eminonu (the same place where ferries depart for Karakoy and the Asian side of Istanbul) for the final three stops back home.
Day 2: Blue Mosque, Cistern, Spice Bazaar with Kids
For day 2 and most of day 3, we did what most people would probably do on their first day: cover the main sights of Sultanahmet.
Up super early with our kids as usual, we arrived at the Blue Mosque (also known as Sultanahmet Mosque or Sultanahemet Camii) well before the first public opening time of the day, 8:30 a.m. to noon. The Mosque was also open to visitors from 13:45 to 15:45 and 16:45 to 18:45 at the time of our visit.
The mosque is free to visit. Women should cover their shoulders and head with a scarf, and men and women should refrain from wearing short shorts of tank tops.
Note that the opening times vary throughout the year, and they were different during our visit that what is posted on the mosque's official website. The current opening times are always posted on a sign at the mosque's entrance.
I had been to the Blue Mosque before, and I remember being completely in awe at its breathtaking interior. The mosque gets its nickname from the large number of blue tiles on the interior. On the outside, it is surely beautiful but doesn't look much different than the other main mosques in the city. Except at night, when its five main domes, six minarets and eight secondary domes are lit up with blue lights!
On this visit, I must admit complete disappointment that part of the exterior, and almost the entire interior was under renovation and totally covered. Of course this is something that must be done, but by the end of our Istanbul trip, my wife and I were laughing at how just about every historic building we saw or visited was under major renovation.
Since there wasn't much to see, we didn't spend much time inside, but I was still able to capture a few decent photos. My advice to visitors would be to check out recent reviews on Tripadvisor before your visit and decide whether its still worth visiting.
Blue Mosque is the most famous one, especially since it is so close to the Hagia Sophia, but there are many other incredible mosques you could visit in Istanbul, including Suleymaniye Mosque, Yeni Cami (New Mosque), Beyazit Mosque, Rüstem Paşa Camii (totally closed at the time of our visit), and more.
Before and after visiting the Blue Mosque, we naturally visited Sultanahmet Square as well (because we had to walk across it to get to the Blue Mosque). This is the location of the original Hippodrome of Constantinople.
The expansive square includes a handful of historic attractions, including two obelisks, lots of cats for kids to play with and pigeons to chase around, and breathtaking views of Blue Mosque at one end and Hagia Sophia at the other.
Since it was still quite early, our kids hopped enthusiastically over to Theodosius Cistern, which we hadn't realized until then was surprisingly close to our Airbnb, and practically next door to where we'd eaten the night before.
Theodosius (Şerefiye) Cistern (10 a.m. to 7 p.m., free) is one of three major Roman-era cisterns, or underground water storage areas, in the Sultanahemet area. Basilica Cistern is the largest and most famous one (20 TL, under 8 free, 9am to 5:30, 6:30 in summer), while 1001 Direk Cistern (Cistern of Philoxenos) seems to get the poorest reviews of the three.
I had been to Basilica Cistern before, and we are always keen to try less touristy (and free!) options. Theodosius Cistern proved to be a fantastic alternative! It is every bit as spooky and impressive, for kids and adults alike, and elegant statues and artworks add extra appeal. Access is by stairs or elevator, and it only takes a few minutes to visit. For most of our visit, we were the only ones in there!
With still plenty of time before lunch, we hopped on the tram again to Eminonu, from where it is a short walk to the Spice Bazaar. Just like Theodosius is a great alternative to Basilica Cistern, the Spice Market is, in my opinion, better than the much larger Grand Bazaar.
I've been to the Grand Bazaar before, and while is older, much larger, and considered to be one of the first shopping malls in the world, it is also a massive tourist magnet. In fact, in 2014, it was listed as the world's most popular attraction by tourist numbers.
The comparatively much smaller Spice Market also has a long history, with connections to the adjacent New Mosque. While the market once sold only spices, today its 85 official shops (it seemed like more to us…) also include Turkish delight and other photogenic desserts, tea, hanging lanterns, dried fruits, soaps & perfumes, ceramics, and more.
I must say that as someone who usually doesn't give a hoot about shopping while traveling, I was very tempted to agree with Emily's suggestion that we go on a shopping spree and mail a huge package home. The products on display were all so tempting, not to mention beautifully displayed, and there were very few typical tourist trinkets or souvenirs. There's no denying that the market has become tourist oriented today, but certainly it has a more authentic and tasteful feel overall than the Grand Bazaar.
How did the kids like it? Well, they weren't complaining about all the free candies and treat samples being handed to them by all the vendors!
There's one more thing that you can't miss if visiting the Istanbul Spice Market with kids: the animals section just to the east of the main market building (Google "Akin Pet Center" to find it).
Basically it's a large pet store in outdoor market form, with various shops selling birds, swimming creatures, cats & bunnies, bloodsuckers (therapeutic purposes supposedly?) and more. This is where we picked up a few feather cat teasers for the kids, which they carried around for the rest of our Istanbul trip to annoy street cats with.
There are also a few old men selling pigeon food in the square at the front of the Spice market, and they didn't even seem to mind when our kids chased all the pigeons away (we did buy some food for them first…)
It makes sense to visit New Mosque (Yeni Cami) while you are here, and Rüstem Paşa Camii is also nearby.
For lunch, we walked about 15 minutes to a restaurant that had been recommended to me by a local Turkish person, Old Ottoman Café, which is only a few minutes' walk from Topkapi Palace and Hagia Sophia.
The restaurant is nicely tucked away in a small alley, and while it didn't stray too far from the menus we'd seen in all the tourist restaurants, everything we had was really good.
This photo-worthy specialty is the clay pot dishes, which they bring to the table sealed on a flaming bed of coals, then tap in the right spots to crack open and pour onto a plate. We tried a vegetarian one and the flavor was incredible.
After lunch, we walked back to our hotel for a prolonged siesta and called it a day.
Day 3: Hagia Sophia and Asian Istanbul with Kids
Whether you visit Istanbul with children or without, the Hagia Sophia, or Aya Sofya, is the one place you can't miss. The church turned mosque turned museum is one of the most impressive and well-known architectural wonders of the world. Even our kids, who normally couldn't care less about buildings (unless, say, they have a picture of a dinosaur on them or something…) were saying "wow" as they went in.
We went shortly after it opened (9 a.m. to 5 p.m., closed Mondays, 72 TL, 8 and under free), and there was already a line but it moved quickly. I won't even try to summarize the building's history or significance here, but suffice to say that the interior is enormous, dark, atmospheric, and jaw-dropping, with layers of history juxtaposed on the walls.
Great Deal: For only slightly above the regular entry ticket price, you can skip the line and get a guided tour of the Aya Sofya with this deal on GetYourGuide.
Believe it or not, despite all the security getting in, my kids managed to find not one but two cats inside the Hagia Sophia, and that became the focal point of their attention after the initial awe of the building itself.
Don't miss the cavernous ramps leading to the second floor, where there are a few famous mosaics and great views down on the main floor.
Still buzzed from having just experienced one of the great architectural wonders on the world (speaking for myself, not the kids), we headed once again to Eminonu to hop on a ferry to Kadikoy (not to be confused with Karakoy) on the Asian side of Istanbul, something I really wanted to do before leaving.
At 4 and 5, my kids are just barely old enough to understand the concept of continents, and the fact that Istanbul is unique in the world in that it spans two of them. More exciting for them, of course, was simply getting on the ferry, having a snack, and exploring the deck.
My wife expected the Asian side to be completely different, while I expected it to exactly the same. The reality was somewhere between our expectations. Compared to the European side and where we were staying in particular, there was a distinct and refreshing complete lack of tourists.
Just inland from Kadikoy pier, there is a neighborhood of pedestrian streets lined with cafés, restaurants, and shops that makes for a perfect stroll and way to experience this part of Istanbul. We personally liked this neighborhood better than any we'd seen in the tourist areas of Old Istanbul; everything about it seemed more authentic, and even the foods on display seemed more varied and delicious than the copy-paste tourist menus of Sultanahmet eateries.
At the core of the district is the Kadikoy produce and fish market, which was our favorite part. Some shops offered similar products to what you'd find at the Spice Bazaar, but in a completely non-tourist setting. We stocked up on cheese, olives, and fruit for a makeshift meal for later, and could easily have bought way more if we had more days to stay in Istanbul.
For lunch, we really wanted to try seafood at least once in Istanbul, and right beside the seafood market seemed like the perfect place!
Food loving families can try this Taste of Two Continents tour, which includes breakfast on the European side plus 10 foods stops in Kadikoy on the Asian side.
We chose Saki Meyhane, entirely based on the fact that it was really close to the fish market and had pretty blue and white tables. It was just down the street from Çiya Sofrası, the most famous restaurant in the area.
There we enjoyed a seafood feast of calamari and fish. Emily and I also indulged in raki, the anise-flavored local spirit of choice in Turkey, which, I dramatically performed for the kids, magically transforms from clear to cloudy white when you add a little water to it.
Again with buzzes, but this time from the raki, we made our way back toward the ferry, but with one more important stop. The Lonely Planet Turkey says that a small café in Kadikoy called Fazil Bey, which sits on a street with many similar cafés, serves what they feel is the single best cup of Turkish coffee in all of Istanbul, so we had to give it a try.
Experts on Turkish coffee we are not, but the coffee was, as far as we could tell, excellent.
We never made it to the hip district of Moda further south, which I had in our itinerary for a visit to the so-called famous ice cream at "Famous Ice Cream of Ali Usta," because any parent knows that a 15 minute walk on GoogleMaps is a 30-minute walk with young kids. One more thing to save for next time!
Istanbul Children's Attractions that We Didn't Visit
As I mentioned above, there are loads of things to do in Istanbul with children, such as theme parks and aquariums. These are not the kind of attractions we were interested in, but for those who are, here are some of the best activities for children in Istanbul.
Note that Jurassic Land, a massive dinosaur theme park which is recommended in many guides on things to do in Istanbul with kids, has been officially closed for a few years. If it were still open, we actually would have gone, as our kids love dinosaurs.
– Legoland: a Lego themed amusement park
– Miniaturk: one of the world's largest open-air miniature theme parks, displaying sights from around Turkey
– Sea Life Centre Istanbul Aquarium: one of the world's largest, featuring an 83-meter sea tunnel, 15,000 sea creatures including sting rays, moray eels, snapping turtles, adjacent to Forum Istanbul Mall
– Istanbul Akvaryum (Istanbul Aquarium): a state run aquarium with a huge variety of sea life, amazon rainforest, penguins, located next to Aquaflorya Mall.
– Istanbul Dolphinarium: as the name suggests
– Vialand: a theme center and entertainment/shopping complex
– Kidzania: a play center with themed rooms and role playing
– Istanbul Modern: art gallery with has daily art programs for kid, suitable for ages 7-12
– Istanbul Toy Museum: as the name suggests
– Prince's Islands: a place we would have visited if we had more time, including
Büyükada, "the big island", which has a lot of outdoor space, easy walking trails, and horse & buggy rides
Well, I hope that helps you great in planning your visit to Istanbul, Turkey with kids! Please let me know in the comments below if you have any questions, and I hope you enjoy your visit to this marvelous city as much as we did!
I never travel without a good guidebook! Here are the best for Istanbul: