Dear reader: This article contains links to products and services that I may be compensated for, at no extra cost to you.
While visitors to Alberta tend to gravitate to Banff and Jasper, Drumheller is without a doubt one of the most memorable things to do in Alberta.
Drumheller is practically synonymous with dinosaurs; in fact, it's the self-proclaimed "Dinosaur Capital of the World." It's seriously a paradise for any dino-loving kid. Yes, it's touristy and outright tacky at times, complete with the World's Largest T-Rex (for more kid-focused trip, see my guide to visiting Drumheller with kids).
But the world-class Royal Tyrrell Museum alone is worth a visit for anyone, not the mention the incredible badlands scenery surrounding town.
Below I'm going to cover 25 of the best things to do in Drumheller, based on my multiple visits over the years, recently with my own kids, and going all the way back to my own childhood, when I had a sleepover on the floor of the Dino Room at the Royal Tyrrell in Boy Scouts. (Bragging rights!)
To complete an epic Alberta dinosaur road trip, you include combine a visit to Dinosaur Provincial Park on your Drumheller itinerary. The provincial park is a 1.5-hour drive southeast of Drumheller toward Medicine Hat. Dinosaur Provincial Park is a more natural and less touristy dinosaur experience, including seeing real dinosaur fossils in the ground, and the badlands there are just as (if not more) impressive than those of Drumheller.
You'll want to budget a few days to properly explore each destination, so I'd highly recommend staying in Drumheller for a night or two, then camping in Dinosaur Provincial Park to get the best of both places. But if you're short on time, Drumheller is doable as a day trip from Edmonton or Calgary.
Where to Stay and Eat in Drumheller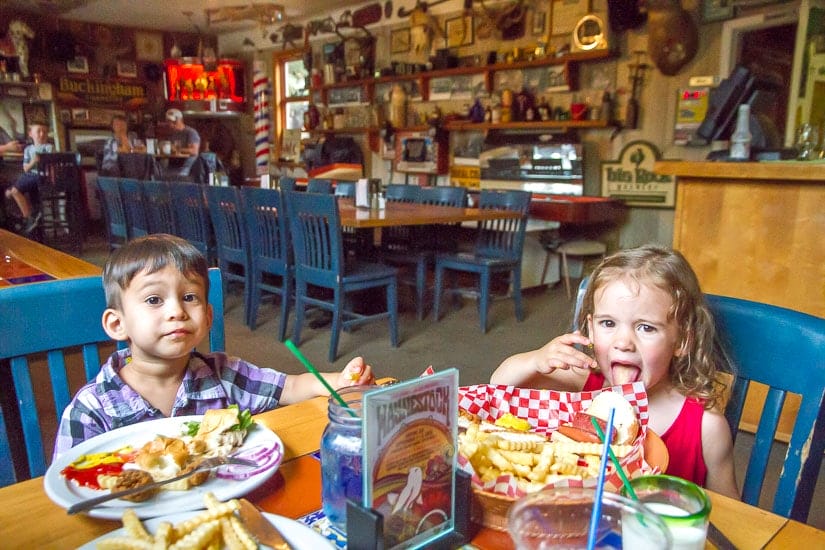 Every time we visit Drumheller with our kids, we stay at the Ramada by Wyndham (see on Booking / Agoda / TripAdvisor). Why? The answer is simple: swimming pool & waterslide! The Irish pub across the parking lot from the hotel doesn't hurt, either.
We've also always been tempted by Heartwood Inn & Spa (see prices / Agoda / read reviews), a super highly rated guesthouse, a nice alternative to all the other chain hotels and motels in town. A variety of homey bungalows and rooms come with hot tubs, fireplaces, BBQs, and more. Book early!
Dino & breakfast lovers can try WHIFS Flapjack House for all-day breakfast and dinosaurs on the walls. Athens Greek Restaurant is the best rated in town, while a drive out to Last Chance Saloon (#21 below) for a beer and hearty meal is a must. For the best ice cream in Drumheller, try the shop connected to Vietnamese Noodle House.
Attractions North of Town
Several of the most famous places to visit in Drumheller are located north of the townsite. You can easily see all of them by doing a driving loop up highway 838, crossing over Red Deer River on Bleriot Ferry, and back down to town on highway 837.
Also see my guide to 99 things to do in Edmonton, where I'm from!
1. Drive the Dinosaur Trail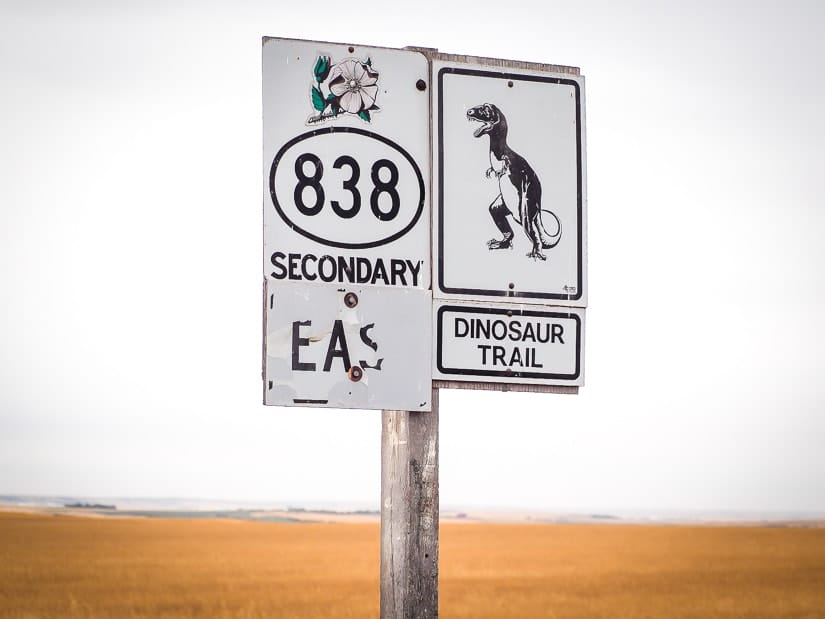 The Dinosaur Trail is a roughly 60-kilometer loop drive that takes in some of the best scenery and attractions that the Drumheller region has to offer. The below eight entries are all located on the Dinosaur Trail.
Beginning in Drumheller town, take Highway 838 (also called N Dinosaur Trail) out of town as it follows the eastern bank of the Red Deer River going north. You'll soon pass the turnoff for Royal Tyrell Museum (#3), Midlands Provincial Park (#4), and The Little Church (#5) on the right. Further along, Cactus Coulee Fun Park (#6) and Horsethief Canyon (#7) will be on the left.
Finally, you'll reach Bleriot Ferry (#8), cross the Red Deer River on it, then follow Highways 837 then 575 (S Dinosaur Trail) back into town, stopping at Orkney Viewpoint (#9) along the way. The drive itself takes less than an hour, but depending on your stops, it could be a half or even full-day trip.
Some people consider Hoodoo Trail (#23) south of town as a southern extension of the Dinosaur Trail, and you could even continuing driving another 1.5 hours past the hoodoos to reach Dinosaur Provincial Park to complete the ultimate Dinosaur Trail road trip!
Logistical tip: If you're first arriving in Drumheller from the north on Highway 837 (for example if you took the backroads route from Edmonton to Drumheller instead of Highway 2) and want to do the Dinosaur Trail before arriving in Drumheller town, it would make sense to see the below seven sights in reverse order. In other words, see Orkney Viewpoint (#9) on the western side of the river first, then cross Bleriot ferry and see the remaining sights on the way in to Drumheller.
2. McMullen Island Day Use Area
This isn't a must-see Drumheller attraction, but if you're looking for a nice spot to have a picnic when just arriving in or leaving Drumheller, it's good to know it's there. The day use area is on the bank of the Red Deer river and has picnic tables, outhouses, and water.
The day use area has a paved walkway through the riverside greenery. It is also a stop on a network of walking trails that connect Drumheller town to Royal Tyrrell Museum (#3) and the Badlands Interpretive Trail (#4).
3. Royal Tyrrell Museum of Paleontology
The Royal Tyrell Museum is arguably the best dinosaur museum in the entire world. Located in visually stunning Midland Provincial Park (see #4), the enormous (12,500 meter square) building is a testament to all things palaeontology (the study of ancient plant and animal fossils), especially dinos.
Visitor's to the museum walk through Alberta's pre-historic past, from the Palaeozoic (when animals first left the sea), through the three dino periods (Triassic, Jurassic, Cretaceous), and finishing with the Cenozoic (age of mammals). There are loads of fossils, dino skeletons, and life-sized mock dinos, as well as a Cretaceous Garden along the way.
The museum also serves as a laboratory and research facility, and visitors can even observe paleontologists working on real fossils. In 2019, a large Learning Lounge was added, and the museum hosts numerous activities, school group visits, and more.
You'll want to budget at least 2-3 hours for visiting the museum. There's also a cafeteria, excellent gift shop, outdoor picnic area, large playground, and a 1.4-km interpretive trail in the surrounding badlands (see #4).
The museum is open 10 a.m. to 5 p.m. and closed on Sundays.
More southern Alberta fun: see my guide to the incredible Waterton Lakes National Park.
4. Midland Provincial Park
Midland is a small provincial park created in 1979 to preserve a slice of the Drumheller region's coal mining past. The two best ways to access the park are at the Midland Coal Day-Use Area/Interpretive Trail and the Badlands Interpretive Trail.
The Midland Coal Day-Use Area is along Highway 838 just as it is leaving Drumheller town, before reaching the turnoff for Royal Tyrell Museum. Watch for the blue sign for "Midland Coal Mine" on the right (this site is not marked on GoogleMaps). When you first turn right off the highway, you'll find the Day Use area on the right. There you can learn about the history of the Midland Coal Company and see some old machinery. Follow the road to the left to reach the former mining site and Midland Coal Interpretive Trail, which takes you past various foundations and remains from the old mine.
At Royal Tyrrell Museum, the 1.4-kilometer Badlands Interpretive Trail (also called the Royal Tyrrell Museum Loop) is another easy walk that features stunning scenery of Midland Provincial Park. The easy walk takes about 30 minutes to complete. Keep your eyes peeled for cougars, which frequent the park (you probably won't see them…)
5. The Little Church
750 meters after the Royal Tyrrell Museum's exit onto Highway 838, you can't miss (despite it's miniature size) the Little Church on the right. The 6-person church was first built in 1968 as an actual place of worship, then reconstructed by inmates from the Drumheller Institution in 1991.
The door to the church is open, so visitors are free to enter and take a quick look. The church is an odd but beautiful sight with the stunning badlands backing it.
Also see my guides to these other Alberta destinations: Red Deer, Lethbridge, Fort McMurray, Kananaskis and Canmore!
6. Cactus Coulee Fun Park & RV Resort
Continuing along past gorgeous badlands scenery, you'll soon reach the turnoff for Cactus Coulee Fun Park, a small amusement park with go-karting, mini golf, eurobungy, ice cream, and more.
The park is open from May to September (weekends only in May and September). There's also a RV campground on site.
7. Horsethief Canyon
The next stop on the Dinosaur Trail, Horsethief Canyon, offers some of the most stunning scenery in the greater Drumheller area. It is one of the many reasons I consider Alberta to be the most beautiful province in Canada.
Horsethief Canyon is often compared to (or confused with) Horseshoe Canyon (#19), which is located southwest of town. The canyon is named after outlaws who hid stolen farm animals here more than 100 years ago.
As soon as you pull into the small turnoff, you'll be afforded an incredible, sweeping view of the Red Deer river valley. You can walk from various points down into the valley, or follow this simple trail map. Watch out for rattlesnakes!
8. Bleriot Ferry
The northernmost point of Dinosaur Trail is Bleriot Ferry, which is an attraction in itself. The cable ferry was first built in 1913 by Andre Bleriot, and today it remains one of the few ways that cars can cross the Red Deer River in the Drumheller area. The ferry ride is free, and you may have to wait a few minutes to make the short crossing.
The steep drive down to the ferry is rather exciting. Upon crossing to the west side of the river, Highway 838 meets with Highway 837 for the return drive to Drumheller. There's also the small Bleriot Ferry Campground on the western bank of the river.
The ferry operates from 8 a.m. to 11 p.m. from May 9 to the September long weekend, and 8 a.m. to 7 p.m. from the September long weekend to October 30.
You can see one of the original Bleriot ferries at Homestead Antique Museum (#13).
9. Orkney Viewpoint
A final stop you'll definitely want to make on the return drive to Drumheller is at Orkney Viewpoint, which looks back at Horsethief Canyon from the western side of the river.
Besides the awesome views, there's a sign explaining the area, and how the road was originally built to connect the Scottish farming community of Orkney with nearby Kirkpatrick.
Attractions In Drumheller Town
Although touristy and tacky, there are several dinosaur related things to do with the kids right in the Drumheller townsite.
10. Welcome to Drumheller Signs
There are three photogenic "Welcome to Drumheller" signs on the way into town. The first is on Highway 56, which arrives into Drumheller's town center directly from the north. A second, identical one is on the more commonly used Highway 9 coming into town from the west, while the third one is on highway 575 (S Dinosaur Trail), at the tail end of the Dinosaur Trail loop (see #1).
There's nothing to see at each stop besides the sign, which features an Albertosaurus (my non-educated guess), but if you want a picture with the sign, there's plenty of room to park. They're each only a minute or two out of town, and you can find them on GoogleMaps if you type in "Welcome to Drumheller Sign" or see them on my Drumheller map at the top of the article.
11. Fossil World Discovery Center
At the northwester end of town, a few minutes along Dinosaur Trail (Highway 838), the kid-focused Fossil Dinosaur Discovery Center is worth a stop for dino-obsessed young kids. Although much smaller, less educational, and surely not a replacement for the Royal Tyrrell Museum on your Drumheller itinerary, it is nevertheless a fun place to visit with young kids.
The small dino museum inside features some impressive fossils, skeletons, and what some have called the most realistic animatronic (moving and roaring) T-Rex in the world. My son is a huge dino fan and we've been to several dinosaur museums around the world, but he was actually terrified of this one!
Kids can also pay extra to do a fossil or mineral dig, and they get to take home what they find. The center is a quick (maximum 1 hour), fun stop, but it's pricey for what you get.
12. Dinosaur Trail Playground
Right next to Fossil World Discovery Center, there's a small playground with a life-sized brachiosaurus. For visitors coming in off the N Dinosaur Trail, this can be a much needed stop for some park fun, and is the first big dino you'll spt when driving into town from that direction.
Note: you can approach the brachiosaurs from the parking lot of Fossil Discovery World, but to actually play in the playground, you'll have to access it from 17 St. NW, a minute west along Highway 838 due to the fence you can see in the photo above.
13. Homestead Antique Museum
Very close to the start of N Dinosaur N in town, Homestead Antique Museum is a small museum that will appeal to antique-loving visitors. There are around 10,000 items on display, including one of the original Bleriot ferries and a house purchased entirely from a 1919 Eaton's catalogue.
There's also a tearoom (summer only), shop with ice cream & treats, and children's activities such as a scavenger hunt. The museum is open from May to mid-October.
14. The Fossil Shop, Inc.
For a souvenir shop with some serious personality, head to The Fossil Shop on Highway 56 just before it crosses Red Deer River and reaches the giant T-Rex (see #15).
The shop sells a wide variety of real fossils, minerals, and more, ranging from cheap & junky toys like you'll find at all the other shops to super rare (and expensive) treasures. Customers seem to either love the quirky owner or find her extremely rude. Also, make sure to obey the signs inside. You've been warned!
15. Drumheller Giant T-Rex
Guess what? Drumheller has the world's largest T-Rex! The 25-meter tall, 46-meter long dino is approximately 4.5 times larger than a real T-rex was. Completely in 2000, she (yes, she's a girl) cost just over a million dollars to build. This is one of Alberta's numerous oversized roadside attractions.
Visitors can pay to enter and climb up into the mouth of the T-Rex. At $10.50 per family, it's not to expensive to check this off your Drumheller bucket list.
The T-Rex is open year-round, from 10 a.m. to 5:30 p.m. It's called "World's Largest Dinosaur" on GoogleMaps.
If your kids haven't got the tacky dino souvenir you promised them yet by this point, you can pop in to the Jurassic Store Fossil World across the street. It's got a few dino statues out front, plus an ice cream store.
The store is run by Fossil World Discovery Center (#11).
16. Rotary Spray Park
In the park right in front of the Giant T-Rex, there's a small spray park for kids. It's understandably a very popular spot in summer, and stays open as long as whether permits.
Next to the spray park, there's also the Drumheller Aquaplex (swimming pool) and Drumheller Skate Park.
17. Go on the Drumheller Dino Walk
Besides the oversized T-Rex, there are around 20 other dinosaur statues around town. All of them are local dinos found in the Drumheller area. You could walk to several of them from the Giant T-Rex, or go on a dino-spotting tour by car.
Here's a map of all the dinosaurs statues in Drumheller.
18. Drumheller Riverside Park
There is a decent trail system along the Red Deer River in Drumheller. The large bend in the river around the Giant T-Rex has some walking trails, while there's another lovely section at the southeast end of the town center.
The riverside parks include some playgrounds for the kids, and they're a great place to get outside and enjoy some fresh air. The Riverside Park also sometimes hosts activities in summer, and the foliage is beautiful in fall (see photo above, shot in late September).
Attractions South of Town
There are enough things to do south of town to make a half or even full day trip of it, including the area's most famous collection of hoodoos.
19. Horseshoe Canyon
Just like Horsethief Canyon (#7), Horseshoe Canyon features a stunningly gorgeous badlands landscape, but with the river that formed it long since dried up.
After enjoying the incredible views from near the parking lot, you can walk down into the immense U-shaped valley, which extends five kilometers in either direction. In summer, make sure to protect yourself from the sun, bring lots of water, and watch out for rattlesnakes.
The canyon is located 17 kilometers (15 minutes drive) out of town on Highway 9. If you're arriving in Drumheller on the Highway 9, it makes sense to stop here on the way into or out of town. The Horseshoe Canyon Campground is also nearby.
20. 11 Bridges to Wayne
The remaining six sights can all be accessed by taking Highway 56 southeast out of Drumheller town center, then merging onto the Highway 10.
First off, 11 Bridges to Wayne is a detour on Highway 10X (watch for the turnoff just before 11 Bridges Campground and Cabins) to the tiny hamlet of Wayne that, as the name suggests, requires crossing 11 bridges in a short distance.
Wayne is a former coal mining boomtown. The town was built up for the Rose Deer Coal Mine, and at is prime had 2000 residents. Today there are only 28 permanent residents remaining.
So what is there to do when you actually arrive in Wayne? Well, see the next entry!
21. Last Chance Saloon
No, you didn't just drive across 11 bridges for nothing. The pot of gold at the end of the rainbow is the Last Chance Saloon. Once a bar for miners in the early 1900s in a land that was considered very wild, the bar has reopened as a mini-museum, restaurant, and tourist attraction.
Sip some cold beers and enjoy some hearty Canadian food, including a menu for kids. You can even spend the night at the adjacent Rosedeer Hotel (see reviews here). The whole place has a real Wild West feel to it.
22. Rosedale (Star Mine) Suspension Bridge
Returning to Highway 56, you'll continue for just a few hundred meters before reaching the turnoff on the opposite (left) side of the highway to the Star Mine Suspension Bridge (or Rosedale Suspension Bridge) in tiny Rosedale.
The 117-meter pedestrian-only suspension bridge across the Red Deer river is another of the top attractions in the greater Drumheller area. It was originally built in 1931 to provide access to Star Mine for the workers.
Unfortunately, the bridge has been closed for a few years now due to structural concerns. It remains closed as of early 2023. It may be quite a while before it is fixed up and reopened, but I'll update this space when it does! Until then, locals ask that you don't visit the bridge, and the entrance to it is blocked.
23. Hoodoos Trail
Hoodoos Trail is a small collection of especially beautiful hoodoos (columns of rock with a large, often flat stone on top created by wind erosion). The "trail" in Hoodoos trail refers to a small walking path loop viewing platforms around the hoodoos, but sometimes also refers to the 15-kilometer (15-minute) drive from Drumheller town south to the hoodoos.
The parking lot with foods stalls (in summer), and railings & staircases around from the hoodoos take away from the natural atmosphere, but the latter also serve to prevent people from walking on the hoodoos and destroying them. Nevertheless, the hoodoos are the best that you can easily visit in town and one of the major highlights of visiting Drumheller.
To see hoodoos in a totally natural landscape, consider going hiking in Dinosaur Provincial Park or Writing-on-Stone Provincial Park in Southern Alberta. I personally enjoyed the hoodoos in these two lesser-known provincial parks more than the ones in Drumheller.
24. East Coulee School Museum
Driving another five minutes south past the Hoodoos Trail will bring you to East Coulee School Museum in the tiny community of East Coulee (population 160).
The East Coulee school first opened in 1930, when the nearby Atlas (see #25) and Empire coal mines were thriving. The school is now converted into a small museum that gives visitors a peek into the area's pioneering past.
25. Atlas Coal Mine
At the southern end of what is officially considered Drumheller town, Atlas Coal Mine is the most impressive coal mining attraction in the entire area and is a national historic site. It also makes it onto my list of essential Alberta experiences.
Atlas Coal Mine was in operation from 1911 to 1979, when declining use of coal caused this and other coal mines in Drumheller to shut down. Visitors can tour the large mine, including machines exhibited outside, train cars, a huge tipple (the structure that provided access to the mine and is used to transport coal to train cars), and underground portions of the mine.
Note that the tipple and underground portions are only accessible by guided tour, when available.
Places to Visit Beyond Drumheller
To extend your Drumheller trip, that are several worthwhile attractions within 1-2 hours that you can easily add on. If you enjoyed Drumheller, then you will probably also love Dinosaur Provincial Park (1 hr 45 min SE of Drumheller).
Heading north from Drumheller, the Rowley Ghost Town is really cool, while Dry Island Buffalo Jump Provincial Park could be visited as a stop en route to Drumheller from Edmonton or Red Deer.
Find even more ideas is my guide to the best places to visit in Alberta.
Well, that sums up my list of awesome things to do in Drumheller, Alberta! If you've got any questions or feel I've missed something important, please let me know in the comments below!