Dear reader: This article contains links to products and services that I may be compensated for, at no extra cost to you.
Serbian Orthodox Ostrog Monastery is one of the most captivating sights in Montenegro and visually impressive monasteries in the world. The centuries-old complex is built into sheer cliffs, with stunning panoramic views of the surrounding plains. It is one of the most unique pilgrimage sites in the world and, without a doubt, one of the most interesting pilgrimages in Europe.
Doing a day trip from Podgorica to Ostrog Monastery by train is super easy, but many visitors, myself included, don't actually stay in Podgorica. Coming from more popular Kotor (see my articles on the best things to do in Kotor and visiting Kotor with kids) to Ostrog Monastery, you'll have to travel via Podgorica, and I'll tell you exactly how to do that below. The most important thing to know is that there are very few trains to Ostrog per day, so you need to time your visit carefully.
From Ostrog Station, it's a two-hour return hike to Ostrog Monastery. The trail is easy enough for anyone in reasonable shape, though you'll want to wear good shoes as the rocky trail is loose in sections. You'll pass smaller Ostrog Lower Monastery half way up, then reach the most famous section, Ostrog Upper Monastery, at the top. At the end, I'll give very specific instructions with lots of photos to help you find the way on this hike.
For those looking for the easiest way to get there, taking an Ostrog Monastery tour from Kotor, Podgorica, Budva, or even Dubrovnik is best. I'll recommend the best Ostrog Monastery tours below.
Taking an Ostrog Monastery Tour
Tours to Ostrog Monastery provide the simplest means to getting to Ostrog Monastery from other destinations in Montenegro or even neighboring Croatia. The tours are reasonably priced, allow you to see other highlights of Montenegro on the same day, and remove any stress about missing one of those few trains back to the city.
Tours are also the best option for anyone who doesn't want (or isn't able) to do the hike to Ostrog Monastery from the Ostrog train station.
Ostrog Monastery Tours from Podgorica
For the best tour from Podgorica to Ostrog Monastery, this guided half-day tour on GetYourGuide includes Cijevna River views and a stop at Montenegro's Niagara Waterfall.
You can find this similar tour on Viator.
If you're looking for a cheaper way to simply get from Podgorica to Ostrog and back, this budget tour option is a fraction of the price, but doesn't have any reviews yet at the time of writing.
Ostrog Monastery Tours from Kotor
This popular GetYourGuide Ostrog Monastery day tour from Kotor packs in a lot for a very reasonable price, including stunning views of Tara River (the deepest river canyon in Europe) and the mighty Durmitor Mountain massif.
Besides a visit to Ostrog Monastery, the final destination at the end of the day, you will get photo stops at Our Lady of the Rocks in beautiful Perast, Risan Bay, Salty Lake, Đurđevića Tara Bridge, Black Lake, and Žabljak, with options for hiking and more.
Considering that getting to Ostrog Monastery takes even longer from Kotor than Podgorica, and that the Ostrog Monastery tours from Kotor include even more sights, this day tour to Ostrog Monastery is a great deal, not to mention that it's cheaper than the ones from Podgorica.
You can find a similar tour here on Viator.
Ostrog Monastery Tour from Budva
If you happen to be coming from Budva, the popular beach resort town in Montenegro, then you can try this Ostrog Monastery Tour from Budva.
Ostrog Monastery Tour from Dubrovnik
You can even make a day trip to Ostrog Monastery from Dubrovnik, Croatia by joining this full day tour. See my articles on places to visit in Croatia on a family holiday and how we visited Dubrovnik with our kids and avoided the crowds.
Renting a Car and Driving to Ostrog Monastery
If you are comfortable with renting a car, then driving from Kotor (2-2.5 hours) or Podgorica (1 hour) is feasible. The road from Kotor to Ostrog Monastery is notoriously winding but the scenery is reportedly spectacular. I would suggest you use this service to rent a car, as we used it in neighboring Croatia and had a great experience.
Getting from Kotor to Ostrog Monastery by Public Transportation
Why would you want to travel all the way to Ostrog Monastery from Kotor in one day by public transporation, especially when you get to see so much more on the tours? Well, there are many possible reasons. This is why I did it:
To begin with, taking the bus and train from Kotor to Ostrog Monastery is far cheaper. The bus from Kotor to Podgorica is €12 return, while the train from Podgorica to Ostrog costs a mere €3.60 return. That's only €15.60 total, plus I spent another €15 on a one-way ride from Ostrog station to Ostrog Monastery (this is optional, see more on that below).
Second, some people (like me) simply prefer to be alone and enjoy the scenery in silence rather than talk to other people on a group tour.
Last but not least, it's more of an adventure to get there on your own and find the way to the Ostrog Monastery by hiking from the tiny Ostrog train station, the traditional way that pilgrims arrived.
The only way you can do a Kotor to Ostrog Monastery day trip by public transportation and get back before dark is by departing from Kotor extremely early in the morning and traveling to Ostrog via the capital, Podgorica. If you don't mind coming back to Kotor after dark, you can start your day trip later in the day (I'll share the exact times below).
There's no other reasonable way to do it without taking a tour or renting a car and driving on the more direct route through the mountains from Kotor.
When I went, I caught the bus from Kotor to Podgorica at 5:15 a.m. The bus departed from the Kotor Main Bus Station, which is a five-minute walk south of Kotor Old Town, where most hotels are located. It was totally dark when I walked there. The bus takes about 2 hours to 2 hours and 15 minutes to reach Podgorica's main bus and train station, where the train departs to Ostrog.
There were plenty of seats on the bus and I could have just bought my ticket upon boarding. However, for peace of mind, I always like to book my ticket in advance and print it off. I booked my Kotor to Podgorica bus ticket here on BuTicket4.me.
The reason you need to catch such an early bus is that there are very few trains from Podgorica to Ostrog per day. The only train that allowed me to visit Ostrog Monastery in one day and make it back to Kotor before sunset departed at 8:00 AM. Since my bus from Kotor arrived in Podgorica at 7:30, the timing was perfect, and I had enough time to buy my train ticket, breakfast, and coffee before getting on the train.
I'll give a more detailed breakdown of the Podgorica to Ostrog train times in the section below.
When returning to Kotor, buses from Podgorica to Kotor depart regularly, with the latest one leaving just before 11 PM. I didn't book mine in advance, and I had no issue getting on the next bus when I arrived, but the buses could be busier in high season or rush hours.
Getting from Podgorica to Ostrog Monastery by Public Transportation
Doing a day trip to Ostrog Monastery from Podgorica is a cinch thanks to comfortable and modern local train, which gets there is 46 minutes (€1.80) from the capital.
At the time of writing, the train from Podgorica to Ostrog departs at 8:00 AM, 12:55PM, 3:35 PM, 6:30 PM, and 9:45 PM. For the purposes of an Ostrog Monastery day trip, only the first two departures really give you enough time (in summer the third one would be doable as well, but be careful as you wouldn't want to be hiking back down from the monastery in the dark; the trail is not lit).
If you're planning to return all the way to Kotor in the same day, you should only consider the first two departures, and the 8:00 AM one is the only one that will allow you to get back to Kotor before dark. If you don't mind coming back to Kotor after dark, then you could start you day by catching a bus from Kotor around 10 AM, getting to 12:55 PM train to Ostrog, catching the 5:17 PM one to come back, and a bus back to Kotor around 6:30 or 7:00 PM, getting you back to Kotor around 8:30 or 9:00 PM.
Double check the Ostrog train times at the time of your visit here on the Montenegro railway website.
Getting from Ostrog back to Podgorica
The return train times from Ostrog to Podgorica are 6:37 AM, 11:18 AM, 2:27 PM, 5:17 PM, and 8:17 PM.
You need to consider these schedules very carefully, because the connections either give you barely enough time to visit Ostrog Monastery, or too much time.
For example, I caught the 8:00 AM train to Ostrog, arriving at 8:46. I wanted to catch the 11:18 train back so that I could get back to Kotor before dinner, which gave me 2 hours and 46 minutes. This was the perfect amount of time, but I actually got a ride from the train station to Ostrog, and hiked back. If I had hiked both ways, I think I still could have done it, but I would have BARELY made it. So if you choose these times and plan to hike both ways, you need to go quickly and not spend too much time at the monastery.
If I had missed that 11:18 AM train, the next one wouldn't have been until 2:27 PM, which means I would have had an extra three hours to kill. This would be way too much time for Ostrog Monastery.
If you take the 12:55 PM train from Podgorica to Ostrog, there's no way you could be back to the train station for the 2:27 PM train back to Podgorica. This means you are stuck with the 5:17 PM train. That gives you over 4 hours to visit Ostrog Monastery, which is a little too much time, but not too bad. You can take your time on the hike, and perhaps bring a book to read in case you have extra time at the end.
Getting to Ostrog Monastery from Ostrog Train Station
Ostrog train station is a tiny station in the middle of nowhere. There are no shops, people, houses, or anything. There's only a small building on site, which was closed when I went there.
When you arrive you will only have two options to reach Ostrog Monastery: pay for a ride (maybe) or hike there.
Taking a Taxi from Ostrog Station to Ostrog Monastery
An official taxi (in other words, a random local guy in a car) is almost always waiting in the parking lot at Ostrog station to take visitors up to the monastery for a fee. You can't totally depend on this option though because, well, maybe sometimes the guy takes a day off?
If you plan to definitely go by taxi, then one reader of this post has recommended going to the next stop after Ostrog, but another reader tried it and didn't find any. So personally, I would say just stick with Ostrog station. Then you can at least hike up if there's no taxi.
For my visit, I was kind of hoping the guy would be there at Ostrog, because I had told my wife I'd be back to Kotor around dinner, so I really wanted to make it back for that 11:18 AM train. I wasn't sure if 2.5 hours would be enough time to hike there and back (in retrospect, I think it is just barely enough time), and I was nervous about missing the train. So, sure enough, when I arrived at the station, the guy was there waiting there in the little parking lot!
The driver didn't speak a single word of English, so it was tough to communicate. He wanted €15 for the ride. I didn't understand if that meant for one-way or return. I only wanted one-way because I wanted to hike back, so I tried to offer him less. We hit a communication wall, so I just paid the €15 and made it clear at the end that I didn't need the ride back. So if you don't want to face this issue, I would recommend having a local write out some key phrases about what exactly you want before you get there.
The drive from the train station to Ostrog Monastery took 20 minutes, which was longer than I expected, considering you can hike all the way there in one hour. The road is unpaved for the first section and super winding.
So in the end, the drive only saved me about 40 minutes, but I feel it was worth it. I was able to visit the monastery without feeling rushed or worried about time, and hike back to the train station with a little extra time to spare.
Hiking to Ostrog Monastery
Even though I cheated and got a ride for the way up, I would say that hiking to Ostrog Monastery is the best way to arrive there. The walk is easy, scenic, and this is the way pilgrims traditionally arrived. I don't think I passed a single other person on the hike down, so it was really quiet and peaceful.
Even if you get a ride up to the Upper Monastery, I would strongly suggest walking back down to the train station like I did. This also allows you to visit the Lower Monastery, a smaller monastery about half way between Ostrog Station and Ostrog Upper Monastery (the main, famous monastery built into the cliff).
The walk from Ostrog station to Ostrog Upper Monastery takes 60 minutes, depending on your walking speed. The first section is from Ostrog station to Lower Monastery, which takes about 40 minutes, and the second section from Lower to Upper Monastery takes another 20 minutes. You could probably do it a little faster if you hike quickly, while slower walkers might need around 75 minutes total.
I took careful notes and lots of photos while I did the return walk, so here are the detailed directions to Ostrog Monastery starting from Ostrog Station. Some people even say you can see Ostrog Monastery up on the mountain from the train station, but I wasn't able to see it from there.
Coming from Podgorica, tiny Ostrog Station will be on your left. You will get off the train to the left, cross the tracks, and continue walking beside the train tracks in the direction the train was traveling. You'll pass the small parking lot and an old, faded pastel yellow colored building (on the left in the image below). Make sure you DON'T walk down the vehicle road that goes downhill from the parking lot.
Walk beside the train tracks for another 100 meters, and you'll reach a stop sign and road that goes over the tracks (image below). Follow the road across the tracks, and you'll see the start of the walking trail on the other side, which is demarcated by a yellow sign that says "Манастир Острог", Serbian for "Ostrog Monastery".
It's helpful to learn how to recognize these words, as there will be several more signs along the way.
Most of the hike up is uphill, gently at first, and steeper with more stairs toward the end. At the beginning, the path starts out grassy, then soon becomes rocky for the rest of the hike. Some sections have loose rock, so you'll want to step carefully. You will see another sign for Ostrog Monastery after about 5 minutes. After another 10 minutes, you'll get your first view of Ostrog Monastery up on the cliff (see picture below).
10 minutes after that (about 30 minutes into your hike), the trail will reach an unpaved vehicle road, where you will turn right and continue going uphill. This is an important and easy-to-miss turn when coming back down (see the return hike directions below).
After walking up this vehicle road for five minutes, you'll see this beautifully painted rock in the right side of the road. Congrats! You are almost at the Ostrog Lower Monastery.
Next, you'll pass several farms, with views of Ostrog Monastery becoming closer above them. Soon, you'll see a collection of buildings uphill to your right, which is Ostrog Lower Monastery. You can follow the winding road all the way up to them, but watch for the shortcut, a staircase going right up to the side of the buildings (see second image below).
It only takes a couple minutes to explore Ostrog Lower Monastery and snap a few photos on site. The monastery features Church of the Holy Trinity, dating to 1824, and a few other buildings which house monks. There is also a building nearby where visiting pilgrims and travelers can spend the night.
From Lower Ostrog Monastery, exit the main gate and cross a large field to the right to find some stairs that lead up to another small church called Church of Saint Martyr Stanko, which is labeled "Црква светог новомученика Станка" on GoogleMaps. If you can't find the path across the field or the staircase up to the church, simply walk along the paved vehicle road that winds its way up in the direction of Ostrog Upper Monastery.
The views of Ostrog Monastery from the vantage point of this little church are probably the best you'll find, as the monastery is mostly obstructed by trees for the rest of the ascent. I got the below shot of Ostrog Monastery from there, using a telephoto lens.
Following the paved vehicle road uphill from the small church for only one minute, you should be able to easily spot the walking path up to Ostrog Upper Monastery, which begins at the side of the road. The walking path will cross the vehicle road several times on the way up. The trail is mostly rock stairs through the forest. You won't be able to see the monastery through the trees until you get right up to it.
You should budget about 25 minutes from Lower to Upper Monastery, or 20 coming down.
So how much time does it take to visit Ostrog Monastery (the main monastery at the top)? I would suggest allotting about 30 minutes for it. This gives you enough time to see all the sections and take lots of photos. If you are rushed to get back to the train, you could do it faster, and if you are in no rush at all, you could probably spend more time here just taking in the impressive views.
In the parking lot just before main entrance, you'll find a water fountain with free potable water. Passing under the arched entrance (see image above), you'll first encounter the first building built into the cliff. A few more minutes on foot will bring you to the famous white-washed building. The lower part contains the Church of the Presentation, where St. Basil's relics are kept. Taking the staircase inside will bring you up to various rooms, lookout points, and the Church of the Holy Cross.
There is a sign on the steps leading to the main building saying that photos are not permitted, but pretty much everybody was taking photos when I visited. I think they can't stop people from taking photos of the scenery and views, but you should avoid taking photos inside the cave churches, and the monks will remind you of this, so it's best to be respectful and not even try.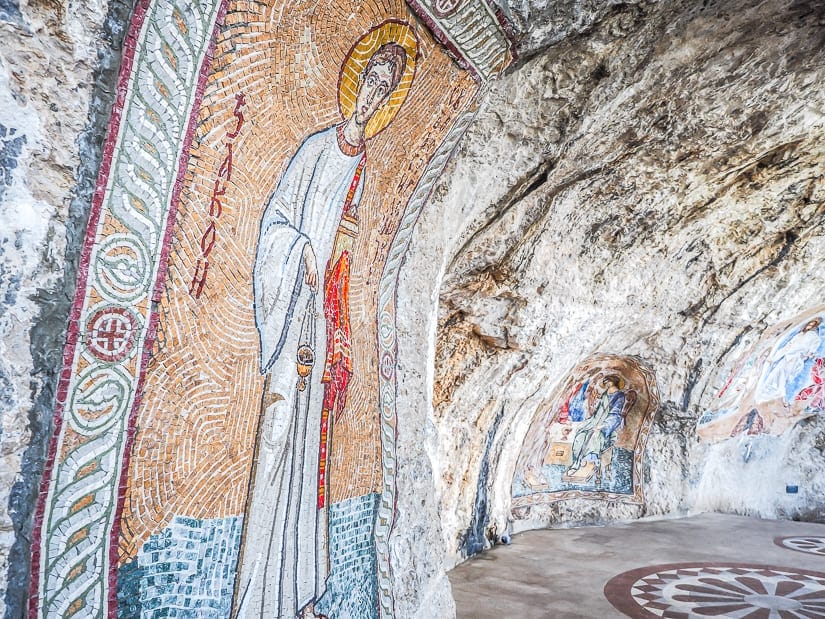 Hiking from Ostrog Monastery back to Ostrog Station
Getting back to Ostrog station on foot is an easy downhill stroll and takes about an hour or less, depending on how fast you walk, and you essentially need to retrace the steps I outlined above, with one particular point where you have to be careful not to miss a turn.
The trail entrance is clearly visible from the Ostrog Upper Monastery parking lot, a few steps from the arched monastery entrance. The path continues on steps downhill to a point on the highway where you will easily spot the Church of St. Martyr Stanko.
The steps continue down beside this church, after which you cross a field and find the entrance to Ostrog Lower Monastery. From the side of the yard of the Lower Monastery, you can find a staircase going downhill. Take these stairs and follow the unpaved vehicle road going down to the left.
Follow this road past the farms for about 10 minutes, passing the beautiful painted stone which I shared a photo of above.
Here comes the important part: You have to keep your eyes peeled for the trailhead, at a point just before the road turns sharply to the right. The trailhead has a sign saying "железничка станица острог", which is Serbian for "Ostrog Railway Station" (see image of sign and trailhead below). Don't make the mistake I did by missing the path and continuing too far down the vehicle road (see second image below, showing what the road looks like if you miss the trailhead).
From this point, you can't get lost, as the rocky trail keeps descending through the forest for about 20 minutes to the train station.
Final Thoughts for your Day Trip to Ostrog Monastery
Ostrog Monastery is one of the most fascinating sights in the Balkans, and must-do for any visit to Montenegro. Doing a day trip to Ostrog Monastery from Kotor or Podgorica is simple, but it is important to plan your timing properly, and know how to hike to Ostrog Monastery once you get there.
I hope this article has helped, and please let me know in the comments if you found any issues with my instructions, how you enjoyed your visit, or if anything has changed.