Dear reader: This article contains links to products and services that I may be compensated for, at no extra cost to you.
Simply put, we loved Budapest. It was our favorite big city out of the two months we spent in Central Europe, and we enjoyed it more than the three days we spent in Prague the week before (sorry Prague)!
Just like Prague, there are loads of things to do in Budapest with kids, but for us parents, we just thought Budapest felt more down-to-earth and far less touristy. We loved the food in Budapest, and the incredible thermal springs were the finishing touch on our chilly early December visit.
As usual for a large city, when deciding what to do in Budapest, we tried to strike a balance between the things we wanted to see and activities the kids would enjoy. We skipped some of the most popular attractions in Budapest, notably Buda Castle, simply because we were tired of seeing castles and knew from experience that visiting them with kids is a tiring endeavor.
Budapest was also the first city on our trip where the Christmas markets were fully open, with most of them kicking off around the end of November. We couldn't imagine a more attractive place to kick start the Christmas season with our kids; Budapest is without a doubt one of the prettiest cities in Europe that we've been to. We definitely plan to return again when the kids are a little older and use this guide to plan cycling in Budapest; the city would be perfect for it!
Below I'll cover our three day Budapest itinerary with kids in great detail, and hopefully this will help you to plan your family trip to Budapest. If you're just starting to plan your trip, I'd also recommend consulting these general Budapest travel tips.
If you decide to spend more than three days in the city (as we wish we had) then check out this Budapest five-day itinerary. Also feel free to read about our next stop after Budapest in my article on Vienna with kids.
Where to Stay in Budapest with Kids
Just like everywhere we go, I spent a great deal of time researching the best family-friendly apartment for our Budapest stay. As soon as I spotted NN Apartmanette (see on booking / Agoda / TripAdvisor), I knew it would be perfect for us.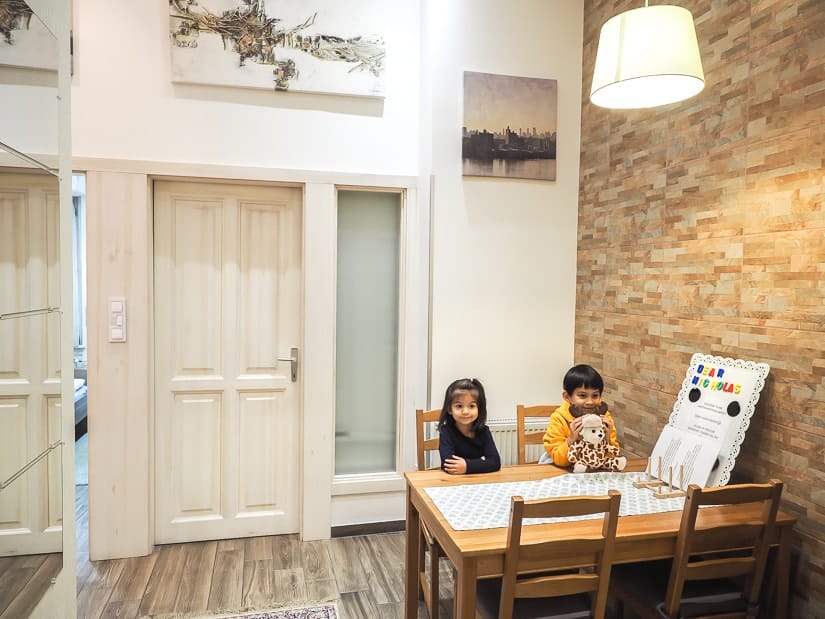 The apartment ticked all the right boxes: great central location and short walking distance from metro, close to city's most impressive church, several lovely squares, and the two best Christmas markets, a full kitchen, laundry machine, separate bedroom for kids, and elevator to haul our luggage up.
But what really set this apartment apart was its stylish design and super hospitable host, Gabriella, who is a seasoned traveler and clearly passionate about providing the perfect home base for visitors to Budapest. If you'd like more options, than I would suggest consulting this guide to where to stay in Budapest.
No matter where you decide to stay, we felt that staying on the Pest side of the river was best, especially since we never bothered visiting the Castle on the Buda side.

You can also try searching here for the best hotel deals in Budapest.
Getting to Budapest

– If you're heading to or from the Budapest Airport, make life easier with the kids and book this private airport transfer.

– To find the lowest fares on flights within Europe, I always use this flight hacking website.

– If you plan to drive, we had a good experience renting a car on RentalCars.
Our Budapest Itinerary with Kids: Day 1
We kick started our first morning in Budapest with kids by taking a peek inside St. Stephen's Basilica (Szent István Bazilika), which was only a few blocks from our apartment. Such an impressive cathedral makes it easy to see why Budapest is undoubtedly one of the best places to visit in Hungary.
Roman Catholic St. Stephen's Basilica is the largest cathedral in Budapest. Our kids had been to numerous churches and cathedrals already on our trip, so they pretty much know the routine; go in with Daddy and let him take a few pictures, light some candles for a donation (always their favorite part), then after they get to move on and do some kid-friendly activities.
One things that stood out about this picturesque cathedral and was kind of cool for the kids (if a little creepy) was the mummified hand of St. Stephen, the first king of Hungary, which is on display. To really get a good look at it, you need to make a donation of one 200-forint coin and the case its stored in will be lit up for a minute. Read more about the Holy Right (hand) here.
Although we were too early for it, you can also pay 500 forint to go up to the dome's observation deck, with panoramic views of Budapest. One of the best Christmas markets in Budapest is also set up in the square in front of the basilica, but we'll get to that later!
Our main activity for the kids on our first day in Budapest was a visit to MiniPolisz, a fantastic interactive play center where kids can try their hand at over 30 different professions, complete with props, outfits, and life-like settings.
We spent hours at MiniPolisz and didn't even cover every station. The kids got little stamp cards with a stamp for every station completed.
Some of the highlights were milking a cow, riding bicycles around a road test, playing mechanic, putting out fires, driving a metro, washing each other's hair in a salon, checking in to a mini hotel, ringing in groceries, and making pizza.
Like our pictures? See the small mirrorless camera we always use when traveling with kids.
At the end, the kids got to spin a wheel for a little prize, and we didn't even have time for the sculpture painting. There's also a little café inside if you need a snack or caffeine boost.
Our kids have actually been to a similar "profession play center" back in Taiwan where they grew up. The one in Taiwan was good as well, but significantly more crowded and expensive.
Definitely if you are visiting Budapest with young kids, you'll want to find time in your itinerary to stop here and give your kids a break from all the sightseeing!
After all the playtime, we were starving! We'd already chosen a spot for lunch: Duran Szendvics Hungaria Kft had already tempted us when we had walked past its immaculate display of miniature open faced sandwiches on the walk to MiniPolisz.
They have everything from caviar and smoked salmon for mom and dad to kid-friendly choices like egg salad. We had never been to this kind of restaurant before, so it was a big hit for the whole family!
After a little post-lunch rest at our hotel, we hopped on a bus to the meeting point for our Danube River Sunset Cruise, which we booked here on GetYourGuide. The cruise was surprisingly cheap (even considering that kids 3+ have to pay full price), and the activity was very simple to book, with clear instructions for getting there.
There are more expensive cruises, such as this one which includes a candle-lit dinner on board, but for us the simple and cheap one was perfectly fine!
Travelers with kids should note that the starting point for this (and most) cruises is a little north of the city center; it took us about 10 minutes by bus plus another 10 minute walk to get there. They do that so that you can cruise past the entire city center, turn around, and cruise back along it again, allowing you to appreciate the same sights twice (and ideally, in different light).
Taking a cruise on the Danube is one of the absolute must-do things in Budapest, with or without kids. While views from anywhere along the Danube are nice during the day, they are simply breathtaking when you are right on the river, especially at night.
What we recommend is catching a cruise that departs just before sunset. This way, you can see the city as the sun is setting, and then see it again in the dark with all the lights on during the ride back to the starting point. They timed it perfectly, so that all the city lights came on right as we reached the turnaround point.
The sunset times in Budapest vary considerably throughout the year; see the best times for a Danube sunset cruise by month here. Since we were there in early December, sunset was around 4 p.m, and our cruise began accordingly at 3:40 p.m. This was also perfect as it wasn't too late for our kids.
On top of the choice between (warm) indoor and outdoor seating areas, we all received a free glass of mulled wine (or juice for the kids), with table service and more drinks available from the bar for the duration of the trip.
The highlights of the cruise were without a doubt passing famous structures like the Parliament Building, Buda Castle, Gellért Thermal Baths, and going under the Széchenyi Chain Bridge once it was dark and they were all lit up with lights.
I think I first fell in love with Budapest on that cruise; no matter how touristy it may seem, you really shouldn't miss this experience when in Budapest!
If you enjoy this article, then also see my guides to visiting Italy, Austria and Croatia with kids!
Our Budapest Itinerary with Kids: Day 2
Our second day in Budapest we devoted to Budapest City Park (Városliget Park). This enormous expanse of greenery northeast of the Pest city center houses so many things to do with kids that you could spend several whole days there.
Some of the main sights in the park include Vajdahunyad Castle (with a huge pond in front of it that turns into a skating rink with a Christmas market in winter), Budapest Zoo and Botanical Garden (including the petting zoo at Children's Hall (Holnemvolt Vár)), Heroes' Square, a couple art galleries, playgrounds, Capital Circus of Budapest, and Széchenyi Thermal Bath, Budapest's most famous thermal spring.
Since we obviously couldn't cover all of that in one day, we narrowed it down to two activities: the circus and Széchenyi Thermal Bath. If the skating rink had been open we would have tried that, but it wasn't quite cold enough yet in early December (normally it should be).
Seeing a show at Capital Circus of Budapest was a rare time when we spontaneously decided to squeeze a big activity into our schedule that we hadn't planned before our trip. My wife and I were both turned off by the idea of a circus, until we found out that (this particular show at least) was animal-free. There were only a few trained dogs, which we could live with.
But the real reason we chose to take the kids was that the feature performance at the time of our visit was Snow Dream, with performers from Yakutia, Siberia who had trained in China.
For our Elsa-loving daughter, this winter-themed performance struck a chord, and while had nothing to do with Disney's Frozen specifically, they did at least have one performance with "Let it Go" playing (in Hungarian, but good enough!) It was really cute to hear all the kids in the crowd singing along!
The circus performance lasted two hours, with an intermission. It was a little long for our four-year-old, but they both very much enjoyed it, as did we. From the funny clowns and wild acrobatics to a few particularly romantic dance performances, there was something for all of us to enjoy.
The circular circus tent was packed with kids, so we didn't have to worry about our kids being noisy for once in our travels. And yes, we did get the ridiculously large popcorn!
If you plan to attend a show at the circus, do check the current showings on the Capital Circus of Budapest website first to see if it's something you'd like (and whether or not there will be any animals if you are concerned about that). It's also essential to book your tickets on the website in advance; our show was totally sold out several days before; we got some of the last remaining seats, in a non-ideal section. Note that you need to print your tickets before arriving; showing the voucher on your phone won't do.
After the circus performance, our next stop, Széchenyi Thermal Bath, was conveniently right across the street.
Of the many thermal hot spring spas in Budapest, Széchenyi Thermal Bath is the most famous (with Gellért Spa on the Danube riverfront coming in second), and the one that the most tourists go to. If that seems off-putting to your, take one look at the photos, and you'll likely add it to your Budapest itinerary.
Are kids allowed at Széchenyi Baths? In short, under 14 is "not recommended", but they won't stop you. Essentially they don't want the place to become overrun with noisy kids, plus young kids are more sensitive to hot water and shouldn't stay in it for too long, as they can easily become overheated and/or puke (this happened to me once when I was a kid).
Our kids grew up with hot springs in Taiwan and we love them, so this place was an absolute must for us. If you decide to bring young kids like we did, just try to keep them under control, and don't stay in for too long.
We recommend booking your Széchenyi Thermal Bath tickets online before you go. When you enter, hang a right and show your voucher at the information desk. Forget about waiting in those long ticket lines!
Also, remember to bring some sandals. We forgot, and had to buy overpriced ones there. They didn't even sell any for kids, so we just carried our kids between pools.
While it's pretty easy to figure out when you get there, knowing how the baths are set up first can help. After you check in you get a bracelet to swipe in, which also works for a locker of your choice.
There are of course men's and women's change rooms, but another option when you book on Getyourguide is for a "private change room", which essentially means you get to have a little room for your family. It's a little more money so we didn't bother, but for families that want the privacy, it's sure worth it! The private rooms are also closer to the main outdoor pools.
After changing (normal swimming attire should be worn), head out to one of the three large outdoor pools. If you visit in winter like we did, you will freeze walking between pools, so bring towels out with you to cover the kids. The outdoor pools aren't identical; make sure you try the one on the east side with the (insanely fast moving) lazy river. The kids loved it!
The 15 or so indoor pools are found in the large building opposite the entrance/changing room building. According to the website, kids are not allowed into the indoor pools, but we brought ours in discreetly and nobody said anything.
This isn't for kids obviously, but the indoor section even has a thermal beer spa. No, you don't soak in beer, but you get to drink unlimited beer while you soak in a wooden tub. Maybe next time, when we leave the kids at home?
If you happen to be visiting Budapest in summer, then there are several family-friendly outdoor thermal pools in Budapest that have dedicated (cold) children's pools. These include Margaret Island Lido, Dagali Lido, Csillaghegyi, and Paskal Baths. Both Szechenyi Baths and Gellert Spa advise visitors with children to visit those ones instead.
But if you are set on visiting Szechenyi Baths like we were, then go for it!
Our Budapest Itinerary with Kids: Day 3
For our third and final day in Budapest, we checked off a few more places we wanted to see, did a little shopping, and took in the city's two most famous Christmas markets.
One thing I had wanted to do in Budapest was to see one of the caves. The city and surrounding area has loads of them, which is tied to why the city has so many hot springs.
Some of the most famous ones, like Pálvölgyi Caves, require serious climbing so they aren't suitable for kids. Older (or braver) kids may love the Buda Castle Labyrinth, a system of caves under Buda Castle that is filled with spooky creatures and fake smoke (Dracula was even said to have been imprisoned there).
Our kids, however, were mortified by the thought of the above, so the choice was settled that we would visit the Cave Church at Gellért Hill, which appealed to me most anyway.
To get there, we caught the tram from near our hotel to Fővám tér station (which is also on the subway line) then walked across Liberty Bridge (Szabadság Híd). We froze our butts off walking across, but the views looking either way, and at Gellert Spa on the other side, were incredible.
Gellert Spa is the city's second most famous thermal spa, and like Széchenyi Thermal Bath, it features breathtaking architecture.
Reaching Gellert Spa, we crossed the street and followed the short path up to the entrance to the Cave Church. It is thought that a hermit once lived in the cave and used the thermal waters that are now used for Gellert Spa to heal the sick. The chapel inside the cave was first consecrated in 1926 and is still a working church today.
After paying a small entrance fee (600 for adults, under 10 free), we spent about 10 minutes exploring the inner depths of the cave chapel. It was just spooky enough for our kids 🙂 You'll want to avoid coming when a mass is taking place (weekdays at 8:30, 17:00, and 20:00, Sundays the same plus an additional service starting at 11:00).
Walking back across Liberty Bridge to the Pest side, our kids got in some chilly play time at an outdoor playground before we headed into Great Market Hall, the most famous traditional shopping center in Budapest.
The warehouse-like Great Market Hall is surprisingly picturesque inside and out, especially with all the Christmas decorations up when we visited. Although a little touristy, I loved the festive atmosphere, and this was the perfect place for us to stock up on snacks, souvenirs, and Christmas presents for family back home.
Some typical items sold on the main floor include Pálinka (Hungarian fruit brandy), paprika in all possible forms, meats & cheeses, produce, chocolate, spices (watch for the surprisingly cheap Hungarian saffron), and much more.
The second floor is mostly devoted to souvenirs and trinkets. Meanwhile, locals seem to head directly to the basement floor, which centers on fish, meat, and more pickles than you can possibly imagine. We especially liked the jars of pickles with smiley faces and animal shapes.
After stocking up on gifts (and with our kids thoroughly done with shopping), we were instantly enticed by the delicious smells wafting from the small Christmas market set up across the street from Great Market Hall.
I ordered a potato pancake with sour cream and cheese (yum!) while Emily and the kids splurged on ribs. We also couldn't resist getting one of the beautifully arranged cabbage rolls on offer, and of course all of this was washed down with mulled wine, which comes in white or red varieties.
After our pricey little feast, we strolled the entire length of Váci Street (Váci utca), the most famous shopping street in Budapest. The street extends from the Central Market Hall in the south to Vörösmarty Square (Vörösmarty tér) in the north.
Whether you're looking for souvenirs or clothing, this is the place to come for some serious shopping. The kids got to take a breather in a Lego store towards the northern end.
Vörösmarty Square hosts what is considered Budapest's main Christmas Market. We noticed there was more food on offer at this one, but found the one at St. Stephen's Basilica (see below) to be more beautiful.
Vörösmarty Christmas Market also has a dedicated children's cabin, with various craft-oriented activities held throughout the day. We didn't have a great experience when we visited it though; after we entered and tried to ask if our kids could participate, one old lady rudely shooed our kids away in Hungarian. She was making candles, and while we could understand she was trying to say they were too young to do it themselves, all they wanted to do was watch her making them.
Next, we tried to get the attention of another lady helping some other kids make Christmas crafts, but she did a very good job at completely ignoring us, so we bailed.
From Vörösmarty Square, it is only a 10-minute walk to Budapest's other most famous Christmas market, St. Stephen's Basilica Christmas Market. On the way, we passed the iconic Budapest Eye Ferris wheel at Elizabeth Square (Erzsébet tér).
Of the many Christmas Markets in Budapest, St. Stephen's Basilica Christmas Market one is arguably the most beautiful, with the enormous basilica towering over the market and lit up in the evening. While it is glorious in the daytime, you really have to visit after dark for the full experience.
In the center of the square there was a large Christmas tree with a small, free skating rink around it (which sadly wasn't open yet), while the numerous stalls hawked the usual assortment of mulled wine & punch, gingerbread cookies, hot snacks, and Christmas souvenirs.
We arrived at the market just in time for a children's choir singing to open the evening (4:30 p.m.), followed by the half-hourly 3D lights display on the side of the Cathedral, which drew a real crowd.
We had read before that some of the stalls hand out 3D glasses kids, but we arrived just as the show was starting and couldn't find the glasses anywhere. The kids were a little disappointed (when they heard 3D, they were expecting something along the lines of the VR headsets with dinosaurs they'd experienced a few days earlier at Dino Park in Prague…)
The lights and market were beautiful nonetheless, and the perfect way to finish off three perfect days in Budapest with children.
Ironically, on our fourth morning, we woke up to find the city covered in a thick layer of snow, which we had to trudge through with all our luggage to get to the metro and on to the railway station to head to Vienna, the final stop on our 10-week trip!
I never travel without a good guidebook! Here are my recommended ones, including a Budapest travel journal for kids!