Dear reader: This article contains links to products and services that I may be compensated for, at no extra cost to you.
In our two month trip to Central Europe with our 4 and 5 year-old, Austria was quite possibly our favorite country. You can see here for all of our recommended places to visit in Austria with kids!
After a rather fantastic three days in Salzburg, followed by a single night in dreamy Hallstatt, we moved on to our next Austrian destination: Innsbruck.
As the two most popular cities in western Austria, Salzburg and Innsbruck are sometimes compared, and visitors with less time often choose one or the other. Often they go for Salzburg since it is closer to the capital Vienna (also read about our three days in Vienna here!)
Salzburg and Innsbruck are of roughly similar size and population, and both are near the border with Bavaria in Germany. The comparisons stop there, though, as the two have a completely different feel and range of tempting kid-friendly attractions.
Visitors with kids will find there are more adventurous things to do with kids in Innsbruck and around it. The city is practically synonymous with winter sports, having hosted the Winter Olympics twice (1964 and 1976), and the Bergisel Ski Jump (see below), a popular tourist attraction today, is visible from all over town.
As for the city center, Innsbruck felt a little more like a normal city to us. The Innsbruck Old City was gorgeous, but it simply couldn't compare to Salzburg's for us. However, Innsbruck is surrounded by snow-capped mountains, forming an incredible backdrop to the city, so in terms of natural beauty Innsbruck is the clear winner.
Innsbruck is also only 60 kilometers as the crow flies from the famed Neuschwanstein Castle in Bavaria Germany (which by the way, we also loved with our kids!), opening up the possibility of a day trip. However, despite the proximity, it actually takes quite a while to reach the castle from Innsbruck, and going to Neuschwanstein Castle from Munich may actually be simpler, with more tour options available, if the Bavarian capital is also on your itinerary like it was for us.
Besides Neuschwanstein Castle, there are numerous other day trip possibilities from Innsbruck.
We visited Innsbruck in November, which is generally considered one of the least desirable times to visit Austria (also read about the crappy weather we experienced in Lake Bled, Slovenia in November).
We were even so unlucky as to arrive during the one week of the year that the Nordkette Cable Car is closed for maintenance (Nov. 4-15 in 2019). The three-section funicular and cable car ride includes a stop at Alpine Zoo Innsbruck, one of the best things to do in Innsbruck. It's still possible to visit the zoo by bus, but we didn't bother.
While we had enjoyed some beautiful autumn colors on one day in Salzburg, for much of the time it was cold and gray. This is how it was on our first day in Innsbruck as well.
On our second day, though, we woke up to find a thick layer of snow had covered the city overnight, totally transforming the cityscape. Our kids, who were born and raised in Taiwan, had never seen snow before (not counting a trip to Canada which they were too young to remember).
The kids LOVED the snow and had great fun plodding around the city in it. We also devoted our third and final day in Innsbruck to visiting Seefeld, a ski resort town a short train ride away from Innsbruck, to really immerse ourselves in the snowy winter atmosphere.
Below I'll explain in great detail how we planned our three full days (four nights) in Innsbruck before moving on to Bavaria, Prague, and Budapest with our kids!
Tips for Visiting Innsbruck with Children
– You may want to considering ordering an Innsbruck Card, which includes public transportation and entry to a long list of attractions. For us, it wasn't quite worth it because we didn't pack in so many sights per day. Kids under 6 don't need one because they are free or heavily discounted at most sights, while ages 6-15 get a discounted rate on the card.
– If you're arriving and departing from the train station like we did, then staying near the train station makes everything easier with kids. We stayed in this simple Airbnb run by a friendly family. The view from our huge 11th floor terrace was unbelievable (see photo above). It was an easy 10 minutes walk from the train station, 15 minutes from the main sites of the Old Town, and close to a large supermarket.
– Search for other accommodation deals on Innsbruck hotels here.
– If you plan to rent a car in Austria, we had a good experience with RentalCars. To find the best flight deals, take advantage of the unique search functions on this flight booking site.
Read about our travels in Croatia and Italy with kids.
Day 1: Swarovski Kristallwelten with Kids
Normally we would start by visiting the main central attractions when visiting a new city, but in Innsbruck we decided to start with a day trip because we were tired of churches and architecture after our visit to Salzburg.
The one kid-friendly place around Innsbruck that really stood out when I was planning our trip was Swarovski Kristallwelten, a crystal-themed attraction at the headquarters of Swarovski (the world's most famous crystal producer) in the hills of Wattens, 13 kilometers east of Innsbruck.
It is hard to define exact what this place is; if I had to, I would say it is part crystal-themed art gallery, part crystal shopping complex, and part children's amusement center.
Swarovski Kristallwelten is controversial among visitors; people seem to either love it or hate it. Those who hate it tend to be people expecting something educational or teaching how crystals are made; this it is not. And those who love it are often visitors with kids.
To get there, we caught the Swarovski Kristallwelten shuttle bus (bus 4127, adults €9.50 return, kids under 15 free) from platform A of the bus station right in front of the Innsbruck Hbf. Railway Station. The shuttle bus and entrance fee are covered by the Innsbruck Card.
Make things easier when you arrive by buying your Swarovski Kristallwelten ticket online in advance, or take advantage of this offer which includes the entrance fee and return bus ticket from Innsbruck Station.
Arriving at the Swarovski Kristallwelten, we were first greeted by the very unusual and iconic artwork known as "The Giant." This bizarre leafy head with eyes of crystals spews out water and guards the entrance to the art gallery and shopping center buried within.
From there, it doesn't get any less we weird. We embarked on a roller coaster of awe and as we moved from room to room. There are 17 Chambers of Wonder, as they call the rooms, in total.
Each concealed a different world, from torso robots dancing to electronic music and psychedelic love realms to 3D prints and alien spheres, all united under the theme of crystals.
Like our pictures? See the small mirrorless camera we always use when traveling with kids.
I have to admit that I enjoyed the art gallery far more than I had expected; I don't personally care in the slightest about crystals, but this place was so over-the-top that I couldn't help share in my kids' excitement as we entered each new room, with no idea what to expect.
Finally, we reached (and of course were forced to walk through) the crystal shopping area to reach the exit, but even there we found a few pretty magnificent pieces of art on display worth stopping for a look.
Next we headed outside to the expansive Garden area, where the Crystal Cloud art installation immediately caught our attention. The trees of hanging crystals were reflecting beautifully in the adjacent Mirror Pool, the effect being nothing short of breathtaking.
From there, we couldn't hold the kids back any longer from running to the 4-story children's Playtower. Better that most playcenters we've been to, the tower featured trampolines, rope climbing, slides, and more. For us parents, the upper floors of the tower also afforded beautiful views of the surrounding area and mountains.
Just outside of the playtower was a large playground, including a rooftop that kids could climb up onto and roll marbles around in various tunnels.
Moving along, we ran (and screamed) our way through the Labyrinth, a leafy maze that is actually shaped like a hand if you were to view it from above. See the video at the top of this article!
Finishing off the excitement (and weirdness) was the most non-traditional carousel we've ever seen, perfectly suiting the premises on the whole.
To sum up, even if you don't give a crap about crystals or buying them, don't give this place a miss if you are visiting Innsbruck with kids. It really blew our expectations out of the water!
As a final note, you'll want to pay careful attention to the shuttle bus schedule; they only run about every two hours. We actually covered the whole thing in two hours by slightly rushing, but easily could have stretched that out to four.
Day 2: Exploring Innsbruck Old Town
As I mentioned in the introduction, we awoke on our second day in Innsbruck to find the city had been transformed into a wintry wonderland. This was massively exciting for all of us—we live in subtropical Taiwan, our kids have never played in snow, and I grew up in Canada but haven't had a snowy winter in ages.
Since the temperature went well above zero that day, the streets soon became a slushy mess. Our kids were more than happy to head out for some sightseeing if that meant they could hop onto every pile of snow we passed along the way.
It was about a 15-minute walk from our hotel to Maria-Theresien-Strasse, the iconic shopping street that you are likely to see in any postcard from Innsbruck. Rows of pastel-colored building flank either side of the wide pedestrian boulevard, with a glorious façade of mountains forming the background to the scene.
The road terminates at Golden Roof, Innsbruck's most popular tourist attraction. The small roof sticks out from a building and is covered with 2,657 fire-gilded copper tiles. I would say it is anti-climatic, but it is tourist-central in Innsbruck. The kids didn't care in the slightest; they were far too busy stomping snow in what was soon to be a Christmas market set up in the square below to even look up.
Far more impressive, to me at least, were the two notable churches in the near vicinity. We first visited gothic Court Church (Hofkirche), built as a memorial to Emperor Maximilian I and containing the tomb of Andreas Hofer, a local hero. The church is elegant, with a key feature being the large cenotaph of Maximilian at the center and rows of statues leading up to it.
The church has an entrance fee of €5 (covered by Innsbruck Card, children free), so Emily opted to stay outside while I took the kids in. Their favorite part was an internal courtyard we had to walk past which was covered in snow and gave them a chance to run around for a while.
Nearby, the Cathedral of Saint James (Innsbruck Cathedral) is the better known of the two, and is an absolute must-see when in Innsbruck. The 18th-century Roman Catholic cathedral has a mesmerizingly detailed baroque interior; be prepared to spend some time with your head up.
When we first tried visiting we couldn't enter because a mass was taking place. Later when we returned it was open to visitors, but we could only look from the back section. It's free to enter, but a €1 fee is to be paid at a machine for those wishing to take photos.
From there, we meandered over to Innbrücke bridge, which offers impressive views over the blueish Inn River to the picturesque row of pastel buildings on the other side, or looking back at the Old Town.
Back on Maria-Theresien-Strasse, we followed it south to Triumphpforte, bringing an end to our short but sweet kid-friendly walking tour of Innsbruck's most famous sights.
After lunch, we headed over to our second carefully chosen kid-focused thing to do in Innsbruck: Audioversum, a museum devoted to sound. The museum is highly interactive and aimed at kids. It had excellent reviews from other visiting families, so we added it to the itinerary. Also note, the museum is included on the Innsbruck Card.
The fun began as soon as we entered, with a wall that lit up with every sound we made walking toward the ticket desk. Next, the kids got to enter a small room where they had to make a range of noises, from whispers to screams, to try to mimic the volume levels of various animals, vehicles, and other things in the real world.
Proceeding the second floor, the displays were hit or miss; some were dull so we quickly moved on. Sadly, the room where you can listen to various animal noises and try to identify them was out of operation; our kids really would have liked that.
A top hit with our kids was the game in which they were blindfolded, heard a bird chirping with headphones, and had to walk towards the sound to reach the bird. They also loved the final activity, making their own (very silly) recordings for later guests to be able to listen to.
All in all, the museum was fun but wasn't very big. We were in and out in less than an hour. It was great for the kids and well done, but we feel they could do even more with it. Definitely it was a unique experience and something we would recommend for anyone visiting Innsbruck with young kids.
Day 3: Seefeld with Kids
One of the great highlights of Innsbruck is the mountains that surround it. Although we didn't do anything as adventurous as skiing, snowshoeing, or sleigh-riding (all common activities there in winter), we wanted to at least get a little closer to the mountains, especially with the fresh layer or snow on the ground.
While there are many daytrip possibilities from Innsbruck, we decided to visit Seefeld, a small alpine village 17 kilometers (about 35 minutes by train) northwest of Innsbruck.
Seefeld is a popular tourist resort and famous for cross-country skiing, not to mention the two downhill ski areas around town. Seefeld hosted the Nordic portion of the Winter Olympics both times they were held in Innsbruck.
Seefeld provided the perfect quick and easy escape from the city with young kids. It was small, easy to reach, and very picturesque. When covered in snow, it reminded me very much of ski resorts in the Rockies in my native Canada, with its beautiful wooden lodges are breathtaking alpine scenery.
Arriving in Seefeld after a scenic train ride, we first strolled over to Wildsee, a small, peaceful lake set in natural surroundings, only a 10-minute walk (make that 20 with kids and snow) from the train station.
The lake was newly frozen over and my kids really wanted to walk on it (they still have a lot to learn about winter…)
Next we walked to the Olympiabad Swimming Pool (Kongreßzentrum Seefeld), our main planned activity for the day. Had we walked back via the train station, it would have been an easy stroll.
Instead, we followed the GoogleMaps' directions along what looked like a shortcut, which turned out to be a snow-covered trail through cross-country skiing territory. The snow got deeper and deeper, and the walk took significantly longer than it should have. In the end, it brought us to the backside of the swimming pool complex, from where we had to cross yet another huge field with even deeper snow to get around to the front.
If that sounds like a small horror story with two young kids, well, we actually loved it. For a family like us that doesn't get out of the city much, and for kids who have never experienced snow (and a Dad who did as a child but now misses it a lot), it was great fun, not to mention some excellent views we enjoyed over Seefeld along the way.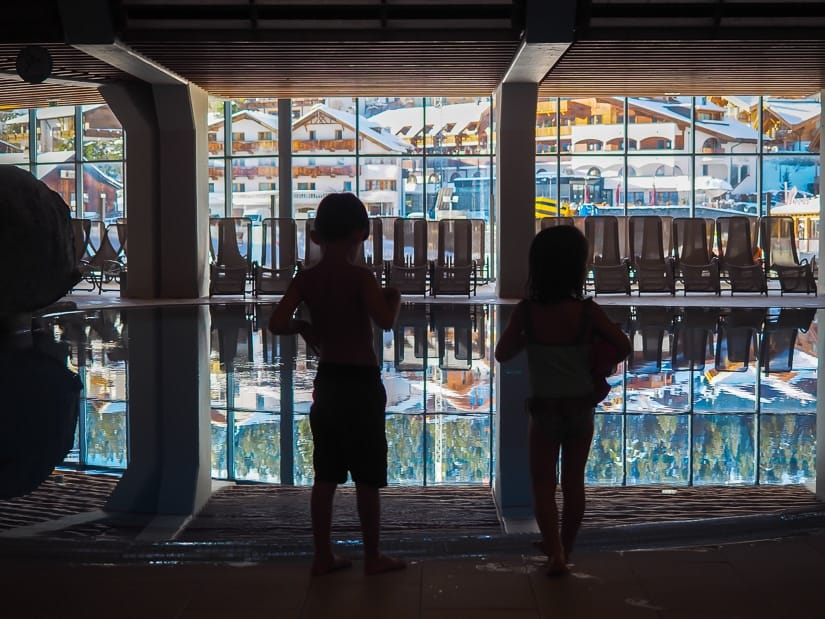 Going for a swim at Olympiabad Swimming Pool was an activity we had planned well in advance. The pool is awesome to say the least. Besides the large indoor swimming area, it features a heated outdoor pool that you can swim out into (a great treat for us after weeks of traveling in cold weather), a children's swimming area, and a solarium and sauna (adults only).
But the best part of all were the two outdoor slides. One of them is a tube ride (6-12 years can go with an adult) with transparent roof, so you can see the icy exterior as you ride, while the other (age 12+) is a wide, wild set of drops and pools that is totally open to the sky, so you can enjoy mountain views and snow all around you as you plunge your way down.
With the sun beginning to set as we left the swimming pool, we stopped at Bräukeller & Grill for dinner on the way back to the train station. The burger and BBQ restaurant (I went with vegetarian lasagna) has an incredibly atmospheric, cave-like interior, with great beers made in-house. It was a fine meal and perfect way to end three perfect days in Innsbruck with the kids.
I never travel without a good guidebook! Here are my recommended ones: