Dear reader: This article contains links to products and services that I may be compensated for, at no extra cost to you.
South Korea's second city and largest port, Busan, is home to a surprisingly impressive array of breathtaking temples.
Busan's temples are a varied lot, from sea-facing temple complexes to ancient mountain retreats with Buddhas carved into cliff walls, and everything in between. For this reason, temples are surely one of the things South Korea is known for.
Seeing the temples of Busan and writing this article was the main purpose my most recent trip to South Korea, and below I'll tell you why each temple stands out or was special for me, and how exactly to get to each one of them.
I've ordered this list of best Busan temples from closest to furthest away from the awesome hotel that I carefully chose on Yengdo Island, near Nampo and Busan station. If you need more tips on where to stay in Busan, check out my guide to Busan's best neighborhoods.
Also be sure to check out my list of the 50 best things to do in Busan and my recommended 5 day itinerary for Busan. If you're planning a trip across the country, here's a detailed South Korea itinerary!
Planning a trip to Busan? Here are some money- and time-saving tips:

– Two Busan temples from this article are included on this Busan east coast cultural tour. Get ₩3833 off this tour or any other activity on Klook by signing up first with my referral link.

– Visit more temples faster by chartering a private car with driver.

– Save money by booking your Korea Rail Pass online for travel between Seoul and Busan.

– Book your SIM card or portable WiFi device for pick-up when you arrive. I found this super convenient!
1. Daegaksa Temple
Daegaksa (or Daegagsa) is a small temple dating to the Japanese colonial era in Korea (1910-1945). It is located is the middle of Gwangbok-dong, a very busy and fashionable neighborhood.
The temple is sandwiched between Gukje Market, the largest traditional market in all of South Korea, and Yongdusan Park, where Busan Tower rises from the top of the hill.
Because the temple was built in Japanese times, some Japanese elements still remain, such as a Japanese-style stone pagoda in the yard. The temple is quite compact, and it only takes a few minutes to enter and have a quick look at the yard and Main Hall.
What Makes it Special
Daegaksa is the only temple amidst a fully urban setting on this list, as all the other entries are on the edge of the city or up in the mountains.
While the temple itself is nothing terribly special, Daegaksa offers the unique experience of being able to step off the chaotic street in one of Busan's most popular and touristy neighborhoods, and suddenly find yourself in a serene little Buddhist oasis.
For me, the thing that instantly caught my attention was the beautiful lanterns hanging in the temple's small courtyard. Since I've never been in Korea for the Lantern Festival, this small glimpse of it at Daegaksa made it very memorable for me.
Moreover, the sun was at just the right angle when I visited for me to snap some gorgeous shots like the one above.
How to Get to Daegaksa Temple
From Nampo subways station (there are various exits you could take), make your way to Gwangbok-ro (also known as "Gwangbok-dong Cultural and Fashion Street", a major attraction in the area) and follow it west to the intersection with Gwangbokjungang-ro. Turn right (north) onto the latter and walk for a few minutes.
Keep an eye out for the small entrance gate on the left, as it can be quite easy to miss! It's right on the edge of Gukje Market, and if you go one block in to the market, the back wall of the temple forms the side of one street in the market.
Address: ("Daegagsa" on GoogleMaps), 6 Sinchangdong 1(il)-ga, Jung-gu, Busan
For another colorful sight, read my guide to Gamcheon Culture Village in Busan.
2. Taejongsa Temple
Like Daegaksa, Taejongsa is neither large nor typically found on the usual lists of "best temples in Busan." Taejongsa nevertheless rightfully earns its spot on this one.
Taejongsa sits on the slopes of a forested hill in Taejongdae Resort Park, a coastal park which occupies the southern end of Yeongdo (Yeong Island), a large island located south of the Busan city center and Busan Port.
Taejongdae Resort Park is very popular among locals and visitors. Because the park is quite large, most people ride the "Danubi Train" (a cutely painted "train" on wheels pulled by a truck) on the 4.3-kilometer circular route around it, and Taejongsa is the third and final stop before returning to the park entrance.
From the train stop, a five-minute walk through the forest brings visitors to the temple grounds, which consist of a small collection of buildings shaded by large trees.
The temple supposedly houses two Buddha relics and two peepul (sacred fig) trees donated by Sri Lanka, where one such tree grows from pieces taken from the Bodhi tree in India, under which the Buddha is thought to have attained enlightenment.
Note that there is one more temple in Taejongdae Park called Gumyeongsa. It is also along the circuit road, but the train doesn't stop at it.
What Makes it Special
Just like the previous entry, the buildings of Taejongsa themselves won't blow you away, but the serene forest setting makes a visit worthwhile.
I also loved the way that the trees loomed over and framed the temple's small Main Hall, as captured in my photos above.
For me, it was the amazing coastal views from Taejongdae park that rounded out the experience, especially at the Observation Deck and Yeongdo Lighthouse (the first and second stops on the train). I would say come for the views, but don't miss the temple!
How to get to Taejongsa Temple
A full circuit on the Danubi Train costs 3000 won. You could easily walk, but since I visited on a hot summer day, I happily rode the train between the various points.
If you walk and want to go directly to the temple, you can take the left road (walking the route in a clockwise direction) from the entrance area and reach the temple in about 30 minutes, or follow the train in a clockwise direction and see the famous lookout points first.
Address: 29-4 Dongsam 2(i)-dong, Yeongdo-gu, Busan, South Korea
Related articles:

– 10 Jaw-Dropping Temples in Myanmar

– 15 Jaw-Dropping Temples in Chiang Mai

– 30 Jaw-Dropping Temples in Taipei

– 20 Jaw-Dropping Temples in Tainan

– 30 Jaw-Dropping Temples in Southeast Asia
3. Samgwangsa Temple
For more details than you'll find here, see my guide to Samgwangsa Temple.
Samgwangsa is one of the largest and most famous temples in Busan. It is young by Korean temple standards, having been built in 1983. It is a major temple of the Cheontae Order of Korean Buddhism, whose headquarters are found at Guinsa Temple in the Sobaek Mountains, central South Korea.
The sprawling complex of grand structures occupies 120,000 square meters on the slopes of Mt. Baekyang (Baekyangsan) in the center of the city. The temple overlooks part of the city and is surprisingly easy and fast to get to from Seomyeon, the commercial heart of the Busan.
Most people know Samgwangsa as the best place in Busan to experience the annual Lotus Lantern Festival on the Buddha's birthday, which usually takes place around May.
At that time, the temple is decorated with tens (or hundreds) of thousands of paper lanterns, some of which form a canopy over the entrance staircase and sprawling main courtyard. If you are in Busan for the festival, it's something you won't want to miss.
Another unique feature of the temple is Daebo Tower, a white, 9-tier stone pagoda that is apparently the largest of its kind in Asia, and is carved with gorgeous Buddhas and other reliefs.
What Makes it Special
Experiencing the Lantern Festival at Sangwangsa is the obvious answer here, but after giving it much thought, I actually recently decided to visit Busan after the festival was finished so that I could avoid the crowds at all the temples during the festival.
For me, even without the lanterns, Samgwangsa was still very special. When I visited on a weekday, I practically had the entire enormous grounds to myself.
My favorite part of visiting Samgwangsa was walking up the short trail beside the main hall to enjoy incredible views over the temple's many roofs and down to the city below. Daebo Tower also stood out as a special feature.
How to Get to Samgwangsa Temple
A taxi from Seomyeon will cost 5000 won. Alternatively, mini-bus #15 only takes 10-15 minutes. To find the bus stop, take exit 9 from Seomyeon subway station and walk straight to Young Kwang bookstore, where you'll find the bus stop across the street.
I visited Samgwangsa and the next two temples all in one morning. While it may be possible to walk over the mountain from Samgwangsa to Seonamsa, I caught a taxi (5000 won) by asking someone in the souvenir shop at Samgwangsa to order one for me.
It took a while because the taxi had to drive down one side of the mountain and up the other.
Address: 77 Choeupcheon-ro 43beon-gil, Choeup-dong, Busanjin-gu, Busan
4. Seonamsa Temple
Lovely Seonamsa is situated on the other side of Mt. Baekyang (Baekyangsan) from Samgwangsa, but is a little harder to reach. I would guess that it is possible to walk over the mountain between them, but I can't confirm this. If you know, please comment below!
Seonamsa is nestled in the forest and is particularly serene. A narrow staircase from the road brings visitors up to the first of three levels of structures, where the Main Hall and several other halls and structures lie.
The second level is even quieter and covered in a canopy of trees, with a trickling stream to one side. The collection of small halls here seem ideal for those wanting to worship or contemplate in relative privacy.
Further ascending the stairs brings one to a third level, where a single shrine is located.
Note that Cheonansa (#5 below) is only about a 10-minute walk from Seonamsa, so it makes sense to see both of them if you are going up there.
What Makes it Special
Of all the temples I visited in Busan, Seonamsa was the only one where I was inspired to find cozy spot, sit down, and just meditate for a while.
The temple's setting is extremely peaceful, there are few visitors, and the trees provide lots of shade. The sound of the creek trickling at the same only added to the experience. Come here for fresh air and a quick escape from hectic life in the city!
If this sounds like your kind of thing, you may also want to check out my articles on meditation for travelers and staying present while traveling.
How to Get to Seonamsa Temple
As I mentioned above, I caught a taxi from Samgwangsa to Seonamsa. If you are coming directly to Seonamsa, taking a taxi is also probably the best idea, too, as I don't think there are any buses that will get you very close. A taxi from Donguei University subways station will cost about 4000 won.
Then comes the problem of getting back down the mountain. After visiting Seonamsa, I walked over to Cheonansa (about 10 minutes, see below), after which my only option was to walk down to the city.
It took me nearly an hour to walk all the way to Donguei University subway, and the first part of the walk was through some sketchy abandoned neighborhoods (to avoid this, take note of the way your taxi drives up to the temples, and follow the same route back down). I could have hailed a cab about half way down, but decided to just keep walking.
Considering these issues, you may want to have someone from Seonamsa call a taxi for you, or have the taxi you arrived in wait for you.
Address: (Korean name only on GoogleMaps) 138 Baegyangsan-ro, Buam 3(sam)-dong, Busanjin-gu, Busan
5. Cheonansa Temple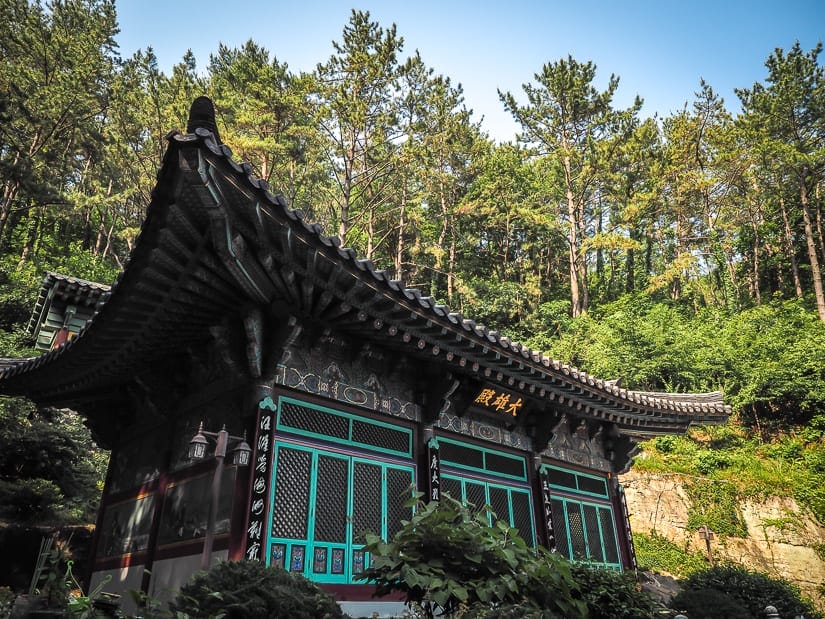 Small Cheonansa occupies a lush valley only about 10 minutes' on foot from Seonamsa. It's not a must-see temple in Busan, but if you are making the journey to Seonamsa and in no rush to get back down, then it's worth a look.
If you follow my directions below, you may hear the sound of Buddhist mantras played over speakers through the forest before you actually arrive at Cheonansa, and then you'll spot some of its buildings through the trees.
Following the driveway into the main temple area, there isn't much more than a modern monks' dorm, a 3-tier stone pagoda, a Main Hall, and a few other shrines. A trickling stream runs right through the temple grounds.
What Makes it Special
The approach to the temple from nearby Seonamsa was my favorite part, especially with the Buddhist mantras playing as I walked through the forest.
What makes this temple special is that it is not popular at all, and you may not even see another soul, as I did. I wouldn't come this far just for this temple, but it's a perfect add-on for a visit to Seonamsa.
How to Get to Cheonansa
From Seonamsa, descend the staircase and follow the road downhill. Just after passing the large school, turn left and walk until the road dead ends. From there, you'll notice a trail going down into the valley along the stream. Five minutes down the path, you will reach Cheonansa.
Address: ("Cheon-Ansa" on GoogleMaps) 73 Buam 3(sam)-dong, Busanjin-gu, Busan, South Korea
6. Haedong Yonggungsa Temple
For more details than you'll find here, see my guide to Haedong Yonggungsa.
In recent years, Haedong Yonggungsa, the "Temple by the Sea" has transformed into an extremely popular tourist attraction in Busan. Despite its remote location on the northeastern coast of Busan, many Busan day tours (such as this one or this one) include it on their itineraries.
I would not be at all surprised to learn that it now receives more visitors than Beomeosa, which has traditionally been considered the most famous and important temple in Busan.
The main draw of Haedong Yonggungsa is that it is located on the sea rather than in the mountains like most other Korean temples.
You can have a professional take awesome photos of you at Haedong Yonggungsa and other beautiful locations in Busan on this special Busan photography tour.
The temple's rise to fame is no surprise; as soon as one-of-a-kind views like those offered at this temple make their way to Instagram, everybody wants to get to that same spot to take the same picture.
Here, the "spot" is rocky outcrop where crowds of people now stand to take photos of the main collection of temples with waves crashing below. This is also called the "Sunrise Platform", as huge numbers of people come here to watch the sunrise on the first day of the year, and, increasingly, other days of the year, too.
If you want to catch the sunrise at Haedong Yonggungsa, be sure to read my guide to where to stay in Busan to find out how you can stay nearby in order to easily get there early in the morning.
What Makes it Special
I must admit that I had high hopes for this temple, and it was the only temple in Busan where I was actually a little disappointed. You'll have to read my article on Haedong Yonggungsa to find out why, and also to learn how to walk to another little temple near Haedong Yonggungsa.
Still, the temple is undeniably special; all you have to do is look at the photos to see why. If you can, try to visit as early as possible or for sunrise, as I did on my second day after staying in the area.
I also enjoyed following the seaside path north from Haedong Yonggungsa toward the luxurious Hilton Busan (see on Agoda / Booking / TripAdvisor). Along the way, there's a spot on the coast where visitors have built up hundreds of little rock men by the sea, which is quite a sight.
How to Get to Haedong Yonggungsa Temple
Take the subway to Haeundae station, from where you can catch bus 181 from exit 7. The bus ride takes about an hour.
If you want to get there faster, just hop in a taxi from Haeundae or the terminal Jangsan station (8000/7000 won). The ride takes about 20 minutes.
Address: 86 Yonggung-gil, Gijang-eup, Gijang, Busan
7. Seokbulsa Temple
For more details than you'll find here, see my guide to Seokbulsa Temple.
While I don't like to choose favorites, off-the-beaten-path Seokbulsa Temple would certainly be a contender.
Seokbulsa is built into the slopes of Geumjeongsan (Mt. Geumjeong), the highest mountain in Busan, and features awe-inspiring Buddhas and temple guardians carved into the sandstone cliffs. It most likely dates to the 1930s.
When you first reach the temple, the small collection of buildings seems fairly normal, until you reach the last two, between which you can ascend into a rocky alcove. There you will find the towering, 10-meter Buddha statues carved into the walls, and caves filled with Buddhas.
What Makes it Special
While Seokbulsa itself is small, the views over Busan, amazing cliff carvings, lack of people, and fun in getting there make it one of the most rewarding temples to visit in Busan.
There is definitely a special energy in that rocky alcove; it's no wonder a monk decided to set up the temple there and put up the carvings.
How to Get to Seokbulsa
It takes 4-5 hours return to get to Seokbulsa, which includes a ride on the Geumgang Cable Car in Geumgang Park and a hike with a few uphill and downhill slogs.
The path is mostly marked, but tricky in a few spots and sometimes people get a little lost (myself included) on the way. Read my full guide to Seokbulsa to avoid my mistakes.
It is also possible to walk from Seokbulsa all the way to Beomeosa (see below) along Geumjeongsanseong (Geumjeongsan Fortress), but that would be a very full day of hiking.
Address: 143-79 Mandeokgogae-gil, Mandeok 1(il)-dong, Buk-gu, Busan
8. Beomeosa Temple
If I had arranged this list in order of importance, then Beomeosa would have been in the #1 spot.
Beomeosa is the largest temple in Busan. It is the head temple in Busan of the Jogye Order of Korean Buddhism, the most common one. It is also the only temple in Busan that offers a temple stay program for international guests. See here to read my full review of my temple stay at Beomeosa!
Beomeosa was established in 678 as a way to thank the gods for assistance in resisting a Japanese attack, and is named Beomeosa, or "Heavenly Fish Temple" after a legendary golden pond on top of the mountain.
Like Seokbulsa, Beomeosa occupies the slopes of Mount Geumjeong (Geumjeongsan), the tallest mountain in Busan. Visitors arrive via a long, uphill entrance path with numerous stone turtles and carved tablets on either side.
Next, they pass under four separate entrance gates, each unique, before reaching the main courtyard, where the most important halls and shrines are found.
What Makes it Special
Beomeosa is far enough up the mountain to feel removed from the city and be surrounded by nature, yet it is close enough to easily reach. It has everything that you would hope for in a Korean temple experience: gorgeous setting, ancient history, intricate details, peaceful atmosphere, and so on.
During the temple stay at Beomeosa, I got to chat for hours with Korean monks, learn how to do Korean Buddhist meditation and prostrations, go on a temple tour led by a monk, witness an incredible drum performance, and more. I've stayed in temples in other countries, such as Eko-In Koyasan in Japan and Lion's Head Mountain in Taiwan, but none were as memorable or informative as this one.
How to Get to Beomeosa Temple
From Beomeosa subway exit #5 or 7, you can take a taxi like I did (4000 won). Note that the taxi may take you to one of the parking lots that are higher up than the normal entrance paths and gates. I was quite confused when this happened to me, but just walked uphill towards the temples and soon found the main courtyard.
A cheaper way to arrive is by bus. Walk up the road between Beomeosa subway exits #5 and #7 for less than five minutes, and you'll reach a bus stop with a sign that clearly says "Bus #90 for Beomeosa Temple".
A third option is to walk up to Beomeosa, which would take about an hour from the subway. I actually walked from Beomeosa back down to the subway (50 minutes) after my temple stay. It was an enjoyable walk along a stream, and I got to see one of Beomeosa's hermitages (see below) along the way.
Address: 250 Beomeosa-ro, Cheongnyongnopo-dong, Geumjeong-gu, Busan
9. The Hermitages of Beomeosa Temple
When researching my trip to Busan, I noticed that there were several "hermitages" scattered around Beomeosa on the slopes of Mt. Geumjeong. Not knowing exactly what these were, I decided to wait until my Beomeosa temple stay to ask.
According to the monk who led our tour to one of these hermitages, when people become monks, they usually develop a father-son relationship with a mentor monk, and other monks under the same mentor become like siblings. These "families" even trace lines of ancestry to the mentor's mentor, and so on.
Many hermitages are associated with these ancestral lineages. Some of them are small shrines, while others grow into large temples themselves.
Beomeosa has 11 associated hermitages, although a few of them are off limits to visitors, as they are places where monks study or meditate.
What Makes them Special
The most visited and impressive hermitage is Cheongnyeonam, or "Blue Lotus Temple", which lies directly north of Beomeosa.
Cheongnyeonam was once the headquarters of Sunmudo, a kind of Korean martial arts, and visitors can see images of monks doing Sunmudo moves on the walls of the various buildings. There's also a huge, impressive golden Buddha statue surrounded by a large number of smaller statues.
Another hermitage that can easily be visited is Geumgangan Hermitage, southwest of the main cluster of temples. The hermitage features several buildings, one of which is built into a cave, and the rocky path along a stream to get there is very beautiful.
If you walk up to Beomeosa from the subway (or back down like I did), you can visit a number of other hermitages on the way up/down. There are two roads to Beomeosa, one with traffic coming up, and the other with the traffic going down. I would recommend walking the road with the traffic going up.
About halfway, you'll pass Jijangam Hermitage. The view of Mt. Geumjeong from the second floor of the small Main Hall is impressive, but my favorite part was the small cave temple that was filled with so many candles that it felt like a sauna inside, and had an intoxicating aroma.
How to Get to Beomeosa's Hermitages
6 out of 11 of Beomeosa's hermitages are indicated on GoogleMaps, which should be sufficient for most visitors. If you are a serious temple enthusiast and want to visit all the ones that are open to the public, you'll probably need to make multiple trips to Beomeosa.
Cheongnyeonam, the one I most recommend visiting, can be found by following the vehicle road up past all of Beomeosa's parking lots. After the final parking lot, the road continues up another five minutes (on foot) to Cheongnyeonam.
10. Hongbeopsa Temple
In the far north of Busan, a short drive from Nopo (the northernmost subway station), Hongbeopsa Temple is known for its enormous, 21-meter golden seated statue of Amita-bul (The Buddha of the Western Paradise), the largest of its kind in South Korea.
The towering statue is visible from far away, including from arriving and departing KTX High Speed Trains, and it sits atop the large, circular, and very modern main hall.
Visitors can climb to the top of the main hall to enjoy an impressive, close-up view of the statue, and even enter a part of the statue.
The temple is surrounded by Mt. Cheolma, Mt. Keumjeong, and Suyeong River, which supposedly create the shape of lotus flower around it. There's also a statue of Gandhi on site, donated by the government of India.
What Makes it Special
Of course the giant Buddha is the main feature that stands out here. Personally, I always have mixed feelings when it comes to giant Buddhas. On the one hand, I can't help but feel awe before them. On the other, I don't understand the need for them, especially as the Buddha himself said that he didn't want to be worshipped.
Besides the giant Buddha, the temple grounds also feature beautifully manicured gardens, including cherry blossoms, that make for a relaxing stroll.
If your time is limited, then stick to Beomeosa or make a half-day trip to Tongdosa (see below), but if you've go more time and find yourself in the north of Busan, then Hongbeopsa is a must-see!
How to Get to Hongbeopsa Temple
There is a shuttle bus from Central Bus Terminal, Nopo subway station that leaves roughly every half an hour.
Address: 1220-1 Dugu-dong, Geumjeong-gu, Busan, South Korea
11. Tongdosa (out of town, but worth the trip!)
While not in located in Busan City, but neighboring Gyeongsangnam-do (South Gyeongsang Province), Tongdosa is one of South Korea's most famous and important temples, and can easily be visited as a half-day trip from the city.
Like Beomeosa, Tongdosa is a head temple of the Jogye Order of Korean Buddhism. It dates to 643 and is considered one of the Three Jewels Temples of Korean Buddhism. Tongdosa represents the Buddha (Haeinsa represents the Dharma, or teachings, and Songgwangsa represents he Sangha, or community).
Tongdosa has also recently been classified as a UNESCO World Hertage Site called Sansa, Buddhist Mountain Monasteries in Korea, along with six other temples throughout Korea.
You can visit Tongdosa as a part of this Tongdosa day trip from Busan, which includes other activities such as hiking and riding a cab car.
The temple famously has no Buddha statues, because relics from the historical Buddha himself are preserved within the temple's shrines, including a bone fragment from his skull, a part of his robe, and his begging bowl.
The temple features an extremely beautiful 15-minute approach on foot along a lovely stream. Next visitors pass a huge collection of stone pillars that commemorate deceased monks, a large museum housing incredible scrolls and paintings, two picturesque bridges, and three gates before reaching the sacred courtyard.
Behind the Main Hall, there is a concealed area where the Buddha's relics are enshrined in a stupa. It's off limits, but you can sneak a peak at it from the steps of an adjacent shrine.
What Makes it Special
Tongdosa is the largest temple in Korea and has a staggering 19 associated hermitages. Of the Three Jewels Temples, it is also the most accessible.
For me, the most striking feature was how old the temple felt and looked. While many temples in Korea and elsewhere date back to ancient times, oftentimes they have been rebuilt quite recently and don't actually look that old (a good example are the ancient Kumano Sanzan temples in Japan, which are regularly rebuilt and didn't seem old at all to me).
By contrast, the various structures of Tongdosa look so ancient that it's impossible not to be impressed they are still standing.
Other highlights for me were the beautiful approach to the temple, the enormous painted scroll hanging in the lobby of the museum, and the delicious bibimbap I had in the vegetarian restaurant on site.
Getting to Tongdosa Temple
Tongdosa Temple is located in the Tongdosa area of Gajisan Provincial Park in South Gyeongsang province. From Central Bus Terminal at Nopo station in Busan, take the bus from platform #33-34. You can buy a ticket from the local ticket windows first or just swipe your IC card on the bus. The ride costs 2500 won and takes 30 minutes. If you're making the journey, you may also want to consider this great hike in Gajisan Provincial Park.
From the bus terminal where you are dropped off, it takes 10 minutes to walk to the entrance gate of Tongdosa, and another 20 minutes to reach the main temple area.
Address: 108 Tongdosa-ro, Habuk-myeon, Yangsan, Gyeongsangnam-do
If you have more time in Busan and want to explore other impressive temples as day trips from the city, then I would recommend the two other Three Jewels Temples, Haeinsa and Songgwangsa, as well as Seongnamsa and Unmunsa north of Tongdosa.
I never travel without a guidebook! I recommend these: