Dear reader: This article contains links to products and services that I may be compensated for, at no extra cost to you.
For some 338 years (1664 to 2002), large quantities of salt were produced in the coastal regions of Tainan and Chiayi in southern Taiwan.
Today, Cigu Salt Mountain (七股鹽山) stands as a testament to Taiwan's salt-producing past. Visitors can climb to the top of it, then head to nearby Qigu Salt Museum (臺灣鹽博物館) to learn all about the once thriving salt industry in Taiwan and buy locally made salt products.
Fifteen kilometers to the north, Taiwan's most photogenic salt fields are preserved at Jingzijiao Wapan Salt Fields (井仔腳瓦盤鹽田). These are two of the most interesting yet off-the-beaten-track things to do in Tainan, Taiwan's ancient capital city.
I've visited these sights several times, as my wife's hometown is in the area and we usually go there to meet with her family during Lunar New Year in Taiwan. Our kids had a great time visiting these sights, so if you're visiting Taiwan with kids, consider adding them to your Taiwan itinerary!
In this article, I'll tell you exactly how you can squeeze in all three of these quirky but important historical attractions in one day by public transportation–buses are limited and the schedules are complicated, so please follow my advice below carefully. I'll also cover what to expect at each of these places, and I'll recommend a super local guesthouse should you want to spend the night in the area.
If you're in the area and love quirky attractions, then you may also want to consider visiting High Heel Wedding Church, Guanziling mud hot springs, or Sicao Green Tunnel.
If you're spending time in the city, also see my guides to Tainan's top temples and Tainan's best night markets!
To avoid super slow and infrequent buses, you can rent a scooter or a rent a car in Tainan to visit these sights. Sign up for Klook with this link first and you'll save TWD100.
The History of Salt in Taiwan
Salt production was first introduced to Taiwan by Chen Yung-hua (陳永華), an aide to Cheng Ching (鄭經, ruled Taiwan 1642–1681). It was found that the southwest coast of Taiwan, especially around what is now northern Tainan City and southern Chiayi County, was perfect for the construction of salt fields.
The lagoons in the area served as a natural barrier from the sea, while strong sunlight provided the evaporation that was needed. A unique brine drying method was developed to make up for the fact that Taiwan lacked a distinct dry season that is necessary for the salt making process.
Early salt fields in Taiwan were operated by individual families. Some of the largest salt fields were developed in the 1800s in the Beimen (北門) region of Tainan (including Jingzijiao Salt Field) and adjacent Budai (布袋) region of Chiayi. As the population of Taiwan increased, these salt fields grew in size to meet local demand.
During the Japanese colonial era (1895-1945), Japanese corporations took over, and local salt makers became company laborers. During WWII, Qigu (Cigu) in Tainan became the newest and largest salt field in Taiwan. The Japanese improved the quality of Taiwan's salt and built refineries at Anping, Lukang, Budai, and Wushulin.
After the Japanese left and the KMT arrived in Taiwan, the ROC government established Taiwan Salt Works and took over salt production in Taiwan. Salt production was mechanized, but things didn't go well, and the fields began to close. A flood of cheap imported salt when Taiwan joined the WTO in 2002 was a final blow, and Taiwan Salt Works was privatized one year later.
Taiyen Biotech Company Co. (臺鹽實業股份有限公司) took over what was left of the salt industry in Taiwan and still makes salt-based products in the area. It was this company that established the Taiwan Salt Museum and Cigu Salt Mountain in 2005.
There's another smaller but more easily accessible salt museum called Sio House Salt Museum in Anping, the historic harborside district of Tainan City. It is a short walk from the famous attractions Anping Treehouse, Anping Old Street, and Anping Old Fort. It has a few displays on salt history, "birthday salts" (see pic below) for sale, and a few salted foods and drinks.
Jingzijiao Wapan Salt Fields (井仔腳瓦盤鹽田)
The Jingzijiao Wapan Salt Fields on the coast of northern Tainan near the border with Chiayi was first built by local salt makers in 1818 on what was originally a low-lying, sandy, barren landscape. It was the first salt field in the Beimen region.
The name Jingzijiao (or Jingzaijiao, closer to the pronunciation in the Taiwanese language) is derived from the natural well that produces water on site.
Part of the original salt fields of Jingzijiao remain in use today. They are the most beautiful and popular salt fields in Taiwan and a popular attraction among domestic tourists, but remain well off the beaten track for foreign visitors.
The Jingzijiao Salt Field is open from 9 am to 5:30 p.m. daily and is free to visit. The salt fields are incredibly photogenic, especially at the end of the day when the sun drops to the horizon. If you are determined to catch sunrise or sunset, you can still see the salt fields from the barrier before or after closing.
Besides photographing the salt fields, you can even walk right onto them and play in the salt. Try taking your shoes off to feel the salt on your feet. When you get up close to them, also notice the small pieces of pottery inlaid in the bed of the pools. These prevented salt crystals from attaching to the soil and resulted in purer salt.
There's also a convenient three-story viewing tower on site that provides a bird's-eye view of the salt fields. A small shop also sells some salt products. You can also get lunch or purchase a variety of snacks (salty and not) from food stalls around the parking lot.
Also don't miss having a quick look at beautiful Xing An Temple (興安宮-紀府千歲) at the parking lot, which has a large vat of local salt at its entrance.
To learn about when to visit this area, read my guide to the best times to visit Taiwan.
Where to Stay at Jingzijiao Salt Field
If you want to spend the night at Jingzijiao like we did, the best (and perhaps only) option nearby is Salt Country House (Yanxiang Minsu or 鹽鄉民宿). You can find them here on Booking, Facebook, or see their official website. No English is spoken.
The guesthouse is a little messy, a little tacky (just check out the brightly colored walls, and extremely local. The food served in their restaurant is excellent, including the local specialty, boneless milkfish (無骨虱目魚). BTW, Milkfish soup makes it onto my list of the 101 best dishes in Taiwan!
The hotel is a short walk from the salt fields, and I really enjoyed going to take a peek at the fields under the moonlight at night.
Getting to Jingzijiao Salt Fields
The Jingzijiao Salt Fields are off-the-beaten-track for tourists visiting Taiwan. The fastest way to get there is by renting a scooter in Tainan.
To get there by public transportation, you'll need a whole day. Take the TRA (regular) train to Xinying Station (Sinying or 新營站) then take bus #61. The bus will pass through Yanshui District, which is famous for the totally wild annual Yanshui Fireworks Festival, and High Heel Wedding Church (高跟鞋教堂), a quirky local attraction. Get off at Tai An Gong/Jingzijiao Salt Field station (泰安宮/井仔腳鹽田) and walk 10 minutes.
The bus runs only twice per day in each direction, on Friday, Saturday, Sunday, Monday and holidays only. You can see the bus times here. After Jingzijao Wapan, the same bus continues on to , and terminates at Qigu Salt Mountain and Salt Museum (see below).
You can swipe an EasyCard when boarding the bus or pay with exact change only. The fare depends on how far you are going, with a maximum TWD235. It takes one hour and 22 minutes to reach Jingzijiao, and another 28 minutes from Jingzijiao to Cigu.
How to visit Jingzijiao Salt Field and Cigu Salt Mountain in one day
Because there are so few buses going to Cigu Salt Mountain and Jingzijiao Salt Fields, you'll have to plan it carefully if going by public transportation, and this will only be possible on Friday to Monday or holidays, because bus 61 doesn't run on Tuesday, Wednesday, or Thursday.
There are two different ways you could do this:
1. Take bus 99 from Tainan City to Cigu Salt Mountain and/or Cigu Salt Museum in the morning. See the table at the top left (臺南轉運站-七股鹽山, 平日去程) for Friday/Monday, or the first big table at the bottom (臺南轉運站-七股鹽山, 假日去程) for Saturday/Sunday/holidays. Make sure to budget enough time for your visit (perhaps budget one hour for Cigu Salt Mountain and at least two hours if you also want to visit the Salt Museum.
Then take bus 61 from Cigu to Taian Temple/Jingzijiao (1:00 p.m. is your only choice). Visit Jingzijiao for 3.5 hours, and catch the second bus of the day at 5:05 p.m. (only choice) from Jingzijiao to Xinying train station, where you can catch a regular train back to Tainan.
2. You can do the same thing in reverse, but I wouldn't recommend this way.
Take a regular train from Tainan to Xinying Station then catch bus #61 (10:40 a.m. is the only choice) to Taian Temple/Jingzijiao Salt Field. Visit the salt field for nearly four hours (yes, this is too long), then catch the second bus (3:52 p.m., only choice) to Cigu Salt Mountain.
Finally, take the #99 bus back to Tainan (last departure on weekends or holidays 6:30 p.m.)
This method is less desirable. First, it won't even be possible on Friday or Monday, because the last #99 bus from Cigu to Tainan departs at 4:15 on weekdays. On Saturday, Sunday, or holidays, it is possible, because the last #99 bus from Cigu to Tainan leaves Cigu at 6:30 p.m.
The second reason I don't recommend it is that this route won't give you enough time to visit both Cigu Mountain and the Salt Museum. You won't even get to Cigu until 4:15 p.m. The Salt Mountain closes at 6 p.m. (March to October) or 5:30 p.m. (November to February), while the Salt Museum is only open until 6 p.m. (last tickets sold 5 p.m.) You would only have time to see one of them, although most people are OK with just seeing the Salt Mountain and not the museum.
There is another lesser known tourist salt field called Zhounan Salt Fields (洲南鹽場) in Budai district, Chiayi county. A small visitor center offers tours of the salt fields. Budai is otherwise known as the place where ferries depart from the mainland of Taiwan to Penghu.
Qigu (Cigu) Salt Mountain (七股鹽山)
Qigu Salt Mountain is probably the most well-known salt-related attraction in Tainan and all of Taiwan. As the name suggests, it is a hill of salt, and you can even climb several staircases to the top of it.
The "salt mountain" is a rather bizarre sight which you'll spot from afar as you drive into the area. It was created in 2005 after the virtual death of Taiwan's salt industry and privatization of what was left of it.
The salt mountain was originally a large block of sun-dried salt and was a storage site for Qigu Saltworks, the largest salt field in Taiwan in the 1900s. Standing six stories tall and consisting of 39,000 tons of salt, it contains TWD 140 million worth of salt. It is rock-hard and coated in atmospheric dust, giving it a dirty appearance close up.
Photographing and climbing the salt mountain are the obvious main things to do at Cigu, but there are also some tacky family activities such as riding swan boats on a pond, a kids' play area, and a small train connecting Cigu Salt Mountain to Cigu Salt Museum (otherwise you can walk there in 10 minutes).
Another fun thing to do at Cigu Salt Mountain is to try salt-infused foods, including salty douhua (a soft tofu dessert), salt popsicles, and salty tea eggs. On weekends and holidays, Cigu Salt Mountain can become quite crowded, but there are also more food stalls when it's busy. The mountain also has decorations that are changed seasonally, like the giant deer head when we visited.
Cigu is also home to a seafood festival in summer. See more info in my guide to the best festivals in Taiwan.
Cigu Salt Mountain is open 9 a.m. to 6 p.m. from March to October and 8:30 to 5:30 from November to February. Entrance is TWD50 per person or TWD100 per car.
Getting to Cigu Salt Mountain
From Tainan Station, take bus #99 (Tainan to Cigu Salt Mountain Route or 臺南轉運站-七股鹽山). You can view the times here. The bus departs and comes back three times per day on weekdays (平日去程) and many times per day on weekends and holidays (假日去程, the two big tables at the bottom.)
On the 99 bus time schedule page, you'll also see two small tables on the top right side labeled 99安平台江線 (99 Anping to Taijiang Route). This is a continuation of the 99 line which goes from Qigu Salt Mountain to Taijiang National Park in the black-faced spoonbill (an endangered bird) viewing season, which is winter.
If you'd like to see Cigu Salt Mountain/Museum and Jingijiao Salt Fields in one day, see the section above entitled "How to Visit Jingzijiao Salt Field and Cigu Salt Mountain in one day".
You can also get there by renting a scooter in Tainan.
Taiwan Qigu (Cigu) Salt Museum (臺灣鹽博物館)
The third main attraction related to salt in Taiwan is the Qigu Salt Museum, which is located 1 kilometer (about 10 minutes on foot) from Qigu Salth Mountain, and is itself build to look like a pair of salt mountains.
The salt museum was established in 2005 by the Taiyan Biotech Company after salt production was privatized in Taiwan in 2002. The museum covers the history of salt production in Taiwan and has some fun exhibits, a good gift shop, and small café making salted coffees and other treats.
The first floor of the museum shows how laborers worked in the salt fields in the 1960s, with life-sized displays. There's also a fun gallery with 3D salt carvings designed for selfie taking.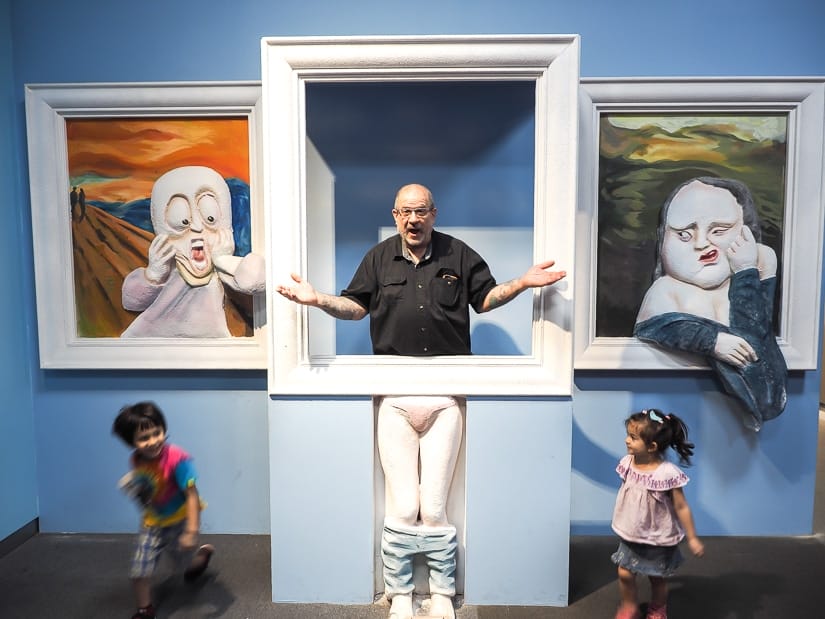 The upper floors cover the history of salt in Taiwan and around the world. You can learn what products are made from salt (you'll be surprised how many there are). There's also a fake mining tunnel and a room filled with salt where you can take off your shoes and walk on it.
The museum's gift shop sells all kinds of Taiwanese salt products, including colorful bath salts which you can mix and match as you wish in your own package to take home. Last but not least, the Fleur de Sal coffee, tea, lemonade and hot chocolate sold from the small café are yummier than you might imagine!
The Cigu Salt Museum is open from 9 a.m. to 6 p.m. year-round. Entrance is TWD130 (110 for students, 100 for seniors or kids, 30 for age 4-6, free for 3 and under).
Getting to Qigu Salt Museum
Coming from Tainan, Qigu Salt Museum is the second last stop on bus #99 before it reaches Qigu Salt Mountain 1 minute later. Coming from Jingzijiao on bus #61, Qigu Salt Museum is the last stop, 1 minute after Qigu Salt Mountain stop. Make sure you read my advice for getting from Cigu Salt Mountain to Jingjijiao Salt Fields if you plan to attempt to visit both in one day.
You can walk between Taiwan Qigu Salt Museum and Qigu Salt Mountain in about 10 minutes, or take the small tourist train when it's operating at peak times.
You can also get to the museum by renting a scooter in Tainan.
Jingzijiao Salt Fields and Cigu Salt Museum are surely some of the quirkier and more off-the-beaten-track attractions in southern Taiwan. They preserve an important piece of Taiwan's salt-producing past, and are well worth the visit.

I hope you've found all the information you needed about them here, but please comment below if you've found that anything has changed.

For more fun ideas, see my huge list of the best places to visit in Taiwan, and make sure to read my Taiwan travel tips.