Dear reader: This article contains links to products and services that I may be compensated for, at no extra cost to you.
The Sicao Green Tunnel (四草綠隧) is one of several "green tunnels" across Taiwan. These are roadways or cycling paths that pass under a canopy formed by tree branches or other vegetation – I've been to ones in Taichung and Luye, Taitung.
But Sicao Green Tunnel is unique in that it is the only water-based one, dubbed by locals the "Little Amazon River" (小亞馬遜河) – keeping in mind that there is a tendency in Mandarin to use exaggerated language in place names.
The tunnel is located in a region of saltwater mangroves called the Sicao Wetlands, which in 2009 became a part of the newly formed Taijiang National Park (台江國家公園). Sicao Green Tunnel is the most popular way to experience this mostly marine national park, famous for its migratory birds such as the black-faced spoonbill (黑臉琵鷺), and one of the most well-known things to do in Tainan.
The "tunnel" was actually a drainage ditch built by the Japanese and remodeled into a tourist attraction in recent times, although it is undeniably pretty. You can also spot wildlife such as egrets, mudskippers, and Fiddler crabs, but do be honest, I barely glimpsed any of them – the tunnel itself is the main attraction.
Because Sicao Green Tunnel is only a short hop away from Anping Old Street and Anping Treehouse, it is a relatively easy add-on for your Tainan itinerary. You could also combine it with a trip to Cigu Salt Mountain. Still, you'll need to commit at least a few hours to it, especially if you have to wait a long time like I did (see more on that below). So is visiting Sicao Green Tunnel really worth it?
In this article, I'll cover how to get to Sicao Green Tunnel, the different boat tour options, other interesting things to do around Sicao (most notably the breathtaking Luerhmen Matsu Temple, one of the most impressive temples in Tainan), and finally my thoughts on whether you should bother. If you spend the night in the area like I did, I highly recommend this hotel in Anping.
You may also want to see my article introducing the Cigu Salt Mountain and the beautifully reflective Jingzijiao Wapan Salt Fields, which are just north of the national park, and Guanziling Mud Hot Spring, another curious local attraction.
Getting to Sicao Green Tunnel
The easiest way to get to Sicao Green Tunnel is by taking this tour, which also includes a stop at Cigu Salt Mountain.

On your own, you can go by scooter like I did. Click here to rent a Gogoro or regular scooter in Tainan. This will avoid waiting for buses, which are infrequent in either direction. If you go by scooter, I also suggest visiting Luerhmen Mazu Temple after Sicao like I did (see final section at end).
By bus, the best option is Taiwan Tourist Shuttle #99. The bus stats at Tainan Train Station (the regular station, not the HSR station). You'll need to wait at Tainan Train Station (South Station) stop (臺南火車站(南站)), which is at the southwestern side of the large traffic circle in front of the station.
You'll get off at Sicao Eco-Culture Area (Dajhong Temple) stop (四草生態文化園區/大眾廟站). The same bus continues on to Cigu Salt Mountain (七股鹽山), which you could visit after Sicao.
You can also board the bus at several stops in Anping, which is much closer to Sicao. These include Eternal Golden Castle stop (億載金城站), Anping Fort/Fort Zeelandia (安平古堡(安北路)), and Old Tait & Co. Merchant House/Anping Treehouse stop (德記洋行安平樹屋站). Note that Old Tait & Co. Merchant House/Anping is actually closer to the Anping Fort Stop than the stop that takes its name.
Unfortunately, due to lack of tourists during COVID, the bus has been scaled back to limited frequency, and only on weekends and holidays.
From Anping Fort and Old Tait & Co. Merchant House/Anping Treehouse stops, you can also take Tainan bus #2. The bus will be driving west, so you'll board on the north side of the street.
From Tainan Train Station(South Station) stop, you can also take Tainan City Bus #10. The departure times are listed in the first column of the first table here (往鹿耳門天后宮方面). It takes about 45 minutes to reach Sicao. The bus continues on to Luerhmen Mazu Temple(正統鹿耳門聖母廟), so it will say that on the front.
Buses 99 and 2 also run from Tainan Train Station. The 99 also departs from Train Station(South Station) stop, while the #2 leaves from Train Station(North Station) stop (臺南火車站(北站)), on the northern side of the traffic circle.
Arriving at Sicao
When you arrive at Sicao, the bus will drop you off in front of the large Sicao Dazhong Temple. The Sicao Green Tunnel Boat Pier is just east of the temple, sharing the same parking lot. The side of the boat terminal says Bamboo Raft Port Pier (竹筏港碼頭 or zhufa gang matou), as you can see in the above photo. There's another building and boat pier across the street called Taijiang Pier (台江碼頭), where faster boats depart on national park tours – don't go to that one.
At the pier building, there's a ticket window where you can purchase a ticket for the boat tour, with the window opening at 8 am daily. I soon learned that boats only depart once full. They hope to squeeze at least 20 people onto one. I'd arrived on a weekday morning, hoping to catch the first boat tour of the day, which I'd wrongly assumed shortly after 8 am.
Looking around and only seeing half a dozen people waiting with me, I realized we wouldn't be leaving anytime soon. In the end, I waited a full hour for enough people to show up for tour to start. On the other hand, I've read that if you come on the weekend, it's so busy that you usually have to wait at least an hour for a spot on a boat. So I guess weekdays are still better, because you'll be waiting either way!
While waiting, there are a few other places you can explore in the area (see the "other things to do at Sicao" section below. Make sure you don't miss the departure, though. They make announcements, but only in Mandarin.
There's also an indoor waiting room and benches in a covered area outside. There are washrooms, but no food or drinks available. Bring water and sunscreen!
Sicao Boat Tour Options
At the boat tour ticket window, there are two main options. The first and by far most popular is the Sicao Green Tunnel tour. This is a slow, motorized raft tour that lasts 20-30 minutes and only goes down the adjacent canal to Sicao Green Tunnel and back.
The price for this tour is NT 200 (100 for children aged 7-12, 30 for children 6 and under).
The second option is a longer (70-minute) boat tour of Taijiang National Park. This one is in a speedboat, so you cover much more ground and see several locations, but you DON'T see Sicao Green Tunnel. This tour is only popular in winter, when migratory birds such as the famous black-faced spoonbill can be seen. When I visited in early summer, there wasn't a single person there for that tour, so it essentially wasn't running.
The ticket price for this tour is exactly the same as the other one, despite it between more than twice as long.
My Sicao Green Tunnel Boat Tour Experience
After waiting a solid hour for my boat tour to start, and exploring everything there was to see in the area, I actually almost missed the raft departure! (So don't do that…) When I heard the final boarding call, I quickly returned to the pier to find I'd missed the "safety talk", and everyone in my group was putting on life jackets and boarding the boat.
They also had colorful rice farmer hats to wear, which I would actually recommend on a hot day, if you don't have a hat of your own. I'm glad most passengers wore them, because I thought they made my boat tour pictures more fun.
I should mention now: don't be fooled by the "bamboo raft" in the pier's name. These are not traditional bamboo rafts pushed along with a bamboo pole, as one might imagine. I didn't see any bamboo on the raft, and a modern motor is used.
On the boat, the passengers are made to sit on small plastic stools. If you can, the row at the front of the raft is the best spot. The sides are good if you want to try to spot creatures on the sides of the canal, but honestly I didn't see many. However, when you arrive in the tunnel itself, the operator lets you move around and gives lots of time for taking pictures, so you won't miss out on photo ops, no matter where you sit.
Right after taking off, the canal was open-air and we had a view of Dazhong Temple to the left. After a few minutes of cruising, we reached the entrance to the "tunnel" area.
Within moments, we were completely below a canopy of branches. The canopy was so low at points that we all had to duck our heads to avoid getting hit, which provided some laughs.
It was impossible to ignore the ropes that were holding up many of the branches. I suspect that the canopy itself is indeed natural, but it has definitely been manicured, and perhaps the ropes were used to lift up branches high enough to allow the rafts to pass.
I also noted sandbags and piles of rubble at the sides of the canal in the section before the tunnel, but in rural Taiwan, this is almost to be expected.
Nevertheless, the green tunnel was undeniably gorgeous. The water was entirely calm, so the canopy of twisting and tangled tree branches was immaculately reflected on the water's surface. The raft operator cut the engine, too, so we could appreciate the eerily stunning scene in relative silence.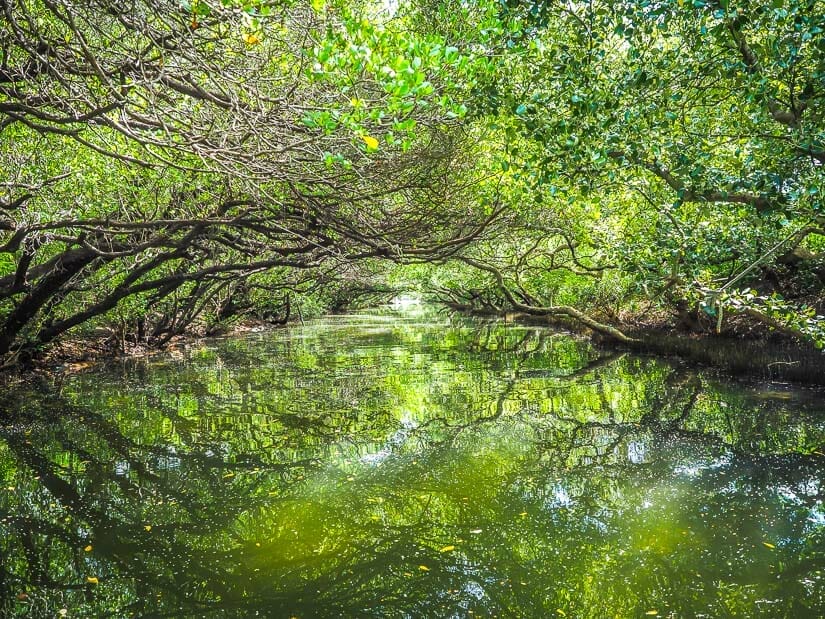 At a few of the most beautiful points, the driver stopped altogether and turned the raft sideways, giving us several minutes to take photos from either side of the raft. This is why you don't have to worry too much if you don't get a good seat.
On the return portion, the guide pointed out the remains of two historic sites: a supposed Qing Dynasty tax collection bureau (as this blog points out, it is actually a Japanese-built water pump and the real fort ruins lie elsewhere) and a few stones from Fort Zeeburg. Neither was anything special. We also saw some crabs on the way back, but it was impossible photograph them from the moving raft.
Just under 30 minutes after taking off, we were back at the pier, and that was it!
Other Things to Do Around Sicao
If you have to wait a while for your boat tour to begin, there are a few things to see and do in the area, but none would be worth the trip on their own.
The imposing Sicao Dazhong Temple (四草大眾廟) is impossible to miss dominating the parking lot it shares with the Sicao boat pier. The temple sits on what used to be Beishanwei Island, between Anping and Luerhmen harbors, which have since been connected as silt deposits built up between them. In the early days of the Dutch colonization of Taiwan, the Chinese paid their respects to their dead soldiers on site.
During the Qing Dynasty, a temple was built there to worship Chen You, a Taiwanese general. Like many Taiwanese temples, it has been enlarged, rebuilt, and renovated many times over the years since then. Note that when I last visited in mid-2022, the exterior of the temple was being renovated and was totally covered, but I could still enter the temple.
Adjacent to the boat pier, the tiny Sperm Whale Museum (抹香鯨陳列館) houses two sperm whale skeletons and a few displays of mollusks, crabs, and other sea creatures. It's free with your Sicao Green Tunnel ticket, or NT 10 without. It's a good way to pass about 4 minutes.
Across the road from Sicao Dazhong Temple, the ruins of the Qing Dynasty Sicao Fort (四草砲臺) are really nothing special, but you can take a quick look if you want to pass some time. There isn't much more than an old stone wall with some circular tunnels through it, running alongside a modern schoolyard.
If you've come by scooter, I highly recommend driving another 15 minutes to Luerhmen Mazu Temple (鹿耳門聖母廟), also called Orthodox Luerhmen Shenmu Temple (正統鹿耳門聖母廟). This is the largest Matsu temple in the world and one of the largest temples in all of Taiwan.
The temple lies further north in the same district as Sicao, Annan District. You can also ride bus 99 from Sicao to Luerhmen, but the bus times are infrequent (and weekends only during COVID).
According to information displayed at the temple, fishermen built a shrine to Matsu in the area as early as the 12th century. When Koxinga visited in 1661, there was already a temple on site.
After the temple was flooded in 1831, it was moved elsewhere. A floating temple was constructed in 1913, and a year later, the present temple was built, which has been renovated and expanded several times since.
Today's temple is guarded by two enormous statues of generals, protectors of Matsu, in the parking lot. The temple complex is enormous and modeled on the Forbidden City in Beijing, complete with a moat around it. You could easily spend an hour here exploring the various buildings, rooms, and floors.
Learn more about this and others in my guide Tainan's most important temples.
Is Sicao Tunnel Worth the Trip?
If you've only got one or two days in your Taiwan itinerary to explore Tainan, then you may want to reconsider squeezing in Sicao Green Tunnel. If you live in Taiwan or have more time in the area, then you should at least consider it.
Because of the infrequency of buses, visiting Sicao Green Tunnel can eat up a whole morning. That only leaves an afternoon and evening to explore the many sights on Anping. For me, I spent the night at this hotel (which I highly recommend!) in Anping. I saw everything I wanted to see in Anping in one full day, then went to Sicao Green Tunnel early the next morning before returning to central Tainan City.
Despite the wait, and the fact that Sicao Green Tunnel isn't 100% natural, it was still very beautiful. If you just want to experience that or get some pictures of it, I don't think you'll be disappointed.
Because I was able to go by scooter, I was able to get there quickly, plus I was able to add on a visit to the very impressive Luerhmen Matsu Temple. For me, that made it worth the trip. But if you plan to go by bus, you'll just need to decide whether the trip is worth it just to see the tunnel and snap a few pics. I hope all the information I've compiled in this guide has helped you decide!
While you're thinking about it, also see my guide to the best night markets in Tainan.