Dear reader: This article contains links to products and services that I may be compensated for, at no extra cost to you.
Psychedelically colorful Rainbow Village Taichung (彩虹眷村) has in recent years worked its way up to become one of the hottest things to do on a visit to Taiwan.
While the painted walls of this small collection of dilapidated houses are truly a paradise for selfie seekers, Taiwan's Rainbow Village actually has some interesting history behind it, which I'll cover in detail below. I'll also share the most updated info for getting there, and what you can expect to see.
Since you'll be in the area, make sure to consult my super detailed guide to Taichung City and Taichung itinerary suggestions. And while it's worth spending the night in Taichung, it is also possible to visit Rainbow Village as a day trip from Taipei.
Last but not least, after visiting Rainbow Village, consider visiting Feng Chia Night Market, the most famous of the many night markets in Taichung, before heading back to the city center!
IMPORTANT NOTE: Rainbow Village is currently totally closed and undergoing renovations due to BEING DEFACED. The Taichung government plans to reopen it in early 2023.
Where is Rainbow Village?
Rainbow village is located in Nantun district (南屯區) west of the Taichung city center, an area that was a part of the original Taichung City before it was amalgamated with Taichung County to become a supersized city in 2010.
Rainbow Village a little out of the way from the city center, and there isn't much else to see in the area, but it's still easy enough to get to by taxi, renting a scooter, or taking public transportation. I'll cover all of these options at the end of the article.
Practically unknown until the last decade or so, even by those living in Taiwan, Rainbow Village is quickly becoming one of the trendiest and most popular things to do in Taichung, with over a million visitors per year. It sure tops the list of most "Instagrammable" places in Taichung, but huge Lihpao Discovery Land, one of my favorite theme parks in Taiwan, is another contender.
Therefore, make sure to add Rainbow Village to your Taiwan itinerary, and we found it to be a perfect stop when traveling from Taipei to Sun Moon Lake!
Best Rainbow Village Tours
Rainbow Village is included on this half-day or full-day Taichung tour, which includes a stop at the equally popular Gaomei Wetlands. Combined, the two sights make for one of the best day trips from Taichung.
You could also include Rainbow Village on a fully customized tour of Taichung with an English, Spanish, or French speaking local person showing you around, or a private tour with a driver to show you around.
If you register for Klook with this link, you'll get a 100TWD credit applied to your Rainbow Village tour!
History of Rainbow Village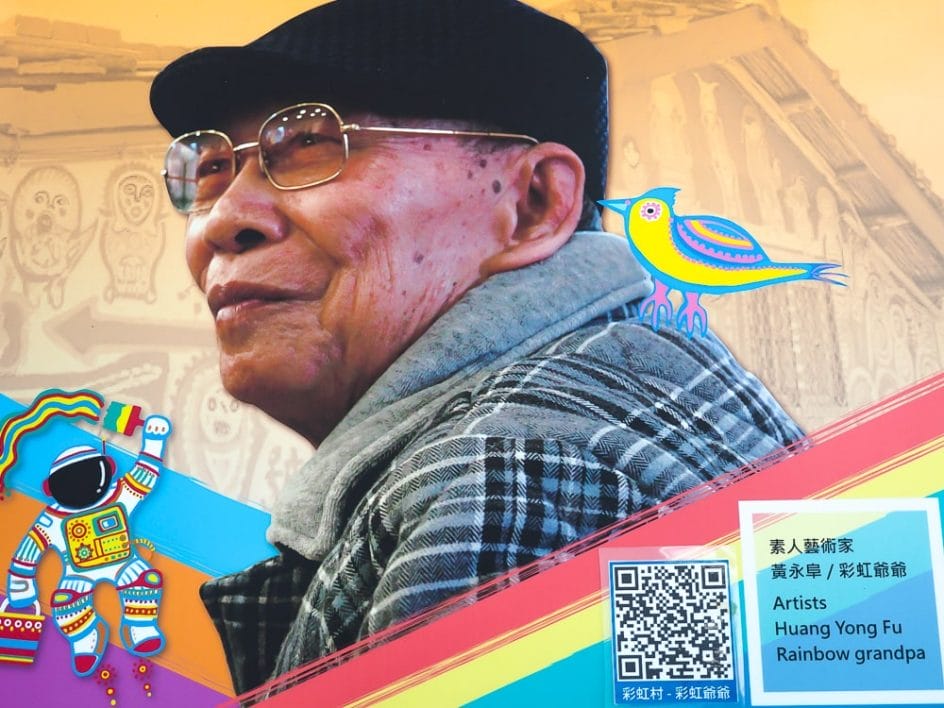 After Chiang Kai-Shek's Kuomintang nationalist army lost the Chinese Civil War in 1949, he and some 2 million Chinese, many of them soldiers, fled to Taiwan. Many of these solider were placed in hastily constructed military dependents' villages in cities throughout Taiwan.
These villages remained government property, and as time passed many fell into decay or were abandoned. In the 1990s, the government began aggressively demolishing them.
Huang Yong-Fu was born in Taishan County, Guangdong Province, China in 1924. During the war, he was conscripted to fight against the Japanese, and ended up poor in Hong Kong.
He later rejoined the army in Hainan, and fled with the KMT to Taiwan. He went off to fight again during the Second Taiwan Strait Crisis, and was finally discharged at the age of 55.
After that, he bought his current house, in a village of 1200 homes that had been built by nine retired soldiers on land owned by the Ministry of National Defense.
In 2010, out of boredom, and also upon hearing that the government planned to demolish the village, Huang began painting the walls of his home and surrounding buildings in an attempt to have them preserved. At that point, he was one of the only people still inhabiting the village.
Later, students from the nearby Ling Tung and Hung Kuang universities discovered his artwork, and successfully petitioned the Taichung mayor to preserve the collection of 11 remaining houses. The village soon acquired local fame, and is quickly becoming one of Taiwan's hottest new attractions.
Huang, who turned 100 years old in early 2023, goes by the nickname Rainbow Grandpa (彩虹爺爺). Until recent years, he used to wake up at 4 am to work on maintaining his artwork every day. Visitors often met him and he always gave the victory sign when posing for photos.
Huang's artwork has been called a kind of surrealism, with elements of humor, childishness, and love. He is also obviously an animal lover. He has even been called the Hayao Miyazaki of Taiwan.
What to Expect When You Visit
Rainbow "village" is no more than a few homes, with about half a dozen small interconnected buildings. You could easily see the whole thing in 10-15 minutes, but with photos and having a snack or drink, you'll probably spend an hour there.
There are a few food stalls at the entrance and back, and a café inside serves coffee in art-covered to-go cups that are worth it just for taking this shot:
Loved colorful themed villages? Also read my guides to Monster Village in Nantou and Gamcheon Culture Village in South Korea.
There are also two souvenir shops where you can buy hats, fans, umbrellas and more with Huang's artwork. The shops are reportedly run by Huang's grandson. While the village is free to visit, they supposedly accept donations. I didn't see anywhere to do this, so we made a point of buying a few things.
There's no specific opening and closing time, but since Huang wakes so early, I'm sure you could show up anytime in the daylight hours, but you wouldn't be able to appreciate the artwork after dark.
Due to the Rainbow Village's growing popularity, weekends can be fairly crowded, but even when we visited on a Saturday afternoon, it wasn't too bad, and fortunately this attraction hasn't quite reached tour bus-level fame (yet).
If you are really interested in the arts, then you can consider also making a visit to nearby Donghai (Tung Hai) Arts Shopping District (東海藝術街商圈), an art-focused street near Tung Hai University.
Check out my guides to other popular Taiwan attractions, Taroko Gorge and Alishan National Scenic Area.
How to Get to Rainbow Village
From the Taichung High Speed Rail Station, you can reach Rainbow Village by taxi for NT150-200. Coming from Taipei, you can get a discounted HSR ticket to Taichung on Klook. You can also take bus #617 from the station.
From the Taichung city center, you can expect to pay NT250-300 for a taxi. From the north side of Taichung Train Station, take bus #27. Get off at Gancheng Village 6 stop (千城六村站), one stop after Lin Tung University (嶺東科技大學). It takes about an hour, and it's about a 10-minute walk from the bus stop.
You can also take bus #56 from Gancheng (干城) or Xinwuri (新烏日) train stations, and it stops right in front of Rainbow Village.
If you are continuing on to Sun Moon Lake, it would be most efficient to head to the Taichung High Speed Rail Station after Rainbow Village to catch the Sun Moon Lake Shuttle bus. You can save money on this journey by getting the Sun Moon Lake Pass.
Visiting by car from Taipei, we found it very convenient to make a stop at Rainbow Village on the way to Sun Moon Lake, since it is just off Highway 1.
You can also rent a scooter or charter a private car for visiting Rainbow Village and other sights in central Taiwan.
Like my pictures? Here are the mirrorless camera and Olympus travel lenses I always use!
Final Thoughts on Rainbow Village Taiwan
Rainbow Village is without a doubt one of Taiwan's quirkiest and most meaningful attractions. It is out of the way but well worth the trip. Hopefully it is preserved for many generations to come!
Have you visited Rainbow Village recently, or have any questions? Let me know if the comments below!