Dear reader: This article contains links to products and services that I may be compensated for, at no extra cost to you.
Step foot in Ximending (西門町) and you could be forgiven for thinking you've been teleported to Japan. That's why people call Ximending the "Shinjuku of Taipei."
Ximen is a daytime and evening pedestrian shopping area with a high concentration of hip, funky, and outright weird things goin' on (think maid cafes, claw machines, knife massages, poo-themed restaurant, and more!) It's without a doubt Taipei's coolest neighborhood and a regular hangout spot for young people living in Taipei. It is home to the main LGBTQ+ area of Taipei and several historical attractions.
You can also find some of the Taipei's best street food in Ximending, not to mention many awesome (and some unusual!) restaurants. There are so many that I've even created this separate guide to eating in Ximending.
In this article I'm going to introduce 25 fun, unique, and sometimes weird things to do in Ximending.
Ximending Essentials
You may also see Ximending written as Ximen market, Shi-men Ting night market, Ximenting night market, Xi Men Ding night market, or Ximending Youth Shopping District. GoogleMaps calls the area 'Ximending Night Market', but it's not really a night market (these are Taipei's actual night markets).
Most businesses in Ximen open around 11 a.m. or noon and close around 10 pm. Most are closed during Lunar New Year.
Ximen MRT exit 6, one of the classic places to meet your friends in Taipei, feeds directly into the pedestrian zone.
History of Ximending: Cool for Longer than Your Grandma
Ximending shopping area has been hip since the Japanese era in Taiwan, when it was built as a recreation area just outside the West Gate (西門 or Xi Men) of the Taipei Old City (the 'ding' at the end is a Japanese district designator). One of the oldest buildings in the area is Red House, which today is a center of local arts & crafts and Taipei's largest LGBT district.
As the first pedestrian zone in Taipei, Ximending shopping street grew into a theater district in the 1930s (see "Theater Street" below), and the area was THE place to be in the 1950s.
Later, Taipei City developed focused on the east (where today's Taipei 101 stands) rather than in the west, and Ximending was shunned until the government reestablished it as a walking street again in 1999.
Like to save money? Find discounted tours, activities, transportation passes and more on Klook. Sign up for Klook here to get a 100NT$ discount when you book any activity!
Some really cool buildings have been preserved in Ximending (I'll introduce several below), while some have been torn down, like the old New World Pavilion (新世界館, see photos of it here‭), which has been replaced with a multilevel H&M store.
Where is Ximending? This neighborhood is located in Wanhua District, which is the old city of Taipei.
How to get to Ximending Night Market: The best way for getting to Ximending is by taking the MRT to Ximending MRT station exit 1 or 6.
If Ximending is your kind of place, you may also want to read about similar cool areas in Taichung (Yizhong Street Night Market) and Kaohsioung (Pier 2 Arts District!)
Planning a trip to Taiwan? See my Taiwan itinerary for 1 – 3 weeks!
Where to Stay in Ximending
There are just as many cool hotels in Ximending youth district as there are things to do. Deciding where to stay in Ximending is not easy. I recommend the following for their great locations and positive guest reviews. For more information, see my guide to the best areas to stay in Taipei.
Hostel in Ximending
Several Ximending hostels unfortunately closed during COVID. One that is still going strong is Dan Hostel (see on Booking / Agoda / TripAdvisor). It is just down the street from Ximen exit 1 and Red Theater.
Mid-Range Hotels in Ximending
Right on movie theater street, Amba Ximending (see on Booking / Agoda / TripAdvisor) is luxury meets cool, and is also an eco-friendly hotel.
Inhouse Hotel (see on Booking / Agoda / TripAdvisor) features sleek design with colorful antique-style fridges in each room, located just around the corner from Ximen's movie theater street.
Fun Things to Do in Ximending
If you're wondering what to do in Ximending, here's my list of fun (and sometimes weird) ideas for you! The Ximending night market closing time varies; most shops close around 9 or 10, while some restaurants and food stalls may stay open until as late as midnight.
Spot Red House, Ximen's Top Landmark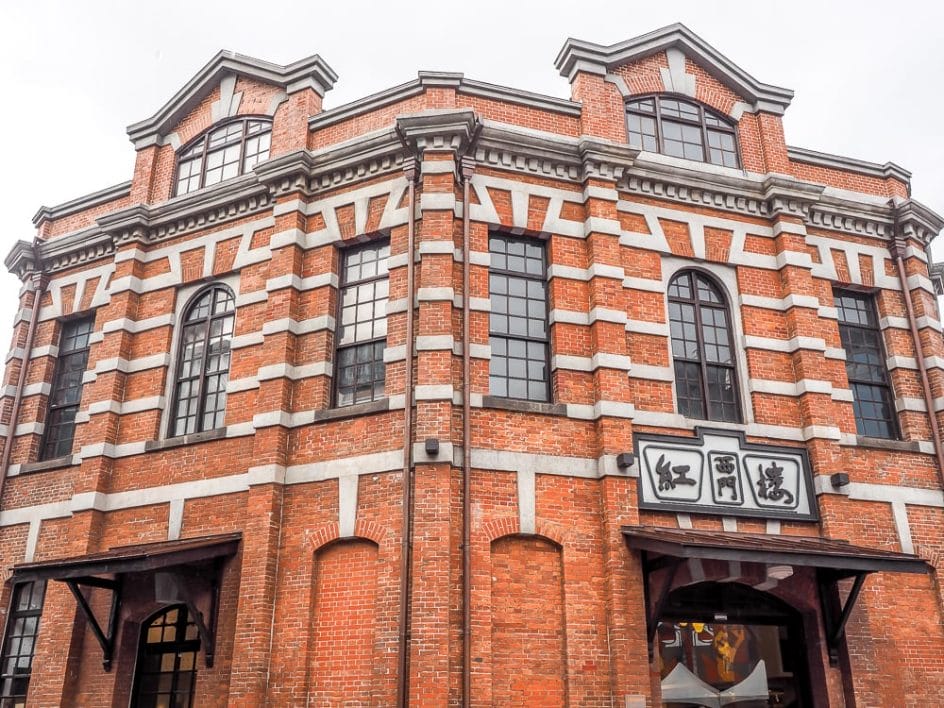 Ximending's Red House (紅樓, also called Red Theater) was built in 1908 during the Japanese colonial period in Taiwan. It was later repurposed as a theater and has since become one of Taipei's most iconic landmarks.
The octagonal structure you see above is just the front of the building, which sits at the bottom of a long, cross-shaped structure. It lies just south of the main Ximeding shopping area and is best accessed from Ximen MRT exit 1.
Red House is free to enter and is filled with shops selling creative arts, crafts, and souvenirs by local Taiwanese artists and designers. It is closed on Mondays. The next two entries are connected to Red House.
Sip Cocktails in Red House LGBTQ+ Bar District
On the south side of Red House, there's a large square containing the city's primary LGBTQ+ district. It is a welcome-all environment and Taipei's largest collection of outdoor bar patios (my friends and I usually call it the "Ximen patios"). Type "Taipei City Ximen Market" (臺北市公有西門商場) on GoogleMaps to find it.
Most bars are open from mid-afternoon to late night, and the vibe is laid back – you won't find any dance floors here. Most of the bars have umbrellas or a small indoor seating area for rainy days. There are also a few shops selling fun and scandalous LGBT products.
The Ximen patios are at their busiest on the day of the Taipei Pride Parade (largest in Asia!), usually on the Saturday closest to Halloween. On the topic of gay bars in Ximending, if you're looking for something kinkier, Commander D S&M bar is a full-fledged S&M bar with dark room (don't ask what happens in there). It's located elsewhere in Ximending.
You can also explore the area with a local on this Ximen LGBT-tour.
Peruse Local Designs at Red House Creative Market
Besides the numerous shops inside Red House, there is a full-on arts and crafts market on the north side of Red House every weekend.
Showcasing local artists and a few interesting foreign ones (such as the sand art guy from Jordan who is usually there), the general theme is 'tastefully cute' at this market.
The market takes place from 1:30 pm to 10 pm every Saturday and Sunday. It's a great place to pick up a locally made, non-mass-produced souvenir on your Taiwan trip!
The Red House also houses Riverside Red House Theater and Performance Hall (河岸留言西門紅樓展演館), a venue for concerts, performances, and other events.
Take a Selfie on the Huge Taipei Pride Flag
Every major city nowadays has a large rainbow pride flag painted somewhere on the street (NOT complaining here). Taipei is no exception. The city's best-known pride flag is painted on Hanzhong Street (漢中街), right outside of Ximen MRT exit 6.
Good luck getting a shot without any people in it, though! Come early for the best chance. I stood around waiting quite a while to take the above pic.
Get Tattooed or Pierced on Ximending Tattoo Street
I've had a couple body parts pierced myself on Hanzhong Street Lane 50, otherwise known as "Ximen Tattoo Street" (刺青街). The parlors here are all open fronted, so you can even spot people getting inked just a few feet off the street.
To find it from exit 6, follow the main walking street of Ximending (Hanzhong Street) two blocks in, then hang a left right after Cinemark Ximen movie theater. Walk one block in to reach the tattoo and piercing shops.
Get a Knife Massage and I Ching Reading
If getting pummeled by meat cleavers sounds like your cup of tea, then pop in to Light Program Red House (光計劃紅樓), run by my friend Olivia, where you can partake in this ancient form of healing.
This is no quirky new trend, but rather a spiritual, holistic healing practice that goes way back in ancient Chinese history. You can read all about my experience getting a knife massage there.
If you are looking for a regular massage in Ximending, there are several foot massage and full body massage (of both the regular and shady variety) in the around Ximending in Wanhua District. This includes an actual Red Light District around Longshan Temple and Huaxi Night Market, where the average age of both the workers and clientele is well above 50!
Attempt to Find the Movie Theater Speakeasy Bar
Secret, hidden, speakeasy-style bars have been all the rage in Taipei for about a decade now (most of them are not quite so hidden anymore – you can find them on GoogleMaps).
Ximending's contribution to the Taipei speakeasy scene Hankou 60 (如醉如夢), a hidden bar designed to look like a movie theater. Hankou 60, named after its own address, is a nod to Ximending's reputation as a movie theater district. It is just around the corner from Movie Theater Street (we'll get to that below). Watch for the movie posters to find the entrance!
It would be an understatement to say that Hankou 60 is hip – my friend and I felt old when we went (we were in our later 30s). My favorite drink was the creamy, buttery one that came concealed in a real box of popcorn.
Check out two more quirky sights in Taiwan: Rainbow Village in Taichung and the Xitou Monster Village.
Cosplay, Maid Cafes, Anime, K-Pop
When I was researching Taiwan's subcultures for my book Taiwan in the Eyes of a Foreigner in 2010, I had my first Maid Café (女僕咖啡廳‭) ‬experience in Taiwan at Index Café, which has long since closed.
But if you are an otaku (computer/anime geek) looking to experience this, never fear! There are other maid and cosplay cafés in Ximending. Try Moe Hime Maid Café (萌姬女僕咖啡館‭) ‬on the 6th floor of the building right outside exit 6‭, Kokorolia (心物語) Maid Café, or Lilith in Wonderland – LIW Maid Cafe (月讀女僕咖啡 – 台北西門店).
If you're wondering what the hell a maid cafe is (it's not as sexual as it may sound), these are essentially a themed restaurant/café in which the waitresses are all dressed like dolled-up maids. You can even take photos with the maids upon request. When in Ximen!
Anime fans can check out Animate Cafe, with a location here and here, as well as Animate Store right next to them. Outside of Ximending, you can also try Syndrend (三創生活園區) near Huashan 1914 Creative Park.
If it's Taiwanese pop and K-Pop merchandise that you're looking for in Ximending, try Idol King (烏龍院藝術館) or 95樂府. You can also buy all kinds of otaku products like toy models, posters, video game products and more in the underground mall around exit y17 of Taipei Main Station.
Cartoon lovers can also visit not one but two Sanrio (Hello Kitty toy company) themed 7-Elevens in Ximending. The locations are here and here.
Read more about cosplay cafes in my guide to Akihabara, Tokyo!
Chill with Kitties in a Cat Cafe
Did you know that cat cafes started in Taipei, before becoming an international phenomenon? You can find out which one is the original (and still running!) in my guide to the best cat cafes in Taipei.
Ximen of course has a cat cafe of its own, called Fufu Cat Cafe. Unsurprisingly, given the neighborhood, it is very popular among local teens and 20-somethings. What sets it apart from other cat cafes in Taipei is that they offer the chance to spend just 10 minutes with the cats for a very low price of only NT40 – a big plus for jobless teens.
No kids are allowed at this one, though, and you'll need to take off your shoes and put your bag in a locker when you go in. Buying a drink is not necessary. They have several rare breeds, including sphinxes. It's in the heart of the pedestrian district, but it's easy to miss the entrance, which is a staircase going up to the 2F entrance.
Lose Your Money to a Claw Machine
Blindingly bright rooms full claw machines are spreading like a virus in Taipei, robbing patrons of their 10NT coins. There's a trick to beating them, but I don't know it.
These are one of the most popular things to do around Ximending, so you won't have to look far to find one. This neighborhood easily has the highest concentration of claw machine arcades in Taipei!
Besides the expected cute stuffies and other little toys, you can also win practical items like digital devices/electronics, or more adult-themed toys and the like. Take your pick and take a chance!
Discover the Latest Bubble Tea Trends
Not only did Taiwan invent pearl milk tea (you can even visit the original shop in Taichung!) but the nation is continually putting new twists on this sweet, creamy beverage that you can chew.
For fun pearl milk tea in Ximending, try Xing Fu Tang (西門町全球旗艦店, photo above) or Goldfish Bubbletea (老派 • 金魚).Also find more drink options in my guide to food and drinks in Ximending.
Love Taiwanese food and drinks? Consider taking a food course in Taipei!
Find Cool Street Art on Graffiti Lane
Also called America Street (美國街), Kunming street lane 96, and perpendicular Wuchang street section 2 lane 120 are open air art galleries of legal street art.
The Taipei Youth Art Center takes proposals from local artists to property owners, and the government has even sponsored artwork and street dance competitions in the area. Strolling these streets, you can spot works by famous Taiwanese graffiti artists like Mr Ogay and internationally renowned artists like Alex face from Thailand.
If this is your thing, you may also want to check out Animation Lane in Taichung and Weiwuying Art Village in Kaohsiung.
Here are just a few pieces I've spotted over the years:
Also read about Beitou Hot Spring and Dihua Street, my two other favorite Taipei neighborhoods!
Eat Weird Ice Cream Flavors at Snow King (雪王)
A short walk east of Ximending, you'll find Snow King (王冰淇淋), which has been serving unusual flavors of ice cream since 1947.
Some of the weirder ones include pork floss, sesame oil chicken, Taiwan beer, wasabi, and kaoliang (Taiwanese sorghum liquor – which I can attest is truly disgusting).
Try the above if you dare, but the menu also features some truly delicious flavors, including honey, cinnamon, mulberry, and my personal favorite, basil.
Address: 65 Wuchang Street, Section 1, 2nd floor, Open 12-8 pm
Take in a Movie on the Ximending Movie Theater Street
Ximending's reputation from the 1950s as a movie theater center lives on. The greater Ximen area supposedly has more than 20 movie theaters.
The most well known are the collection of them on "Ximending Movie Theater Street" (aka Ximen Cinema Street or Ximending Cinema Street). You can find it on section 2 of Wuchang street Taipei, between Kunming and Kanding roads. Type "Lux Cinema" (樂聲影城) on GoogleMaps to find the stret.
Go Skateboarding at Taipei Cinema Park
At the end of Movie Theater Street, you'll find Taipei Cinema Park (臺北市電影主題公園), which is connected to Graffiti Lane. There is some excellent graffitti and street art in the park, too.
While it lacks proper skate park topography, the large square is still a popular spot for local skaters. If you forgot your board at home but feel inspired to join in, there are several skate shops in the area.
Explore Japanese-Era Ruins
Nishi Honganji Relics (西本願寺) sit in a grassy square on the edge of Ximending. These are the restored ruins of what was once a temple belonging to the Taiwanese Branch of Jodo Shinshu Honganji School.
Nishi Hanganji Bell Tower (西本願寺鐘樓) dominates the square, with foundations of other buildings at the back and restored buildings either side, one of which now houses a traditional teahouse (see next entry). ‭ ‬‭ ‬
Have Old School Tea in a Traditional Japanese Teahouse
In the same square as the Nishi Honganji Relics, you can enjoy a traditional Taiwanese tea experience in an original Japanese-era wooden house. The structure dates to 1924 and once housed the priest who maintained the Japanese temple on site. Eighty-Eightea Rinbansyo is complete with tatami mats, sliding Japanese doors, and a small zen garden.
Expect to pay around TWD 350 for a Taiwanese tea set, including your choice of two traditional snacks. If you want to dress up in cosplay and use the teahouse as a photoshoot setting, they won't stop you (as long as you don't bother other guests).
Eat Sushi from a Conveyor Belt Choo Choo Train
Not only is the Ximen location of the chain Da Che Lun (大車輪火車壽司) the first conveyor belt sushi shop in Taipei, but that conveyor belt is also a running choo choo train.
Prices are a little steep relative to the food quality, but where else can you hand-pick your sushi from a moving model train? Da Che Lun is on Emei Street in the heart of Ximen's pedestrian shopping area.
Buy Weird Japanese Things at Don Don Donki
The Japanese discount chain store Don Don Donki has finally reached Taipei, with one of its branches in Ximending (of course). These multi-level department stores has it all – weird Japanese snacks, sakes, cosmetics, and even sex toys.
The whole time you're inside, you'll be serenaded with the cheesy and highly repetitive "Don Don Donki" theme song. Outside, you can purchase typical Japanese street food snacks like mitarashi dango and okonomiyaki.
Slip into Tian Hou Temple, the Spiritual Heart of Ximen
Chengdu Road, leading from Ximen to the river, is lined with so many shops and stalls that you might not even notice the entrance to Taipei Tian Hou Temple (臺北天后宮). The temple is sandwiched between two buildings. The nearly 300-year-old temple is dedicated to Matsu, goddess of fishermen and the sea.
For temple lovers, you can also walk from here to Taipei's three most important temples, which are not in Ximending, but still in Wanhua (Old Taipei), the district that Ximen is in. These temples are Qingshui, Qingshan, and Longshan. The last one is Taipei's most famous and important temple – you could also get there by riding the MRT one stop from Ximen to Longshan Temple statiojn.
Read about these and others in my guide to the best temples in Taipei.
Temple lovers also check out my articles on the Buddhist cave temples of Lion's Head Mountain in Taiwan and Foguangshan, Taiwan's largest Buddhist monastery.
Visit one of the Coolest Starbucks in Taiwan
Starbucks in Taiwan is known for setting up branches in cool, unique, or historical buildings. Here is a full list of special branches of Starbucks across Taiwan.
One of these cool branches is located in Ximending, right on the main pedestrian street. It is called Starbucks Hanzhong Shop. From the outside, the old red brick exterior doesn't stand out so much, not to mention is has an attached 7-Eleven to distract you. And even when you first enter and order your coffee, it looks like any old Starbucks.
But when you go up the stairs to the second, third, or fourth floors, you'll find yourself in an atmospheric, wooden structure. The open plan means that you have a good view no matter where you sit. The building design won an architectural award when it was built in the early 80s, though it feels much older.
Sing Your Heart out at a KTV parlor
Ximending is as good a place as any in Taipei to try KTV (karaoke), the national pastime. Come with a group of friends, get a private room, and then sing to your heart's content. Expect some but not many English choices. (For the absolute best English KTV choices in Taipei, seek out tiny EST, specializing in foreign languages, but not in Ximen).
Popular KTV options in Ximen are Party World, the enormous building at Ximen MRT exit 4/5 and Holiday KTV (好樂迪 台北西寧).
Get Your Own Private Movie Theater at an MTV Parlor
If singing love ballads with friends is not your thing, then why not try the same thing except with a movie of your choice? I actually find this to be a decent (and cheap) escape from the heat if you're out on a summer afternoon.
However, be warned that several Taiwanese people have told me that MTV rooms are the classic place for Taiwanese teens to lose their virginity. Just something to be aware of…
U2電影館 is a popular chain with one location in Ximending.
See the New Ximen Gate
Old Taipei originally had five gates. Today, four are still standing, but West Gate (西門 or Xi Men, which gives the area its name) has been demolished. A few years ago, the city put up a metallic, deconstructed/reconstructed installation (see pic above) on the spot where the two-tier pagoda gate once stood.
You'll find it at Ximen MRT exit 4, impossible to miss at night when it's lit up.
Easier to miss is the small, cute Ximen Gate statue a few steps away, occuping the triangle formed by the meeting of Henyang (很陽) and Baoqing (寶慶路) roads. It's labeled "Former Site of Taipei West Gate (Baocheng Gate)" (臺北府城 西門(寶成門)遺址) on GoogleMaps.
Visit the Other Four Old City Gates
Not technically in Ximending, but it's a short walk from Ximen to the other four gates of Old Taipei (Bangka/Wanhua). The North Gate (北門 or Beimen) has its own MRT stop, one stop north of Ximen. It's the only one you can walk right through.
Little South Gate (小南門 or Xiaonanmen, also with its own MRT station), South Gate (南門 i.e. Nanmen or 麗正門), and East Gate (東門 or 景福門 on GoogleMaps) are all within 10 minutes' walk from Ximending. They look especially cool when lit up at night.
Get Your Cosplay Gear at Ximen Costume Street
Going south from Ximen MRT exit 1, Hanzhong Street is Taipei's unofficial costume street, with about 10 shops renting out and selling every costume and accessory you could imagine.
Some are so packed with supplies that you have to push your way through hanging costumes to access the labyrinth-like rows leading through. Most require an ID or deposit for rental.
Shop for Taiwan Military Surplus Clothing
Just outside Ximen MRT exit 2, you'll find a mini-mall of Taiwanese army surplus supply shops. It's called Feifei Police Department Store (飛飛軍警百貨店) on GoogleMaps. There you can purchase all kinds of supplies from the Republic of China armed forced.
I can personally recommend the camouflage men's boxers. They are comfortably loose and made of a breathable material that is perfect for Taiwan's humid weather. Souvenir idea!
You can find even more at the similar "Taipei West Station, General Welfare Service of MND" (國防部福利站 北西站) a short walk south.
Sample Taipei's Best Craft Beer at Driftwood Ximending
An official taproom of Taihu brewery, arguably Taiwan's best and most popular craft brewery, Driftwood 西門町 (Taihu West) has a handsome wooden interior. Their little goblets of beer are on the pricey side, but worth every NT if you are a craft beer lover.
Find more options for craft beer in Ximen in my guide to drinking and eating in Ximen.
Have Lunch in the Room where Chiang Kai-shek Gave His Inaugural Speech
Zhongshan Hall is an important historical building located just east of Ximending shopping district. The auditorium was larger than any in Japan when it was built during the Japanese colonial era in Taiwan.
At the elegant Zhongshan Fortress Restaurant (中山堂堡壘餐廳) on the second floor, you can have lunch, afternoon tea, or dinner in the same room from which Chiang Kai-shek, Taiwan's first president, gave his inaugural speech.
Wander, Get Lost, and Watch the Crowds
While shopping in Ximending is what most people go for, I hope you can see that there's a lot more to it than that. Ximen is without a doubt Taipei's coolest neighborhood.
Since it attracts quite a variety of characters, it is a great place to just wander, sip a drink while watching the crowds go buy, and explore the streets and small lanes in the shopping area and nearby Wanhua district.
Other Cool or Weird that USED TO BE in Ximending
I first published this article several years ago. But things change quickly in Ximending. After my most recent visit to the area, just as Taiwan was preparing to start welcoming tourists again, I found that a lot of places I introduced in this article are now gone.
For most, I just deleted them from the article. But a few I had a harder time letting go of, so I've moved them to this section, for memory's sake.
Cute Latte Art
A small cafe in Ximending called Bear Yummy in a small alley in Ximending used to make these incredibly cute latte designs. Many cafes elsewhere in Taipei still do this, but these ones were especially cute.
Penis Cakes
A few souvenir shops in Ximending used to sell these lovely penis cakes. They used to be readily visible and available on the left side of Hanzhong Street, the main pedestrian street of Ximending area, just after walking out from Ximen MRT exit 6.
Besides the boxed, pre-made penis cakes, there even used to be a fresh penis cake food stall in Ximending. Inside the cakes were (not so surprisingly) real sausages. You can click the above link to a Mandarin-language blog to see what they looked like.
At some point, the food stall moved to Shilin Night Market, where it thrived for a few years but ultimately was a COVID casualty, just like the next entry.
Hopefully, there is still hope. In 2023, travelers have reporting sporting penis shaped chocolates in a few souvenir shops in Ximending, so watch out for them!
Ximen Modern Toilet Restaurant
Once one of the most famous of the weird things to do in Ximending, Modern Toilet is a toilet and poo-themed restaurant that first started in Kaohsiung. Now there are nearly 20 branches across Taiwan, and it has even gone international, with branches in Hong Kong.
The food at Modern Toilet is pretty average but the best part is that it comes in squat toilets, porcelain thrones, or urinals. The squat toilet shaved ice dessert is a ridiculous mess, so snap your photos fast before it starts melting all over the table.
Ximen's branch of Modern Toilet was a big hit among visitors to Taiwan. Unfortunately, though, with the total lack of tourists during COVID, the Ximen branch closed down. You can still see the huge toilet on the outer wall of the building and other decorations, but the door remains closed. If you still want to go, there is also a branch of Modern Toilet near Shilin Night Market in Taipei.
Well that sums up my little list of awesome and/or weird things to do in Ximending, Taipei. I'm always curious what you think and if I missed anything, so please let me know in the comments below!